Chic Escapes: The Best Winter City Breaks
Whisk yourself away on a weekend to remember, whether seeking culture,gastronomy or Christmas spirit
In partnership with: Carrier
Rome
Rome - the eternal city, birthplace of Romulus and Remus, spring of culture and civilisation, whose captivating allure leaves many a penny in the Trevi Fountain. Winter is arguably a better time to visit Rome, when tourists are relatively few. And don't get us started on comfort eating in winter: spaghetti alla carbonara, panettone, and copious amounts of digestivi after dinner.
Where to stay: A member of Rocco Forte Hotels, the Hotel de Russie is located in the heart of the city, next to the Piazza del Popolo and just a short stroll from the Spanish Steps and Rome's most fashionable shopping streets. An enduring favourite of artists and writers, stars and politicians, Hotel de Russie was dubbed "paradise on earth" by French poet Jean Cocteau in 1917, and the accolade still stands today. Indulge in one of the best aperitivo experiences in the city in the Stravinskij Bar, sipping expertly-mixed cocktails under the stars. Surrender to bliss in the sublime De Russie Spa and dine on fine Italian classics in Le Jardin de Russie before heading up to enjoy exceptional comfort in the stylish surrounds of your luxury room or suite in the heart of Rome.
Why Carrier? Valentino experts from the Piazza di Spagna boutique provide an exclusive opportunity to experience a private shopping appointment directly in your suite at the Hotel de Russie. During the fitting, a specialised Valentino seamstress will be at your disposal. Enjoy their ready-to-wear collection and accessories in the comfort of your room.
Rome: Stay 3 nights and save up to £850 per person including breakfast, return premium flights and Avenue of Style programme from £3,250 per person. Find out more about visiting Rome with Carrier HERE.
New York
OK, Christmas in New York is cliché but it is also incomparable to anywhere else. We can't even count the number of Christmas films that have been shot in the Big Apple (Home Alone 2, When Harry Met Sally, Miracle on 34th Street). Take to the Rink at Rockefeller Center; shop 'til you drop in Manhattan and take the ultimate Instagram picture at Rolf's German Restaurant, which is redolent of Santa's workshop.
Where to stay: Staying at The Knickerbocker Hotel close to Times Square, this midtown Manhattan institution has welcomed the likes of F. Scott Fitzgerald and J.D. Rockefeller himself. Enjoy the ultimate New Year's Eve experience atop Times Square at the St. Cloud Rooftop, as close as you can get to the buzz and chutzpah of a cheesy Noo Yawk Christmas. The hotel has been lovingly reimagined into a sophisticated and ungaudy urban sanctuary, which isn't a surprise considering this is the supposed birthplace of the martini cocktail.
Why Carrier? Enjoy VIP ice skating at Rockefeller Center with dinner, a bespoke NYC Personal Shopper experience and Manhattan Holiday Lights sightseeing tour.
New York: Stay 4 nights from £8,390 per person including return premium flights, VIP Ice Skating at Rockefeller Centre with dinner at Sea Grill, NYC Personal Shopper experience and Manhattan Holiday Lights sightseeing tour. Find out more about visiting New York with Carrier HERE.
Dubai
Poor in oil compared to its neighbours but rich in glitz and kitsch, the Las Vegas of the Arabian peninsula combines a rare mixture of adventure, relaxation and a relatively open culture. A city dedicated to hedonistic pursuits, this is the only place you can break a sweat in the world's biggest mall, then cool off at an indoor ski slope.
Where to stay: Bringing a certain California-chic to Dubai's Jumeirah coastline, Mandarin Oriental's first foray into the Middle East is a culmination of exceptional design and enviable location. Michelin-standard meals created by Portugal's most prominent chef, five stunning pools, a private beach, a deluxe spa and Dubai's first Outrace-fitted gym, Mandarin Oriental has been a hit in the UAE. The Al Maha Desert Resort & Spa is a romantic eco-friendly resort in the tranquil Dubai Desert Conservation Reserve. Think Lawrence of Arabia, but minus the armies and x 100 in terms of comfort. Decorative brass tray tables, old Bedouin artefacts on display and alfresco private dinners from the luxury of your tented suite (accompanied by a plunge pool).
Why Carrier? Those wishing for a romantic winter break need look no further as Carrier has arranged dinner in the dunes, where guests will be taken by a Field Guide to a private spot in the desert where carpet, cushions and a low rise table are arranged under the stars. In the desert, be taken on a drive by an expert guide and choose from a dizzying array of adventures such as: archery, falconry, desert walks in nature reserves and camel treks. Don't forget to look up to the stars.
Dubai: Stay 3 nights at Mandarin Oriental Jumeira including breakfast and 5 nights at Al Maha on a full board basis, return economy flights and complimentary Private Dune Dinner for two from £4,835 per person. Find out more about visiting Dubai with Carrier HERE.
Marrakech
Where to stay: A slice of heaven in the heart of the Medina of Marrakech, the Villa des Orangers is a hotel meets riad (a traditional Moroccan house). Close enough to take in the bustling souks, yet far enough away to enjoy the peace of the citrus-scented gardens, or the pool overlooking the Koutoubia and Atlas mountains. Enjoy responsible gastronomy where menus respect the seasons and dishes are created using locally sourced produce. A grown-up affair with a cooly sophisticated ambiance, you wouldn't be mistaken for thinking you were on the set of a Bond film.
Why Carrier? With Carrier, take a bespoke sidecar experience and explore the beautiful maze of the medina, the ancient French neighbourhood or the mythical Palm Grove. A dedicated insider will do all the driving so you can sit back, relax and take in vivid flea markets, art deco buildings and secret gardens.
Marrakech: Stay 4 nights and save up to 16% per person including breakfast, lunch, return premium flights and a three hour sidecar tour of Marrakech, from £1,850 per person. Find out more about visiting Marrakech with Carrier HERE.
Paris
"Paris is always a good idea"- a line often attributed to Audrey Hepburn, but after investigating we discovered it has been completely made up. Shock horror. Regardless, we wholeheartedly agree with the said originator of this quote. Whether it's the boutiques, the croissants or the nonchalance of Parisians, this city beguiles and seduces like no other.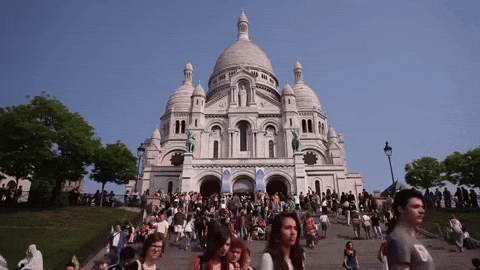 Where to stay: Mid-way between Rue du Faubourg Saint-Honoré and Avenue Montaigne, La Reserve Hotel and Spa Paris is a quintessential marriage of nineteenth-century elegance and modern chic only Parisians. Enter a world of refined glamour where immense internal spaces are draped with rich tapestries and graced by marble fireplaces in classic Haussmann style. The Eiffel Junior Suites enjoy unparalleled views towards the Eiffel Tower from the 5th floor of the hotel - a must for any romantic getaway. For larger groups consider booking the 1-6 bedroom La Réserve Apartments allowing you to embrace a more authentic stay whilst still enjoying the comforts of the hotel. The Apartments include a dedicated butler and concierge service with a short car transfer to the main hotel and spa.
Why Carrier? Be guided by an expert personal shopper and enjoy a day of shopping to understand the secrets of Parisian concept stores. Supposedly started when Carla Sozzani (sister of Franca Sozzani, ex editor-in-chief of Italian Vogue) opened her cute little store at 10 Corso Como Milan, concept stores have become a staple of Paris' trendiest district. Handpicked products are pulled together from different brands and designers, and they span different lines, such as fashion, beauty and homeware. Follow your Parisian guide as he or she takes you to the best stores in the city. Your guide will also take you to off-the-beaten-track locations to open your eyes to the world of style in Paris' most chic district. There's nothing like discovering a city with someone who knows the ins and outs. (with an English speaking Guide for 3.5 hours)
Paris: Stay 4 nights from £4,940 per person including breakfast, return economy flights, Skip the Line tickets for two at Leonardo da Vinci at the Louvre Museum, two Leonardo da Vinci cocktails at the bar and Parisian Concept Stores personal shopper experience. Find out more about visiting Paris with Carrier HERE.
Reykjavik
Iceland is known as the land of fire and ice, where geysers bubble next to active volcanoes and temperatures in summer rarely go over 13 °C. If you're going to do a winter break, you might as well embrace the cold. Reykjavik has been receiving a lot of attention for quite some time. The Northernmost capital city of the world, the small city lies under brooding skies and is surrounded by a moss-covered, lunar-like landscape dissimilar to any other. Reykjavik has a reputation for being quirky and it's well worth getting lost, finding some enchanting coffee houses, restaurants and museums on the way.
Where to stay: Hotel Borg. Reykjavik's oldest hotel lies close to the main shopping street with a wealth of vibrant restaurants and bars, artisan boutiques and art galleries. Iceland's first luxury hotel, Hotel Borg drew Marlene Dietrich, William Faulkner and Ella Fitzgerald in its mid-20th-century glory days. After a major renovation in 2015, expect modern amenities- you'll be grateful for them after exploring the rugged and brutal landscape around Reykjavik.
Why Carrier? Carrier will organise a four-hour Northern Lights Tour. Guided by an experienced aurora hunter, and traveling by a Super Jeep that can handle Iceland's challenging terrain year-round, you'll head deep into the countryside where the skies are clearest and the lights most visible.
Reykjavik: Stay 3 nights from £2,195 per person including breakfast, return economy flights and a 4 hour Northern Lights tour in a private Super Jeep. Find out more about visiting Reykjavik with Carrier HERE.
Portugal
Overlooking the Atlantic, few countries on earth are blessed with such an idyllic backdrop. Funchal is Portugal's sixth-largest city and is renowned for its New Year celebrations, when the bay comes alive with fireworks. The name of the city is derived from the Portuguese word funcho meaning fennel, when the first settlers that landed on its shores noted, "Funchal, to whom the captain gave this name, because it was founded in a beautiful forested valley, full of fennel up to the sea..." If food, culture, and small-city vibes are your thing there are few places that can beat Funchal.
Where to stay: To compare Belmond Reid's Palace to any other hotel, you'd have to first consider the names in its guestbook...Roger Moore, Winston Churchill, Fulgencio Batista and George Bernard Shaw have stayed here. An oasis of traditional charm and a luxurious retreat where everyday cares melt, this landmark hotel has successfully blended tradition, modern facilities and contemporary comfort. The sub-tropical gardens of honeysuckle and jade vine overlook the swimming pool and the Bay of Funchal, where you can enjoy afternoon tea on the balcony.
Why Carrier? Join acclaimed Portuguese fashion designer Patricia Pinto and chef Luis Pestana (the first and only Maderian-born Chef to hold a Michelin Star) for an exclusive opportunity to enjoy her eye-catching creations in the delightful surroundings of her garden. Guests are invited to create a piece with her, which will then be delivered to an address of your choice. Of course, no creative endeavour is complete without a good meal- a delectable feast will be prepared by Mr Pestana of Belmond Reid's Palace.
Funchal: Stay 4 nights and enjoy a complimentary room upgrade, reduced rates and €30 spa credit from £1,710 per person including breakfast, return economy flights and Inspirations by Appointment Experience. Find out more about visiting Portugal with Carrier HERE.
Prague
Nicknamed the 'city of a hundred spires', Prague is a city known for its walkability and breathtaking architecture. Some of the sights you have to see: the city's Jewish quarter, the luxury-shop-lined Parizska, the old town square, Celetná (one of the oldest streets in the city) and Malá Strana. Spending three nights in the city, you'd be hard-pressed to find a more perfect city to compact culture, food and fun in one.
Where to stay: Four Seasons Hotel Prague. One of the city's plushest and most luxurious hotels, complete with a zen-like spa. You can see the Vltava, Charles Bridge and Prague Castle from one side of the hotel, and the Old Town Square and Jewish Quarter from the other. The Rudolfinum, home to the Czech Philharmonic, is 100 metres away and you can walk to Wenceslas Square and Mala Strana in 10 minutes. Expect typical Four Seasons style interiors (timeless and upscale with rich woods, marble floors and a particularly vast and ornate lobby) and generous rooms. Romantics will particularly like the hotel's Renaissance rooms.
Why Carrier? Carrier has organised a private visit at two of the cities main landmarks: the Astronomical Clock on the Old Town Square – a very unique and rare opportunity. For food lovers, enjoy a delectable private foodie tour of Prague in cooperation with the wonderful Taste of Prague. The tour takes you to hidden but wonderful Czech restaurants to introduce you to the Czech cuisine and local specials.
Prague: Stay 3 nights from £2,140 per person including breakfast, return premium flights, Private visit to the Astronomical Clock on Old Town Square and Private Taste of Prague Tour. Find out more about visiting Prague with Carrier HERE.
Cape Town
Cape Town - a city of extremes summed up by the towering beauty of Table mountain and the great expanse of the Atlantic lapping up silky beaches. Rich in fine food and galleries galore, South Africa's coastal city is proving a worthy pull.
Where to stay: One&Only Cape Town. Central to the Mother City's buzzing entertainment district with breath-taking views of Signal Hill and Table Mountain; this is the perfect Cape Town base. Design throughout is clean and contemporary – the spacious suites are furnished in the warm, muted tones of the African savannah and feature private balconies and terraces. Located by the Victoria and Alfred waterfront, the resort benefits from a central location and makes the perfect base for your South African adventure.
Why Carrier? Perfect for half term vacations, One&Only Cape Town is amongst the most family-friendly of resorts. Ensuring your broods (and you, of course) have the best time, Carrier have organised a private full day at Cape Peninsula, an opportunity to meet seals at Kalk Bay, visit penguins in Simon's Town and search for the Cape 5 at Cape Point. A city tour of Cape Town can also be arranged. Make use of the resort's kids club (for children aged 4-11) with themed activities such as African dance, sand art and jewellery making alongside facilities such as PlayStation and Nintendo Wii games, a movie lounge and computer suite.
Cape Town: Stay 5 nights from £10,950 per family of 4 including breakfast, return economy flights and Private Full Day at Cape Peninsula. Find out more about visiting Cape Town with Carrier HERE.