Nordic cuisine has been having a moment. Focusing on freshness, sustainability and simplicity, Scandinavian-style cooking stands on three pillars: fermentation, pickling and wood-firing. Its popularity has led to a number of fusion restaurants playing with this style of cuisine (Nordic-Japanese seems to be a common combination), but there are still only a handful of restaurants solely devoted to it in London – one being Ekstedt at The Yard.
Having opened just two years ago in the five-star Great Scotland Yard Hotel, Ekstedt at The Yard is the only UK outpost from Michelin-starred Swedish chef Niklas Ekstedt. Dubbed the 'godfather of wood-fired cooking', Ekstedt's kitchens pride themselves on using very little electricity and instead cook everything (apart from heating a few sauces here and there) on the kitchen's central open fire, using just natural heat, soot, ash and smoke. The restaurant at Great Scotland Yard Hotel is no different and is overseen by head chef Theres Andersson, who's spent her entire career in the kitchen showcasing her love for Swedish cuisine.
Forget meatballs with lingonberry jam, Andersson is all about authentic Swedish cooking (although she does admit to indulging in this classic Ikea favourite every now and again). Unearthing flavours through traditional aforementioned techniques, Andersson's menus follow in the footsteps of Ekstedt but are also an ode to her childhood. Born and raised in Dalarna, north-west of Stockholm, Andersson recalls caring for vegetables on her family's farm, foraging for wild mushrooms and spending hours in nearby lush forests. The cuisine is a result of the lifestyle, she explains, and it's one she is keen to introduce to Londoners. 
When I meet Andersson in Great Scotland Yard's buzzy Síbín bar, she and her team have just launched their autumn menu, focusing on darker, richer flavours from mushrooms (she only imports the very best from her home country), berries and house pickles. She's smiley and easy-going, with a strong Swedish lilt and profound passion for not only her food but the importance of female chefs. "I like finding female role models as cheffing is not big in Sweden for women," she explains. "I was so young when I started at 21, and until I was 28, I was always a lone woman in the kitchen. I had to learn really early to put my foot down and how to prove myself."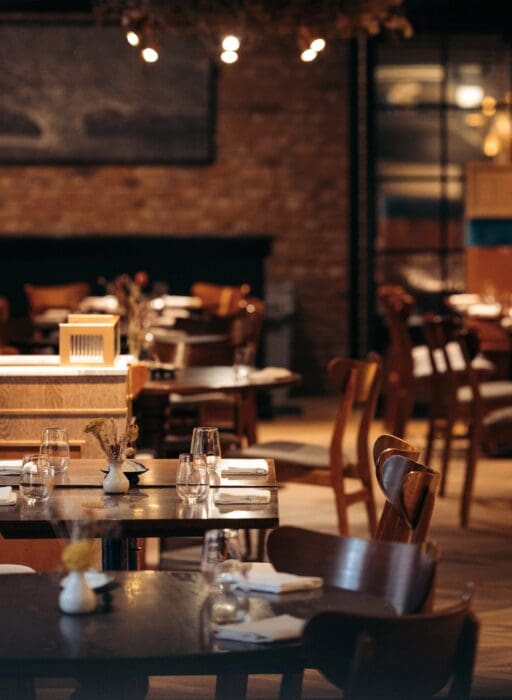 Inside Ekstedt at The Yard, you'll find an open wood-fired kitchen, candle-lit wooden tables, floor-to-ceiling windows (with views out to the pretty titular yard) and bunches of dried flowers draped from the beamed ceilings. Start with homemade sourdough bread with a generous dollop of homemade salted butter, served from a large wooden bowl tableside, before tucking into a beautifully presented trio of 'snacks from the fire' featuring bite-sized fresh seafood tarts and cream-filled doughnuts. Starters include seaweed baked leek and smoked celeriac, however, I'd recommend the hay-smoked venison with pickled lingonberries and thyme emulsion before a main course of juniper-smoked wild duck with fire-baked beetroot. Finish with traditional Swedish fika, which literally translates to 'coffee break', but results in a delicious cinnamon bun as your dessert. 
Back in the kitchen, we talk to Andersson about curating her Swedish-inspired menus, what she loves about London and finding that perfect work-life balance.
Tell me a bit about your childhood.
I grew up in Dalarna, a small town around three hours north west of Stockholm, meaning it's not too far away from Norway either. I grew up on a farm, so we had animals, vegetables, and a big forest nearby. I learnt from a young age how to take care of vegetables and how to cook. My mum cooked everything everyday, which was such an inspiration for me. Buns, breads, cookies – you name it, it was homemade.
What's your earliest food memory in Sweden?
One of my favourite dishes from my childhood is chanterelle toast, which I have put on the autumn menu at Ekstedt at The Yard. This time of year in Sweden, especially in the countryside, is all about foraging and I would spend days with my family picking mushrooms. My mum would always cook chanterelle toast, which is such a classic in Sweden, using our picked chanterelles, shallots, cream and fresh parsley on top. The mushrooms I use for this dish on the menu I get from Sweden too.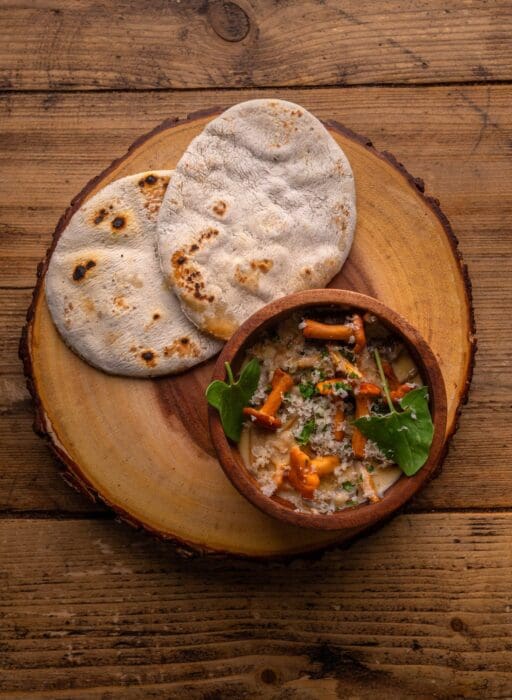 What inspired you to be a chef?
I never thought I wanted to be a chef. I was always a sporty girl, [and loved] playing football and skiing. I come from a big family and I have four brothers, so there was always a competition. However, I always liked to watch my mum cook and watch cheffing programmes on TV. There are a lot of cooking shows in Sweden.
When I was 15, I chose the cooking programme at high school and I did work experience in my hometown. I started working at these restaurants every weekend and during the holidays. When I left school, I got two jobs working in one kitchen at lunch and then an a la carte restaurant at dinner. I loved to learn. I left my hometown when I was 21 and worked on the west coast of Sweden for summer, and the north for the winter, as well as stints in Italy and France.
What do you miss about Sweden? And what do you like about London?
I moved to London three years ago and what I miss about Sweden is the fresh air. You have forests so close and so much natural light. However, I do love the big city and how you can find everything so easily in London.
Have you worked in any other London restaurants?
I moved over here to help open Pantechnicon [a Nordic and Japanese restaurant in Belgravia] in 2020. I was sous chef there and when it reopened after lockdown, it was too much for me. The industry is very different here than in Sweden. In Sweden, you still have a life outside of your job but at Pantechnicon I was working all the time, sleeping four hours a day and had no life. I was 32 and I thought that I had not moved to London to have no life. At the same time, I saw Niklas had posted on Instagram announcing he was going to open Ekstedt at The Yard, so I messaged him.
Niklas is really famous in Sweden and he is famous for his cooking TV shows. I have eaten at Ekstedt a couple of times but I never worked for him. At Pantechnicon, we were cooking Nordic food on an open fire, so I already had a bit of experience. With Brexit, it wasn't so easy for him to bring over a Swedish chef so I had a chance.
Tell me about your relationship with Niklas.
When we opened Ekstedt at The Yard in 2021, Niklas stayed for two months and cooked with us. We're really close and I always consult him on the changing menus. He's so relaxed and really cares about Swedish food and his team.
What do you like most about Scandinavian food culture?
I like how we're so thoughtful with cooking and how we use the ingredients. This is what I try to replicate in the kitchen. Scandinavian food is simple but we're lifting the ingredients in three or four different ways.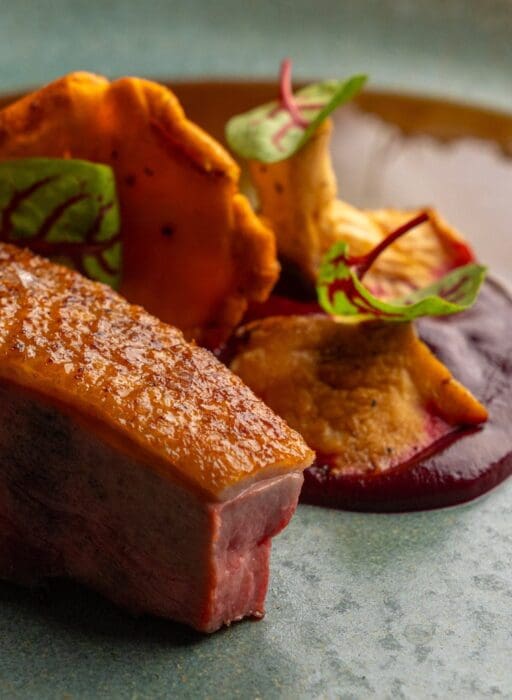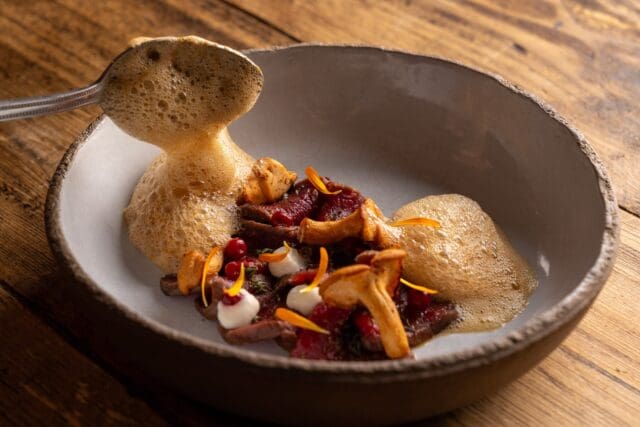 Why is wood-firing important in Swedish cooking?
You've got to remember that this is not a classic barbecue, where you simply put something on the grill and not think about the result. Wood-fired cooking is a more traditional technique and requires a lot of patience to achieve certain flavours. It [harks back] to Viking times when they cooked everything on an open fire.
The menus at Ekstedt at The Yard are described as old Nordic style. How would you, in your own words, describe that?
It's all about how we take care of the ingredients. We ferment, we pickle, we experiment and we don't waste – just like the Nordics would've done centuries ago. 
Why did you take part in Masterchef: The Professionals 2022?
I enjoy pressure and like to have a lot going on at the same time. [I entered because] I wanted to show my kind of food and highlight where you can get authentic Swedish food in London. However, this was my first time on TV, and I was concentrating so much I often forgot there was a camera. I was really disappointed when I left, just before the semi-finals.
What is your favourite London restaurant and why?
BiBi's Indian food is amazing. I also discovered a small Italian restaurant in London Bridge called Legare. It serves delicious homemade pasta. 
Are there any other London chefs you're impressed with at the moment?
I think Clare Smyth is so cool and I love how she's changing the game, especially for female chefs. She also really cares about her staff and doesn't act like it's all about her. And that's what I said to my team when we launched the new menu: that this isn't about me, but about all of us. I also really like Lisa Goodwin-Allen, she seems like a really good leader.
How do you spend your time away from the restaurant?
I love training, such as running or swimming. I really like to be active and I find it relaxing away from work. But I also love trying news restaurants and finding new flavour inspiration.
Visit ekstedtattheyard.co.uk
Read more: Sober October: The best London bars for alcohol-free drinking