If there's one thing you need to know about Skye Gyngell, it's that she's always stayed true to her values – especially in the kitchen. Now executive chef at the serene and acclaimed restaurant Spring, housed in the equally opulent Somerset House, one notable value that made waves in the capital is her steadfast commitment to zero-waste cooking.
Before sustainable and seasonal menus became trendy, Gyngell was putting this ethos into practice at Petersham Nurseries, before branching out on her own in 2014. Ingredient-led dishes have formed Spring's culinary offering since the beginning and Gyngell's Scratch menu made headlines with its delectable plates made from 'waste' produce. With 40 per cent of all fruit and vegetables grown in the UK discarded because they are considered ugly or misshapen, Gyngell wanted to draw attention to the fact that this produce, despite its appearance, is still truly delicious – and that she certainly did, making Spring one of the most popular restaurants in London in the process. 
Having grown up in cosmopolitan Sydney in the 1970s – when the Australian city was a culinary melting pot of Korean, Vietnamese, Lebanese, Greek and Italian influences thanks to its large immigrant population – food was always a huge part of Gyngell's life. A short stint in a charcuterie deli ignited her inner foodie flame, enticing Gyngell to move to Paris for two years to work at two Michelin-starred restaurant, Dodin-Bouffant. From here, Gyngell transferred to the capital's Petersham Nurseries where she gained a Michelin star despite cooking with her own pots and pans in a very small kitchen. 
Shortly after achieving the star, Gyngell stepped out of the kitchen to spend time with her children and work as a food editor for Vogue before being offered the opportunity to open her own restaurant: Spring. Formerly the headquarters for Inland Revenue at Somerset House, Gyngell reimagined the space as a restored 19th-century dining room which makes the most of the building's huge windows to create a bright and airy restaurant. Inside, marble countertops, pink and charcoal seating and wooden tables complement the white walls, and seasonal, ever-changing menus – think stracciatella with heirloom tomatoes, slow-cooked pork belly with farro and apricot, and almond panna cotta with peaches – are served.
Nearly a decade on from the opening of Spring, we talk to Gyngell about her Australian childhood, no-nonsense approach to food and how she likes to relax in the capital.
Tell me about your childhood.
I grew up in Australia – I definitely look back on my childhood and feel very blessed and lucky. I grew up with a lot of freedom! Sydney felt like a beautiful, safe and healthy place to be raised. We had a beach at the end of our road [and] very rarely wore shoes in the summer months – we roamed around freely from an early age, we were always outdoors! It's probably very different now but it felt like a gilded time.
What's your earliest food memory?
There are very few memories that I have that don't somehow involve food! Smell and taste are very evocative for me [and] many of my childhood memories involve food in some way, whether that be the first box of cherries my mother bought that always seemed to symbolise the break up of school for the long summer holiday or eating sweet, juicy, perfumed mangos outside in our garden at Christmas time. Sunday night supper at my grandmother's house would always end with her legendary pavlova doused in sharp, astringent passionfruit.
When did you start your career as a chef?
My career as a chef officially started at La Varenne restaurant in Paris under chef Anne Willan. I worked in some incredible restaurants in the early stages of my career including Dodin-Bouffant (Michelin-starred restaurant in Paris), The Dorchester hotel under chef Anton Mosimann and The French House.
You have previously said that gaining a Michelin star is a "curse". Do you think the award puts too much pressure on chefs and restricts their freedom?
I really want to set the record straight and say that I highly respect the Michelin Guide and my throw away comment to a journalist was never meant to be a criticism of the guide itself. We were over the moon when we received a star at Petersham Nurseries in 2011 – it is a wonderful feeling to be acknowledged as a team for your passion and hard work and a star is definitely an asset for any restaurant. As a small restaurant with a very limited infrastructure it was challenging in the early days – I expressed myself poorly and have definitely lived to regret it!
When you opened Spring in 2014, what dining experience did you set out to achieve?
When we opened Spring I wanted to create a dining experience that was elegant and easy. Food is incredibly important but so is the service; I didn't want it to be overly focused on the food but rather the overall experience. I wanted a restaurant that people felt they could return to time and time again.
What's your favourite dish on the menu?
That's a really hard one [because] our menu changes every two weeks [and] it tends to be a mixture of new dishes and old favourites. That's the lovely thing about working hyper seasonally: you have the chance to welcome back old friends. We get really excited about working with the new produce that comes in more than a specific dish.
Tell me about the inspiration behind your Scratch menu. Is food sustainability important to you?
I think it's really important to run a business that has a very holistic approach. It's important to me that we run a business that is as sustainable as possible. We have worked solely with one biodynamic farm, Fern Verrow, since we opened in 2014; it's important to support farmers and growers that care about the soil and the future of food. We wanted to highlight the issue of food waste as well as reducing the waste in our own kitchen. It's also an opportunity for the younger chefs as they write [the Scratch menu] daily so they have a chance to think about creating dishes and flavour combinations.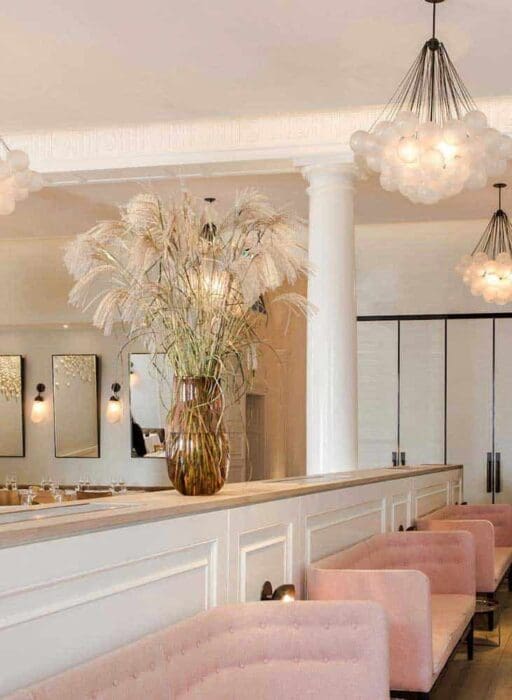 Are there any other London chefs you're impressed with at the moment?
London has one of the most exciting and vibrant food scenes in the world. I've been around long enough to remember when this wasn't the case! I admire so many chefs and restaurants in London, it's very hard to pick one.
What is your one other favourite London restaurant?
The same goes for restaurants: I would find it impossible to choose a favourite restaurant [as] I'd feel I was doing a disservice to the ones I didn't mention. In terms of where I like to eat when I am not working, I would tend to go for something delicious and very different from what we do so that I can switch off and really just enjoy myself. I love dim sum and often go on to The Royal China Club with friends and family.
How do you spend your free time away from the restaurant?
When I'm not at work I tend to be fairly quiet. I see friends and family, I try to nurture myself and re-energise so I do Pilates, read, go to the theatre or a gallery. I find it really important to experience creativity in other mediums – it reinvigorates me!
Read more: Meet the chef: Simon Gregory of The Ivy Asia