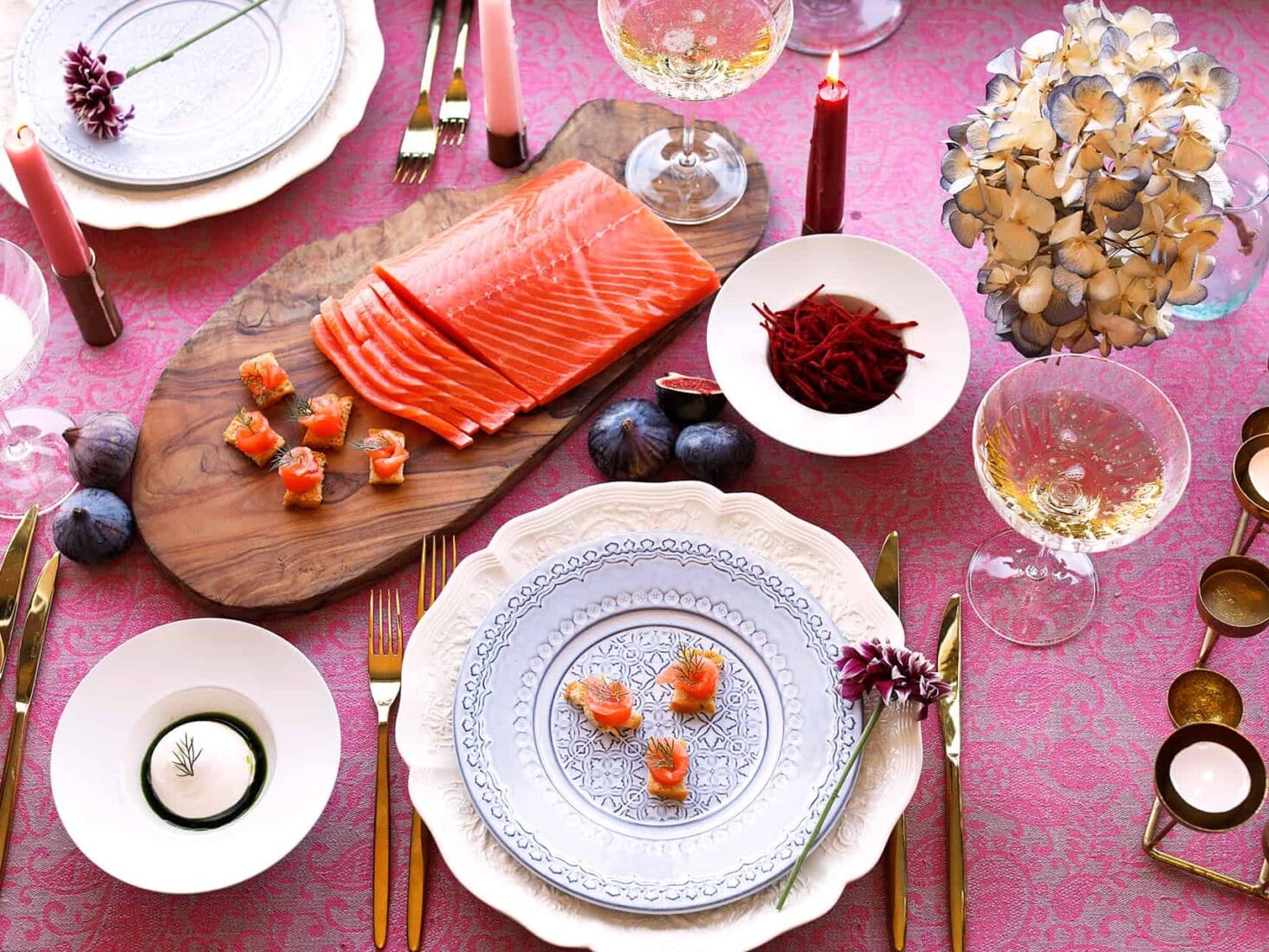 Christmas canapés: Lettice's festive salmon sharing board
Impress at your next festive gathering with this buffet centrepiece
Choosing the perfect food for a festive gathering is never easy. Canapés or bowl food? A buffet or a sit-down dinner? This recipe from the catering experts at London-based Lettice Events promises the best of all worlds: the bitesize appeal of canapés with the ease and laidback vibe of a buffet.
The star of the show is a gorgeous side of salmon so go all out and buy the best you can find. Its salty smokiness will pair perfectly with champagne and cocktails while feeling utterly indulgent. (Even better – it takes barely any time at all to make.)
Ingredients
Side smoked salmon, unsliced

1
Method
Take your salmon out of the fridge at least 30 minutes before serving. This allows the oils to soften slightly and bring the flavour out.
Carve as desired. Recommendation: thinly sliced so it can be drape on the crostinis.
Recipe
For the Pickled Beetroot
Method
Wearing rubber gloves, peel the beetroot.
Thinly slice on a mandolin and then cut into very thin strips. Alternatively, you can grate the beetroot.
Heat the vinegar, sugar, and water in a pan to boiling, then pour over the beetroot. Leave to cool.
The betteroot will be reayd to eat immediately but will last for months if kept in the fridge in a sealed container or jar.
Ingredients
Small focaccia or baguette

1
Method
Cut your baguette or focaccia into bitesize crostini and place on a baking tray.
Drizzle lightly with rapeseed oil and sprinkle lightly with salt.
Bake at 170C for 8-10 minutes or until golden brown and crispy.
Ingredients
Extra thick crème fraiche

250g
Method
Cut one lemon into wedges or cheeks, removing the seeds and place in a bowl ready to use.
Season crème fraiche with the zest of one lemon, a sprinkle of salt and a few twists of pepper.
Place in a bowl and garnish with a few sprigs of dill.
Place remaining dill in a glass with a small amount of water at the bottom for guests to pick themselves.
Peel the horseradish and present with a micro plane or fine grater for guests to grate themselves.