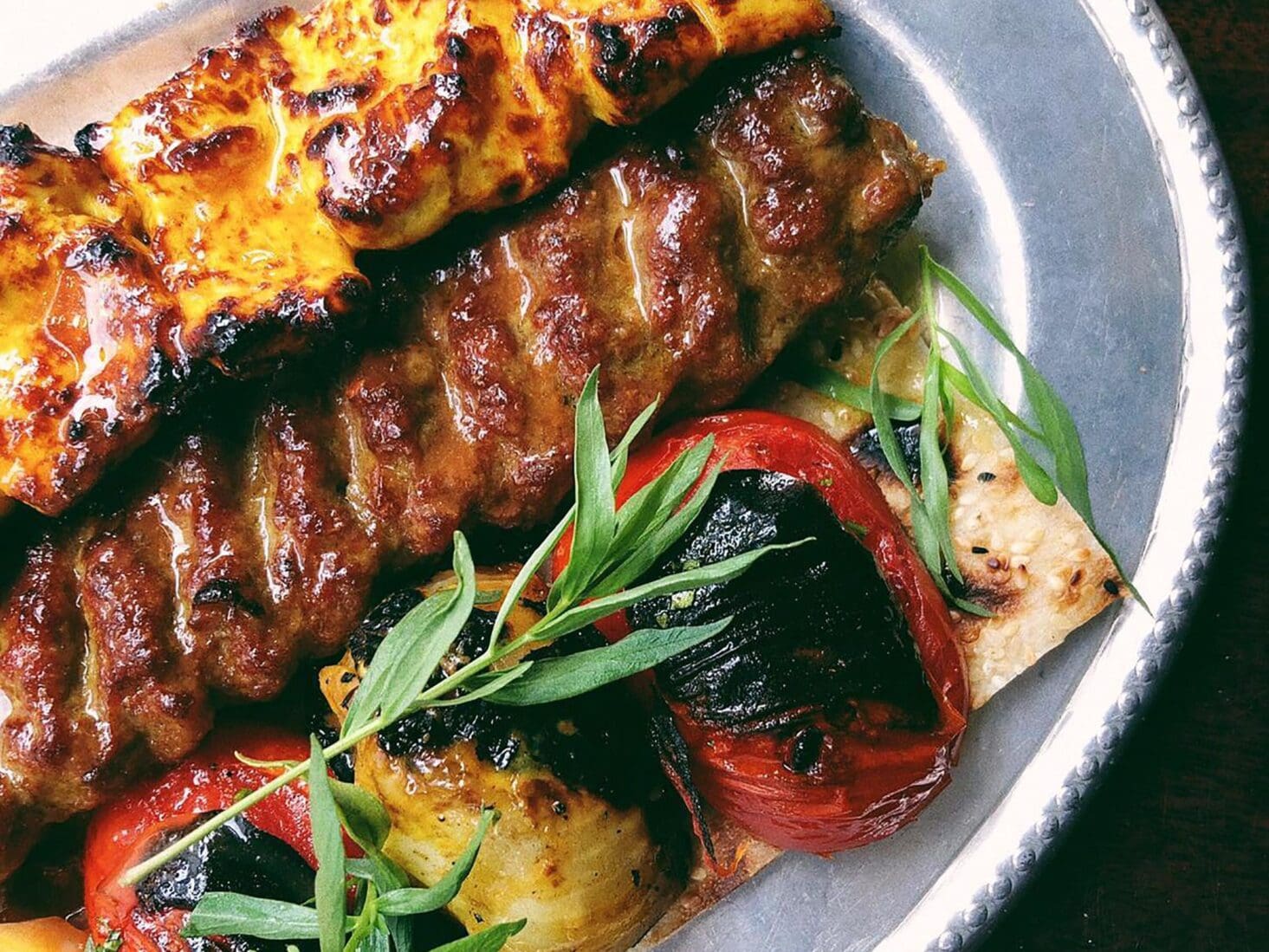 Berenjak'sJujeh grilled Kabab
"The Jujeh kabab is a traditional chicken kabab recipe from Iran. It's a staff favourite amongst our staff for a post-service meal and the dish is also a staple in all Persian restaurants. Marinating the chicken
For the Jujeh kabab
3 chicken breasts, butterflied30ml rapeseed oil1tsp turmeric25ml water infused with a pinch of saffron1 white onion, sliced125g chopped, tinned tomatoes150g thickened yoghurtLemon juice to tasteSalt and pepper to taste
For the rice200g Amira basmati superior rice or extra-long sella rice3 vine tomatoes2 red onions, thinly slicedVegetable oil
Method
Rub your meat in the turmeric and add the oil and saffron water. Let the chicken sit for 10-15 minutes so that it takes the colour. Then add lemon juice and sliced onions, tinned tomatoes and mix well, then leave overnight in the fridge.
The next day, rinse your rice in warm water and put in a large container. Let a tap run through the rice till the water turns clear. Turn off the tap and leave the rice to soak at room temperature for a couple of hours.
When ready to cook, drain the rice and add to a pot of salted boiling water. Once the rice is added, turn down to a simmer and after 2 minutes, drain into a colander. Add a couple of glugs of vegetable oil, so the rice doesn't stick together and leave for a few minutes, shaking occasionally.
Add some vegetable oil to the empty pot (non-stick preferably) you used to boil the rice. Return the rice to the pot and cover with a lid that's wrapped in a tea towel. Return to a low heat while you cook the meat; use a diffuser if you have one.
If you have a barbecue, thread the chicken breasts onto skewers and cook over the hot coals, adding the whole tomatoes at the end. If not, pre-heat the grill, lay the chicken breasts in a flat tray with a couple of tomatoes of your choice dotted around, cook until nicely coloured and the tomatoes start to break down.
Flip over the chicken breasts and cook till both sides are nicely charred. Serve with the steaming rice, a good knob of salted butter, the mushy roasted tomatoes and some sliced red onions.