When Marguerite Keogh started working in kitchens the world of food was largely dominated by men — and even today, only 17 per cent of UK chefs are women. But having broken barriers with her pure passion for cooking, Keogh is now one of the most celebrated female chefs in the capital with a Michelin star and four AA rosettes to her name. So, what inspired her to forge a career in the kitchen?
Keogh's first food experiences were fostered by her mother and aunt — two of her biggest role models — and her bucolic upbringing still influences her cooking today. Her childhood was spent on a small farm in County Clare, on the west coast of Ireland, where she would help her father and brothers in the fields by day, and her mother and aunt in the kitchen by night.
Having worked under critically-acclaimed chefs — Marco Pierre White and Marcus Wareing among them — in her early twenties, Keogh broke out on her own in 2013 to open The Five Fields in one of the capital's most affluent boroughs, enjoying a flurry of successes (including the aforementioned Michelin star) soon after it launched. Known for its top-notch produce and beautifully-presented dishes, expect simple but decadent fare such as red cabbage salad with shiso gazpacho and oyster​, lobster roasted tail with kalettes and swede juice, and fallow deer saddle with field mushroom and black truffle.
In between curating new menus and experimenting with interesting flavours, we asked Keogh about her career so far and where she finds inspiration for her dishes.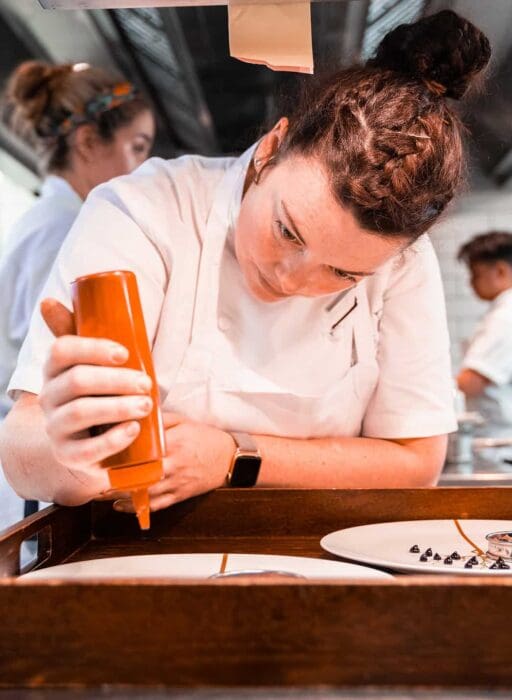 Tell me about your childhood.
My mother is a good cook, and my aunt was a chef, so I grew up watching strong female role models cooking and doing magic with food. This experience made me, like every little girl, want to be like them when I grew up, so this is where my love for food started.
I grew up on a small farm where we grew all our own vegetables and fruit. My brothers and I would help my dad with the planting and harvesting of the vegetables and pick the fruit and wild berries for my mother to make jams and jellies. This only encouraged my love and curiosity for food and raw ingredients.
When did you get your first job in a kitchen?
When I was 15, I had to do a work placement as part of a programme at school. I worked at the sandwich counter of a local hotel, which was both terrifying and exciting, and it gave me a glimpse into kitchen life, and I immediately knew I wanted to be part of it. Once I turned 16, I started working as a pot washer at Dromoland Castle and when I finished my leaving certificate (equivalent to A levels in the UK), I started an apprenticeship.
It's a very interesting and challenging way of working, but we try to let the vegetables be the real stars without stripping their identity and playing around with them too much.

Marguerite Keogh
What was it like working for Marco Pierre White in the early stages of your career?
When I worked at Drones everything was new to me as I had just moved away from Ireland, so I was fascinated by everything. Drones taught me a lot of amazing classical dishes and was a great starting foundation — I still use some of the recipes today!
Drones also made me more curious to experience working in other London kitchens and what else I could learn from them. My intention was to work at Drones for a year and move back home, but that has still not happened.
How does that compare to working under Marcus Wareing at The Berkeley?
The kitchen at Petrus, which is what it was called when I started working there, was amazing. It was full of energy and excitement. It taught me a great work ethic and discipline; I learned the importance of honing technical skills and respect for ingredients. I also made great friends from all over the world, we were like a family.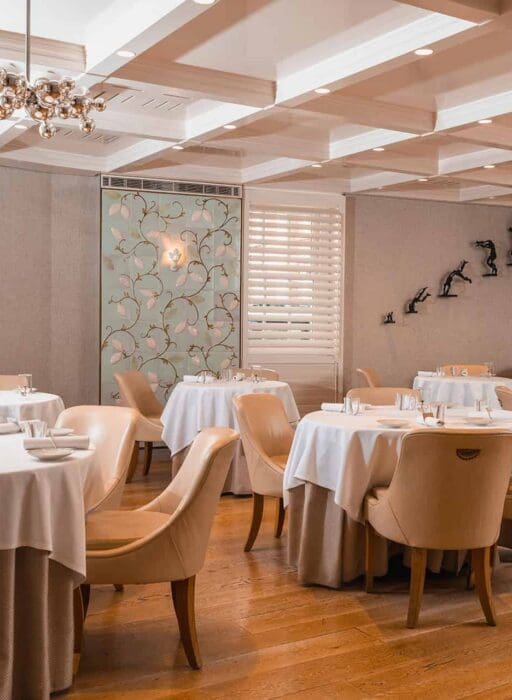 What made you want to open The Five Fields?
Helping to open The Five Fields was the next big step for me, a natural progression in my career. The restaurant's Chef Patron Taylor Bonnyman, and I felt that British food was in the process of defining itself and we knew we wanted to be part of it. The Five Fields is a British-focused restaurant, with our garden playing a massive role in dictating our menus.
How did it feel to be awarded a Michelin star in 2017?
Being awarded the Michelin star was an amazing feeling; a mixture of pride and relief which you really cannot describe. Being able to retain the star each year is also great. I'm proud of my team and grateful for the recognition of their hard work that makes The Five Fields what it is. I'm also grateful for The Fork (an online restaurant booking and discovery platform), in particular, for opening our restaurant up to many many diners. This partnership has enabled us to share our Michelin recognition far and wide, giving people the chance to discover our award-winning menu.
What inspires your menus at The Five Fields?
We are very lucky to have a kitchen garden and apiary that shapes our menu. We work very closely with our gardener to understand what produce is available at what time of the year. It's a very interesting and challenging way of working, but we try to let the vegetables be the real stars without stripping their identity and playing around with them too much.
What's your favourite dish on the menu?
That's like asking 'who's your favourite child?' I could not choose one over the other! All the dishes on the menu are ones that I would choose when dining out myself, or they wouldn't be on the menu.
What's your favourite London restaurant?
It's got to be Core by Clare Symth. Not only is she an amazing female chef, but she is also Irish like me. Clare is an inspiration for everyone in our industry but even more so for female chefs. I love how Core is constantly challenging itself and setting boundaries for other restaurants to follow. They focus on British produce which is a similar path that we follow at the Five Fields.
That said, there are so many amazing restaurants in London to discover. I love to dine out at different restaurants within different boroughs. Not only do I enjoy doing that socially but it's also a source of inspiration for me as food is one of my biggest loves.
What are your future ambitions for The Five Fields?
To keep moving forward, improving and respecting the produce we are lucky to work with.
Visit thefork.co.uk
Read more: Meet the chef: Theo Randall of the InterContinental Park Lane