The great A A Gill once wrote: "Breakfast is everything. The beginning, the first thing. It is the mouthful that is the commitment to a new day, a continuing life." We, personally, couldn't agree more. And while the realities of modern life mean breakfast is often nothing more than hastily snaffled Pret croissant, when you do have time to make a meal of it, it pays to do it properly.
Whether you're trying to impress at a breakfast business meeting or are treating yourself to a luxurious weekend brunch, how better to begin your day than with breakfast among the clouds? Luckily, we've found some of London's rooftop restaurants with expansive breakfast menus to match. Here are some of our favourites.
Seabird at The Hoxton, Southwark
Seabird sits on the 14th floor of The Hoxton hotel in Southwark and is best reserved for those days when you've got off to a bit of a slow start (food service doesn't begin until 11.30am). The rooftop restaurant has been designed by the team behind Williamsburg's acclaimed Maison Premiere and serves a similarly cool combo of oysters and atmosphere. Settle in among piles of velvet cushions and wafting palms and enjoy panoramic views over London, with the Thames, the Houses of Parliament, St Paul's and The Shard all in scope. The brunch offering spans lavish seafood platters and charcuterie boards, as well as Mediterranean small plates, accented by Portuguese and Spanish flavours. There are no less than five Bloody Mary cocktail options, as well as a zesty marmalade-infused Bucks Fizz. Dishes are served on Instagram-perfect marble tables, adorned with a chic scallop-shell pattern.
The Hoxton, 40 Blackfriars Road, SE1 8PB, visit seabirdlondon.com
Darwin Brasserie at Sky Garden, The City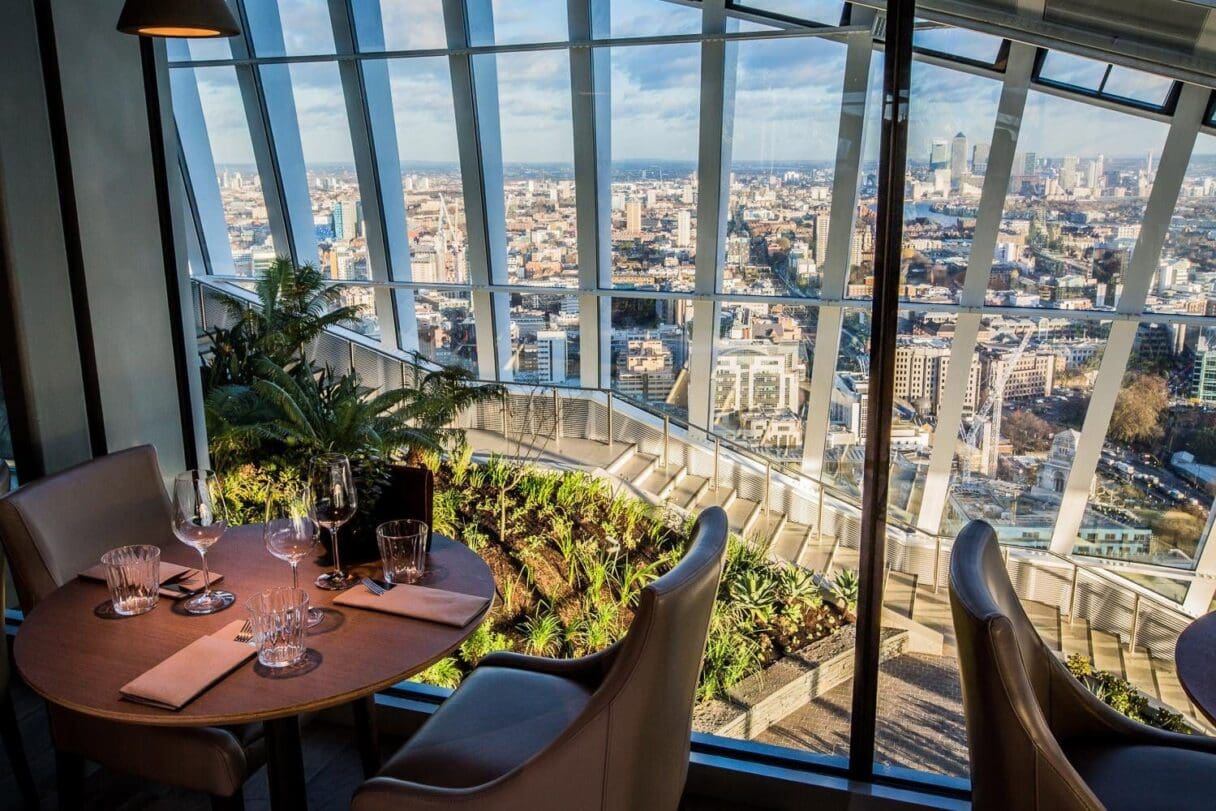 One of the three restaurants and bars found at Sky Garden – the public viewing gallery at the top of the Walkie-Talkie – Darwin Brasserie occupies a mezzanine floor set back from the skyscraper's enormous exhibition windows. The restaurant is a simple, stylish space, encased in its own glass box. It offers views of The Shard and the Southbank, which are pretty spectacular.
The top of the breakfast menu is lined with four cocktail options – a Bellini, Grand Mimosa or Kir Royal. Well, when in Rome (by which we mean the City). You can choose to share a muffin basket or charcuterie and cheese selection before the menu moves onto a list of signature dishes, including smashed avocado toast, the Full English and a vegan option thereof. Other highlights include a stack of buttermilk pancakes, coconut quinoa porridge and the usual assortment of egg-based favourites.
Level 36 Sky Garden, 20 Philpot Lane, EC3M 8AF, visit skygarden.london
Ting at Shangri-La at The Shard, London Bridge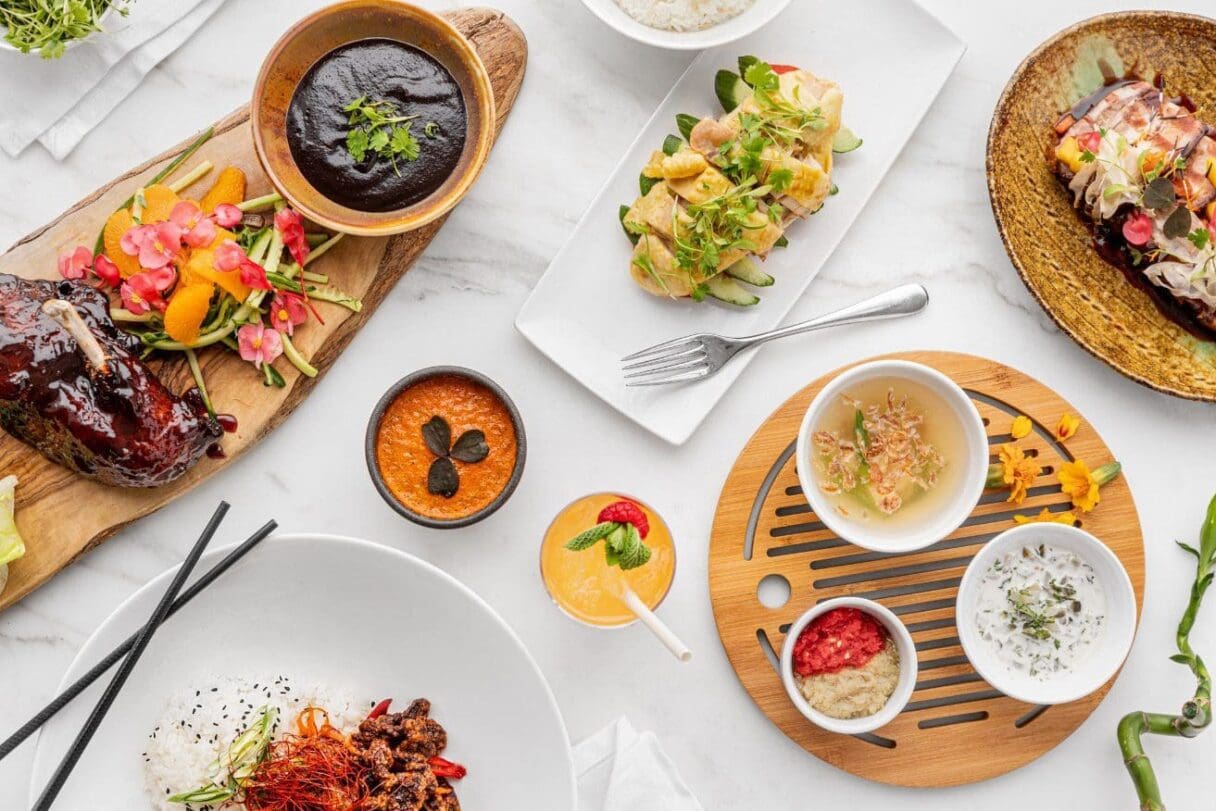 Occupying levels 34 to 52 of the 95-storey The Shard is the Shangri-La, the second European property (after Paris) from the Hong Kong-based hospitality group. The hotel's signature restaurant and bar, Ting, takes its name from the Chinese word for 'living room'. It's located on level 35 and offers hands-down the best view of any of London's rooftop restaurants (the next best vista is seen from Sky Garden).
The Shangri-La Breakfast (as lofty as the restaurant itself at £36) is a sumptuous Western and Asian spread that includes a vast range of continental options plus a choice from the hot dish menu, where highlights include buttermilk waffles, ginger chicken congee and French toast 'Hong Kong Style'. Alternatively, you can opt for the Full English. It'll set you back £42, but that's only marginally more than the View from the Shard: a harried, human-conveyor-belt of an experience that doesn't come with a serving of baked beans and black pudding.
31 St Thomas Street, SE1 9QU, visit ting-shangri-la.com
Duck & Waffle, The City
Perhaps not best suited for acrophobics, a visit to Duck & Waffle begins with a speedy ear-popping ride to the 40th floor of 110 Bishopsgate. If you can handle the height, the views will be worth it: perched in the heart of the Square Mile, this is one of London's best rooftop restaurants boasting vistas of The Shard. Short of whipping out your binoculars, opt for a window seat for a chance to spy on revellers in the neighbouring Gherkin. Scott's and The Ned alumni Elliot Grover heads up the kitchen, where he cooks up British-European dishes based around an all-day dining concept, alongside a dedicated breakfast menu ranging from Greek yoghurt and fruit salad to duck egg en concotte and Colombian eggs. Don't miss the restaurant's namesake waffle dish, a crispy duck leg confit served with a fried egg and lashings of mustard maple syrup.
110 Bishopsgate, EC2N 4AY, visit duckandwaffle.com
Decimo at The Standard, King's Cross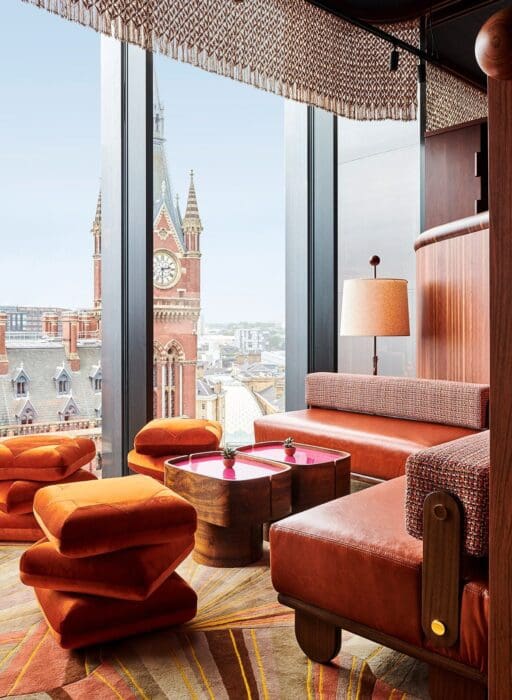 Sitting atop The Standard hotel overlooking the hustle and bustle of King's Cross below, Decimo is one of the two culinary offerings offered at the five-star hotel and is most certainly the one to visit for breakfast with a view. The Saturday brunch enables guests to get a real taste of Michelin-starred chef Peter Sanchez-Iglesias flair for Spanish-Mexican cuisine, featuring Huevos a la Flamenca, squid skewers, baja taco and Bloody Maria's. Take a seat in the tangerine-hued restaurant with floor-to-ceiling windows for extensive views of the North London skyline, made all the better by those aforementioned breakfast tipples.
10th Floor, 10 Argyle Street, WC1H 8EG, visit standardhotels.com