Think of Swedish cuisine and the first dishes that may spring to mind, courtesy of a famous purveyor of flat-pack furniture, are meatballs and cinnamon rolls. But Jonas Karlsson, head chef of Nordic restaurant Aquavit in Piccadilly, is here to prove there's a lot more that his home country can offer in terms of gastronomy. 
Born and raised in the Swedish countryside surrounded by nature, Karlsson learned to appreciate the fruits of the earth from a young age and fondly recalls memories of picking berries and mushrooms, as well as spending time at his grandparent's small farm. His interest in food soon overtook his academic studies and, as a teenager, Karlsson was often spending his spare time working in the kitchens of country house hotels. 
Despite the now-booming culinary scene in Sweden – a result of the spike in Scandinavian tourism – Karlsson felt he had no option but to leave his homeland behind to develop his culinary skills. Two decades on and he's firmly made a name for himself in the capital, having worked at Soho's 100 Wardour Street, Coq d'Argent and the award-winning Orrery in Marylebone. He made his move to Aquavit – established as a fine-dining Scandinavian restaurant in London in 2016 to follow in the footsteps of its Michelin-starred sister in New York – in 2021 and has been responsible for its delectable menu ever since. For Karlsson, Aquavit feels like a home from home.
Highlighting innate Swedish culinary techniques, such as fermentation and smoking, guests at Aquavit are invited to take a seat in an oak-panelled dining room, furnished with turquoise tones, gold furnishings and floor-to-ceiling-windows, to sample the very best dishes Sweden has to offer. Think gin-cured gravlax, salt-baked beetroot, pan-fried diver scallops and glazed beef cheek before moving on to traditional Beef Rydberg with caramelised onion, Swedish meatballs (of course) and freshwater trout with Sandefjord sauce and trout roe. Desserts aren't to be missed and we highly recommend the kladdkaka (sticky chocolate cake) served with lingonberry cream and white chocolate soil. 
So, what was the reality of mastering Swedish classics in London? And where does such a seasoned chef like to dine in the capital? We find out.
Did you always want to be a chef?
I knew from a young age that I wanted to be a chef. For me, it was the natural path to leave school and go straight to cooking college.
What's your earliest food memory?
It must have been when the Christmas ham was prepared the night before – delicious!
When did you start your career as a chef?
I trained as a chef in my hometown of Värnamo in Sweden, 90 mins from Gothenburg, when I was 17. Once qualified, I started to work in a few of the local country houses and hotels.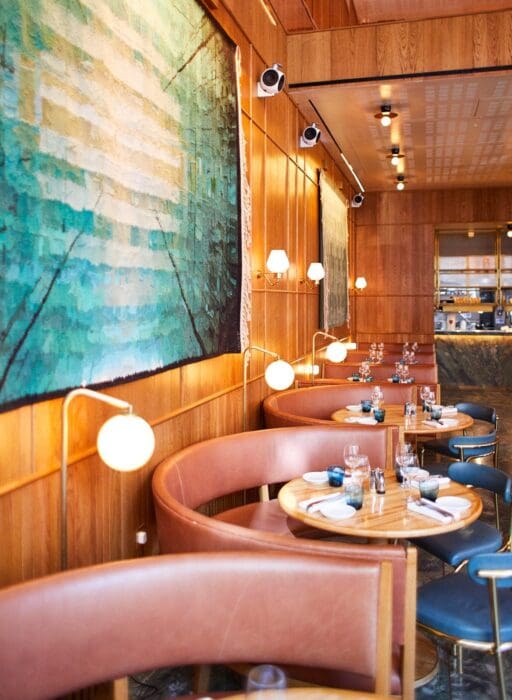 What restaurants did you work in during the early years of your career?
While I was in Sweden, I worked at Toftaholm Herrgård, which is a small country hotel set near a breathtaking, beautiful lake in the south of Sweden, as well as Hotel Plaza in Borås and Stadshotellet in Värnamo. In London, before working at Aquavit I worked at a range of fantastic restaurants, including Coq D Argent, Harvey Nichols and 100 Wardour Street. I also have had the privilege of owning my own restaurant near Kew Bridge for a few years.
What do you love most about Sweden's food culture?
I love that Swedish food is never over-complicated. It's straightforward, simple and delicious.
What's your favourite Swedish dish and why?
Isterband. The star ingredient of this dish is a light smoky pork and beef sausage which is then, most commonly, served alongside creamy mashed potatoes and cold-stirred lingonberry jam. It's truly perfect!
What drew you to Aquavit?
It's a gorgeous restaurant, both in terms of its culinary offering and interiors with gorgeous high ceilings and a beautiful, clean Scandi theme. It's a lovely environment in which to work. Plus, with my Swedish heritage, Aquavit London seemed like an ideal choice, and I have never regretted it.
What influences your menus at Aquavit?
The main inspirations for the menus, whether that be the a la carte or event tasting menus, is childhood memories, plus a unity of modern techniques and traditional recipes.
What is your one other favourite London restaurant?
There are so many restaurants to choose from and it's so hard to name one in particular! But a restaurant that I have returned to many times and continue to do so is La Trompette in Chiswick. In my eyes, it's as good as a neighbourhood restaurant can get.
Are there any other London chefs you're impressed with at the moment?
When it comes to creativity, I am really impressed by what Tom Aikens does. His attention to detail, choice of bold flavours and inventive dishes are unmatched.
How do you spend your free time away from the restaurant?
Lately as the British summer gets warmer, I have been hosting family barbecues in the garden with lots of lovely food and drink.
What's your favourite dish on the menu and why?
Our shrimp Skagen, paired with toasted sourdough topped with shrimps, lemon and dill mayo and Vendace roe. I can't get enough of it.
Visit aquavitrestaurants.com
Read more: The best restaurants in Kensington & Chelsea