Pele, samba, bossa nova and a world-renowned ability to party: the Brazil that the rest of the world fell in love with began on 15 November 1889. That's when the South American country cut the cord with Portugal, going from a European-administered colony to a republic. Republic Day is a national holiday in Brazil and, truth be told, a day off means only one thing: churrasco, the unique Brazilian way of barbecuing indecently large chunks of meat (previously rubbed with rock salt) before washing the carnivorous party down with very cold beer and a few too many caipirinhas.
Churrascarias, or rodízios, are the restaurants that serve up the traditional Brazilian feast all year round. Mandatory standards include a variety of meat cuts, stacked on long metal skewers and barbecued inside a metal cabin where the sticks are rotated like Dr Who's Tardis, but with the emphasis on tenderloin, not time travel. This process makes the fat drip evenly and continuously, giving an incredibly mouthwatering smoky aroma to the restaurant.
Read on to discover the best Brazilian restaurants and steakhouses which serve the most beautifully-seasoned chicken hearts, all-you-can-eat buffets, and cachaça milked from a bull…
Amazónico, Mayfair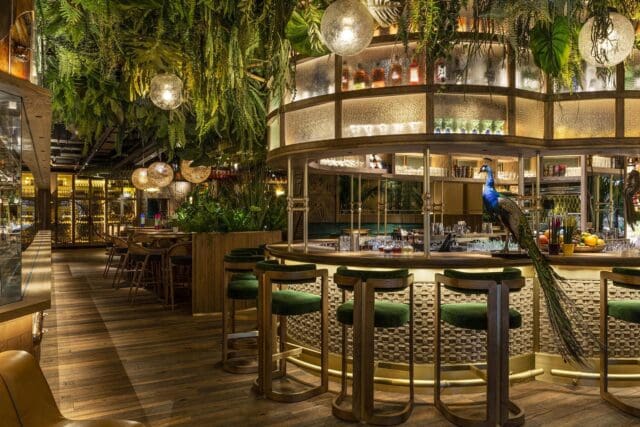 Originally born in Madrid, there was certainly quite the buzz in the capital when the lavish Latin American restaurant Amazónico announced its move to Mayfair in 2018. Five years on and the party palace has become so popular that you've probably already been inside, perhaps just via Instagram. The idea behind the opulent decor was to take guests on a journey through the Amazon rainforest (featuring monkey heads and peacocks, no less) with plush velvet chairs, flower walls and even an aquarium-themed sushi bar.
You can trust the emerald-uniformed staff take food theatre very seriously. Pick from Tuna Laqueado including seared Akami tuna, manao crunch and tamarillo ponzu as well as Verduras de Temporada with beetroot and heritage carrots and miso and Brazil nut cream to start before tucking into chimichurri marinated skirt steak and Chilean bass with black truffle cream and cassava crisps. Save room for dessert too. Our favourite is the Piña Rostizada: roasted caramel glazed pineapple, corn cake and coconut sorbet. Delicious.
10 Berkeley Square, W1J 6BR, visit amazonicorestaurant.com
Mano, Mayfair
Mano is one of the newest Brazilian-fusion restaurants on the block, making its home in Mayfair with renowned Michelin star chef Rafa Gomes at the helm at the end of March 2023. Capturing an exuberant dining experience, inspired by the beach clubs of St Tropez with a South American twist, the restaurant is split over two floors with the main restaurant residing on the second floor and The Lounge, which will be located on the ground floor, to open later in the summer as an exclusive and private destination for all-night parties. Menu highlights include octopus carpaccio, salted cod croquettes, Brazilian traditional gratin crab and Mano's signature roll with smoked shrimp. Don't forget to sample the delectable cocktails, including the Manga Picante comprising cachaça, mango, chilli and lime. 
4 Mill Street, W1S 2AX, visit manomayfair.com
Omnino Steakhouse, Leadenhall
Chef-owner Eduardo Barsotti launched Omnino in 2014 and has opted for premium beef ever since (mostly from Argentina and Uruguay). During Luxury London's visit, there were two specialty cuts: a grass-fed Wagyu picaña from Ireland, and a dark red sirloin from Galicia. Start with a selection of sausages, including a gorgeous spicy chorizo and toscana, and the restaurant's signature empanadas (a typical Argentinian pastry made with beef, corn or cheese). Try the ribeye with foie gras, a classic combination that sees the fat from the duck liver drip into the meat with divine results.
78-79 Leadenhall Street, EC3A 3DH, visit omninorestaurants.com
Touro, across London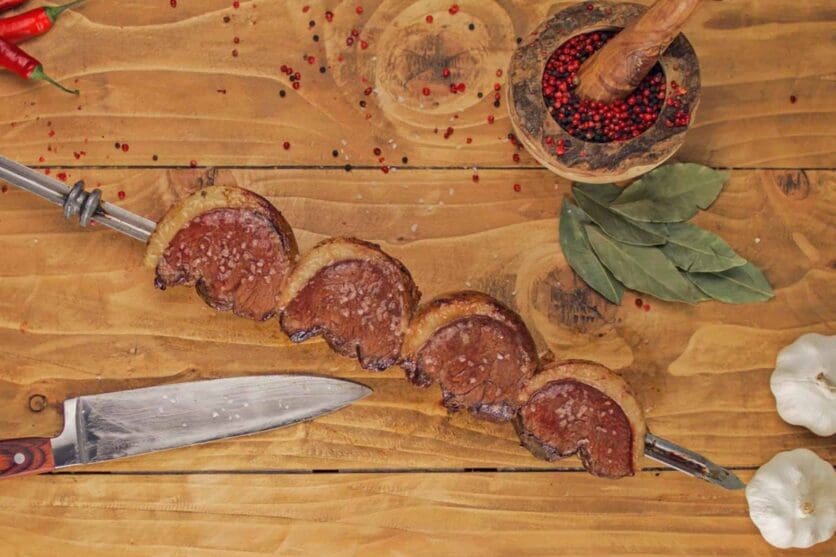 Picaña, the beef cut that comes from the top of the rump, is considered carnivore gold among churrasco eaters due to its distinctive taste. In a rodizio, ask the passador for the very first cut of the picaña. That means the meat will come to your table untouched by a knife, ready to burst its flavours and juices. Just so you know, the passador should be your BFF at a rodizio. They are waiters who have the power of slicing the meat directly into your plate.
Touro has been around since 2014 and is favoured for its intimate setting, with dark wood tables and low lighting. A new tasting menu called Premier Butcher Selection includes tiger prawns, Iberian black pork and fillet steak. From the wine list, you need to be entering into the world of punchy, robust reds. Los Intocables, Black Malbec, and Finca las Moras are all spicy and full-bodied. If you're lucky, you'll be offered a 'milked' cachaça — which, in fact, is a good digestive. You'll need it.  
988 Harrow Road, NW10 5NT, visit touro.co.uk
Fogo de Chão, across London
'The authentic Gaucho experience,' promises the Fogo de Chão website. This means a trip up to the Pampas, where the churrasco origin lies. The Pampas is an area of lowlands, covering a part of Brazil's southernmost state, Rio Grande do Sul, Uruguay and Argentina, known for growing cattle and home to gauchos: a word used to describe a horseman similar to a cowboy. At Fogo de Chão, passadores (remember your meat feast BFFs?) wear entertaining gaucho-inspired costumes.
It's at the buffet that I can offer the single most important Brazilian insider tip. Mind your excitement. You might end up ruining your appetite before you've even started on the real meat feast. It's easy to tell the difference between a Brazilian and a non-Brazilian by the plate they're carrying after a trip to the buffet. Brazilians will focus on salads and light bites, leaving a lot of room for upcoming meat. Some will add an extra layer of preserved palm heart, which is hard to find and not so cheap. Palm hearts are one of those things that people either love or hate. Some will say that it lacks taste. I love the subtle flavour and velvety texture. If you're loading up with pork skins, chips, lasagne and garlic bread, then you can guarantee that all the Brazilians in the restaurant will have noticed that you don't know what you're doing. Consider yourself judged.
Visit fogodechaorodizio.co.uk
Preto, across London
One part of the rodizio drill is the use of the green and red sign, which gives the customer the power to stop or continue the meat parade. At Preto, the green side of a square mat comes with the suggestive words 'more please', while the red side says 'I'm full'. Preto has been around since 2012 and the vibe here is fun, cheerful and colourful with kitsch pop art on the walls by Brazilian artist Romero Britto. Interestingly enough, Preto's rodizio style changed for good after lockdown. Now the menu has a vast selection of sides that you can order as many times as you wish. The Queensway branch has adapted to the local taste, serving certified halal meat too. Don't miss the chance to taste the vaca atolada (a stew made with beef and cassava), the polenta and the cupim, a unique fatty and tender cut almost solely eaten in Brazil.
Visit preto.co.uk
Rodízio Rico, The O2 Arena
A pioneer of the London rodizio scene in 1997, Rico has introduced the Brazilian carnivore party from East to West, exploring the love for meat in areas like Islington and Fulham. Currently, it has three locations, The O2 Arena in London, Coventry and Birmingham, but the O2 arena branch does the job of emulating the large dining rooms of the churrascaria in Brazil, sitting about 600 people.
Ask for the Sex on Copacabana (yes, a dreadful pun), a version of Sex on the Beach that's refreshing and surprisingly not too sweet, in a proper Rio beach vibe manner. Heading towards the centre, you'll find a large buffet selection with Portuguese, Italian and Brazilian dishes, from beef lasagne to feijão tropeiro (cowboy beans with eggs, cassava flour, spring greens and pork), a countryside recipe that every Brazilian loves. The meat parade brings about 20 cuts of all sorts, including the famous picaña, sirloin, pork and lamb cutlets. Rico thrives on tweaks beyond the common rock salt seasoning. The baby beef with lime and pepper is outstanding, the xixo beef, with a special marinade blend, is a must, and the garlicky chicken hearts are the best in town.
Visit rodiziorico.com
Read more: Buon appetito! The best Italian restaurants in London