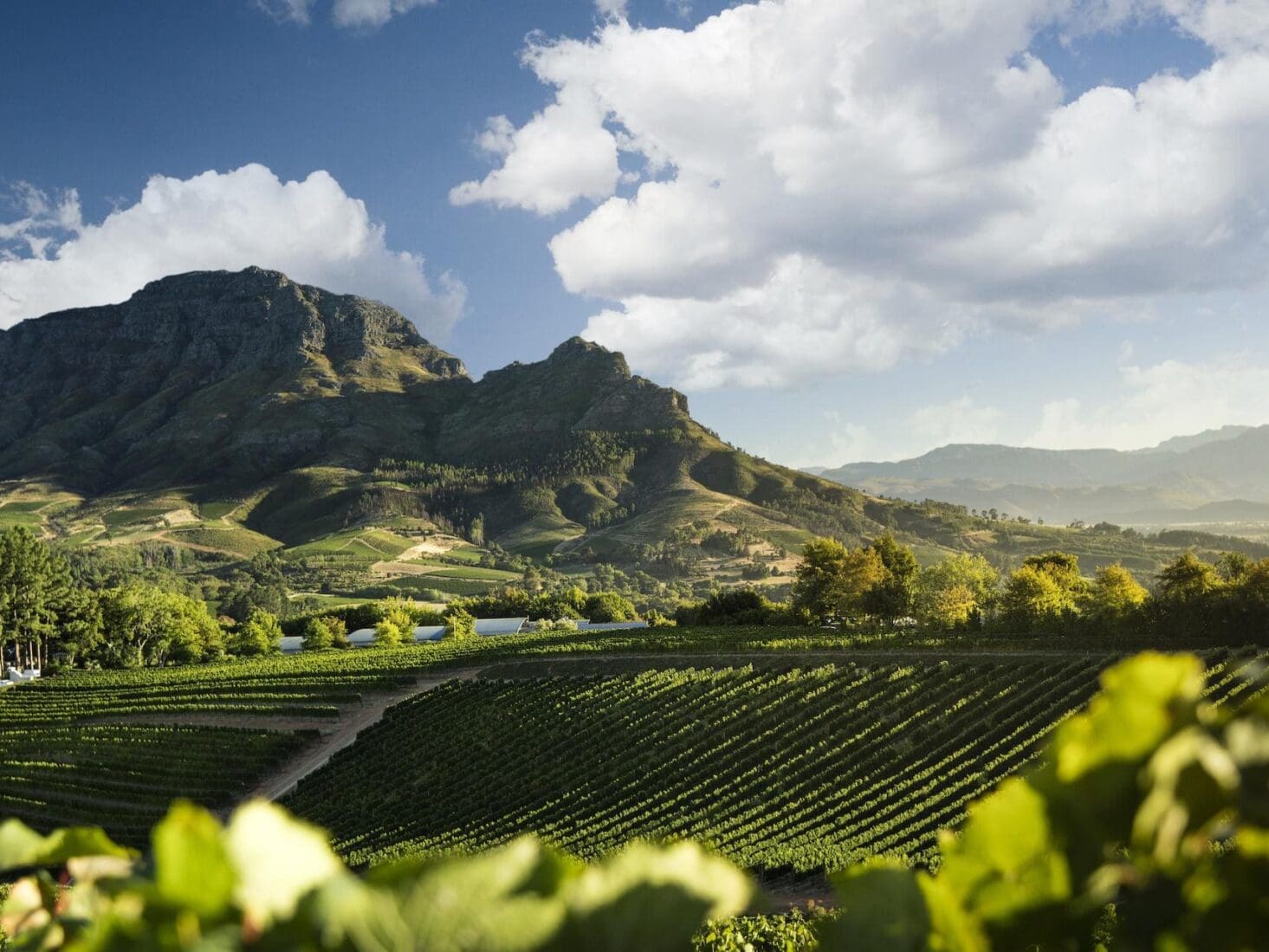 Grape Expectations: A Tour of South Africa's Vineyards
A tour of South Africa's wine country reveals an arresting landscape home to some of the best vineyards and wine in the world
I'm sitting at a restaurant table in Stellenbosch, gazing at lush green pastures sandwiched between the mountains and sea, which expand into the breathtaking Franschhoek Valley. A chilled glass of cap classique (local sparkling wine) arrives and our convivial host explains the menu. It's February, and there's not a cloud in sight. If these first impressions are a sign of things to come, the Western Cape is a marketer's dream. It's no surprise that the secret's already out. Our flight was full, rendering any hopes of commandeering an entire row academic. However, I was very generously upgraded to British Airways' Club World, which deserves a few words. Situated on the top deck of the 747, this had touches of what you would expect in a private jet. The charming crew served champagne before take-off, the spacious seats convert into fully flat beds, and the lounge made the whole experience a delight.
Feeling remarkably fresh and energised, we started our adventure at Majeka House. Ideally situated at the heart of the Stellenbosch wine zone, this five-star hotel has 23 individually designed apartments in four categories and caters to wine enthusiasts, gourmets and those who simply want to relax in luxurious comfort. The real attraction, though, is the location; Stellenbosch is only 10 minutes away and Cape Town airport is an easy drive of less than an hour. And while the Boland (upland) region stretching inland and upwards from Cape Town isn't the only wine-growing region in South Africa, it's certainly the most beautiful.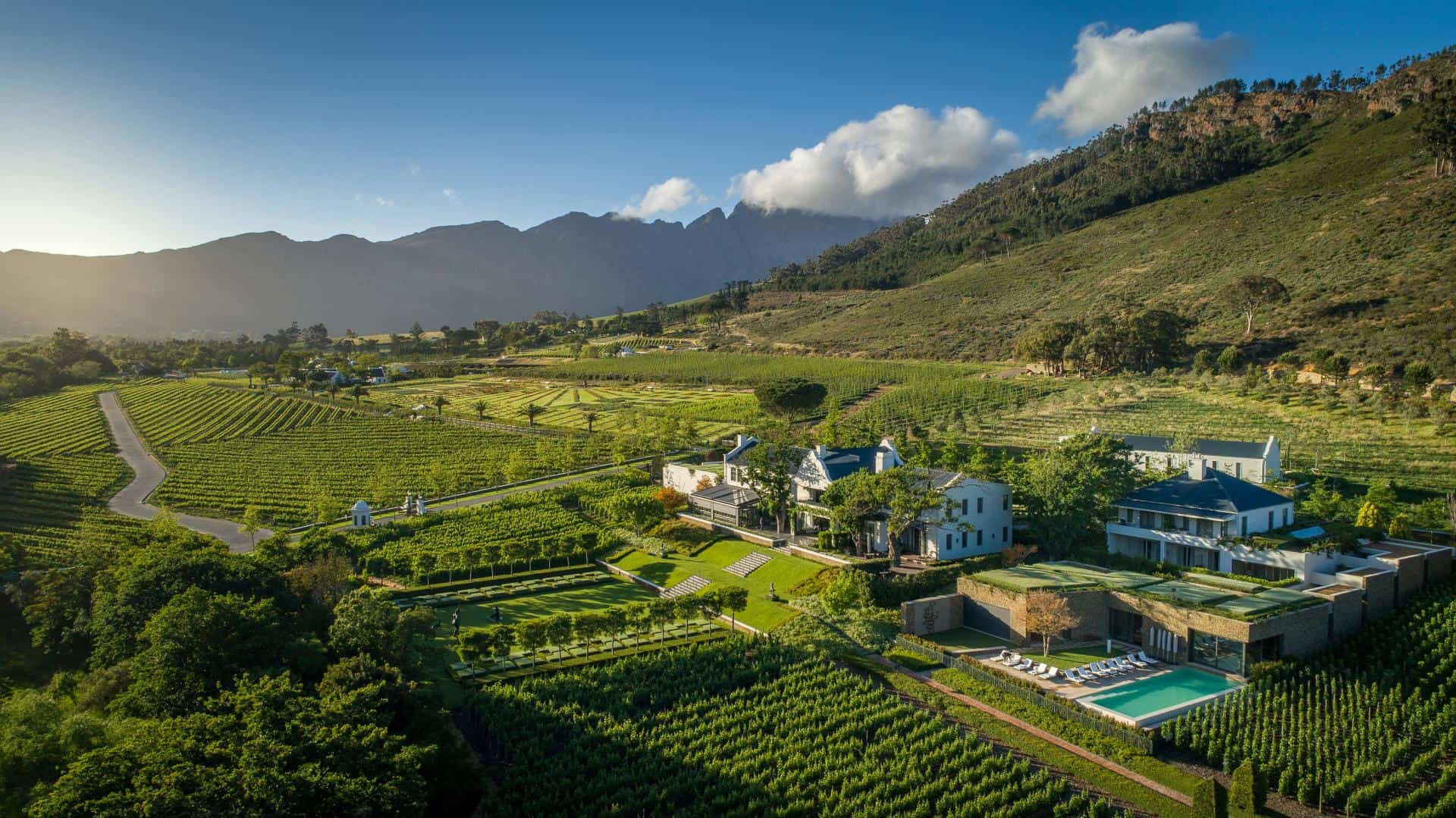 If you're short of time, the following estates, at least in my summation, are the cream of the crop. Kleine Zalze not only makes some of the country's best wines, it also keeps visitors enchanted with its restaurant, Terroir. Since opening in October 2004, Terroir has become one of the most sought-after gourmet destinations in the Cape Winelands. The experience – from the innovative take on local dishes to the excellent wine pairing and slick service – was outstanding. Expectations were set dangerously high for what was to follow, but these were surpassed again and again.
Jordan Wine Estate is another standout destination, renowned for the quality of its wines as well as for its tourism offering. We spent an evening in one of the highly vaunted suites, with a panoramic view of the vineyards and Stellenbosch Mountains. The complimentary bottle of the estate's wine started the proceedings nicely, before we enjoyed a gourmet feast at the Jordan Restaurant. Chef George Jardine, who trained under Michelin-starred chef Jean-Christophe Novelli in London, is one of South Africa's best. Suffice to say, what appeared from the kitchen was Michelin quality in every detail, a recurring theme throughout our week.
Constantia Glen is perhaps Cape Town's most accessible winery, being less than 20 minutes from the centre by taxi. Owned by the charming Alexander Waibel, this premium winery is situated in the Cape's oldest wine region, Constantia, which dates back to 1685. The former cowshed, located on the farm's most scenic spot, has been converted into an elegant tasting room. Today it can seat up to 200 people for a wine tasting and light lunch comprising platters of cheese, salami and smoked trout. Food, however, is a sideline to the more serious business of producing good vino. Waibel has stuck rigidly to his original plan of creating bordeaux-style wines, concentrating on just four: two reds (Constantia Glen Three and Five) and two whites (Constantia Glen Two, a sémillon and sauvignon blanc blend, and a 100 per cent sauvignon blanc).
But there's always serious competition in the Cape. Wines from Mullineux, the Swartland region's most renowned producer, are available at the Wine Studio, an oenophile's paradise attached to Leeu Estates in Franschhoek Valley. This 17-room country house and boutique winery offers exactly what we'd come to expect – spa, pool, restaurant, slick service, inspiring views and tranquillity all present and correct. We enjoyed a superlative lunch in the hotel's restaurant that left our waistlines groaning and our taste buds gently sighing with delight.
DeMorgenzon, a leading producer of chenin blanc perched high above the valley, takes things one step further. Its owners, not content with meticulously pruning and caring for their vines, connect speakers to every row and play them baroque music 24/7. It sounds like a gimmick, but owner Hylton Appelbaum explained the reasoning behind it."My vines clearly respond to the sound waves from melodic baroque music; they show greater vigour and are healthier as a result," he said. "We saw a difference within the first year after introducing music to the vineyards." There's no restaurant, just a picturesque, discreet tasting room where his proselytising can be put to the test. It's a million miles away from the experience at Delaire Graff, our next destination. Owned by Laurence Graff, founder of the international Graff jewellery empire, Delaire Graff is unashamedly lavish: the lodge and spa are arguably South Africa's most luxurious, while the restaurant boasts the region's most majestic views – which in this part of the world is saying a lot – of the Helshoogte mountain pass. But the views don't do all the talking here as the culinary skills on display at the restaurant were also exceptional.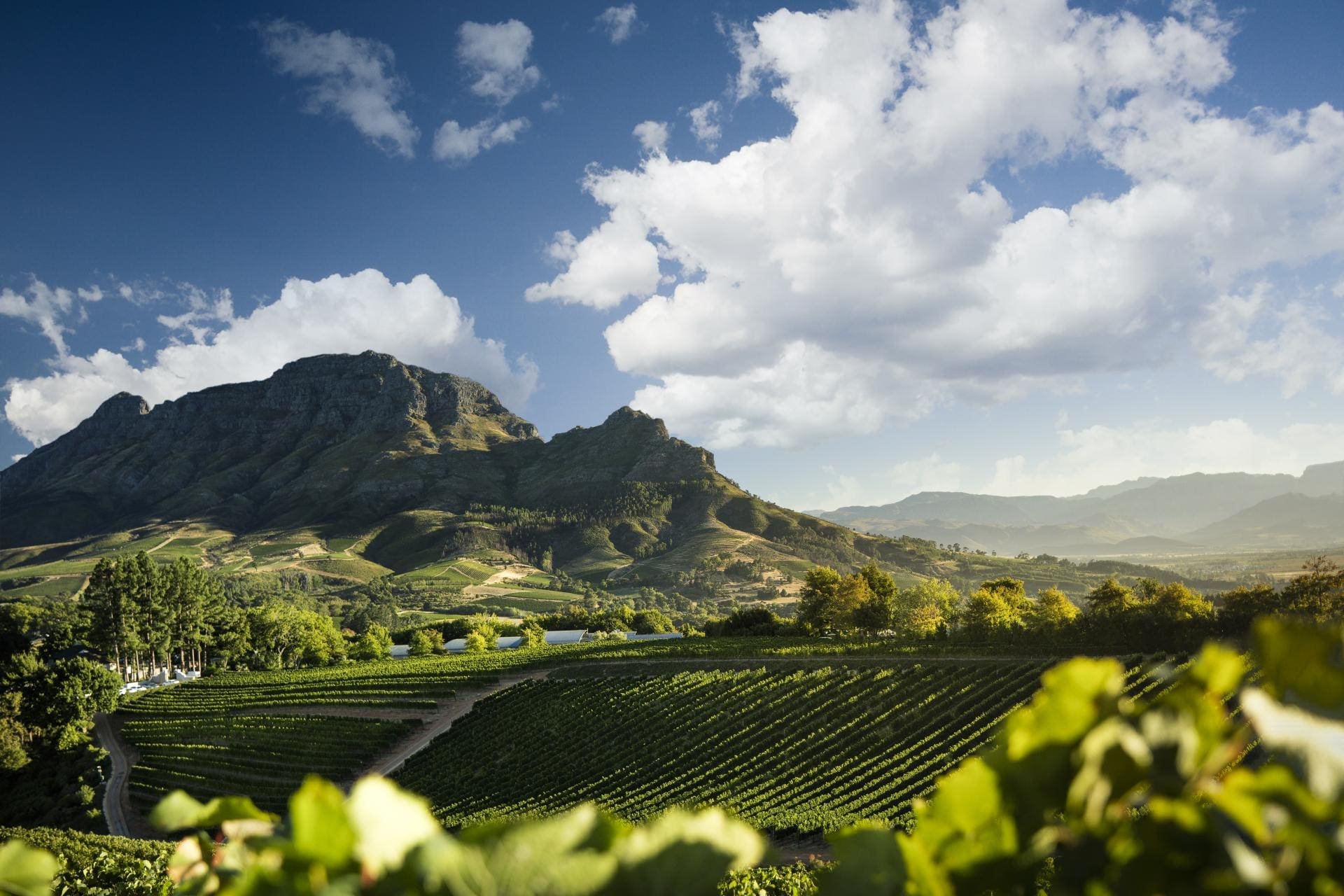 Feeling guilty about all this indulgence, we decided to dedicate some time to exploring the region on foot. The hiking options, particularly on the legendary Garden Route, are endless, but being short of time we chose to become acquainted with the Cederberg mountain range. Two hundred kilometres north of Cape Town, the sandstone formations, rock art by the indigenous San people and craggy mountains make this a must-see wilderness. Hiking trails criss-cross a 240-sq-km area. We decided to explore the Wolfberg Cracks, which are breathtaking. You'll need to hire a car, as public transport to the mountains is non-existent.
Visiting Hermanus (122km east of Cape Town) was equally memorable. A quintessential, picture-postcard seaside resort, Hermanus has prospered as a major tourist destination (there's a whale watching festival in September) and as a gateway to the magnificent Hemel-en-Aarde wine region – perhaps the greatest source of pinot noir outside Burgundy. The jewel in the crown is Hamilton Russell Vineyards, which continue to produce some of the finest chardonnay and pinot noir in South Africa. Run by the congenial Anthony Hamilton Russell, this superstar winery welcomes visitors with open arms. We whiled away too many hours in the lakeside-facing tasting room, run by an extremely charming team of staff. The wines at Newton Johnson are excellent and better still is the eatery, The Restaurant at Newton Johnson. Easily accessible from Hermanus, the restaurant sensibly offers a concise menu; with only a few options for each course, the small kitchen focuses on perfection and on special attention to the provenance of ingredients. The results were nuanced and delicious.
Of course, beguiling Cape Town itself must not be omitted. The city is peppered with fine restaurants, theatres, museums and art galleries, while the surrounding areas offer encounters with penguins, whales and baboons. We played it safe on our last day, though, and enjoyed a few libations in De Waterkant, Cape Town's most colourful district. Afterwards we headed to Harringtons Cocktail Lounge, a star in Cape Town's growing firmament of world-class cocktail bars, where the drinks and tapas have sustainability, seasonality and quality in mind.
Our base for the final leg of the adventure was the magnificent Cape Grace, a deluxe hotel on its own quay, with Table Mountain right behind, said to be popular with Barack Obama. The hotel's décor is exquisite – every corridor and room is outfitted with a mix of antiques and reproductions, and flamboyant touches such as chandeliers dripping with bits of what appear to be colonial-era artefacts. The sizeable pool and alfresco bar terrace offered a welcome respite from the heat, and provided a wonderful space in which to mourn our last few hours before our taxi duly arrived to take us to the airport.For tourists, this part of the world has a lot to offer: an incredible landscape, exquisite culinary offering and some of the world's best wineries. It's all worth raising a glass to.
British Airways flies daily from Heathrow to Cape Town. Club World fares start at £3,423 return, ba.com; Majeka House, from £137 per person per night bed and breakfast, majekahouse.co.za; Cape Grace, from £452, capegrace.com; Transfers to London Heathrow via Paddington were supported by GWR, singles to London from £30, gwr.com