Comprising the constituencies of Jeremy Corbyn and Emily Thornberry, Islington is an area of affluent lefties who love the arts (Sadler's Wells and the Almeida Theatre are a stone's throw from Upper Street) and – you guessed it – food.
From Angel to Arsenal, the Islington restaurant scene is jostling to join the ranks of London's premium hospitality. But at the same time, the capital's smallest borough isn't trying to be anyone else – N1 marches to the beat of its own drum, attracting quirky outlets specialising in unpretentious, quality food.
Bellanger
Set overlooking Islington Green, this charming brasserie reopened in 2020 to much enthusiasm from locals. An authentic Parisian-style grand café in every way, from its awning-clad terrace and polished wood interiors to the blue gingham cloths that adorn each table, this relaxed all-day eatery excels in the kind of classic French cuisine that is only rarely found on this side of the channel.
Expect classics, including steak tartare, dressed crab and confit of duck, alongside European fare such as pan-roasted Iberico pork chop and chicken Milanese. A weekend brunch menu comprises everything from English breakfasts and French toast to eggs Benedict and the Bellanger BLT, served with a selection of teas from The Wolseley. For less than £20, you can also enjoy the restaurant's prix-fixe of rillettes of duck with sourdough toast, steak hache with peppercorn sauce and pomme frites, and sorbet fair maison.
9 Islington Green, N1 2XH, visit bellanger.co.uk
Moro
Run by husband and wife team Sam and Sam Clark (who cut their teeth at The Eagle in Farringdon and, later, the River Café), Moro has been a fixture of Exmouth Market's vibrant community since it opened in 1997. After marrying, the Sams – as they are affectionately known by their team – packed up, bought a camper van and set off on a culinary adventure across Spain, Morocco and the Sahara, discovering the flavours that would come to define this bustling Islington bolthole.
Taking its lead from Moorish culinary tradition, the fare at Moro is warm and vibrant in its authenticity. Expect a heady dose of aromatic spice, homemade breads and yoghurts, and sizzling charcoal-grilled meats, accompanied by the enveloping scent of the restaurant's wood-fired oven. Reflecting the changes of the seasons, Moro's menu is rewritten in its entirety every three weeks, with minor adjustments made daily. Current dishes include crab brik with harissa, warmed salad of charred cuttlefish and tomatoes, seared pigeon breast on fried bread, charcoaled grilled lamb with patatas pobres and the mixed vegetable mezze, featuring Syrian lentils, baba ghanoush, spiced lebneh and more.
34-36 Exmouth Market, EC1R 4QE, visit moro.co.uk
Session Arts Club
Housed within the old judge's dining room at the restored Grade II-listed Sessions House in Clerkenwell, Session Arts Club is an inviting urban sanctuary, akin to an exclusive private members' club without the subs. Open Tuesday to Saturday for lunch and dinner, with a dining room bordered by three fire-warmed terraces, a rooftop bar and garden, this studio-like space takes its lead from a curated collective programme that moves with the seasons. Menus are updated regularly to reflect this, and current offerings include sea bream with fig leaf and sorrel, brown shrimp croquettes and quail with corn and crème fraîche. An extensive wine selection features an array of bottles from Europe's finest wineries, while cocktails present an unexpected twist on the classics: think tomato vodka spritzes, fennel axia martinis and sage old fashions.
24 Clerkenwell Green, EC1R 0NA, visit sessionartsclub.com
Top Cuvée
Perhaps better known for its popular natural wine subscription, Shop Cuvée, Top Cuvée is a pared-back, intimate neighbourhood bistro set on Highbury's Blackstock Road. Run by a friendly team that includes chef Dan Miller (previously of The Harwood Arms and the Naughty Piglet) and Brodie Meah (who was instrumental in launching Dinner by Heston over in Melbourne), Top Cuvée's concise yet impactful offering features a selection of classic charcuterie and small plates with a rustic, Mediterranean influence. Small bites include anchovies and gremolata and plates of capocollo, while larger dishes offer the likes of cod with chorizo and green beans, bavette steak with béarnaise sauce and chicken liver with plums. A rotating selection of cheeses complements the wine-bar-meets-resto's carefully curated list of bottles, while each cocktail is, rightfully, enhanced with the addition of homemade vermouth, wine or wine syrups.
177b Blackstock Road, N5 2LL, visit topcuvee.com
12:51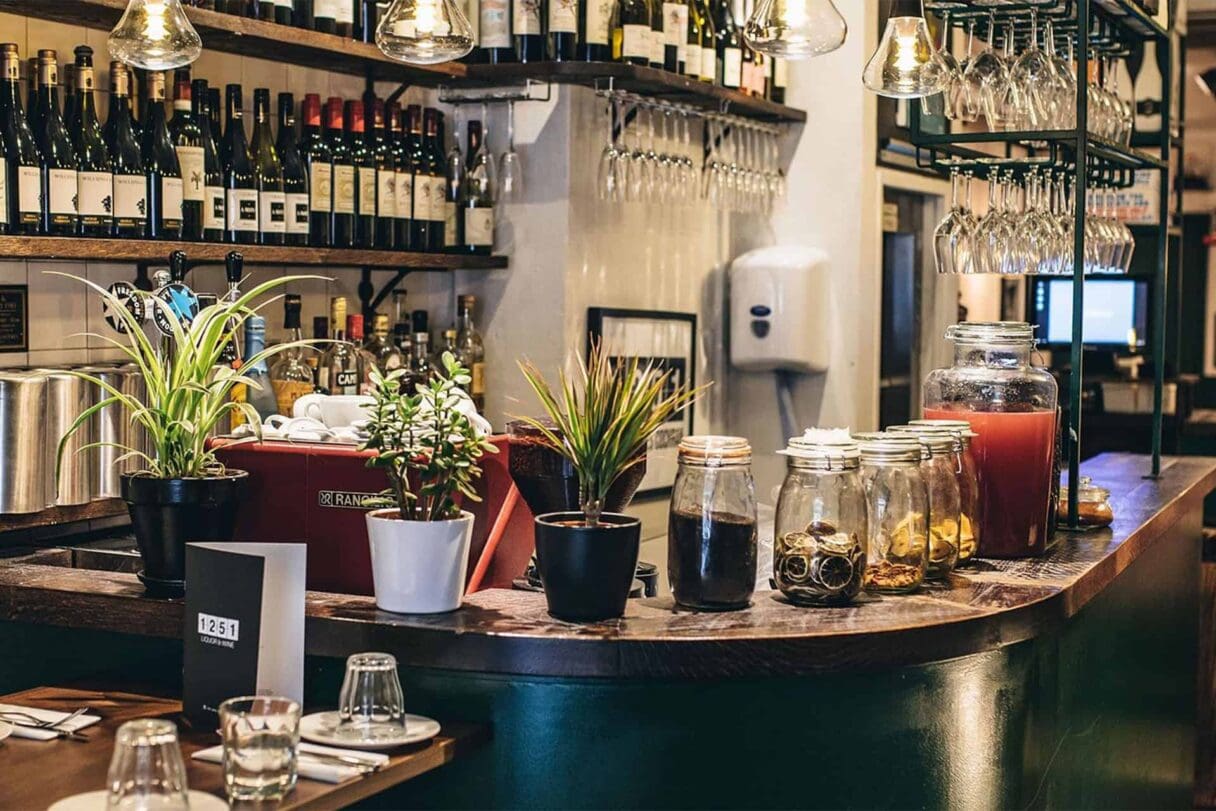 This is the latest project from James Cochran, the ex-Ledbury, ex-Harwood Arms chef who started his career at an oyster bar in his native Whitstable. He opened 12:51 (named after the Strokes song) in 2018, the same year he won the BBC's Great British Menu. The food is always changing, but it is generally 'British-with-a-twist' – Cochran's parents hail from St Vincent in the Caribbean and Glasgow, and his five-course tasting menu is a perfect reflection of this. For example, smoked eel comes paired with a Kirkham doughnut, while roast haunch of venison comes with spiced carrot puree, elderberries, black garlic and juniper crumb.
107 Upper Street, N1 1QN, visit 1251.co.uk
Brother Marcus
Brother Marcus is the creation of best friends Arthur, Alex and Tas, who were inspired to start their own restaurant during their travels to the Eastern Mediterranean. Named after Alex's younger brother, the rustic-chic Islington outpost offers mezze and mains in a relaxed setting – think pan-fried halloumi with orange and thyme-infused honey, crispy aubergine skewer with shatta herb sauce and grilled pork ribeye with grape beurre blanc. Don't forget dessert: baklava sandwich, pistachio ice cream and honey cream will always be our first choice.
37-39 Camden Passage, N1 8EA, visit brothermarcus.co.uk
Ottolenghi
The Islington branch is one of six delis and restaurants co-owned by the Israeli-British chef, restaurateur, and food writer Yotam Ottolenghi. Located just opposite the Almeida Theatre and a pre-theatre favourite, Ottolenghi seats about 50 people on mainly long, communal tables for Mediterranean-style breakfasts, lunches and dinners. Patrons can also opt for a magnificent salad served at the counter, like the roasted aubergine with golden raisin caponata, tahini and berbere croutons, or the burrata with heritage tomato jam and pistachios.
287 Upper St, N1 2TZ, visit ottolenghi.co.uk
Prawn on the Lawn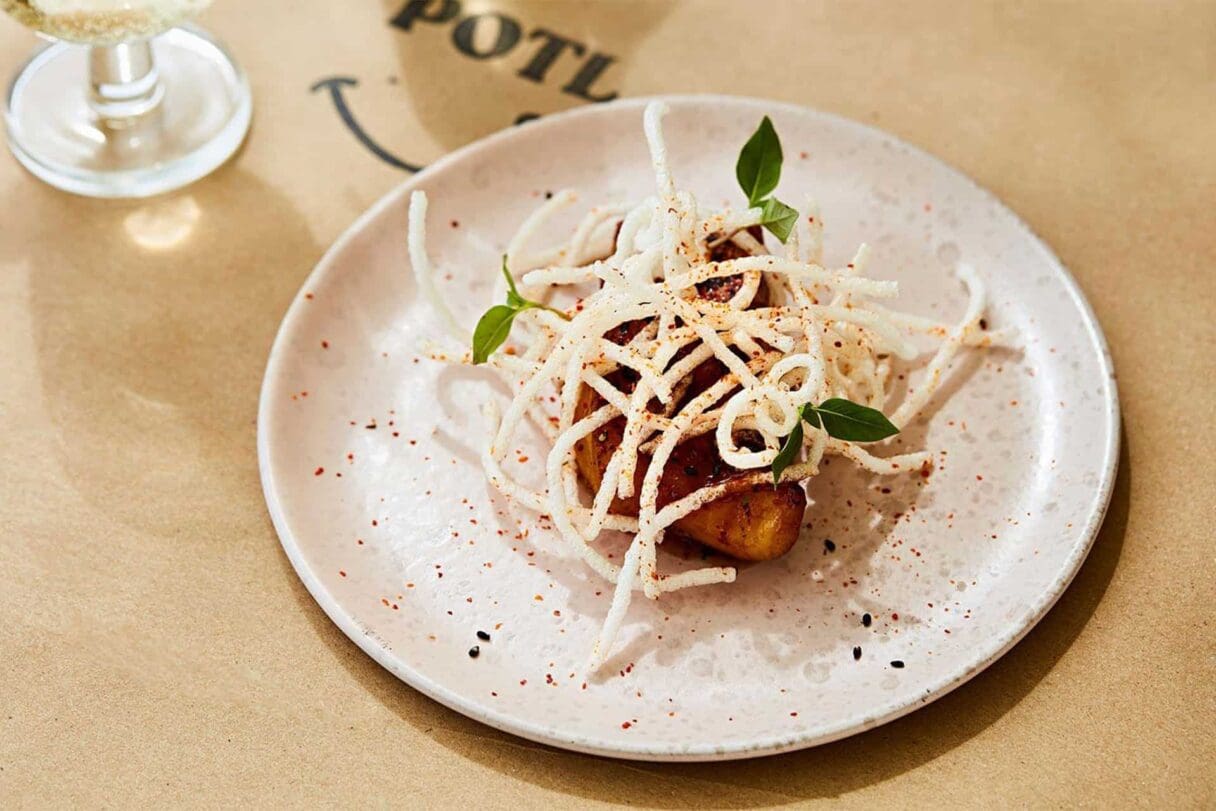 Prawn on the Lawn is a fish lover's dream. It started life in 2013 as a fishmonger and seafood bar – such was its success that it moved to a larger location, and now provides Islington denizens with fresh deliveries from Cornwall and Devon daily. Start with seared tuna with soy, mirin, and spring onion, or buttermilk-fried fish with sriracha crème fraîche, then choose between shellfish (a whole Padstow lobster or brown crab served either on ice or hot with lime and coriander butter); oysters from the Jersey or Maldon rocks; or 'fish for the table' (there are all the usual suspects, including monkfish and turbot).
292-294 St Paul's Rd, N1 2LH, visit prawnonthelawn.com
Frederick's
Frederick's is an Islington institution with a loyal cohort of regulars in the market for wholesome European staples like salt and pepper squid, Angus beef carpaccio, or a great steak alongside delectable dishes of pan-fried duck breast, potato rösti and creamed garlic French beans and pappardelle slow cooked beef ragù. An ever-changing menu of crowd-pleasers from chef Wilson Montoya is accompanied by an extremely comprehensive wine list, or a good cocktail. The family-run restaurant, which was opened in 1969, also offers a relaxed and contemporary bar and private dining options.
106 Camden Passage, N1 8EG, visit fredericks.co.uk
Smokehouse
Since Smokehouse opened its doors in 2013, it has sought to clinch the claim of 'the best smoked and grilled food in London'. In pursuit of this goal, the restaurant works with the best UK farms and butchers its meat on-site. Fish is delivered daily from Cornish markets, and everything is grilled, roasted and smoked using sustainably sourced English oak. The result is delicacies such as Hickory smoked brisket burger, chicken Ballantine with roasted pistachio and marsala, and smoked and roasted celeriac with carrot puree. Check the steak board for a selection of dry-aged rare breed cuts and to wash it all down, there is an incredibly comprehensive range of beers (20 on tap and 60 by the bottle) and wine sourced from boutique, family-owned vineyards.
63-69 Canonbury Rd, N1 2DG, visit smokehouseislington.co.uk
Trullo
Trullo claims to 'care about food the same way that [its] producers do' – a philosophy which translates into plates of simple, seasonally-focused ingredients cooked well. Expect pasta hand-rolled minutes before service, whether that's fettuccine with Scottish girolles and garlic or tagliarini with chilli, anchovy and pangratto alongside antipasti options including Devonshire smoked eel arancini, Swaledale venison fillet carpaccio, and Chopped Steelhead trout with marinated beetroot and horseradish créme fráiche.
300-302, St Paul's Rd, N1 2LH, visit trullorestaurant.com