Where to buy an engagement ring in London
To find an engagement ring you love as much as your other half, visit one of these dazzling brands in the heart of London for options both classic and creative
Browsing online for the ring of your dreams, if an engagement is on the cards, is a great way to narrow down your options, especially in 2023 when the rulebook has been well and truly ripped up. Diamond or coloured gemstone? White gold, yellow gold or platinum? What kind of cut and what style of band? Do you have a design in mind already?
Just as much fun is visiting a brand's boutique in London to try on a dazzling selection, or to kickstart conversations about creating your own bespoke engagement ring with its designers. And with weddings well and truly back on, engagements can continue full steam ahead, and there's no time like the present to drop some hints to your other half, or shop with them too, to make sure that ring you're wearing for decades to come is one you love as much as them.
Blackacre
Since an engagement ring is perhaps the most significant piece of jewellery you'll ever buy, why not indulge in the ultimate bespoke experience with Blackacre? Founded by Samuel Stirrat in 2017, Blackacre's ethos is centred around made-to-order jewellery crafted with top-grade stones from across the globe and set into pieces handcrafted in London. The brand is ethical to boot with a transparent supply chain that sees the team sourcing fine gems through exploratory trips to far-flung corners of the world. Where possible attempting to trace each stone back to its source, meaning every engagement ring it creates is truly one-of-a-kind. 
To help you create a ring you'll both love forever, the team will guide you on a journey, from an initial browsing of loose gemstones through to metal choice and design, resulting in a bespoke creation crafted around the unique peculiarities of the chosen stone and tailored to your specific tastes and story. With a showroom handily located near Chancery Lane, you can also add personal touches to your design, such as a secret engraving or hidden stones to create a ring that truly reflects your love.
9 Warwick Court, WC1R 5DJ, visit blackacreldn.com
Lylie
If your beloved is one for more ethically-minded jewellery, then London-based jeweller Lylie will fit the bill. Founded by goldsmith Eliza Walter in 2017, this purveyor of sustainable sparkle crafts each piece of jewellery using lab-grown or recycled antique diamonds and recycled gold, sourced from salvaged electrical waste or through the brand's gold exchange. Its gender-fluid engagement ring offering is crafted in the spirit of the romantic movement, taking cues from folk tales, the beauty of nature and a love of the medieval age, with each made-to-order piece hand-crafted in as little as five days. Alternatively, if you're after something bespoke, the team will work with you to design an engagement ring using your choice of ethical diamond or restored heirloom (including a try-on of a 3D printed mockup) for a truly one-of-a-kind piece that they will adore for decades to come.
To book a consultation or private appointment visit lylies.com
Jessie Thomas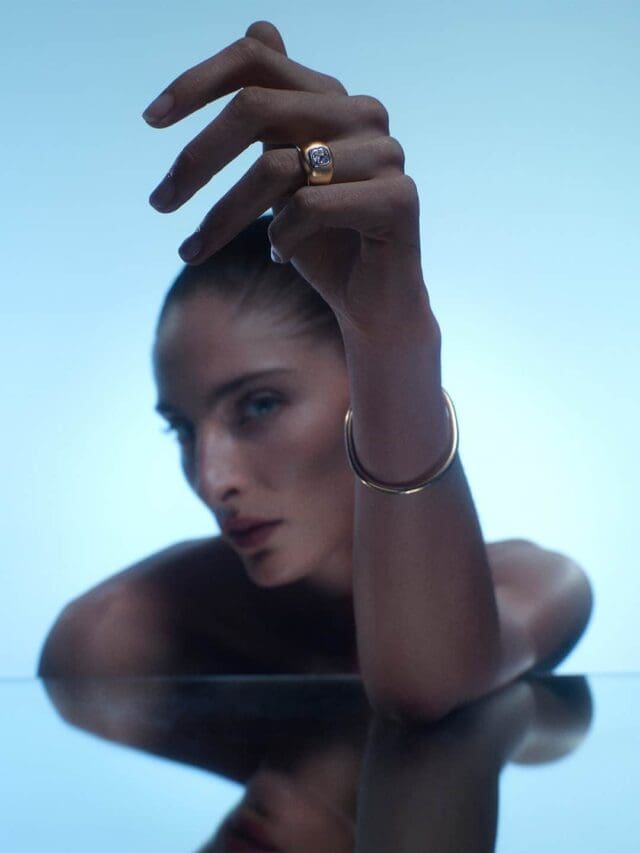 Based out of a workshop and retail space in Chelsea, goldsmith and designer Jessie Thomas learnt her craft from her father, master goldsmith David Thomas. The pair work together to handmake limited-edition ready-to-wear and bespoke pieces, including an impressive collection of timeless engagement rings that transcend trends. With a focus on subtlety and wearability, each design is made with recycled gold, responsibly sourced stones and conflict-free diamonds from Botswana. Whether you're looking for an off-beat, sculptural design or a contemporary take on the classic diamond solitaire, Thomas' offering makes for an elevated take on everyday pieces that are as unique as the person who'll wear them.
65 Pimlico Road, SW1W 8NE, visit jessiethomasjewellery.com
Rachel Boston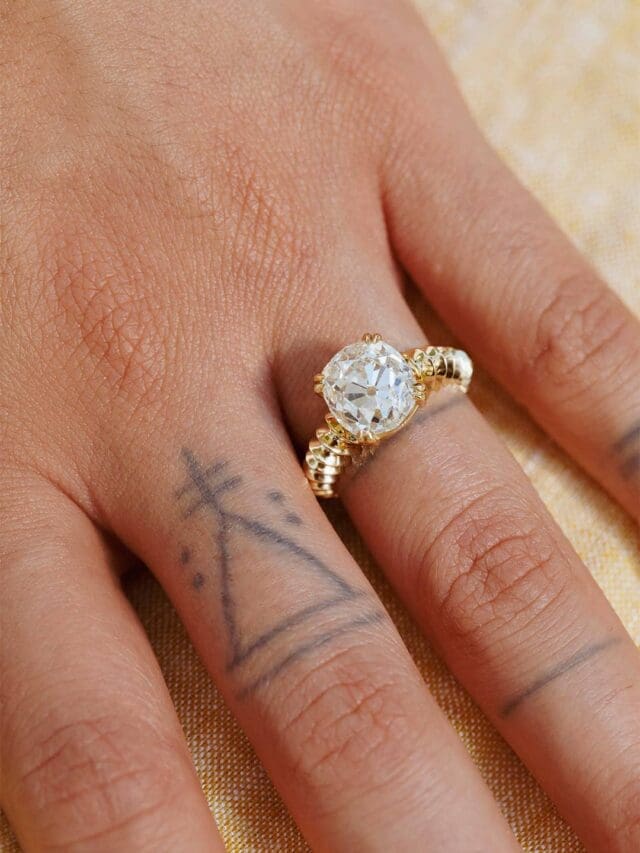 Ideal for the unconventional bride-to-be, Rachel Boston's edgy yet elegant engagement rings buck tradition with a bold, contemporary take on Art Deco aesthetics. Handcrafted in the jeweller's London workshops using ethical gemstones – from rough, imperfect stones to brilliant white diamonds – the brand fuses modern and traditional techniques for designs that are both timeless and unique. Specialising in bespoke engagement rings and wedding bands, the brand's East London studio will work with you each step of the way to craft an original, eye-catching piece that is sure to speak to your own unique perspective.
59a Redchurch Street, E2 7DJ; visit rachelboston.co.uk
Rêve Diamonds
London-based jewellery house Rêve Diamonds operates between a Mayfair showroom and workshop in the City of London, so whether you want to spend a morning leisurely browsing for the perfect ring or pop in on your lunch break to check on the progress of your bespoke commission, it's got you covered.
As well as specialising in custom rings and sourcing loose stones for those who know exactly what they want, Rêve's innovative website also allows shoppers to choose from a range of base ring templates, e.g. solitaire, shoulder set or trilogy, before completely customising your ring with your desired metal, diamond shape, size, cut and clarity.
You can even specify if you would like your stone to have GIA, HRD or IGI certification, as well as choose from lab-grown and coloured diamonds, so you can be assured you're getting only the best. We recommend popping the question with a placeholder ring before treating your beloved to an evening of champagne and jewellery design – a memorable occasion indeed.
14 Hanover Square, Mayfair, W1S 1JL; visit revediamonds.com
Boodles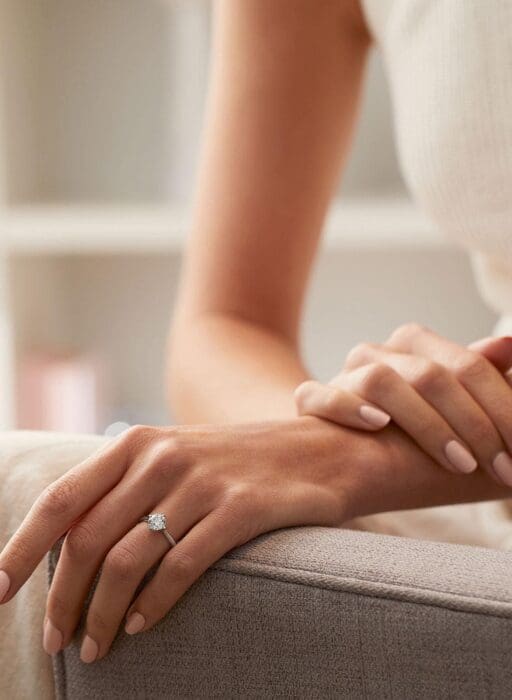 If it's a brand with longevity and a centuries-long commitment to immortalising true love in diamond form you're after, then Boodles, 'In love since 1798', is the place to start. Before browsing, start by reading Boodles' useful, digestible Diamond Guide. Its five engagement ring collections are, descriptively, named Vintage, Brilliance, Harmony, Petal and Three Stone. Across the collections, among the more familiar cuts, you'll spot the word Ashoka; Boodles is the only British jeweller to offer the Ashoka cut, which combines an emerald cut with a brilliant cut. Less than two per cent of diamonds mined can be cut in this way, so these diamonds are a USP at Boodles. And while classic diamonds are queens here, also consider the delightfully modern options too, such as a spectacular vintage oval blue sapphire ring.
Across London, visit boodles.com
Emma Clarkson Webb
A scroll through Emma Clarkson Webb's engagement rings reveals a balanced commitment both to dazzling diamonds and to show-stopper coloured gemstones. There's a glorious green tsavorite ring for a proposal in Scotland; an oval-cut sapphire chosen for a festive engagement; a striking 'salt and pepper' diamond ring for a rooftop proposal in New York; and a handful of teal sapphire rings, with their refreshingly unique hue.
Fine jeweller Emma Clarkson Webb may have launched her brand in 2015 but it's steeped in the traditions of London's jewellery-making heyday. Her workshop can be found in Hatton Garden, famous for its artisan craftsmanship over centuries, and she's a certified GIA gemologist. Her passion lies in making the bespoke engagement ring process "more accessible and less intimidating" – reassuring for all fiancés or fiancées, whether you fall into the confident-and-clued-up camp, or feel nervous and confused by the whole thing. Diamonds and semi-precious gemstones are sourced from across the globe and antique, inherited stones can be remodelled into new, modern designs. You can pop the question within six weeks, as there's a four to six-week lead time from the first consultation to the finished ring.
To book an appointment visit emmacwebb.com
Graff London
From Promise to Paragon via Icon, Flame, Legacy and Constellation, the evocative names of Graff's engagement ring collections nod to a passion for gemstones and an understanding of the emotion that the jewellery housing them can arouse. Attention to detail has been a cornerstone of the brand for its six-plus decades; a member of the Graff family still selects every stone used. Every Graff diamond, it emphasises, "is responsibly mined and traceable to its source; many are also laser inscribed, ensuring their exceptional provenance". A truly unusual version of a classic engagement ring can be found in Graff's Promise ring, set with a heart-shaped diamond, flanked by tapered baguette-cut side stones, and its Promise ring with a startlingly beautiful, radiant-cut yellow diamond at its centre.
Across London, visit graff.com
Tessa Packard
For a conversation-starting engagement ring that exudes storytelling and eccentricity from its very core, it has to be Tessa Packard. Inspired by "Victorian curiosity cabinets, juxtaposition and all things whimsical", this designer aims to create alternative, magical worlds in miniature. Take, for example, the celestial Antarctica ring in yellow gold, set with a hand-carved quartz star and pave diamond detailing; it tells the story of a new land mass, which came to be called the Unknown Southern Land, discovered in the late 15th century and later identified as the frozen expanse of Antarctica. Slightly less ostentatious but quirky nonetheless is the Silver Lining white diamond ring, its cloud shape and name perhaps a nod to a private aspect of a relationship. If you can imagine something even more fantastic(al), get in touch with Tessa to discuss bespoke commissions.
To schedule a private appointment visit tessapackard.com
Lark & Berry
Expect a thoroughly 21st century engagement ring shopping experience at Lark & Berry, where every ring houses a cultured diamond – also known as lab-grown diamonds, or manmade. "The New Sustainable Luxury," declares Lark & Berry. They are chemically, optically and physically the same as mined diamonds, and will last just as long. In keeping with the nod to nature in the brand's name, the engagement rings, offering the full range of cuts you'd hope for, are named after trees, from Maple with its beautiful twisting band to the delicate curving Wild Cherry. Lark & Berry's 5th C? Cultured, and proud of it.
52a George Street, London, W1U 7EA, visit larkandberry.com
Harry Winston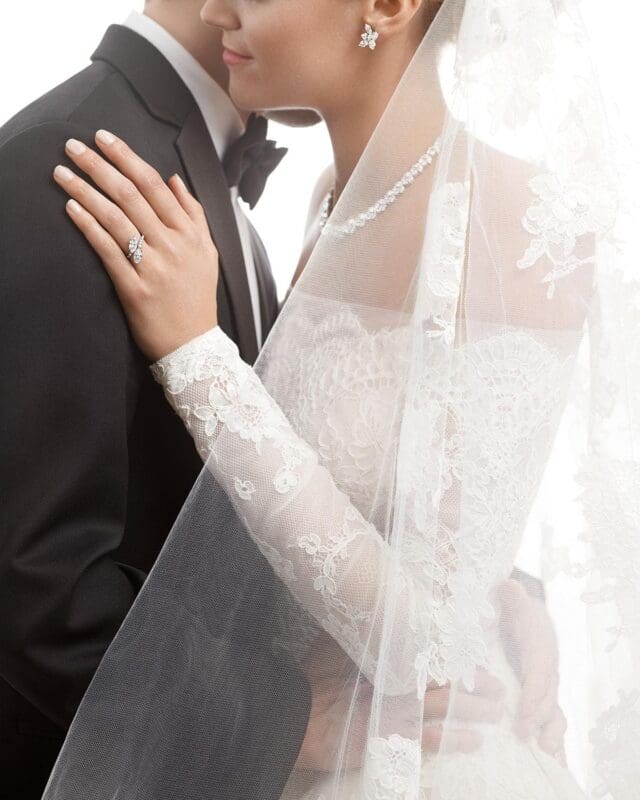 Many high-profile women have sported engagement rings by King of Diamonds Harry Winston over the decades, and with excellent reason; they are quite simply world-class. Aristotle Onassis proposed to Jackie Kennedy Onassis with a show-stopping 40-carat Lesotho III diamond from Harry Winston in 1968 and more recently Ben Affleck proposed to Jennifer Lopez in 2002 with a pink diamond Winston ring, bringing coloured jewels firmly back into the fashion spotlight. By this point in your engagement ring journey, you'll know about the 4 Cs – carat, cut, colour and clarity – but at Harry Winston, there's an all-important 5th C: Character. Whatever dazzling diamond design you desire, you'll find your perfect match here.
To schedule a private appointment visit harrywinston.com
Read more: Beautiful jewellery for brides, bridesmaids and wedding guests