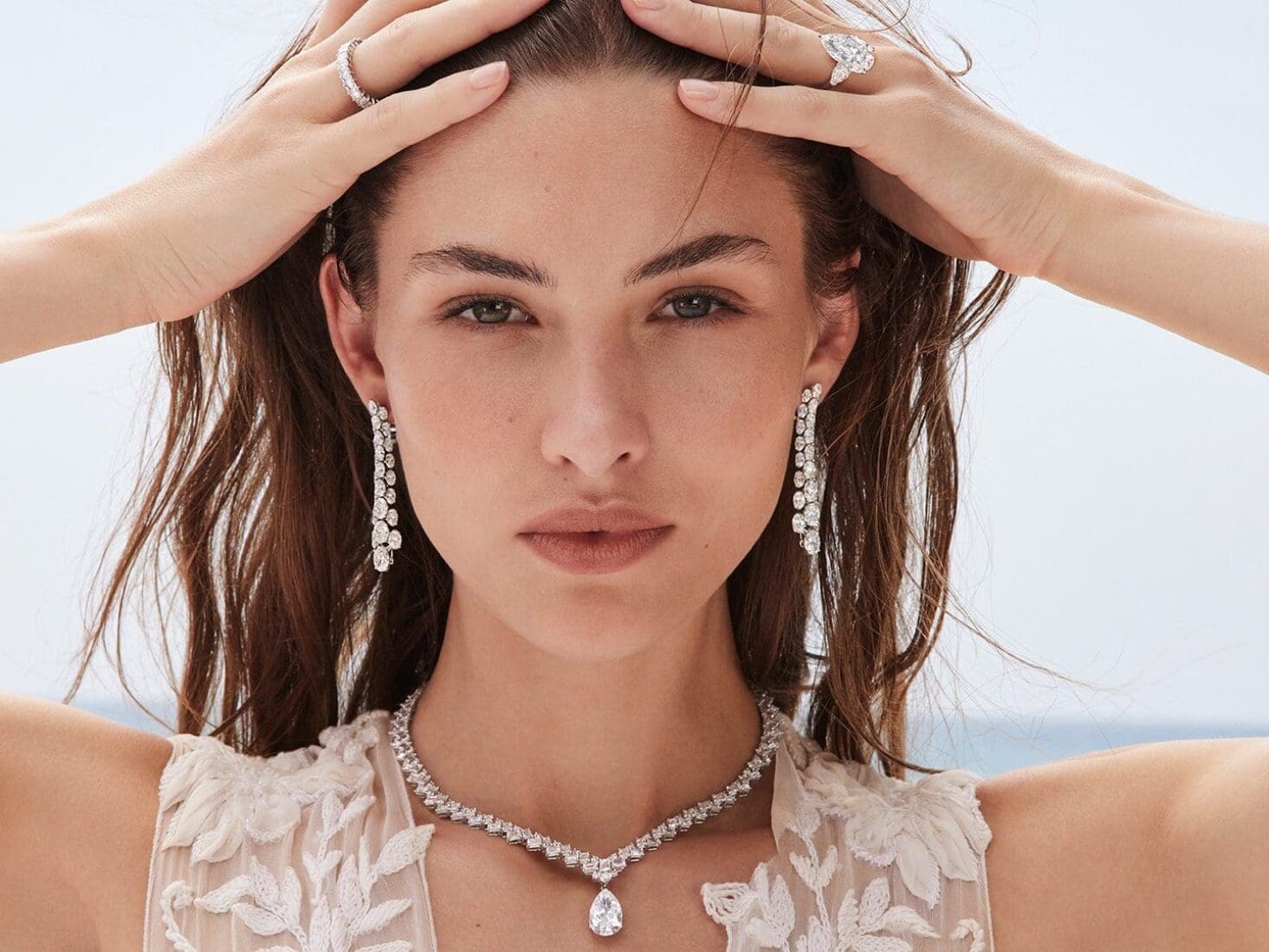 Beautiful wedding jewellery for brides, bridesmaids and guests
From brand new to vintage, borrowed to bedazzled; whether you're the bride, bridesmaid, mother of the bride or a guest, read on to get jewellery inspiration
All products are chosen independently by our editors. Luxury London may earn commission on items purchased.
Approximately 220,000 weddings were postponed in the UK in 2020, equating to thousands of beautiful brides, nervous grooms, best-friend bridesmaids, best-mate ushers, starry-eyed mums and misty-eyed dads, plus millions of guests, who didn't get the chance to dress up in their finest attire to celebrate the love of those they love. And, if your summer calendars over the last couple of years have been anything like ours, you'll know that lost time is definitely being made up for.
And, whether you're the bride, bridal party or wedding guest, it's only right that there should be excitement about being dressed to the nines for these celebrations. Coco Chanel famously, and wisely, advised us all: "Before you leave the house, look in the mirror and take one thing off". At Luxury London we've found this advice particularly helpful in redressing the balance after our 'more-is-surely-more' teenage years. Jewellery is the icing on the cake for every outfit, whether you're the bride or not, but don't be tempted to add every kind of sparkle; pare it back and make one item you really love the centre of attention.
Read on for a few wedding jewellery ideas…
Something old: The only way is vintage
One of the best things you can do for the planet is buy pre-loved everything and it just so happens that the world's pre-loved jewellery box is a treasure trove of unusual and sometimes entirely unique finds. Susan Caplan is the place to start. Its founder honed her skills in antiques, having been brought up by passionate antique collectors with stores in Camden Passage, and started specialising in vintage jewellery in 2008. Her collection of hand-picked pieces is grand and glorious; spanning the last 80 years and including gems by Chanel, Givenchy, Nina Ricci, Dior and Trifari. And it's more affordable than you might think.
Likewise, Omneque has enlisted a team of experts to source its vintage fashion and fine jewellery. If you're looking to invest opt for a piece of Victorian, Edwardion or Georgian jewellery – Omneque carries many pristine, sentimental pieces, such as the rock crystal locket pendant above. Farfetch also has a brilliantly diverse Pre-Owned section, featuring pieces by everyone from McQueen, Balmain and Cartier to Lanvin and Chanel. Choose subtle earrings to wear down the aisle then swap them for show-stoppers for the party – these Van Cleef & Arpels designs are perfect.
Something new: Modern pearls and sparkling gems
If there's ever an occasion to buy diamonds and pearls, it's your wedding day. Kiki McDonough has more than three decades of experience in this arena, and her collections strike just the right balance – modern, stylish and the right side of understated. Her pearls are teamed only with white gold, yellow gold and diamonds because these materials "subtly complement rather than detract from the wonderfully distinctive, natural, iridescent sheen". Opt for discs, knots, flowers, bows or hoops to sit above the pearls, or, if you favour a touch of colour, topaz or amethyst.
Newer to the industry but just as enamoured with pearls is Sophie Bille Brahe, a decade into her jewellery business. She trained at London's prestigious Royal College of Art and crafts her pieces by hand using traditional goldsmith techniques. Her Botticelli earrings, after the artist behind The Birth of Venus, are as beautiful as they are bold.
For sparkling gems, look no further than Mejuri; we love these pavé diamond ear climbers for a modern take on exquisite bridal earrings while the diamond baguette necklace is an understated yet stunning addition to classic sweetheart necklines. Plus, you'll wear them for years after the big day.
Something borrowed: Go big or go home
Just as planet-friendly as vintage jewellery is renting your gems, with the added bonus that you can borrow pieces you'd never even dream of buying. For example – a tiara. Having first been invited to supply jewellery to the Royal Family in the latter years of Queen Victoria's reign, Bentley & Skinner has a Royal Warrant of Appointment as Jewellers and Silversmiths to His Majesty the King.
Its tiara selection is impressive – we love this mid-20th-century tiara set with hundreds of shimmering diamonds. Set in platinum and yellow gold, its swirling floral pattern is more than fit for a princess. Bentley & Skinner's earrings are also exquisite; you can opt for a pair that will look as fantastic on the day itself as they will in the photos you'll cherish forever.
Likewise, all the jewellery at Susannah Lovis's Burlington Arcade boutique is available to hire. The collection spans a huge range of vintage Tiffany and Cartier pieces, as well as bridal classics including tiaras, tennis bracelets and Georgian, Edwardian, Victorian and Art Deco jewellery.
Something blue: Deep is chic
When it comes to finding your something blue, Net-A-Porter and Matches Fashion have done the hard work for you. Use their filters to narrow down by colour and voila; a gorgeous assortment of blue hues, in every style you might want, from Jade Jagger's tanzanite and gold drop earrings and Anita Ko's sapphire heart studs to Yvonne Leon's sapphire and gold necklace.
Suzanne Kalan's one-of-a-kind bracelet is decorated with blue sapphires and diamonds in the brand's pretty, scattered Fireworks setting. These are pieces you'll be wearing long after you've said 'I do'.
Bridesmaids: Spoil your best friends
Bridesmaids have a pretty big job, required to do everything from soothing the nerves of an anxious bride to diverting last-minute potential disasters (delayed booze delivery/broken zip/wilting flowers – delete as applicable) as well as being on top form at all times. Thank them for their efforts with a surprise gift of jewellery – necklaces are brilliant options as no ring fingers need to be measured and you don't have to panic last-minute that she actually doesn't wear stud earrings anymore. Stone & Strand has a beautiful set of 9-carat zodiac charm necklaces with a single diamond – simple and subtle enough to go with any bridesmaid dress, and also lovely for everyday wear after the wedding is over. The label only uses ethically-sourced gemstones.ds: Spoil your best friends
We also love Laura Lombardi's Beatta heart collection, if a more obvious show of love is what you're after. Each piece is handcrafted from a mix of new, recycled and reclaimed metals that Lombardi finds on her travels, and most of her pieces are made in New York, where she works with a Brooklyn-based brass mill.
Mother of the bride: When only diamonds will do
The wedding of your daughter ranks up there among the most exciting of days, and worthy of a magnificent piece of jewellery. You're the mother of the bride; you have earned the right to wear something show-stopping – something that makes your heart sing. Harry Winston is the grand master of wedding-worthy jewels and we love the pieces that combine diamonds with vibrantly coloured gemstones; these earrings feature six round-cut rubies set in the iconic cluster design – particularly lovely for an autumn/winter wedding.
Wedding guests: Dress it up
Sites like Net-A-Porter, Matches Fashion and Farfetch are brilliant places to discover new designers, and find something suitably spectacular for a big occasion – now is not the time for low-key, delicate pieces. Dress with joy! Viltier does great colour-pop earrings and Lauren Rubinski's cool pieces feature hand-applied enamel across statement rings, bracelets, necklaces and earrings in a spectrum of rainbow hues.
Roxanne Assoulin is also a colour-pop champion. She's no newcomer – aged 64, she has nearly four decades of experience designing for brands like Marc Jacobs and Oscar de la Renta. Her cult jewellery line features lots of colourful enamel tiles and pieces have fun names like Hip Hop But Not and Pearly Whites.