Why diamonds are the next frontier for men's jewellery
From discrete studs to iced-out chains, men are embracing diamonds like never before
All products are chosen independently by our editors. Luxury London may earn commission on items purchased.
Thanks in large part to the dazzling appearances of red carpet royalty, from Jack Grealish and Lewis Hamilton to Timothée Chalamet, Harry Styles and A$AP Rocky, a jewellery renaissance has rejuvenated the style of the modern man. Diamond jewellery for men is going mainstream – and it's time you updated your collection.
From huggie hoops and signet rings to supersized cuffs and archival brooches, statement bling has become essential for every man's wardrobe, with diamonds, served up as high-carat creations by luxury maisons and award-winning independent labels, taking centre stage.
Lisa Hall, buyer of luxury branded jewellery at the Watches of Switzerland Group, notes that men's jewellery is "starting to have a real impact. The focus is no longer primarily on what statement watch a man is wearing on his wrist," she says.
At Mr Porter, Maxim De Turckheim, the platform's senior buyer for watches and fine jewellery, has noticed a similar trend. "Since launching our fine jewellery category 18 months ago, we have been blown away by how ready men were to embrace diamonds," he says. "Initially, we were quite conservative with our selections but quickly realised we needed to bring on more brands which specialise in this space. We've seen growing confidence in our customers to wear more statement and 'out there' designs and [they] are open to experimenting with their jewellery choices."
Most notably, diamond specialists like the Los Angeles-based Suzanne Kalan and Shay are hitting a sweet spot with male customers, as are the investment-worthy creations of fine jewellers Greg Yuna and Kolours. At Watches of Switzerland, it's heritage names like Fope that are drawing attention. "Fope has a range of black diamonds which have been popular," Hall reveals. "Particularly in their rose gold bracelets."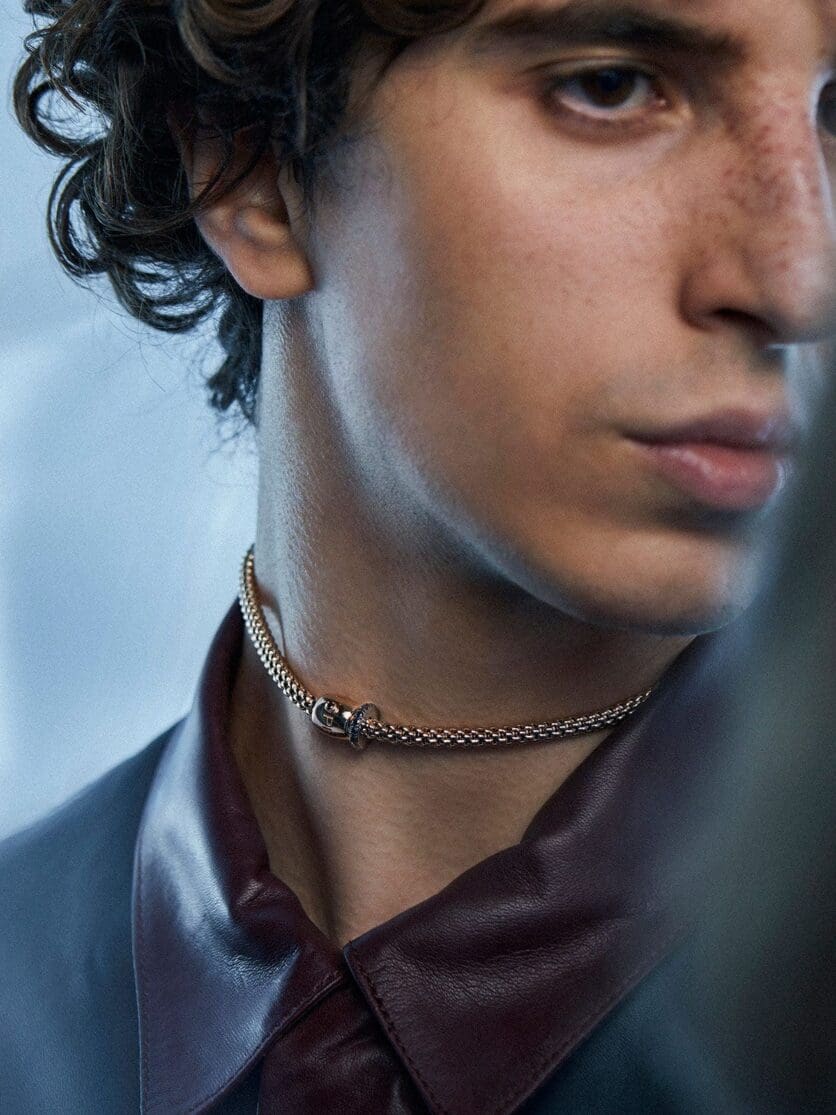 So, what are the diamond pieces populating men's jewellery boxes? "Tennis bracelets have exploded in popularity over the past 12 months," says De Turckheim. "Initially, we were seeing our customers buy into very classic tennis bracelets with white or black diamonds on white gold, but more recently have seen bright colours grow in popularity, sapphires and emeralds in particular, alongside different diamond shapes such as round or emerald cut. Alongside bracelets, our customers are investing in more subtle diamonds, such as the 18k yellow gold Foundrae pendant with diamond detail or a simple stud earring."
The question remains: is men's diamond jewellery a passing fad or a look with true staying power? Most certainly the latter, says De Turckheim. "Our customers have been waiting to have some fun with their jewellery choices and it's something we expect to continue."
Tempted to try the trend? Read on for our edit of eye-catching men's diamond pieces below.