Kate Moss unveils her first high jewellery collection in collaboration with Messika
Kate Moss was the face of Messika's Lucky Move collection in 2019, but this time has taken the mantle of jewellery designer
"I don't like rules; I like breaking rules." It's a sentiment that perhaps best sums up Kate Moss's personal style: defiant in the face of trends, effortlessly chic and always with a rock and roll twist, the fashion icon's style signifiers are inherently rebellious.
Twin this devil-may-care attitude with industry rule-breaker Valérie Messika, the diamond jeweller who counts Beyoncé and Gigi Hadid among her ambassadors, and you have a dazzling recipe for success. For Messika Paris's latest collection, Moss took the helm as high jewellery designer, creating her first ever range of shimmering suites, each inspired by her own eclectic tastes.
Having met at the Ritz in Paris and bonded over a shared love of jewellery, Moss and Messika set about on a year-long project creating a collection that reflected both the model's personal style and the brand's design DNA.
"This collection has really been inspired by my eclectic tastes," Moss explains, "along with pieces from my own jewellery box, different cultures and eras that I love, the 20s and 70s."
"We had several meetings in person and also virtual ones," she adds. "Mood boards were sent back and forth between us. Valérie did a great job interpreting my taste into the aesthetic of Messika."
The result is "bohemian, timeless, eclectic", says Moss, with swinging tassel earrings, mother-of-pearl and turquoise necklaces and Art Deco chokers all finished with a smattering of Messika Paris's signature diamonds in pear, baguette and emerald cuts.
"It was an exciting creative challenge to entwine Kate's personal tastes with the key codes of Messika Paris," says Messika of the new collection. "When Kate showed me her jewellery box, I saw many styles across vintage jewels, ornate pieces from India, etc, which initially seemed far from the DNA of Messika Paris. However, I thrive from challenge and especially love to challenge myself through new design."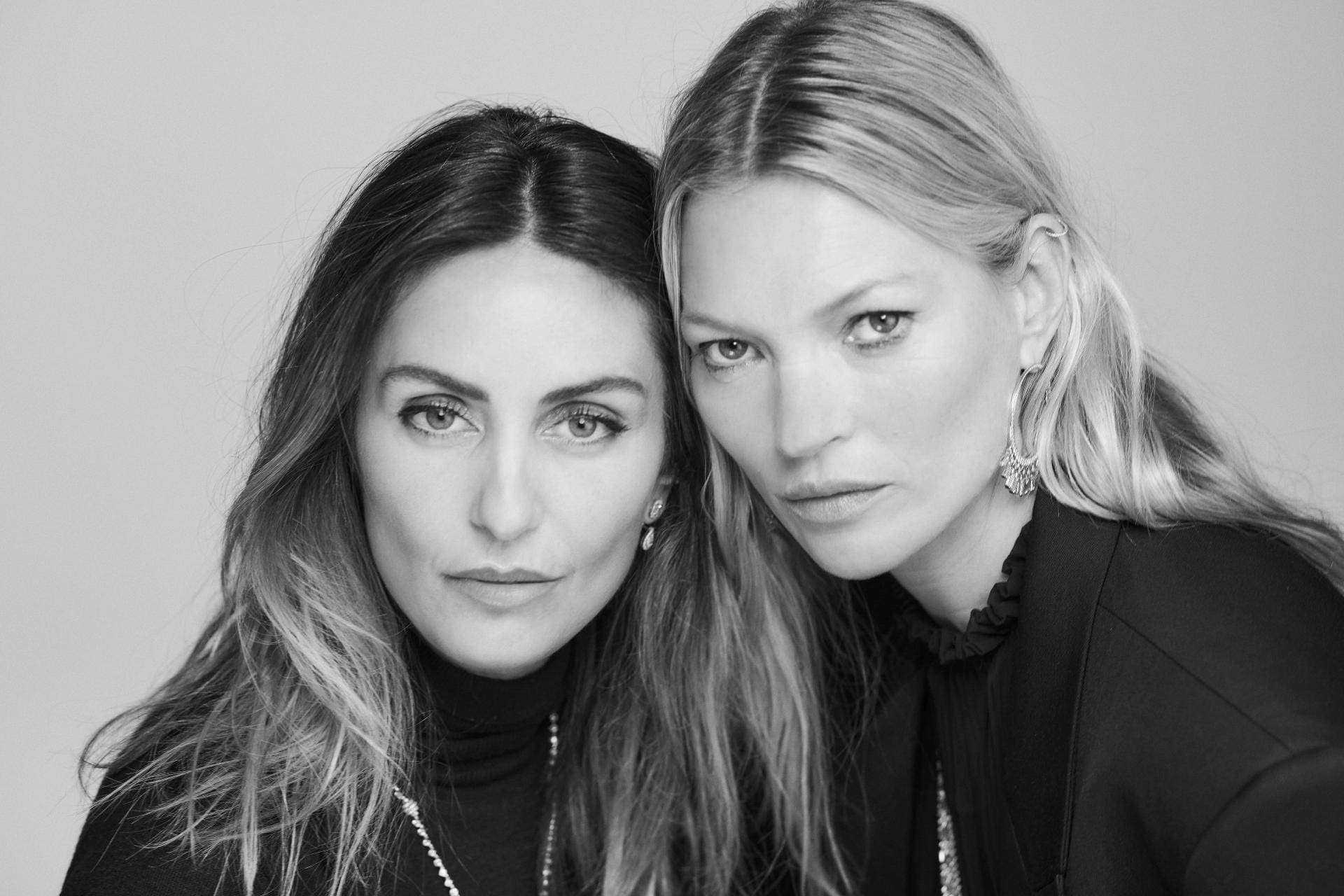 Given the nickname "diamond disrupter", Messika's feather-light fine jewellery first gained industry attention in 2005, when she debuted her signature Move collection at Baselworld. The latest iteration of the collection, Lucky Move, was launched last year and modelled by Moss in the accompanying campaign, marking the beginning of a burgeoning relationship.
"Kate has always served as an inspiration and muse," the designer says. "I've always admired the way she approaches things. Throughout her life, she has lived by her own decisions and accepted whatever consequences. Her instinct is what inspires me most."