How to cut men's hair at home: tips and tricks from a professional barber
The Refinery Mayfair's Creative Director and GQ's Barber Of The Year finalist, Anthony Mayes, on how to maintain your locks during lockdown 3.0
All products are chosen independently by our editors. Luxury London may earn commission on items purchased.
Even if you managed to schedule an emergency barber's appointment before you were plunged into Tier 4 five days before Christmas, it's now been at least four weeks since your hair felt the snip of scissors yielded by a professional hand.
Christmas and New Year's Eve were fine, but now that Zoom meetings are back on the agenda, it's time to address the unruly shag of straw that's beginning to poke out from behind your ears. Barbers remain shut and, thanks to lockdown, may not reopen for weeks. Time, then, for a DIY 'do.
There's a thin line between nailing a short-back-and-sides and looking like Simple Jack from Tropic Thunder, of course. Which is why we asked The Refinery Mayfair's Creative Director, Anthony Mayes, for his top tips on cutting your own – or someone else's – hair.
What's the worst that can happen?
Choose your weapons carefully
What you'll need: A decent pair of clippers (Wahl Cordless Super Taper Clipper, £74.99, salonsdirect.com); a comb (Large Tortoiseshell Acetate Comb, £15, mrporter.com); hairdressing (not kitchen) scissors (Premium Hair Scissors, £7.45, amazon.co.uk)
1) The simple tidy-up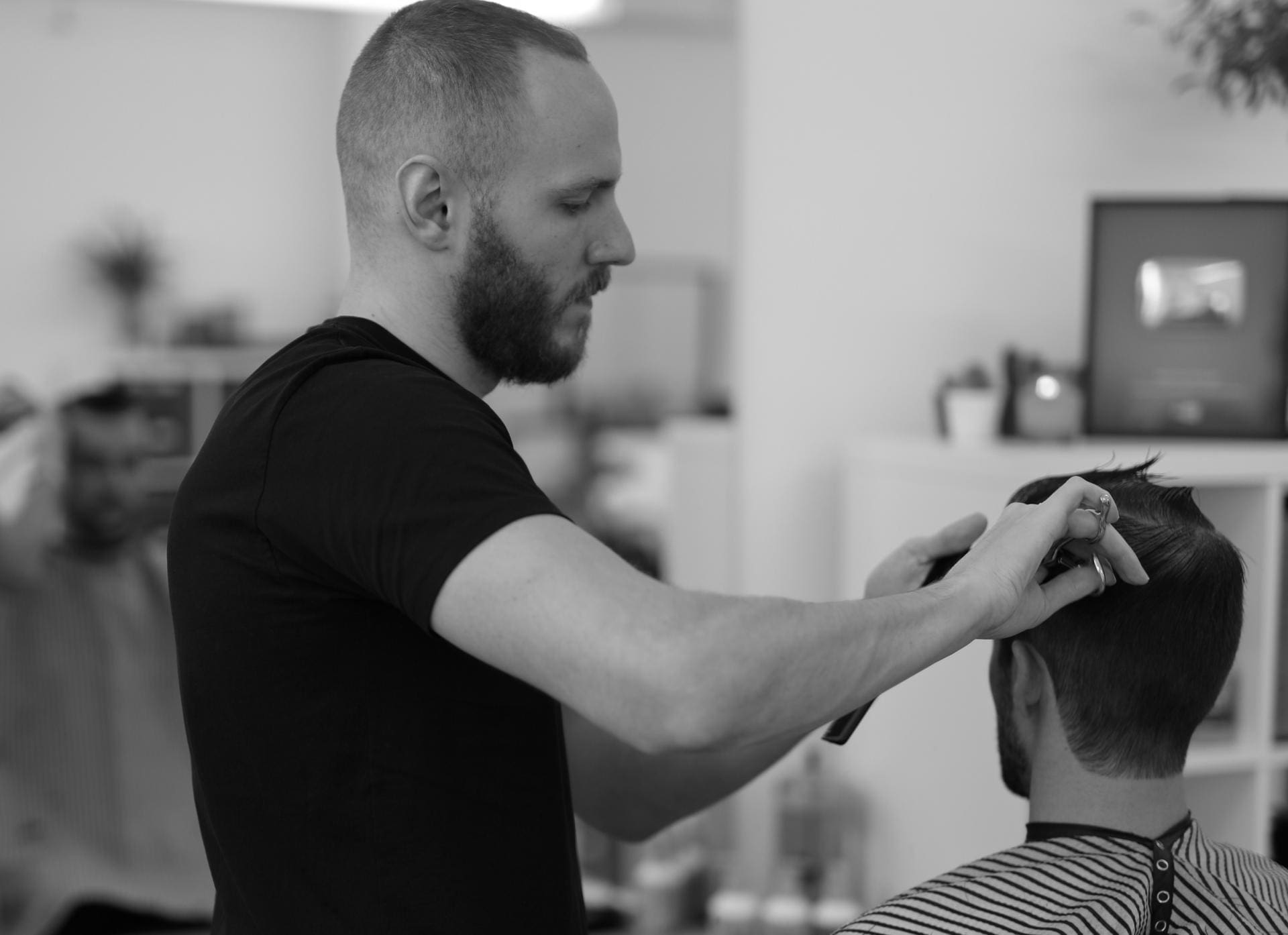 The tricks: To start off I would recommend washing the hair first. Using a hairdryer will let the hair sit naturally, do not apply any product until you are happy with the tidy up. You want the hair to fall naturally so that you finesse the hairline and around the ears. If you have no one trustworthy, I would recommend two mirrors so that you can see your progress.
The technique: With a 'simple' tidy-up it's all about 'less is more'. What you are trying to achieve is the removal of unwanted sprouting hairs and heaviness in the haircut. First comb your hair to its natural fall – this identifies the hair direction and allows you to have a clear vision of what needs cutting. Using the tips of your scissors, start detailing around the ears, angling the scissors almost parallel to the hair growth, this allows a softer line. Remember to cut small amounts at a time. Hold your ear down flat and cover with your hand while doing this.
Always rest and look in the mirror at what you have just cut rather than proceeding too far. You should follow this same motion around the hairline until you have the desired look, using a small clipper to remove any neck hair. Then, to soften the internal shape of the haircut, use a twist cutting technique throughout the top. This is where you twist the hair with your fingers, hold and with the scissors half open, you very carefully 'fray' the hair, similar to how you would fray a rope. Do not over do it. This technique will create fluid texture and slightly remove length through the top.
2) The short-back-and-sides
The tricks: Again, I would recommend washing and drying the hair first. Doing any technique is better on freshly-cleaned hair and will help you be more precise. Always remember to start with a higher grade on the clippers than your desired length. Gradually use shorter grades as you get closer to the hairline. Don't attempt a skin fade yourself, they are harder than you think to do properly.
The technique: So, with the short-back-and-sides, you first want to isolate the top of the hair. We call this a 'horseshoe or halo section'. Wet the top of the hair and make sure it is level on both sides to provide you with structure and make sure you don't go too short or high resulting in a dodgy look. Use a clipper grade two or three settings above the actual length you want.
Starting at the hairline, consistently cut the hair in an upward motion allowing the clipper to remove the hair. Go all the way up to the section line you created through the sides and back, then use the next number down on the clipper, doing the same motion but stopping around 1.5 inches from the section line to create a blend. Then repeat with a lower grade and allow another 1.5 inches from where you stopped with the previous clipper grade number, and so on.
With the top, form a 'horseshoe/halo section' higher on top of the head and point cut the over hanging length horizontally to blend with the sides. Lastly, comb all the hair on the top vertically and point cut the length to get the result you want. Always comb the fringe slightly backwards towards the crown.
3) The all-over buzz-cut
The tricks: With a clipper haircut you want to make sure you have a reference point on how short you want to go. A grade four all over compared to a grade one all over is a completely different look. Rounder head shapes suit a shorter grade whereas thick darker hair tends to look better slightly longer. As mentioned before, I would start with a longer grade to see what length you want before committing to a really short buzz.
The technique: Washed 'fluffy' hair will mean that your hair is standing on end and you will get a cleaner and more precise finish. Once you have the correct clipper grade, work the clipper against the direction of the hair. Once all the length is removed, systematically go across the direction of the hair. This technique will make sure that all loose stray hairs have been cut and then, voila, you're ready to go.
Men's hair trend predications for 2021
What will everyone be asking for when we can finally return to the barbers?
Normally, trends are predicted from street culture and high-profile personalities that get worked into fashion shows and vice versa. This blend of creativity gives the everyday man a direction of what to wear on their heads. However, the lack of exposure due to lockdown has left people doing what they want or have never dared to do. We will see men sporting long, unruly, textured styles and fully embracing it. Then we will see the opposite side of men wanting to go for something sharp and clean due to lack of not being able to visit the barber for months – or the fact that none of the above helped and turned out to be a complete disaster!
Read more: The stay-at-home men's grooming essentials to see you through lockdown