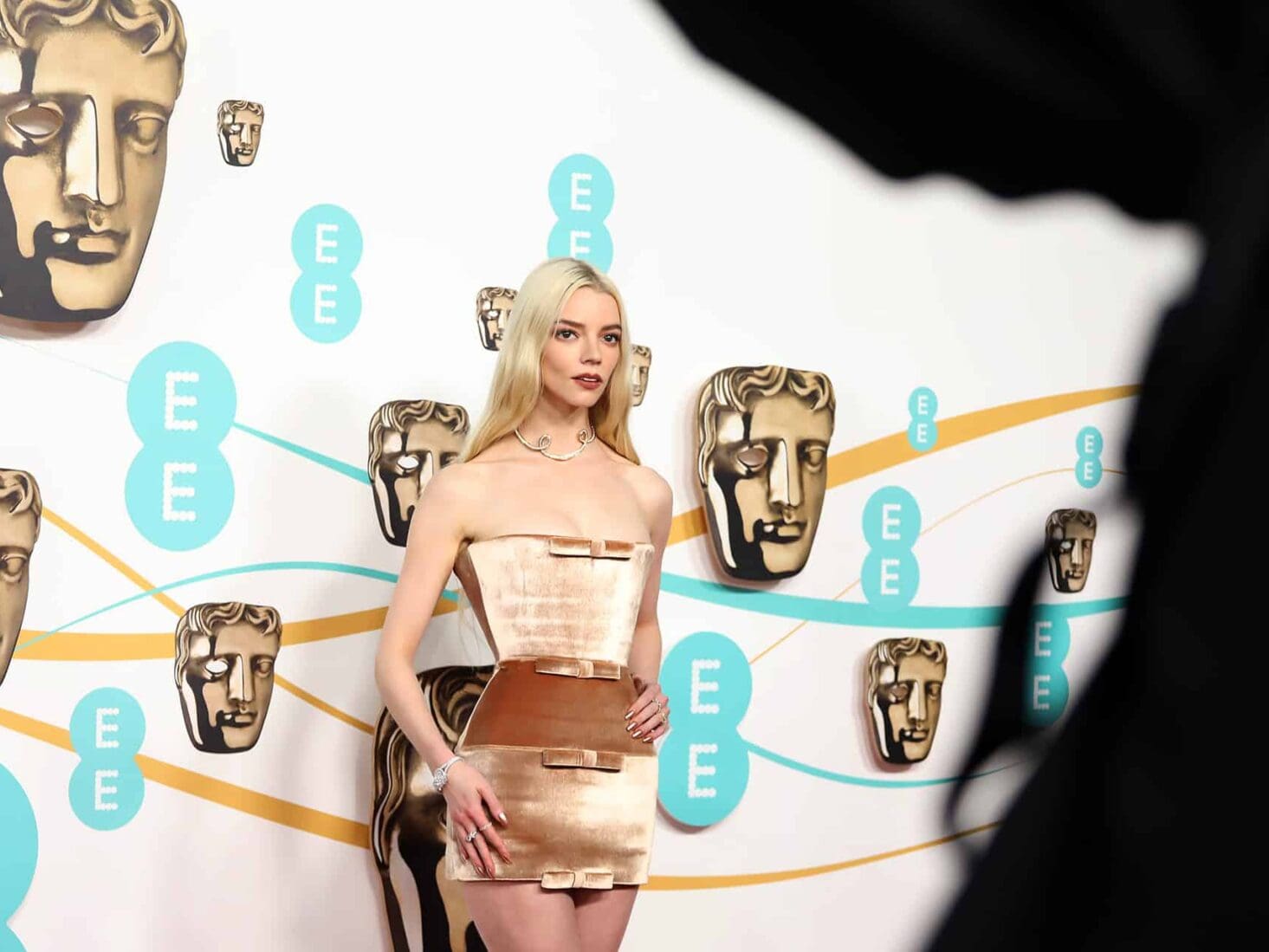 BAFTAs 2023: The must-see looks from the red carpet
See all the latest from the BAFTAs 2023 red carpet, including the best dressed celebrities and must-see fashion and jewellery moments
Evening gowns and teary acceptance speeches at the ready: the 2023 BAFTA awards are here. This year the event lands slap-bang in the middle of London Fashion Week – where stars including Florence Pugh have been spotted both on and off the runway – so there's no doubt the celebrities will be pulling out all the stops to make an impression on the BAFTAs 2023 red carpet.
So who's expected to be in attendance at the Royal Festival Hall this evening? Cate Blanchett is hotly tipped to take home a gong for her role in Tár, as are Austin Butler and Paul Mescal for their performances in Elvis and Aftersun, respectively. Also nominated are Carey Mulligan, Eddie Redmayne, Brendan Fraser and Ana de Armas – all of whom will be making the most of the last major awards ceremony before the Oscars.
We'll be updating this piece with the latest looks from the red carpet throughout the evening so keep checking back for the latest sartorial action from the BAFTAs 2023.
The Prince & Princess of Wales
Cementing the overriding trend of the BAFTAs 2023 red carpet as monochrome, the Prince and Princess of Wales donned complementary black and white looks. Catherine, Princess of Wales, went for simple elegance in a floaty one-shouldered white Alexander McQueen gown (which she had previously worn to the 2019 BAFTAs), black accessories and gold Jimmy Choo sandals while William, Prince of Wales, opted for a classic velvet double-breasted tux.
Hannah & Eddie Redmayne in Alexander McQueen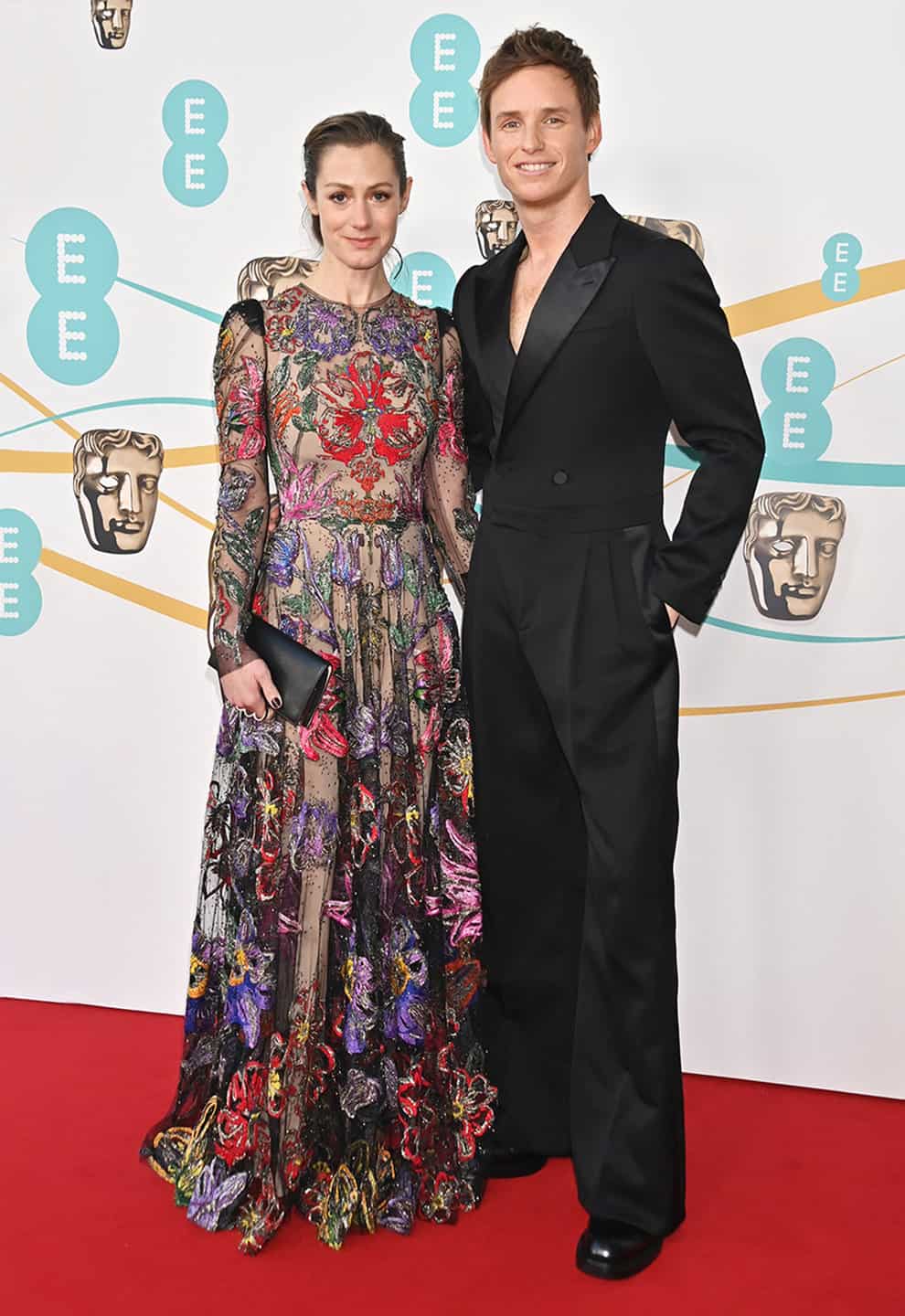 British actor Eddie Redmayne, who was nominated in the Best Actor in a Supporting Role category, attended the BAFTAs with his wife Hannah – with the couple both opting for full Alexander McQueen looks. Eddie ditched the classic suit in favour of a custom wool tuxedo jumpsuit and Omega Seamaster Aqua Terra watch while Hannah chose a hand embroidered gown from the SS20 pre-collection.
Julianne Moore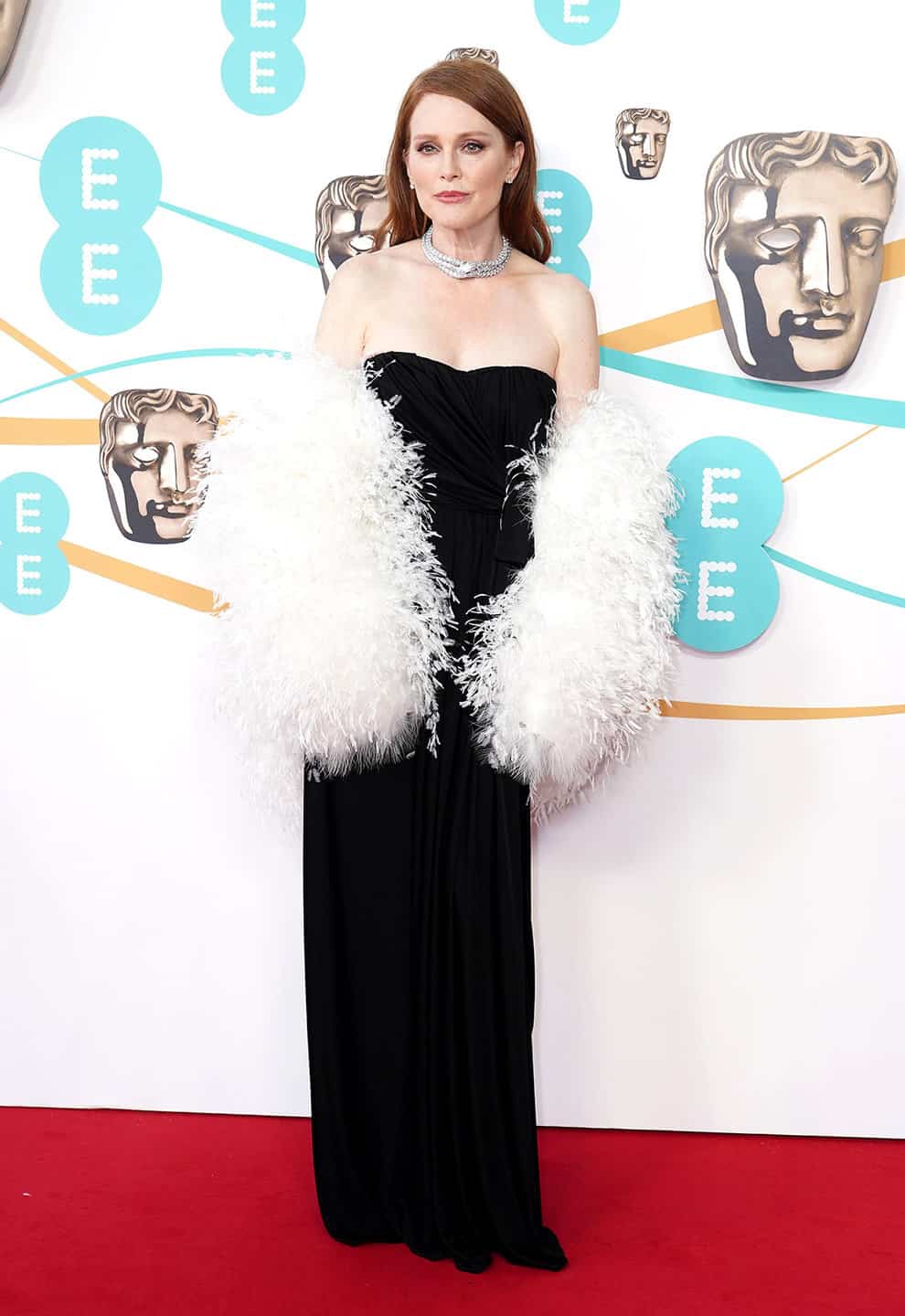 Julianne Moore, star of new Apple TV+ film Sharper, injected some life into a simple black column dress with a whole flock of white feathers. Finished with a serious set of diamonds, it's not hard to spot a red carpet veteran when you see one.
Anya Taylor-Joy in Schiaparelli
The Menu star Anya Taylor-Joy undoubtedly took home the prize for most daring hemline of the evening. It takes a woman as striking as Taylor-Joy to make a structured velvet Schiaparelli micro-mini look like a reasonable red carpet option (not pictured here: the enormous matching blanket-cum-hood that accompanied her dress). Jewellery, on the other hand, came in the form of classic white diamonds. I'm particularly fond of her Jaeger-LeCoultre Rendez-Vous secret watch.
Paul Mescal in Gucci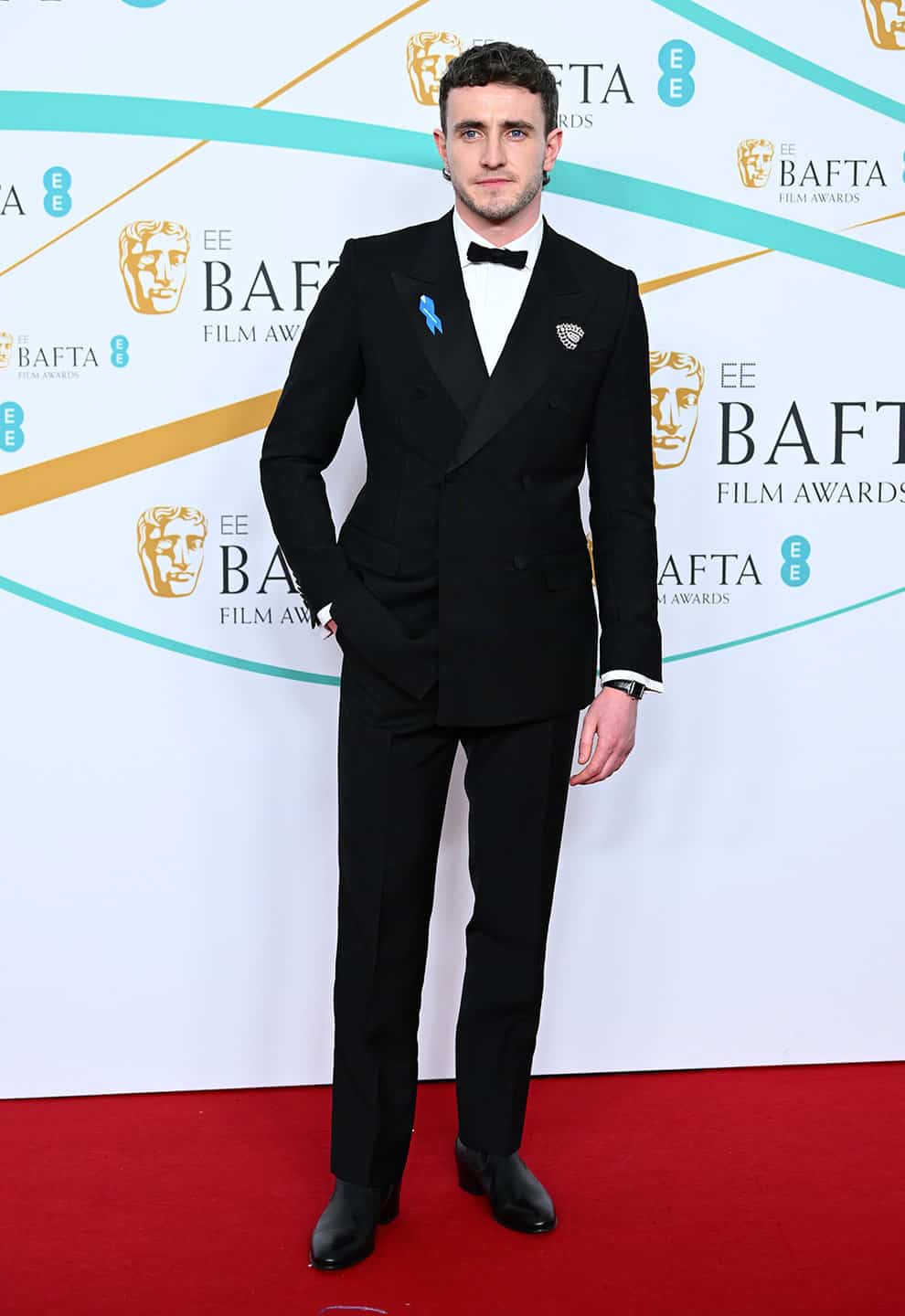 Paul Mescal, nominated for Leading Actor for his role in Aftersun, kept things classic in a double-breasted tuxedo and black bow tie by Gucci, finished with a Cartier watch and jewellery. In fact, the biggest surprise of his red carpet ensemble was the mullet-adjacent hairdo he sported (yes, those are little curls you can see sprouting beneath his ears). If anyone can inspire a renaissance it's Mescal.
Cate Blanchett in Maison Margiela
Cate Blanchett has no problem pulling off some of the more avant garde high fashion looks but, perhaps in line with the quietly chic and expensive style of her character in Tár, she's opted for something a little more understated for the BAFTAs. Which isn't to say I'm not a fan. Those subtly structured shoulders on her vintage Maison Margiela gown (which she wore to the Oscars in 2015) are the ideal edgy element to offset an abundance of pearls.
Michelle Yeoh in Dior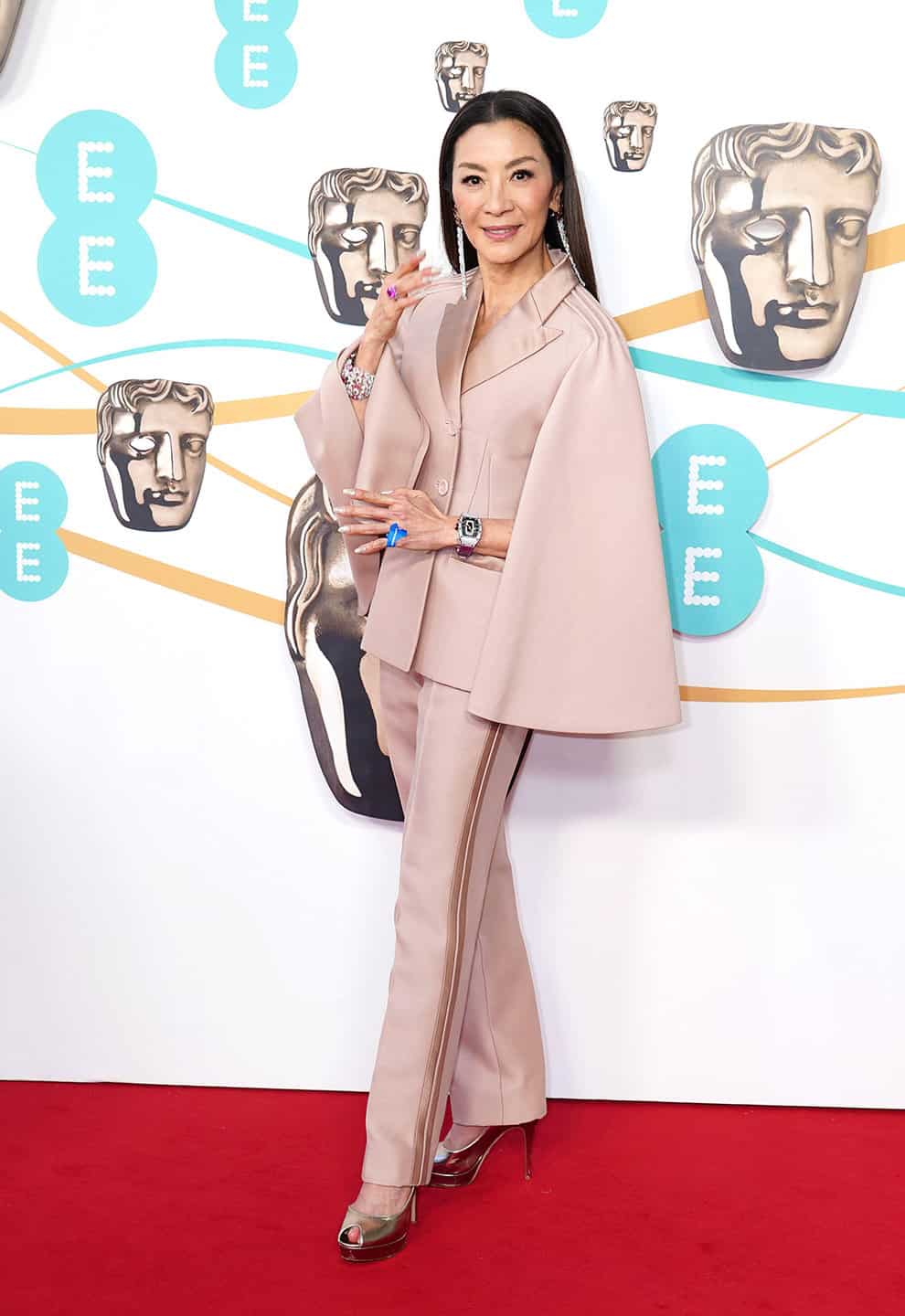 Want to know just how cool Michelle Yeoh is? Not wanting to punch holes in her (probably incredibly expensive) Dior cape suit, she opted to wear her blue #WithRefugees ribbon as a ring – which she then modelled on the red carpet like an absolute pro. Goes rather nicely with her jaw-dropping Moussaieff jewellery and Richard Mille watch, doesn't it?
Florence Pugh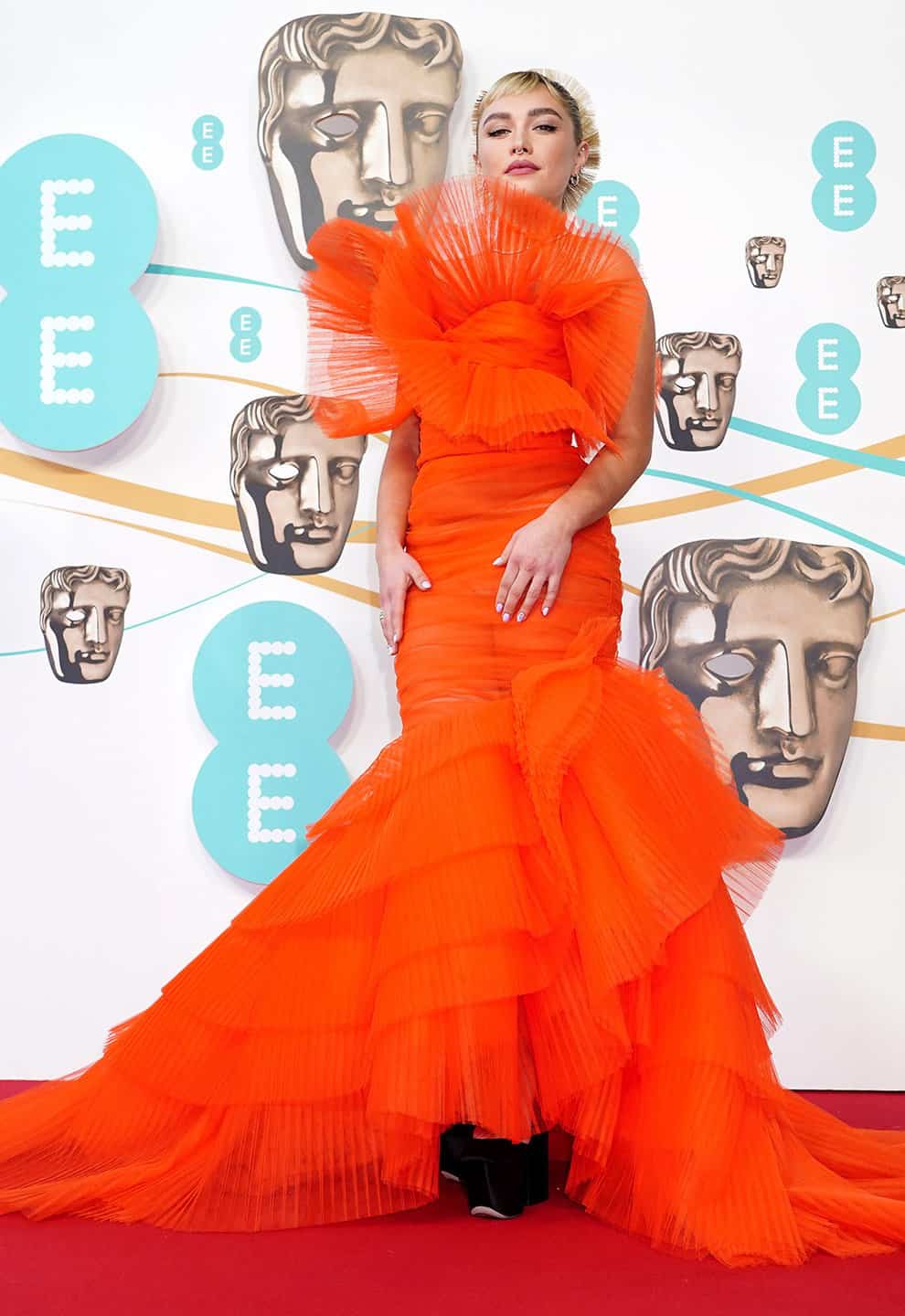 Florence Pugh never met a piece of tulle she didn't love – and I'm here for it. The vibrant orange hue is just bright enough to avoid clashing with the carpet and I'm a big fan of the way her hair echoes the pleated ruffles. Let's just hope the Royal Festival hall offers stair-free access; I don't love her odds in that tight fishtail.
Carey Mulligan in Dior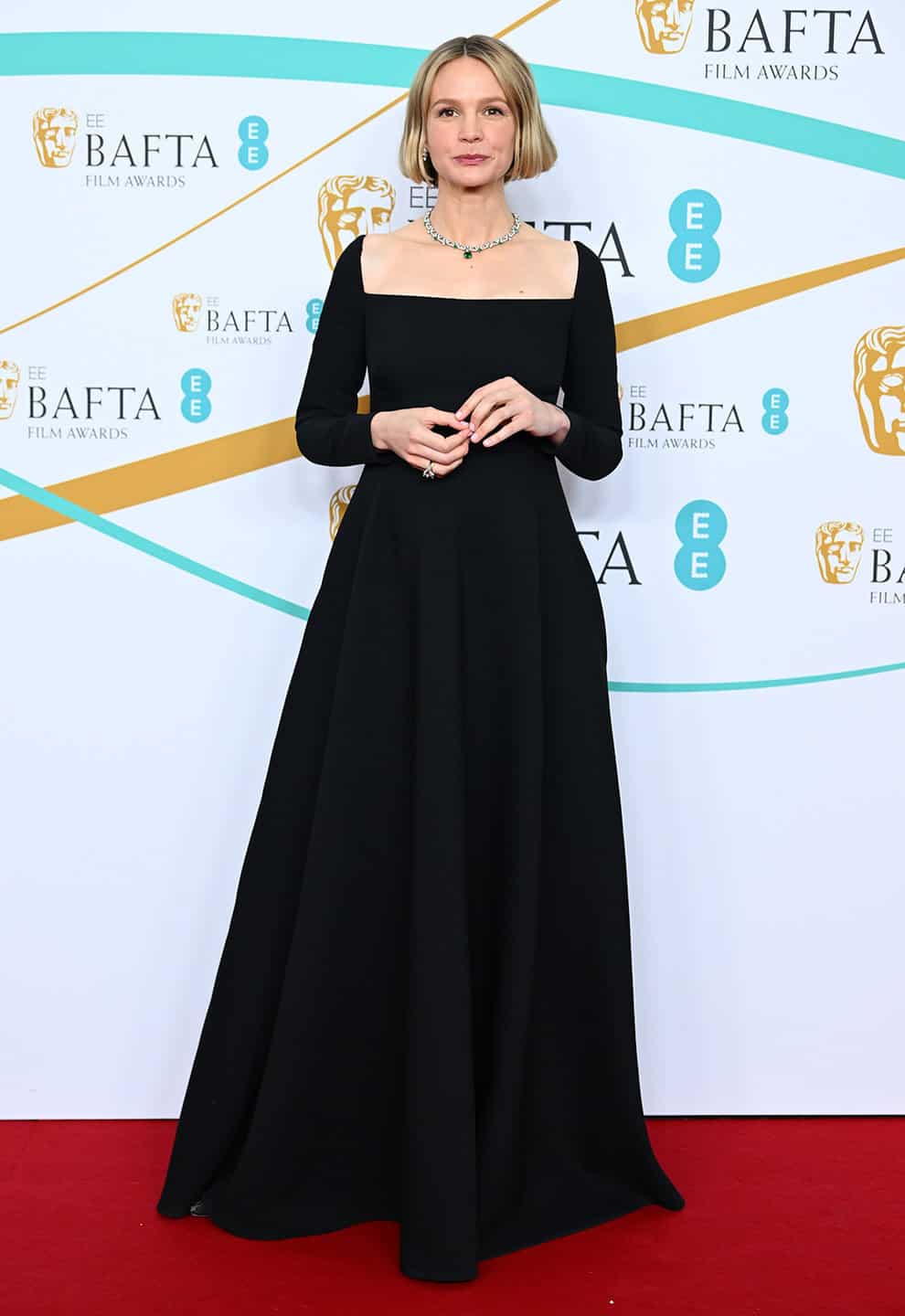 Chic and simple has long been Carey Mulligan's MO when it comes to the red carpet – but it can also be tricky to find a designer willing to resist the urge to cover their gowns in sequins in the hope of media coverage. In Dior's Maria Grazia Chiuri, Mulligan has found her perfect match. The square neckline, short bob and dazzling high jewellery necklace work in harmony.
Gugu Mbatha-Raw in Gucci
Attending the BAFTAs with presenter duties, Gugu Mbatha-Raw channelled old Hollywood glamour in a custom crystal-embellished lace and chiffon gown by Gucci. It takes a powerful woman to handle that much sparkle. Gugu I salute you.
Lily James in Tamara Ralph
I'm interpreting this Tamara Ralph dress as a not-so-subtle sign that Lily James quite fancies a part in the next Spiderman movie. Either that or she's donned a pearl-encrusted trellis to announce she'll soon be joining Monty Don on Gardener's World. I'm equally charmed by both – and by this pristine gown which she has just enough fashion chops to pull off.
Ariana DeBose in Fendi
Opting for the sheer trend that has been sweeping the red carpets this awards season, West Side Story star Ariana DeBose chose a neutral Fendi Haute Couture beaded gown, worn over a matching bodysuit and complemented by Bulgari Serpenti jewellery, for the BAFTAs 2023.
Gwendoline Christie in Giles Deacon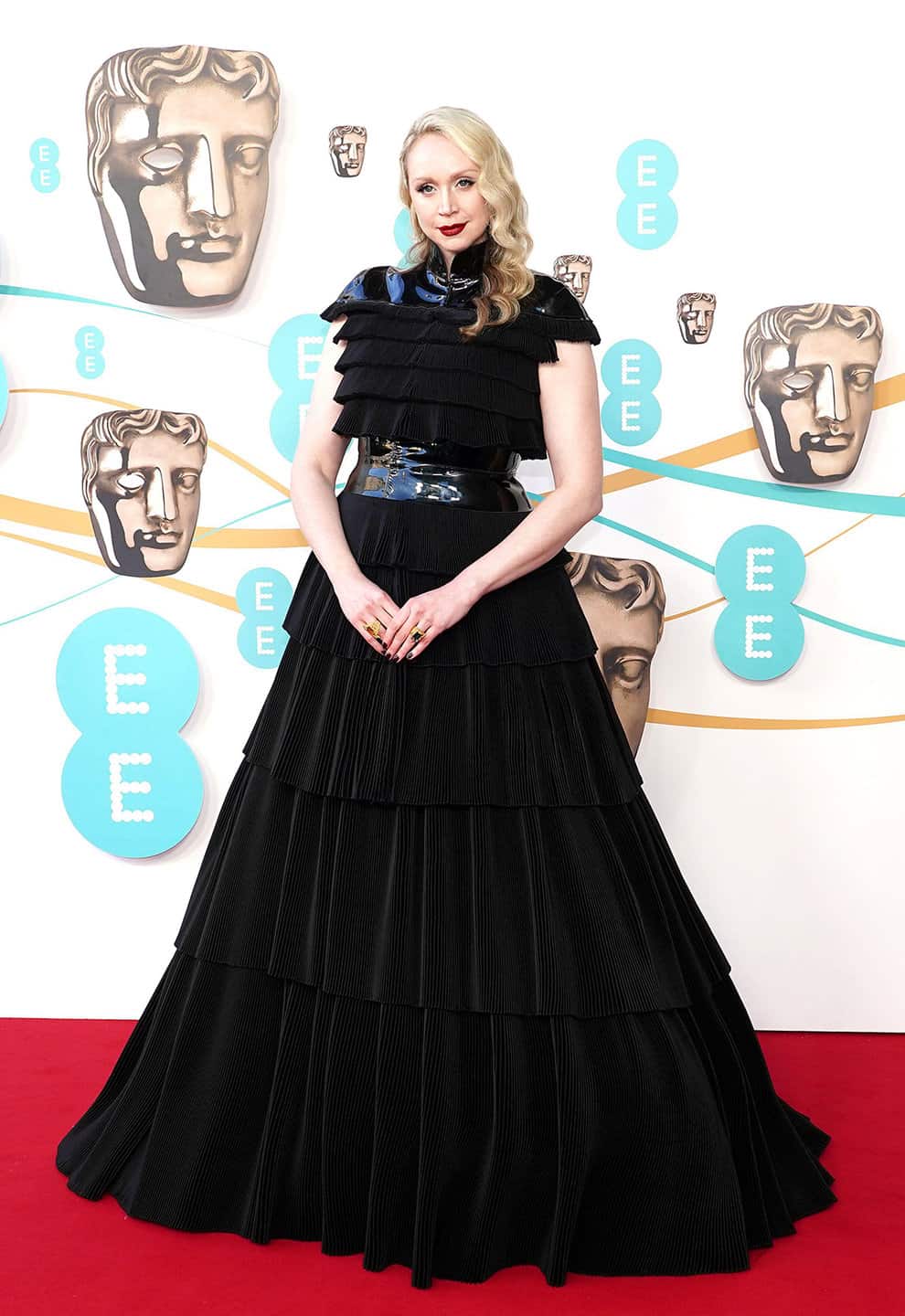 British actress Gwendoline Christie has never been one to shy away from drama on the red carpet and the BAFTAs 2023 were no different. With her platinum hair set in loose Hollywood waves, Christie donned a voluminous tiered A-line Giles Deacon gown.
Jodie Turner-Smith in Gucci
Also presenting an award at the BAFTAs, Jodie Turner-Smith opted for a flamboyant Gucci gown that featured every embellishment in the haberdashery. Feathers! Crystals! Lace! You name it Turner-Smith's gown had it – plus a smattering of crystal freckles for good measure.
Richard E Grant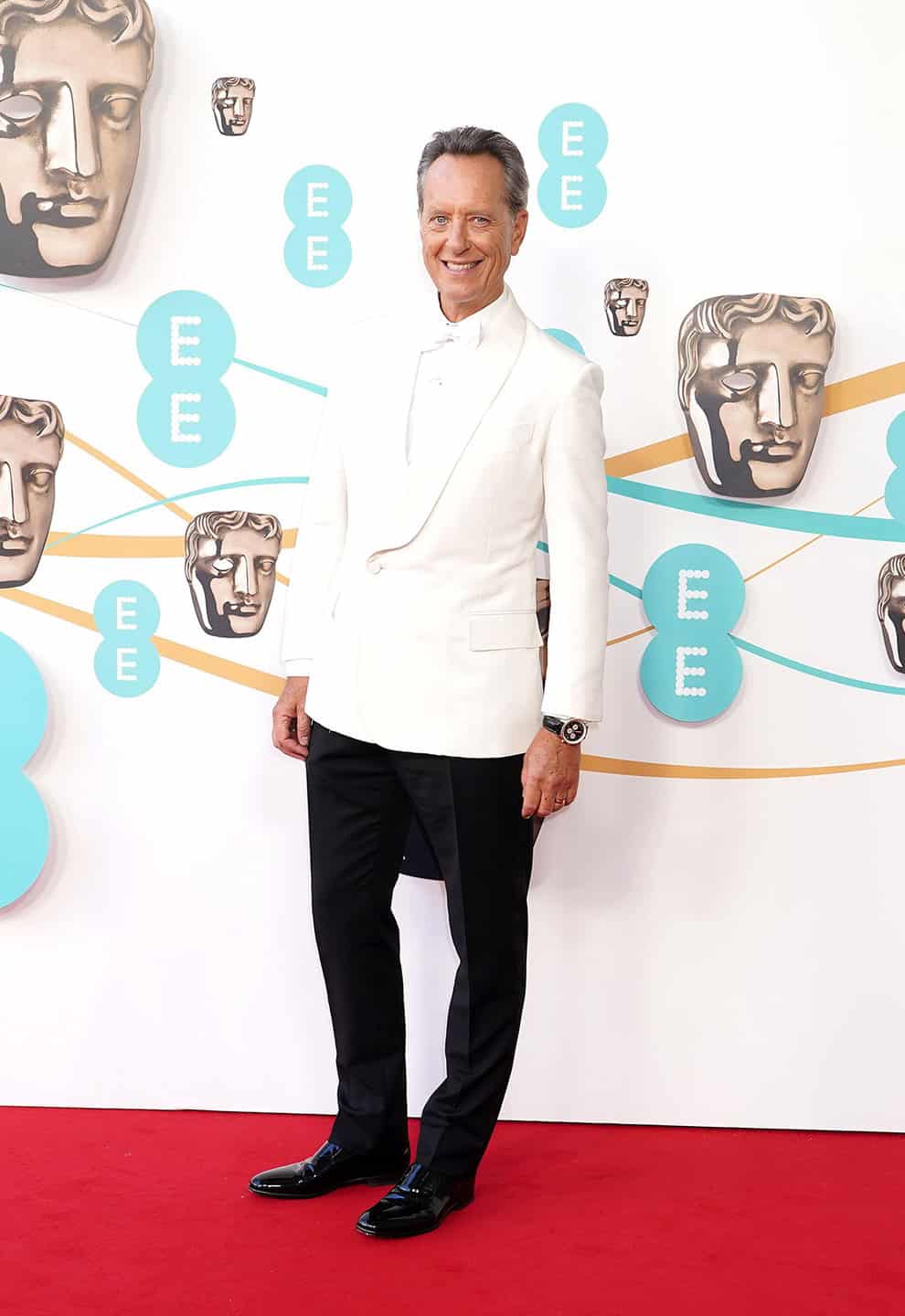 Switching things up a little from the usual penguin suits, Richard E Grant makes a case for both double-breasted tailoring and a white tuxedo jacket. Throw in some patent shoes and gobstopper of a watch and I'm sold.
Jamie Lee Curtis
It's London in February. No one can blame Jamie Lee Curtis for wanting to wear a jacket over her white silk gown. The choice of oversized black tailoring could have erred a little too far into 'bride at 1am wearing her new husband's dinner jacket' territory but the minimalist approach to hair and jewellery keep things fresh.
Austin Butler in Alexander McQueen
Whoever is doing the PR for double-breasted jackets is clearly on a roll: many of the strongest male looks of the evening sported the style. High among them was Austin Butler in an Alexander McQueen tux and Cartier jewellery. A lesson in the striking effect of a perfect fit.
Viola Davis in Stella McCartney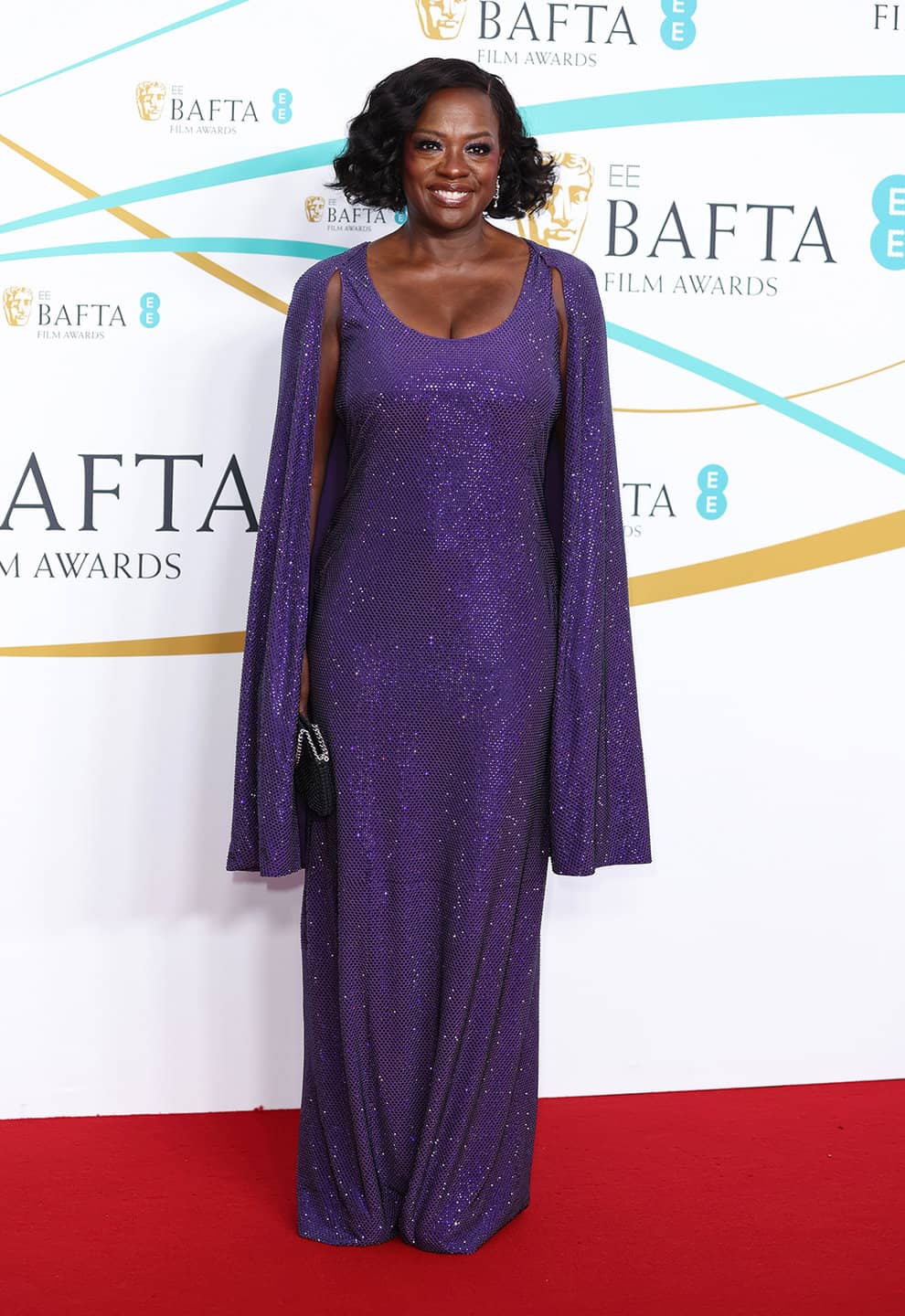 Purple was the other reigning colour story of the BAFTA 2023 red carpet and no one looked quite so regal as Viola Davis in custom Stella McCartney paired with Cartier jewellery. Even more impressive? The gown was made from cellulose acetate – a fabric made from traceable wood pulp sourced from sustainably managed forests.
Ellie Goulding
That's a tricky neckline to pull off but, thanks to the wise choice of a Bulgari Serpenti necklace, the symmetry at play makes it work. Ellie Goulding has also been clever to pull back on other details. The hair is pared back, the makeup is clean and the slight shimmer in the drape of the gown makes just enough statement.
Sheila Atim in Prada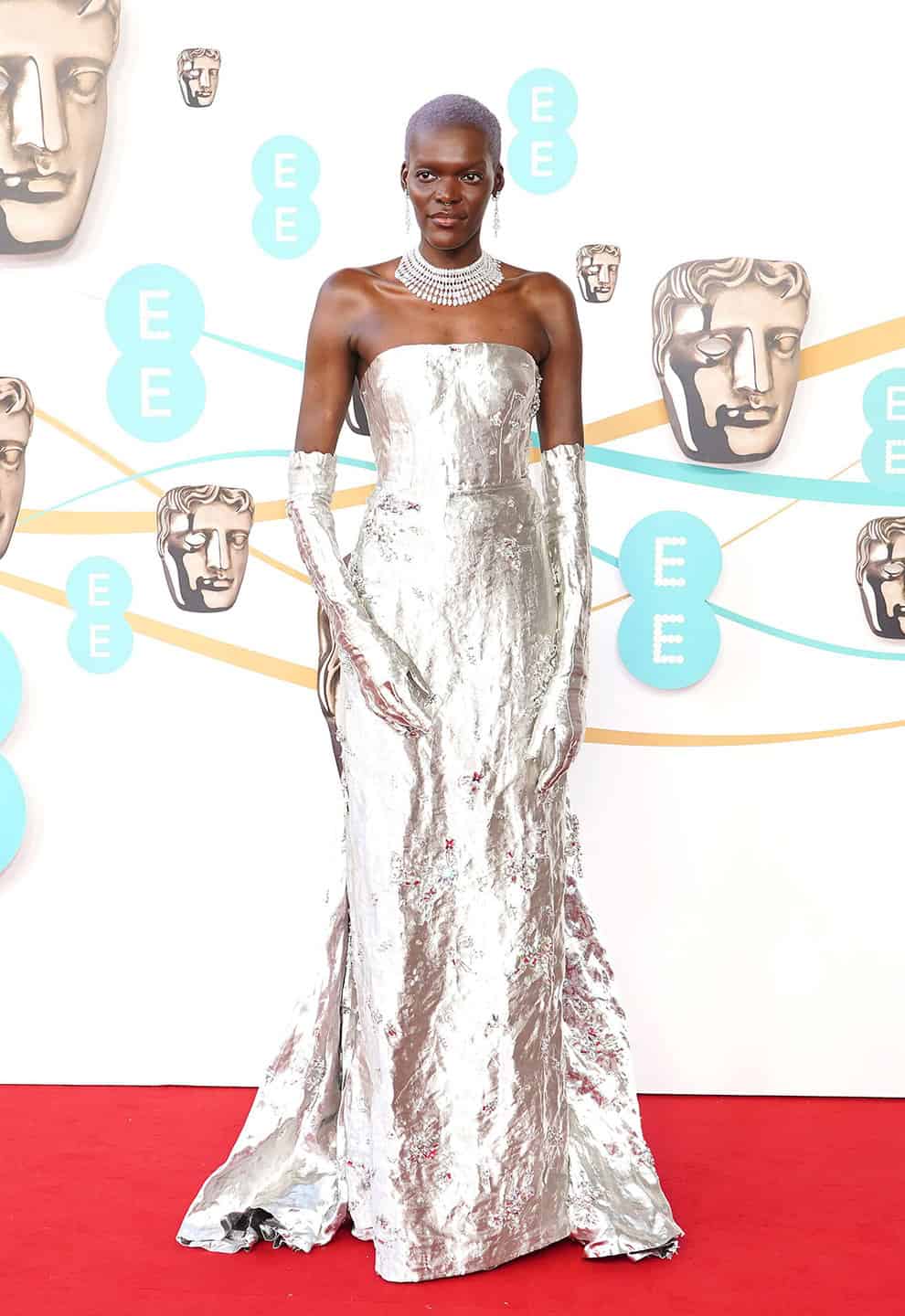 If you've been tuning into the fashion week street style imagery you'll know that metallics are having quite the moment. Sheila Atim, nominated for a Rising Star BAFTA, takes things to the next level in this shimmering silver Prada gown and Chopard jewellery.
Alison Hammond
Her viral celebrity interviews have made her a national treasure and now Alison Hammond is taking them to the big time as the host of the 2023 BAFTA awards ceremony. In a sparkling sequinned gown, voluminous black wrap and with a few draw-dropping rocks for good measure, she looks every inch the Hollywood star.
Vera Wang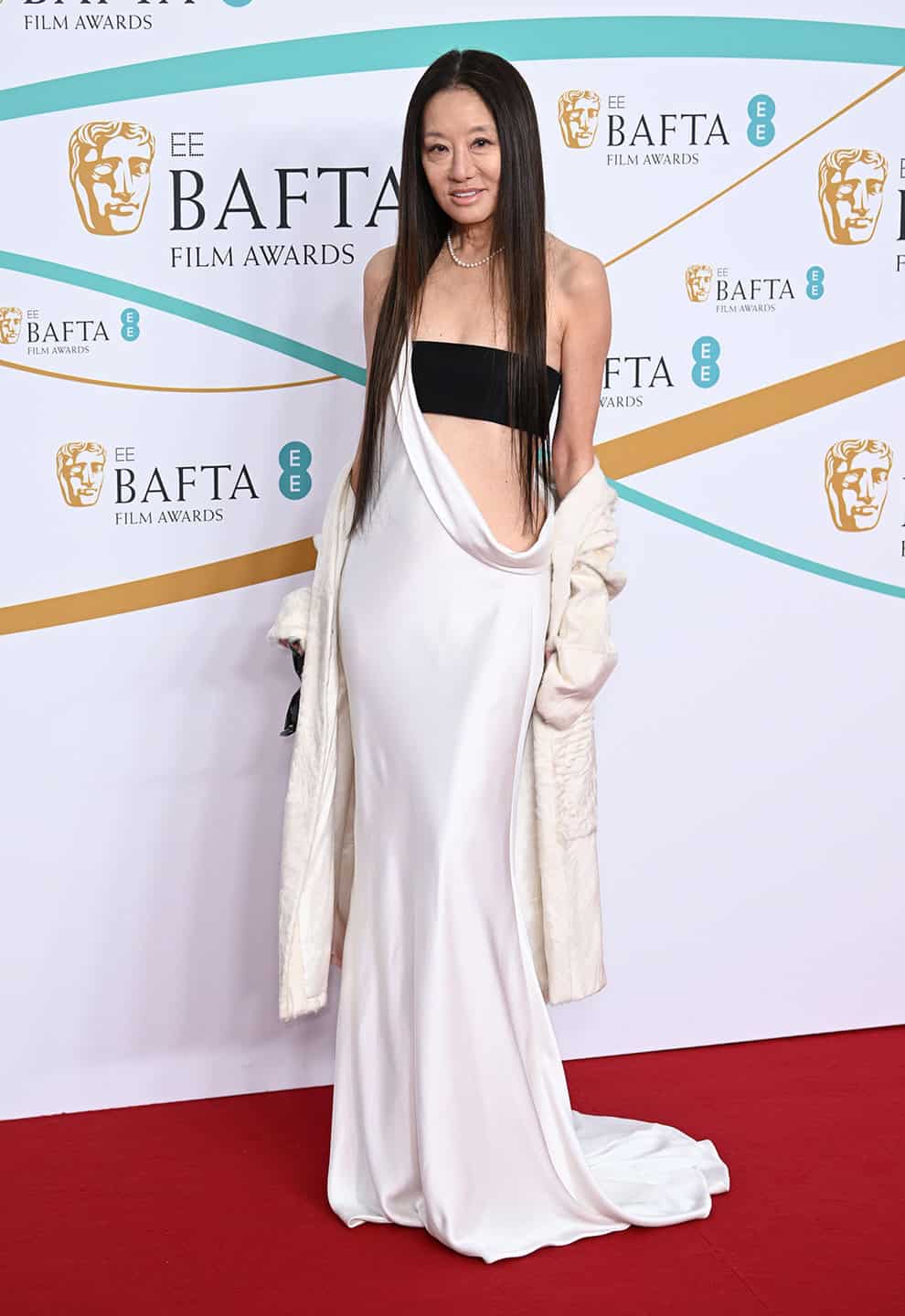 As someone who has spent her life creating fantastical gowns for celebrities and brides who think they're celebrities, the weight of expectation must have laid heavy on Vera Wang's shoulders this evening. She needn't have worried, in a minimalist asymmetric shift dress and contrasting black bralet (I suspect from her own line) she's the picture of nonchalant cool.
Daryl McCormack in Gucci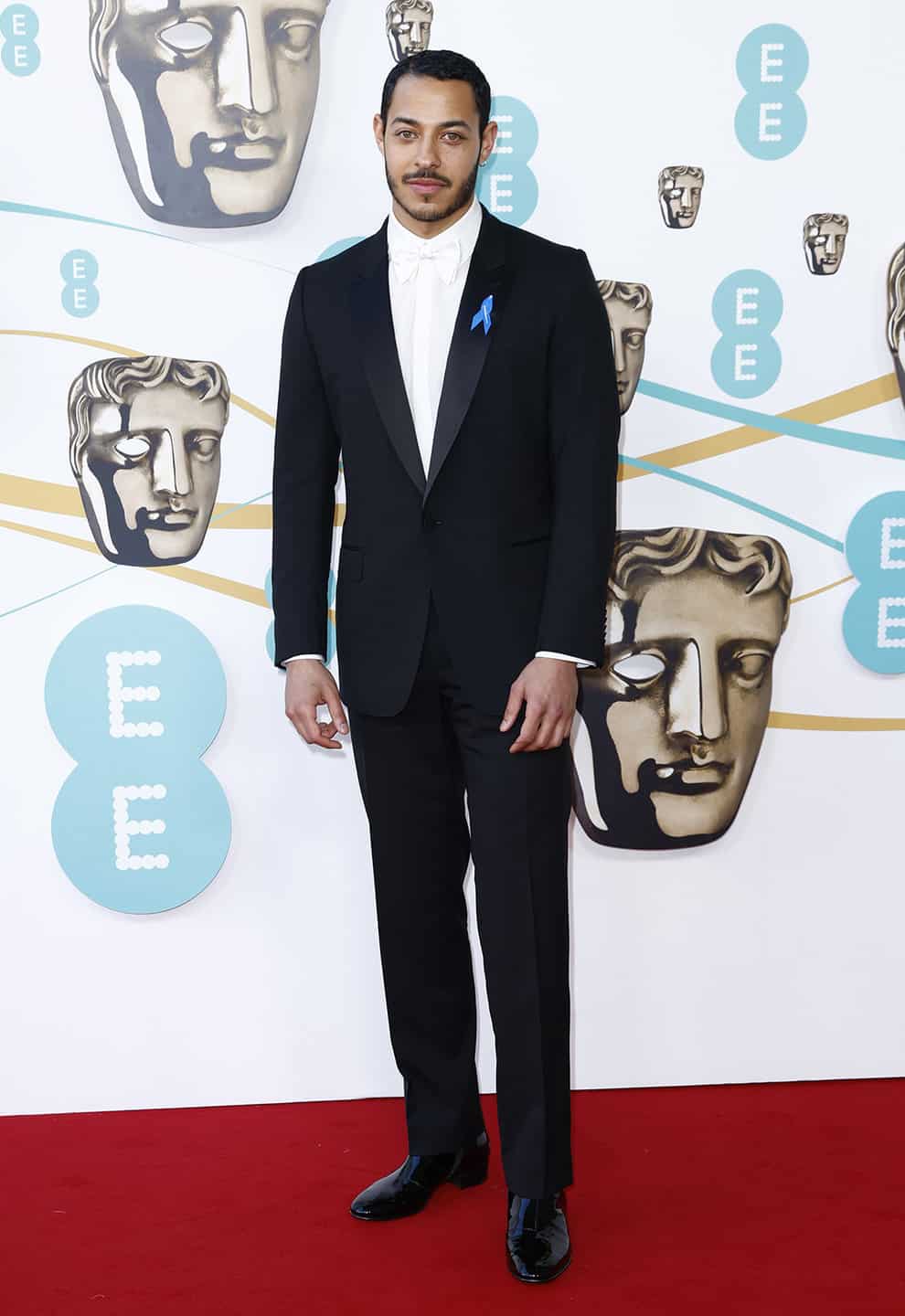 Nominated in both the Rising Star and Leading Actor categories for Good Luck To You, Leo Grande, Daryl McCormack was one of the few men in attendance opting for a single breasted suit. His elegant Gucci ensemble was finished with a white bow tie and little else by way of adornment.
Barry Keoghan in Alexander McQueen
Barry Keoghan, who took home the Best Supporting Actor award for his role in The Banshees of Inisherin, rejected a classic tux in favour of a scarlet double breasted Alexander McQueen suit and shirt with matching collar, pair with an Omega Speedmaster '57 watch. Should he have added a tie? I'll let you decide.