Porsche's New Panamera: Performance & Practicality
Behind the wheel of the punch-packing Porsche Panamera
Once upon a time, the only place you'd find 'Porsche' and 'practicality' in close proximity was in the dictionary. Well ok, only if you had a dictionary that contained brand names…but you know what I mean. Then along came the Cayenne, the first Porsche capable of clearing a Kensington kerb. It surmounted the more obdurate obstacle – the collective sensibilities of sports car fans the world over – when it became apparent that Porsche was selling so many, it would allow the manufacturer to continue making 911 GT3s, 918 Spyders and Cayman GT4s well into the future. After a few long years, Porsche made the Cayenne look less like a swollen frog as it settled into its position as the godfather of the luxury SUV.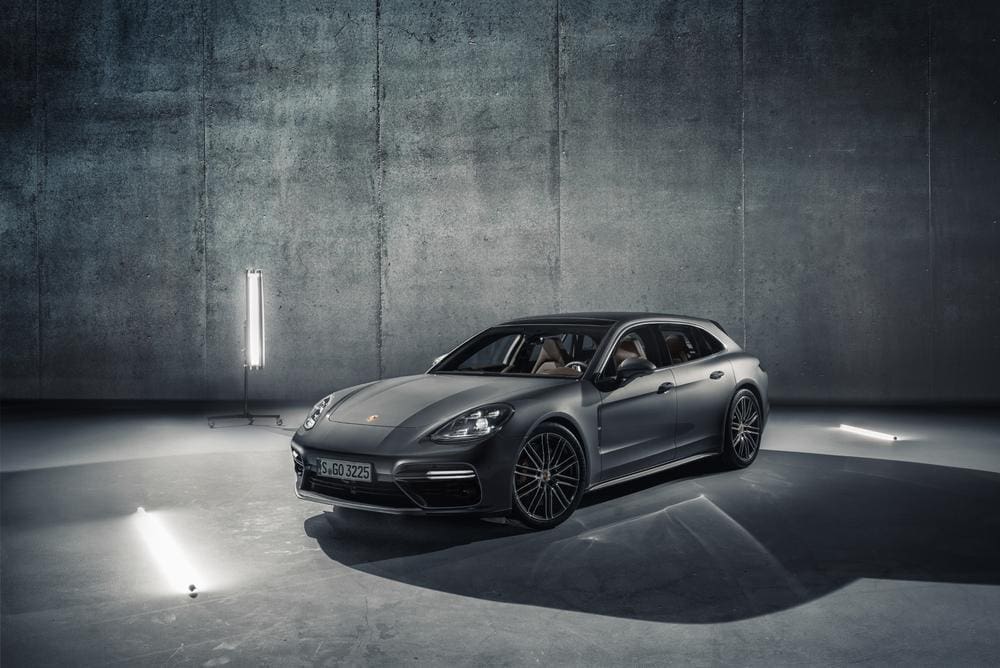 About the same time as the Cayenne was getting plastic surgery, Porsche unveiled the Panamera, and the collected purists sighed deeply once more. Not only was this new model big, heavy and front-engined, it looked like a frog that had been run over. By a Cayenne. But Porsche was undaunted. Since the launch of the Cayenne in 2002, sales had rocketed; people wanted cars with Porsche badges that could transport entire families, and there was no sign that increasing volume hurt the brand's reputation. The addition of the Panamera poured fuel on the fire. Porsche now makes more Panameras than 911s, and produces nearly five times as many cars (more than 250,000 in 2017) than it did in 2002, while revenues are up fourfold.
Clearly, to be a Panamera-doubter is to be on the wrong side of history, or at least economics. When Porsche followed the Cayenne pattern and prettied up the Panamera in 2017 – the biggest difference was sharpening up that bulbous rear – I started to see it in a whole new light. Given the chance to drive one earlier this year, I was actually pretty excited.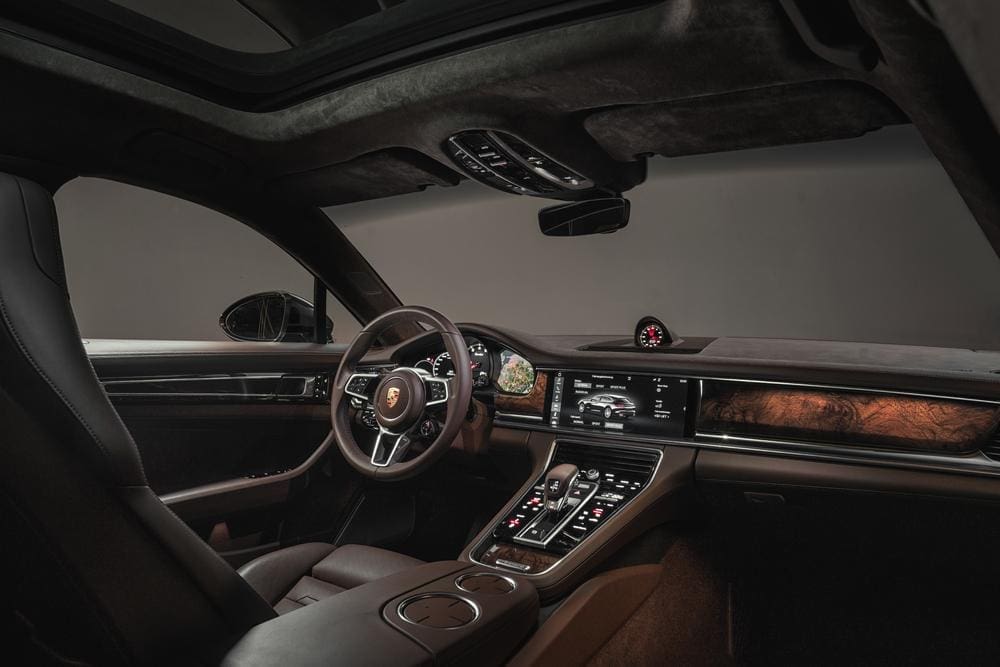 I would be sitting behind the wheel of the Panamera 4S Sport Turismo. Those last two words, not that you'd guess, mean this is the even bigger, estate-ier version. To my eye, it's the most handsome Panamera out there: that lip above the rear window is an essential flourish. In white, it looked every bit of its 5.05m length, but I can't deny it had presence. With 19-inch wheels, grey brake callipers and a combination of gloss black and brushed steel detailing, it was proof you can spec a car like this very tastefully – with no carbon fibre in sight.
Same story on the inside. This is, hands-down, the most modern and attractive cabin I can remember sitting in – sorry, Tesla – with copious brushed metal, screens that actually integrate into the dashboard design rather than sit there as if some youth from Halfords has superglued them on, and a pleasing robustness to the general switchgear. Confidence-inspiring stuff like this is what has kept Porsche's stock sky high – you know you're in a luxury machine from the off.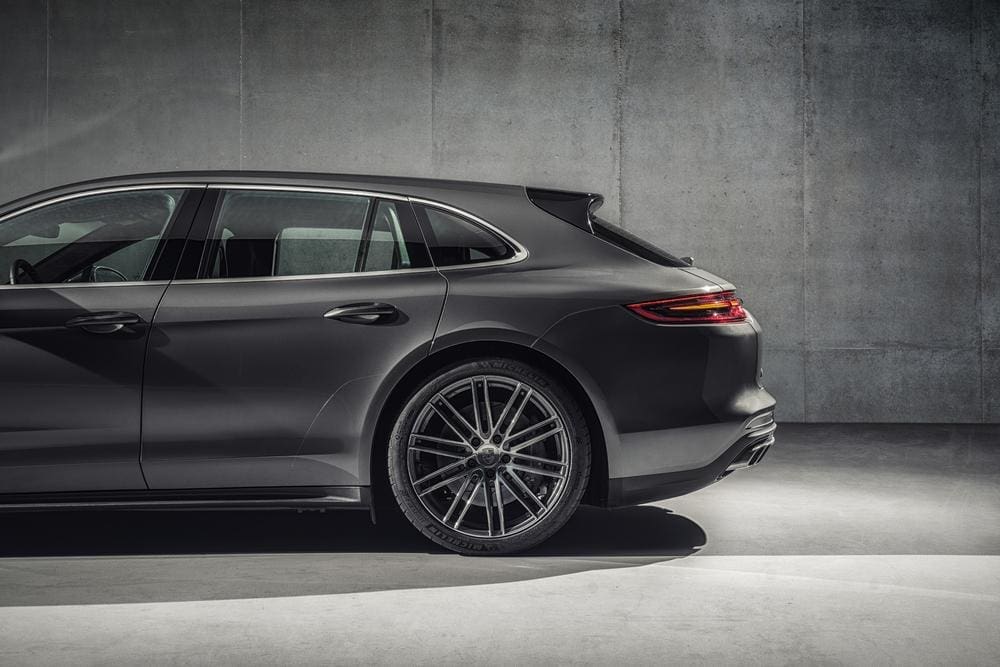 Has bringing out an estate – or shooting brake, if you prefer that title – compromised the other pillar of Porsche's reputation, though? Is this now a car for grey-haired pootling; a big Volvo for brand snobs? Can it, for want of a better word, hustle?
Oh yes. In 4S guise, the Panamera Sport Turismo has a 2.9 litre twin-turbo V6 which turns out 40 horsepower and 550 Nm of torque, which gives you a two-tonne car capable of 0-60 in 4.2 seconds and in-gear overtaking from 50-75mph in 2.9 seconds.
We took it on a tour of Kent's National Trust properties – to show all the Range Rover Sport owners that there is another way – and, while I can't say I matched those exact figures, the Sport Turismo was never lacking in punch. It's an effortless cruiser, dispatching distance with a grunt rather than a roar, bearing four adults and 520 litres of clobber with no fuss. My strongest criticism would be that despite the legion of acronyms (PASM, PSM, TMP, PAA…) drafted in to manage the ride, the car struggled to remain composed over typical British A- and B-road, hunting between bumps and following the camber. It's us, not you, Porsche, but this is where a great many Panameras will make their homes.
In the gravel car parks of Scotney and Sissinghurst castles, the Sport Turismo's tailgate provided ample seating for pulling on walking boots – and I can't lie, it felt good to spray a little mud up those white flanks. On the way back, it swallowed bags of logs and barbecue charcoal cavernously, although, contrary to every other impression of practicality, the boot is so lavishly upholstered it felt a sin to subject it to typical estate car duties – it is much more a 'Louis Vuitton luggage' kind of environment.
Some have said they can't understand the Sport Turismo as an alternative to a 'proper' fast estate like the RS6, because it's less spacious, and therefore wouldn't add the weight and bulk to a standard Panamera. Me, I'm the other way round: if you're going to have the big, capable Porsche, get the one that can carry that extra suitcase. It's still fast, looks better, and is a pleasure to spend a long journey in. It's not cheap, mind; the model I drove tipped the scales at £113,788, but Porsche didn't quadruple revenues by being shy with the options pricing (£300 for embossed logo headrests; £200 for a heated steering wheel; £500 for tinted rear lights). Given the same money, I'd go GT3 every time, but then my wife and parents would have to walk to our next stately home trip, and we can't have that, can we?