Andrew Horton is just getting started
The British actor, and breakout star of Jupiter's Legacy, on the joy of indie movies and moving up to the big leagues
While many are (rightly) bemoaning the ubiquity of Zoom calls by this stage of the pandemic, for someone who regularly finds themselves interviewing actors and musicians, it's been quite the fascinating insight. Gone are the bland hotel rooms of pre-pandemic press junkets, replaced instead by a live link often straight into said personality's bedroom. You can tell a lot from someone's choice of paint, duvet cover and house plants.
Take, for example, Andrew Horton. The British actor can currently be founded zipping around Netflix, complete with cape and primary-coloured latex suit, as Brandon Sampson (AKA The Paragon) in the streaming service's latest superhero heavy hitter, Jupiter's Legacy. His Clapham bedroom, by comparison, is an oasis of minimalist calm. White sheets, cream walls, little in the way of extraneous adornment. If evidence of his self-professed geekiness (he is "very into Star Wars and Lord of the Rings") existed, it had been carefully removed before I was beamed in.
Horton himself is also refreshingly normal. Look past the perfectly coiffed hair and movie-star-in-the-making good looks and here is a man who buys his clothes from Instagram (he sports a hot sauce-embroidered sweatshirt from social media favourite Percival during our interview) and spends his spare time volunteering as a bike courier for a food bank. He's also not one to shy away from the fact that lockdown has been quite the rollercoaster ride for an actor on the brink of stardom.
Here he talks fighting imposter syndrome, stepping into the storied superhero sphere and why he can't wait to be a bad guy.
Jupiter's Legacy recently came out on Netflix, joining a superhero genre that has exploded over the last decade. What was it like stepping into such a cherished world?
It's really daunting, to be honest, because the calibre of the superhero stuff out there at the moment is so high. Coming in and doing something completely original, which doesn't have a history behind it in the same way that Marvel and DC do, does feel nerve wracking but knowing how good Mark's [Millar, creator of the Jupiter's Legacy comics] previous work is, and seeing the success of Kick Ass, Kingsman and Wanted, we were all very confident in the material and in Mark's vision for the show. How that translated onto screen was, I think, better than we could have hoped for.
The Jupiter's Legacy comics only came out in 2013. Did that relative modernity give you more leeway in terms of what you could do with the character?
Definitely because Brandon is a character that has never been played by anyone before. So, whereas you've had different iterations of Superman, Batman and Spider Man, Brandon is someone exclusive to me as an actor. Having a completely original character that you've created yourself is the best thing you could ask for. It's a slightly different spin from the comics as well; in the comics Brandon is already a more disillusioned, disenfranchised character who is fading away into the background and much more at odds with his father. In the series he's more earnest and really on course to take over his father's position within the union.
I think the writers were really keen to establish this big world and establish the characters as more vulnerable than perhaps they are in the comic books, especially on Brandon's side, so that going forward there's more of an arc and he's not just grumpy and petulant the entire time. It was initially a little bit disappointing because I was excited to play a bad guy, but now knowing the scope of where it can go, I'm grateful to be less one note for the audience.
There's a tension at the heart of the show around a new generation looking at the actions and values of the previous generation and thinking it's not the right way to do things. That's also something we see playing out in real life in terms of views towards climate change, the LGBT community, Black Lives Matter and other social issues. Is that something you were hoping to explore in the show?
It's definitely something I want to explore more. The similarities between art and life are very close in the show and the way it touches on lots of different historical, religious and political topics is really exciting. I think if an audience can not only relate to a character, but also to the circumstances in which they're living, that makes a show far more engaging. Knowing the way Mark is, and how he likes to challenge the status quo of the superhero world, I think we will see more of that. I'm glad it's not all just capes and superpowers.
The show became the global number one on Netflix. How have you found the reception so far?
It's been a two and a half year journey from being cast to the show being released and at times I wasn't sure whether it was going to come out at all. I didn't know if it had been dropped along the way, or if they weren't happy with it and we were going to have to reshoot the entire series. We have so much competition from Marvel, HBO, DC, and from The Boys and Invincible on Amazon Prime. It's a very saturated market so to come in and get this reception is really positive and I'm just chuffed to pieces.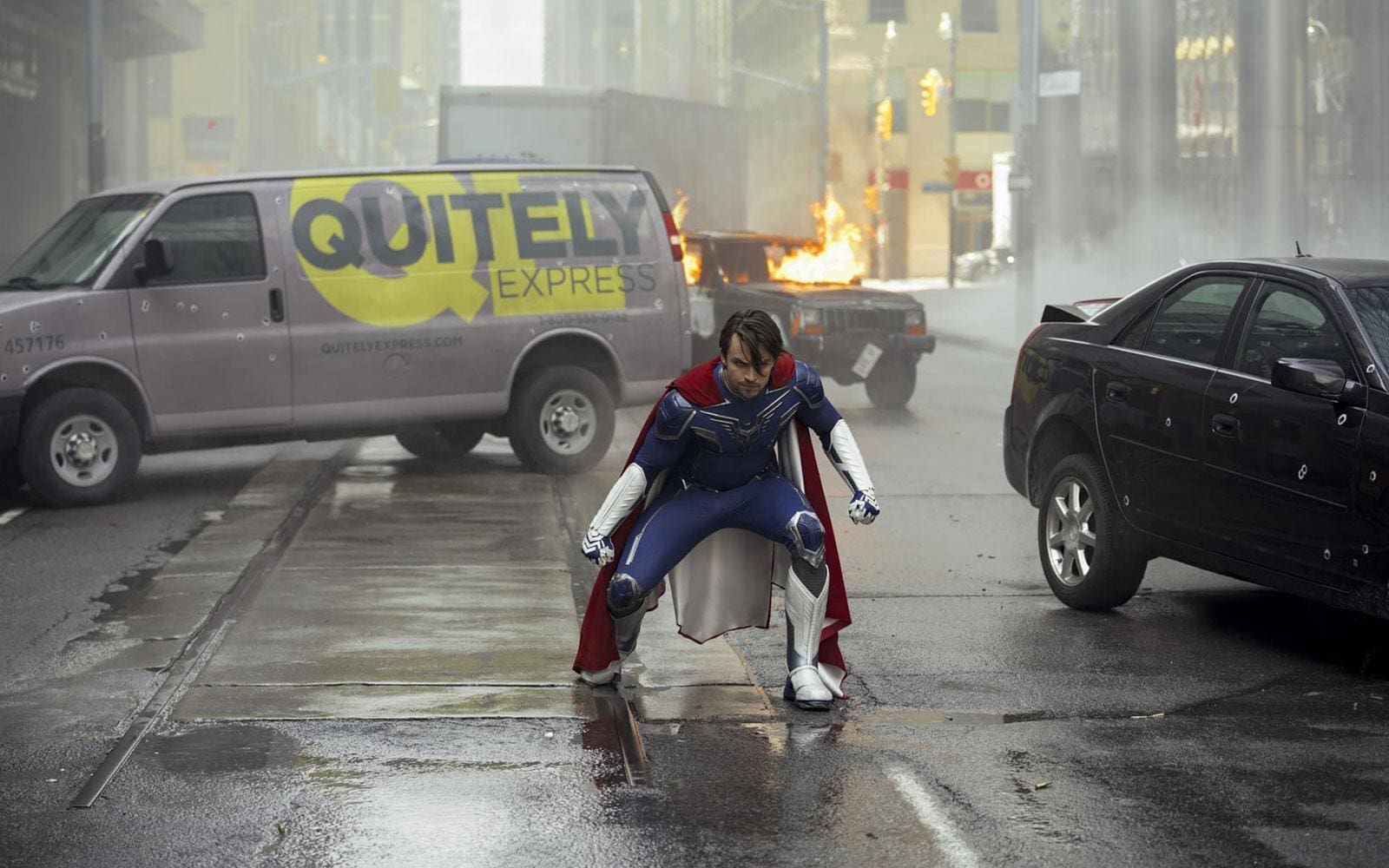 You went from doing indie projects like It Came from the Desert to this Netflix juggernaut. Can you even compare the two?
Jupiter's Legacy is a lot more serious. I absolutely loved doing It Came from the Desert and I met some of my closest friends doing that job. It was a really good project for me, not only because I got to play a supporting lead, but also because it was just a really fun experience. But to go from something small budget to something so enormous was a huge leap because in between I mainly did theatre work and a little bit of television – and when I say television I mean an episode of Doctors.
I've never done anything comparable to Netflix in terms of standards of production and the amount of people in a crew, so it was overwhelming. I just had to keep reminding myself that I was supposed to be there and shut out the imposter syndrome in the back of my head saying, 'You're not good enough'. The two are such different things and I had such great experiences on both. I wouldn't want anyone to think I was selling It Came from the Desert short, it's a great movie if anyone wants to go find it. It's probably on Channel Five+1 every other Saturday.
There are some amazing actors in the cast of Jupiter's Legacy. What was it like coming onto a set with such experienced figures?
It was amazing. Again, it was very daunting because there's me with the smallest resume of the entire cast and then my first scene is with Leslie [Bibb], Josh [Duhamel], Ben [Daniels] and Elena [Kampouris]. It was a night shoot so it was probably six or seven hours long but I couldn't have felt more comfortable around them. They're all such generous actors and really lovely people to work with; throughout I was given a lot of positive feedback and a lot of reassurance from the cast so that was really important for me as a newcomer – to know they were happy to play off what I was giving them and vice versa.
Who were your acting idols growing up?
When I was younger I didn't really focus so much on actors per se, it was more that I loved the idea of being in movies. I was very into Star Wars and Lord of the Rings so, as far as those are concerned, I would love to work with Liam Neeson and Ewan McGregor. I geeked out so hard when I found out my US agent also reps Karl Urban. More recently, I'd love to be in something with Jake Gyllenhaal, I think he's absolutely phenomenal. It'd be fun to be in something with Hugh Jackman because he seems like such a nice guy. I'd probably get very, very envious of his body – he's in much better shape than me and probably at least 20 years older.
Filming for Jupiter's Legacy wrapped just as lockdown was happening. Have you been able to work through lockdown?
It's been a very quiet time for me and I'm chomping at the bit to act again. I've had tapes and things but nothing that's landed so I'm hoping for something to stick off the back of Jupiter's Legacy. Before I could always say that I was in a Netflix series but didn't have anything to show for it. People would ask, 'Is that the Netflix show that's never going to get made?' So to finally have some footage to send out to people is very satisfying.
I spent lockdown watching a lot of films, a lot of Netflix, played games, did some art and lots of yoga and meditation. I also took a little bar job, just because I like having something to fill my time when I'm not acting. I quit that when the show came out, and hopefully acting will be the way forward from now on, but I've kept channels open so I don't have to go back with my tail between my legs! I also got involved with some volunteering, helping out at Healthy Living Platform, a surplus food bank in Lambeth. It's really nice to feel like I'm being useful and and doing something worthwhile with my time. I've been doing food deliveries to help families in need or have to shelter during COVID. I also work at the food bank, which takes in supplies from charities around London and distributes them to different charities in the Lambeth area.
You trained as a chorale singer when you were younger. Did you ever consider music as a career?
It's quite strange in that I've had far more musical training than I've had acting. People ask me why I didn't do National Youth Music Theatre or National Youth Theatre, but I didn't know they were things until I went to university and everyone on my drama course had been in them. Music was definitely something I thought about for a while. I'm a classically trained singer but I've got a weird brain in that I can't properly read music, I just have a very fast ear so can pick things up while listening to other people or with a learning track as quickly as someone who's reading music. I guess it's kind of like musical dyslexia. I think because of that no one will ever hire me as a musician. I had a crack at writing some songs but I'm not the world's next Ed Sheeran so I thought I'd stick with acting instead.
Is theatre something you would like to do more of in the future?
Absolutely. I've been auditioning for a couple of things recently actually, so it's definitely something that my team still puts me up for. It's such a great way to develop your skills. In 2018 I did a three month production of Dorian Grey in Hamburg and then I did a touring production of Dracula later that year, both of which were really fun, but I'd love to do something in London so I can come home to my girlfriend in the evening. That would be nice.
I'd love to play Iago, in terms of Shakespeare. I'd also really like to be in Posh; I think I fit the demographic quite well. I'd like to play someone nasty, basically, because it's so different to who I am on a day-to-day basis and playing something which is other than yourself is the greatest challenge as an actor.
Read more: In conversation with Shazad Latif – Britain's next big thing