All the gear: The most stylish activewear brands and luxury gym clothes for men
The gym kit, workout wear and athleisure gear guaranteed to take your training up a notch
All products are chosen independently by our editors. Luxury London may earn commission on items purchased.
Sportswear, activewear, gym-wear, call it what you will (just don't call it 'athleisure wear'. No one actually calls it 'athleisure wear') the clobber we wear to work out in has become big business. Big enough to make a billionaire of Benjamin David Francis MBE, founder of Gymshark, before he even turned 30. Big enough to make Lululemon one of the unicorns of modern fashion (current market value, more than £6.5 billion).
Into this sweat-drenched, macro-obsessed space has stepped a surfeit of nylon-loving, moisture-wicking brands promising to carry us from the squat rack to Joe & The Juice looking sharp and smelling, well, not smelly. Drawing on a sure-fire palette of blacks, blues, greys and olive greens (don't embarrass yourself by wearing anything remotely bright, or, god-forbid, neon, on the free-weights floor) in breathable, space-age materials, these lifestyle brands have not just read the Peloton-loving room, but kitted-out everyone in it in stealthy, muscle-fit tops and smartphone-pocketed shorts.
These are the hottest, no, coolest, activewear brands to sweat-and-be-seen-in.
Adidas Training
Figuring that too much of life now happens indoors, Adidas' Outdoor division aims to improve our physical and mental health by getting us outside. The department's MYSHELTER collection includes a range of technical jackets designed for navigating urban environments during changeable weather conditions. This Terrex MYSHELTER Primaloft Parley padded jacket is constructed in lightweight, low-bulk polyester so that it can be rolled up and stuffed inside a gym bag or backpack. Stick your protein bars in any number of internal and external pockets. The jacket is available in blue, black and white. Choose white to weaponise your workout look.
Terrex MYSHELTER Primaloft Parley jacket, £180, adidas.co.uk
Boss
Acting as the face – and body – of the brand's Stretch Tailoring campaigns since 2018, Anthony Joshua launched his first 'athleisure' collection (his word, not mine, and we won't be arguing with the big man) with Boss at the start of the pandemic, fortuitously, you might say, given that we were all about to start working from home. The Boss x AJBXNG collaboration has so far yielded four easy-wearing capsule collections. The latest sees bold graphics and clever materials meet a clean black-and-gold palette in 11 stylish-yet-technical sports-drawer staples. Designed in collaboration with the two-time unified world heavyweight champion himself, this Boss x AJBXNG mixed-material down jacket packs plenty of punch.
Boss x AJBXNG jacket, £429, hugoboss.com
Castore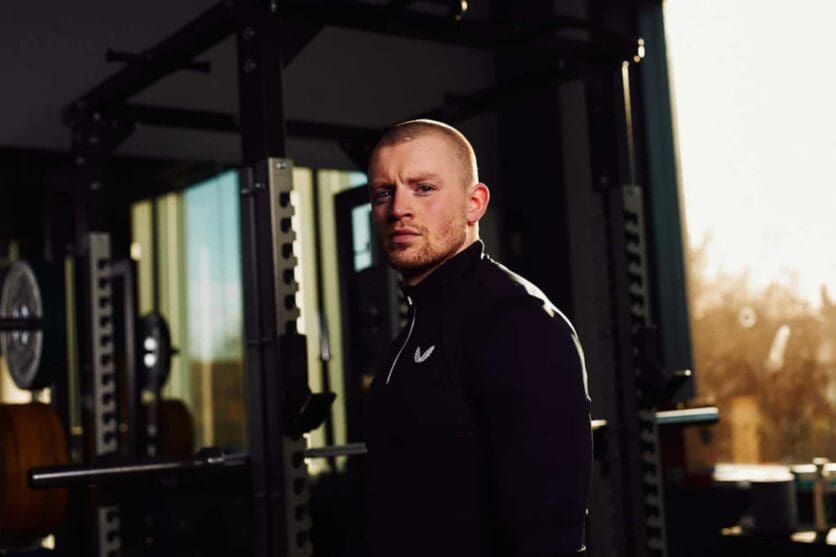 When brothers and former athletes, Tom and Phil Beahon, identified a gap in the market for a high-quality, high-performance sportswear brand in 2015, they quit their jobs and went all in, establishing what is now a leading name in luxury sportswear. Thanks to its innovative use of state-of-the-art materials, Castore quickly grabbed the attention of top athletes. Andy Murray became a shareholder and collaborator, before the likes of McLaren Automotive, England Cricket, Cricket South Africa, Newcastle United Football Club and Saracens Rugby Club all signed partnership deals. Castore has since announced multiple Olympic gold medal-winning swimmer, Adam Peaty, as an ambassador – though the company is yet to dip a toe into the budgie-smuggler arena. If there's one brand that could make swimming trunks acceptable around the pool of Shoreditch House, however, we're backing Castore.
Gymshark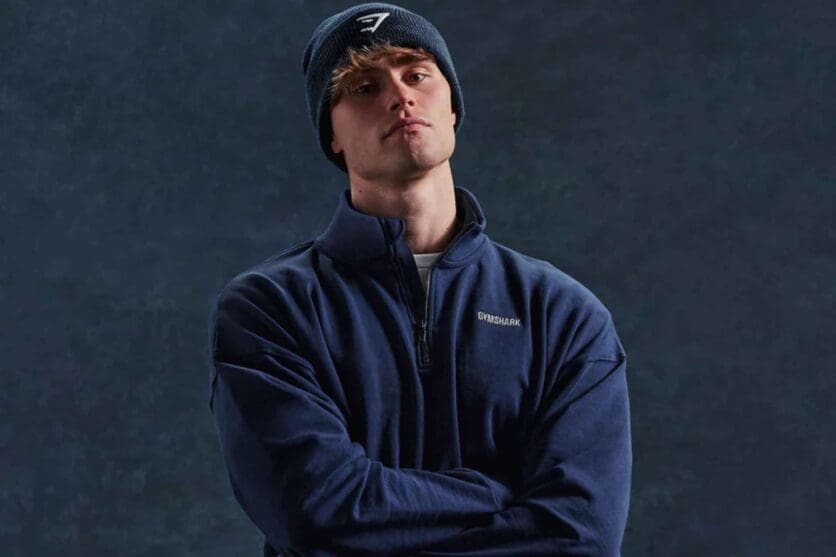 Not so long ago, Bromsgrove-born Ben Francis was delivering Pizza Hut by night and hand-sewing fitted gym clothes by day. He'd print and stick his own labels, hand-pack the trickle of orders he was receiving through his fledgling website and take them to his local post office personally. In August 2020, Francis, then aged 27, sold a 21 per cent stake in his company, Gymshark, to America's General Atlantic in a deal that valued the company at around £1 billion. Not bad for a lad who asked his nan to teach him how to sew. Gymshark has since segued from flattering exercise kit to relax-at-home loungewear, muscling in on another mushrooming area of menswear. Enjoy your rest day in this oversized, dropped-shoulder sweater. Cosy.
Oversized sweater, £50, gymshark.com
Iffley Road
Named after the Oxford track on which Robert Bannister ran the world's first sub-four-minute mile, Iffley Road is a running brand that marries retro style with high-performance tailoring. Founded by a husband-and-wife team who met through their love of running, the brand offers a wide range of running gear, from leggings to shorts and waterproofs. With sustainability at the core of the brand, each piece is made in primarily Portuguese and British factories, with recycled and organic yarns and fabrics sourced from elsewhere in Europe. If you're looking for something to carry you from winter into spring, check out the brand's Thorpe merino half-zip top, a breathable long-sleeved base layer made from 100 per cent Italian merino wool.
Thorpe top, £140, iffleyroad.com
Lululemon
While large parts of the fashion industry suffered during the pandemic, Lululemon's share price rose to an all-time high. As the market leader in flattering comfort clothes and high-end gymwear-cum-daywear, it's no surprise the brand benefited as we all pivoted towards working – and working out – from home. As well as its bread-and-butter collection of seven-inch shorts and ventilated T-shirts, Lululemon's product offering now stretches to smart down jackets, tailored chinos, and stretch-fabric gilets.
Visit lululemon.co.uk
Nike Training
Specifically designed for the gym and sports studio, Nike's Training collection caters to a range of workouts and fitness regimes. Twinned with the Nike Training Club, a subscription-based app that gives you access to a host of virtual workout sessions, the range of clothing, shoes and accessories is ideal for those looking to revitalise their fitness game. Squat, snatch and box jump in style in these virile-sounding Nike Air Max Alpha Trainer 5s. With a chunky, cushioned sole, the trainer has been designed to aid fast-paced exercises, such as circuit training, HIIT and sprint work. Pretty cool for when you're out and about, too.
Air Max Alpha Trainer 5, £74.95, nike.com
Under Armour
It all started with a T-shirt. In 1995, Kevin Plank, then the 23-year-old captain of the University of Maryland's football team, decided to design a T-shirt to rule them all. From his grandmother's basement in Washington DC, he created a soft, streamlined top with super speedy sweat-wicking properties. Today, Under Armour is one of the world's leading sportswear brands, made all the more popular thanks to a catalogue of athlete endorsements that includes everyone from Tom Brady and Trent Alexander-Arnold, to Anthony Joshua and Dwayne Wade 'The Rock' Johnson, seen here. The collaboration between the gym brand and former-WWF-wrestler-turned-muscliest-man-in-Hollywood, called 'Project Bull', began in 2019 and now incorporates everything from bags, T-shirts, hats, water bottles, gloves, straps and even headphones. Regrettably, nothing in the range comes with a guarantee that you'll look that good at 50.
Visit underarmour.co.uk
Reebok
There's little question that Reebok's association with CrossFit – the sportswear manufacturer was licenced to sell branded apparel for the functional fitness company for the best part of a decade – helped re-energise the Adidas-owned, Anglo-American activewear specialist. Reebok has since cut ties with CrossFit but continues to produce a range of cross-training kit, including HIIT trainers, speedwick tights, perforated T-shirts, and two-in-one performance shorts. Reebok also makes some pretty hip running shoes, like this collaboration with Japan outwear label Mountain Research. The Mountain Research x Reebok LX2200 remolds the sports brand's LX8500 luxe runner from 1985, allowing you to run forwards towards the past. Or something.
Mountain Research x Reebok LX2200 trainers, £75, reebok.co.uk
Vollebak
At £85, Vollebak's Carbon Fibre T-shirt doesn't come cheap. Then again, Vollebak's Carbon Fibre T-shirt isn't your run-of-the-mill piece of gym kit (the clue's in the name). In fact, given that its part-forged in a space-age material-technology facility in the mountains of Switzerland, and that it's the first T-shirt ever to be constructed from carbon fibre – more than 120 metres of the stuff are embedded within it – £85 actually seems rather good value for money. Vollebak was founded by two British twins in 2015, and has since built a reputation as a pioneering adventure-sportswear specialist. As well as coats that conduct electricity, the British brand manufacturers jackets that reflect every colour in the visible spectrum and a biodegradable T-shirt that worms can eat once you're done with it. This carbon fibre tee promises to last a little longer.
Carbon Fibre T-shirt, £85, vollebak.com