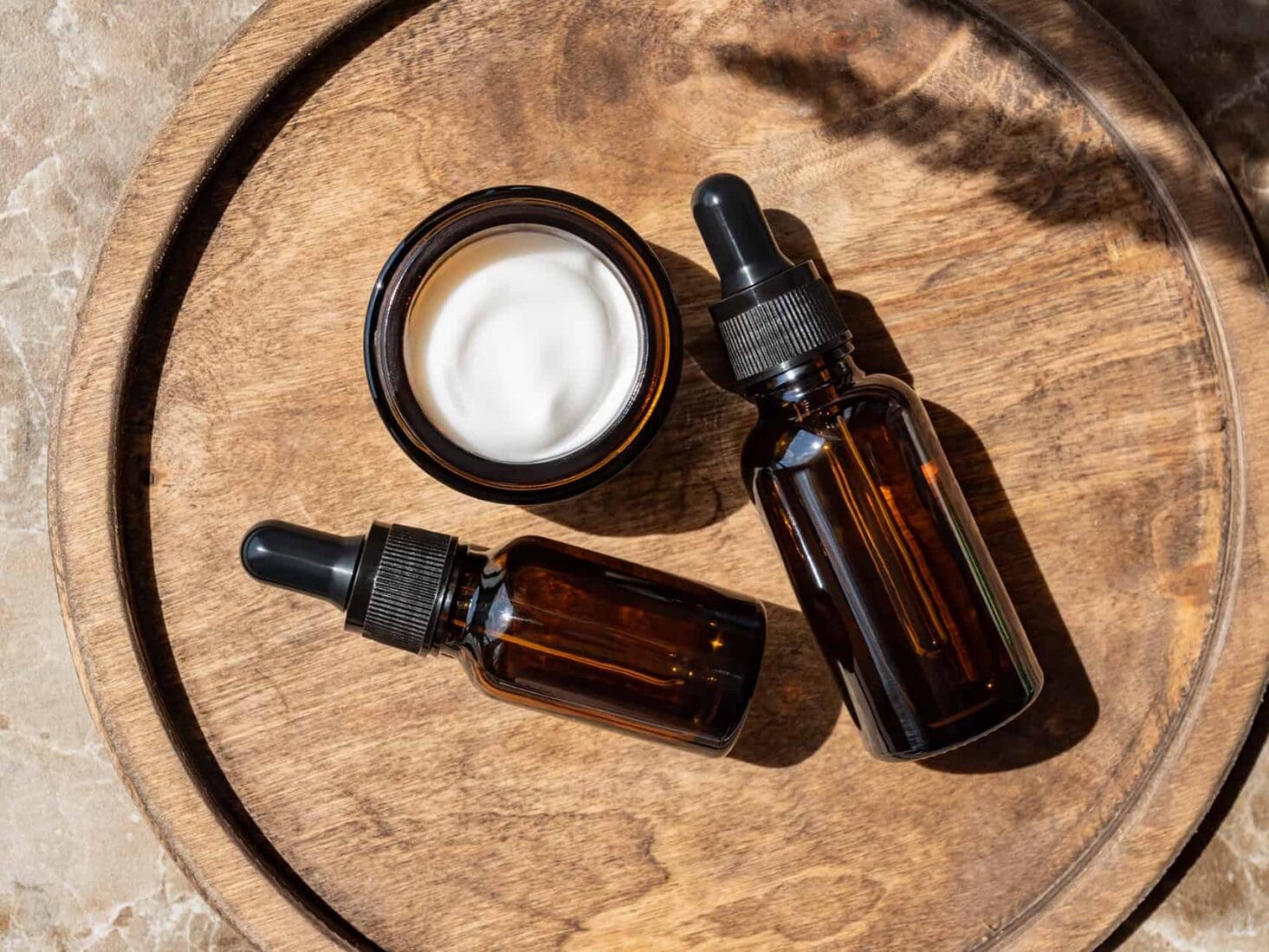 The best refillable beauty products for a more sustainable bathroom cabinet
Take a step towards a more sustainable beauty regime with these refillable products
All products are chosen independently by our editors. Luxury London may earn commission on items purchased.
Traditionally, the beauty industry hasn't been Mother Earth's best friend. Complex single-use packaging, which looks great on our shelves but not so good in landfills, has been the norm for decades, and with few options for earth-conscious products out there, being kinder to the environment has often meant sacrificing on luxury. Fortunately, things are beginning to change: we are entering a refillable beauty revolution.
Go-to brands like Aesop and Neal's Yard have been leading the charge for years with environmentally-conscious packaging and refill stations, and now even more luxury brands are following suit with their own take on sustainable beauty. From fragrance favourites Diptyque, Le Labo and Jo Malone, to makeup megastars Chanel, Dior, Tom Ford and Armani, a whole host of brands have joined the throng, so you can be good to the environment without compromising on looking great. Read on for our guide to the best refillable beauty products.
Hermés
If, like us, you can't be without your lipstick, you'll sympathise with how quickly we wear our favourite colour down. However, Hermés' line of refillables — which launched in March 2020 — means you can stock up without having to fork out for a whole new lipstick every time, helping your bank balance and the environment. The French fashion house offers 24 shades in refillable packaging — priced at £58 with the refills costing £41 — including matte and satin textures containing natural ingredients, including beeswax and white mulberry extract. If you do decide to stray from your normal colour and texture, the metal bullet is compatible with all Rouge Hermés variations, including matte lipstick, satin lipstick, lip care balm and lip shine.
Visit selfridges.co.uk
Kiehl's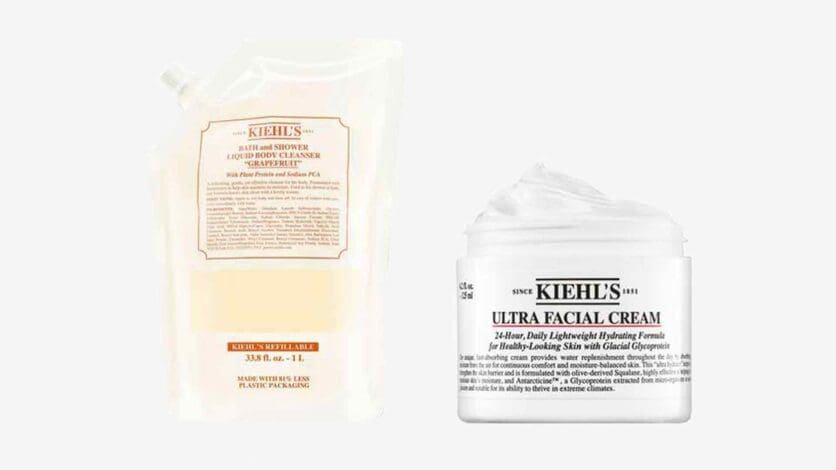 What started as a small pharmacy in New York's East Village in 1851 has grown into an all-encompassing beauty powerhouse. It's safe to say that most of us have either tried a Kiehl's product or have one sitting in our bathroom cabinet. In 2021, the company branched into the sustainable space by launching refillable pouches for its hair and skin products, including crème de corps body lotion, amino acid shampoo and conditioner, and the brand's best selling ultra facial cream. These pouches contain around 80 per cent plastic than the regular single-use bottles and each has about 2.5x the formula compared to the standard 250ml bottle. Simply refill your bottle at home and ta-da, you're done.
Visit kiehls.co.uk
FaceGym
FaceGym is better known for its tools than its products, especially as it was built on the idea of giving your face a workout. From face balls to hydrating rollers, the therapists have devised a number of techniques and tools to help with long-term sculpting, lifting, toning, and brightening. But after you've pressed and pushed your face, it's time for that all-important skincare. From the get-go, FaceGym offered planet-friendly refill pods for some of its best sellers. The Supreme Restructure cream, a firming EGF collagen booster, can be replenished in a forever-aluminium container that's made from ocean plastic.
Visit facegym.com
Diptyque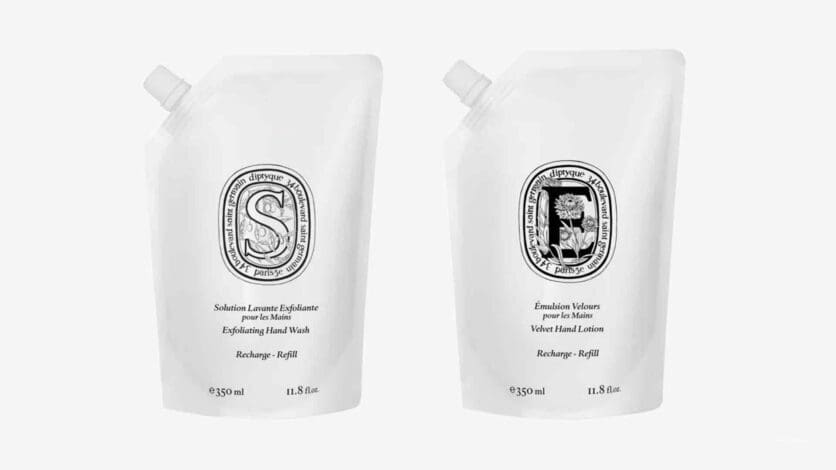 Founded in Paris in 1961, Diptyque has been a fan favourite among candle connoisseurs for decades but only a few know that the brand only started selling its famous candles two years after the original shop opened. Now one of the most popular Parisian fragrance houses in the world, Diptyque expanded into the bath and body sector with its softening hand care range in glass bottles. The refills are available in 350ml pouches; keep one in the cupboard and you won't ever have to be without Diptyque's luxe, exfoliating hand washes and body lotions.
Visit diptyqueparis.com
Charlotte Tilbury
Expert makeup artist Charlotte Tilbury launched her eponymous cosmetics and skincare line in 2013 and it wasn't long before beauty fanatics were raving about its iconic Magic Cream and Pillow Talk lipstick. Now, with an extensive range of refillables available across brows, lips, bronzers and skincare, the magic is set to last even longer. The brand's glamorous, gilded packaging remains the same, simply replace your products with the recyclable refill cartridges and they'll be good as new.
Visit charlottetilbury.com
Fenty Skin
Rihanna's Fenty Skin is working to help cut waste by embracing the three R's (reduce, reuse, recycle) when it comes to its packaging. Eliminating excess wherever possible, using recyclable and post-consumer recycled materials and implementing refill systems, the brand's earth-conscious ethos has created a range of beautifully packaged, luxury products designed to stand the test of time. This eco approach extends to Fenty Beauty now too, which offers the new Fenty Icon semi-matte refillable lipstick.
Visit harveynichols.com
Fiils
Bathroom products are usually those used most frequently, and therefore those replaced and thrown out the most. Offering 99 per cent organic and natural shampoo, conditioner, body and hand wash, Fiils is making refillables luxe and cutting down on bathroom waste. With subscriptions available so you never get caught short in the shower, just choose your fragrance, decant the pouch into your aluminium bottle and return the empty packet to Fiils to be recycled.
Visit fiils.co
Hourglass
Cosmetics favourite Hourglass has garnered praise for its full coverage foundation sticks and luminous highlighters since launching in 2004, and now the brand is entering the conscious beauty space with its Curator Eyeshadow Palette. Offering over 40 shades of 100 per cent vegan eyeshadow, each hue can simply be swapped in and out of a sleek, gold metal case allowing for endless customisable combinations.
Visit harveynichols.com
Kilian
Ultra-luxe parfumerie Kilian believes true luxury should last a lifetime and, as such, its ornate bottles are intended to be refilled and reused for years to come. Each scent is available as a handy refill, designed for ease of use to eliminate any spillage so you can top up your bottle without wasting a single drop.
Visit harveynichols.com
Ouai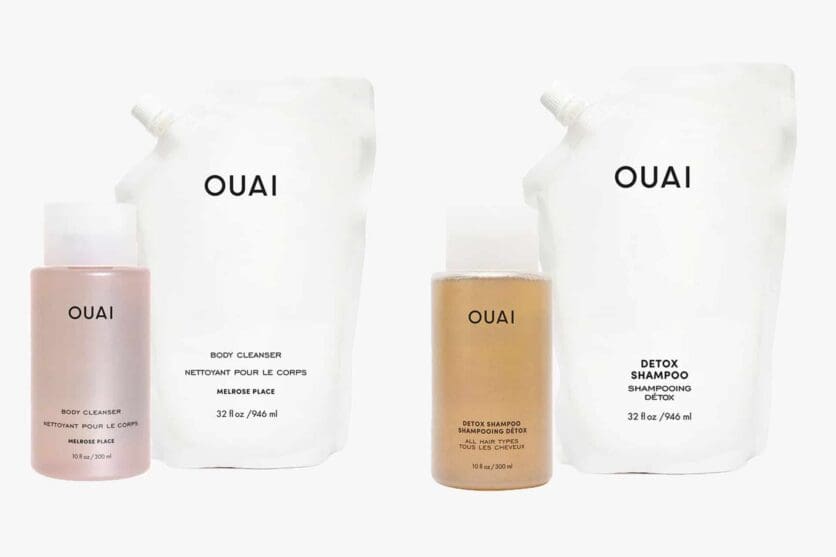 The cult haircare collection by stylist to the stars Jen Atkin gained its glowing reputation as a banisher of bad hair days with a range of supplements, treatments and styling products formulated to nourish hair 24/7. Now the brand is going green, offering refills of their wildly popular, heavenly scented shampoos, conditioners and body washes. Each refill pouch can fill Ouai's shampoos or conditioners three times and uses 60 per cent less plastic than regular bottles, allowing the brand to cut emissions by a third.
Visit harveynichols.com
Pott
Handmade, sustainable and natural, Pott is a fantastic eco alternative for candle lovers. Gone are the days of throwing out ornately decorated jars – or if you're anything like us, stashing them in the back of a cupboard until you think of a new use for them – each Pott candle comes with a unique ceramic pot, thrown in the UK by artisan potters, that can be easily re-upped with custom hand-poured refills, crafted with sustainable rapeseed and coconut wax, and 100 per cent natural essential oils.
Visit pottcandles.com
Sisley Paris
With natural jojoba and moringa oils, hyaluronic acid, and the brand's cult Hydrobooster complex, Phyto-Rouge Shine by Sisley Paris leaves lips plumped, nourished and softened while delivering intense colour and shine. The bullet clicks in and out of the refillable tube smoothly, giving you the option to switch out any of the 12 vibrant shades as you please.
Visit sisley-paris.co.uk
Read more: The most dazzling high jewellery collections of 2023