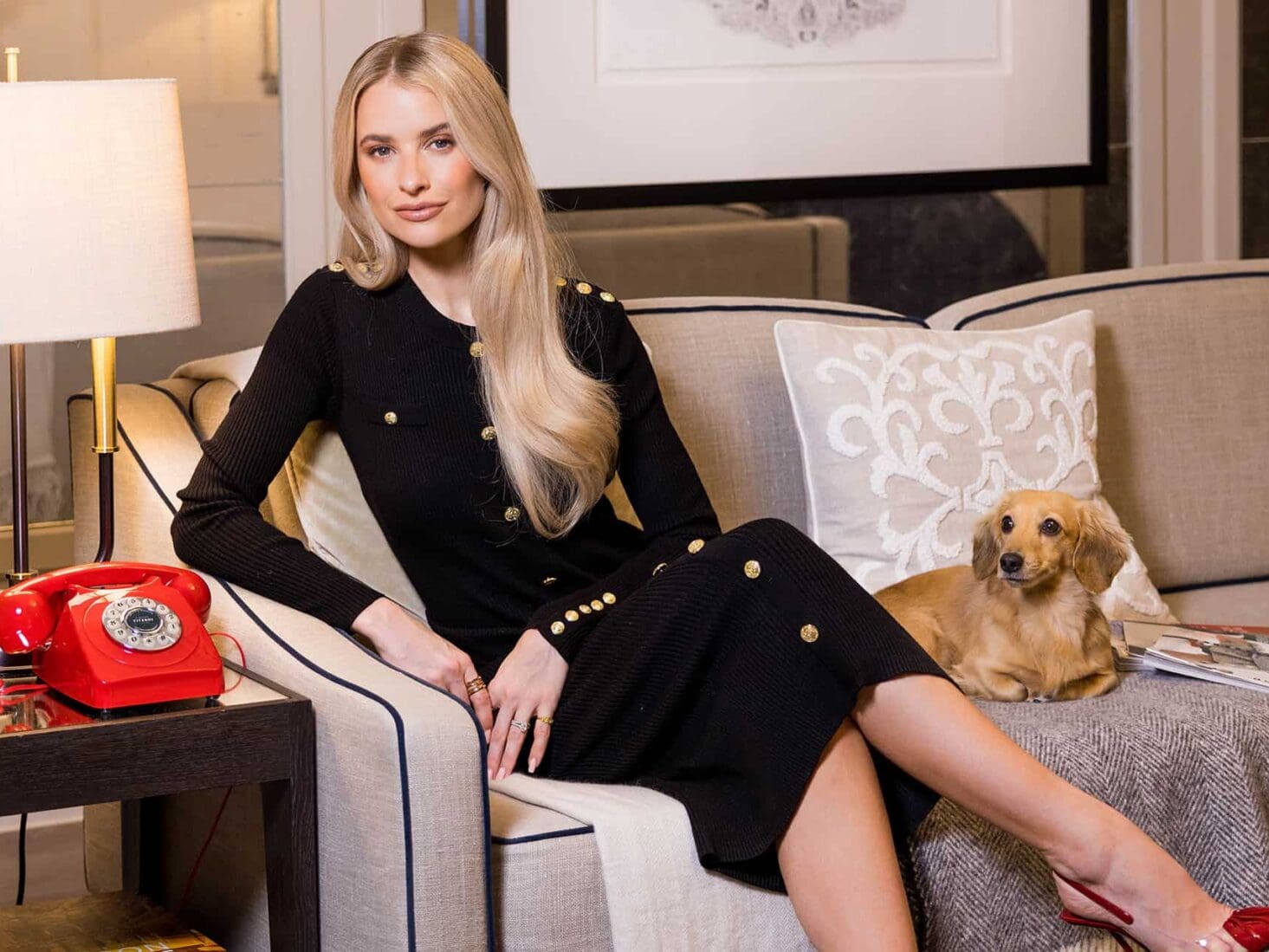 Victoria Magrath's guide to Bloomsbury
One of Britain's biggest fashion bloggers, better known as InTheFrow, reveals where she wines and dines in London
Victoria Magrath doesn't just have one job. She has about eight. What started as a part-time blogging hobby under the pseudonym InTheFrow has now turned into an impressive career portfolio. She's a brand ambassador, content creator, fashion and beauty blogger, brand consultant, author, influencer, social media director and, let's not forget, an entrepreneur too. To say she is a busy woman would be an understatement.
Magrath's fashion and beauty blog, InTheFrow, is probably what she is best known for. It started in 2012 while she was completing a PhD in Fashion and lecturing about Fashion Marketing at the University of Manchester. A decade later, Magrath has built an empire — and amassed a whopping 1.3 million followers on Instagram — which has several accolades to its name. Her highlights? Becoming a brand ambassador for Japanese beauty brand Clé De Peau and being named the UK's Top Fashion Blog for five consecutive years.
Magrath left her home city of Manchester behind for London shortly after InTheFrow took off — and it's been her home ever since. When she's not working, managing or creating content for her many, many jobs, Magrath hits the indie restaurants and shopping hotspots of her local neighbourhood, Bloomsbury, with her husband Harrison and miniature dachshund Boe. Here, she reveals her favourite haunts.
The restaurant: Bloomsbury Street Kitchen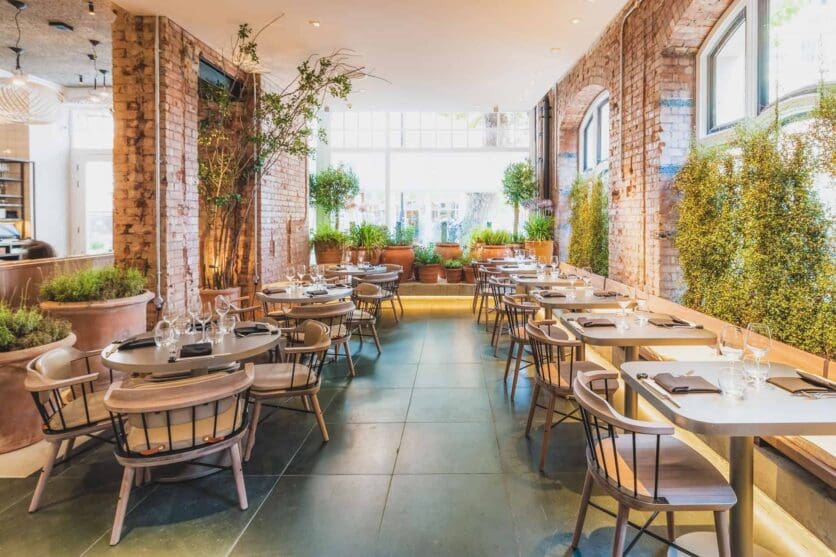 Victoria says: Top of my list for eateries is the buzzing Bloomsbury Street Kitchen. Serving a unique blend of contemporary Japanese and Mediterranean small plates, this is the ideal spot for an evening spent gossiping with your girlfriends or dining with a loved one while sharing an eclectic array of incredible food. My favourite is the crab bucatini [with] plum tomatoes, chilli and lemon. It is divine. What's more, they have a fabulous selection of sake, which is my drink of choice, and cocktails for those who are willing.
We say: Bloomsbury Street Kitchen takes inspiration from Mediterranean gardens with hanging plants, exposed bricks and living walls featured throughout the restaurant. It opened last year as the latest addition to the Kitchens chain, which also has restaurants in Mayfair and Leicester Square. If sushi and fresh tartare are your thing, book a seat at the chef's counter to see your dishes being prepared from scratch.
Visit thekitchenrestaurants.co.uk
The hotel: Kimpton Fitzroy London
Victoria says: Kimpton Fitzroy London is my favourite hotel in London – it is a home away from home. The Corner Suite is my room of choice, with a glorious roll-top bath, fabulously comfortable bedding and a separate lounge and dressing area. The staff at the Kimpton Fitzroy never fail to make you feel like you are the only guest in the hotel. Their care and attention to detail is impeccable and allows you to 'Guest How You Guest'. The hotel is part of IHG Hotels & Resorts, which believes when people are taken care of they can feel free to be themselves and live their best lives. 
We say: The Kimpton Fitzroy is one of London's landmark five-star hotels, known for its grandeur, style and, above all, luxury stays. Overlooking Russell Square in the heart of Bloomsbury, the hotel is ideally located for those who want to explore, with Covent Garden, The British Museum, as well as the district of Fitzrovia all a few minutes away. After a long day shopping, we recommend a tipple or two in the hotel's lavish Fitz's bar before a three-course dinner at Galvin Bar and Grill.
Visit kimptonfitzroylondon.com
The bar: Noble Rot
Victoria says: Noble Rot is situated in a townhouse on Lamb's Conduit Street. Starting out as a magazine which evolved into a restaurant and wine bar in 2015, [the magazine] is home to some of the most exciting voices in wine and food (think Diana Henry and Jeremy Chan). If you love wine, you [should] know about Noble Rot, a relatively undiscovered gem among the masses in the heart of the city.
We say: Noble Rot's two wine bars had an unconventional beginning. It started — and still is — the name of a quarterly food and drink magazine which opened its first bar in Bloomsbury in 2015, and the Soho addition in 2020. The flagship Bloomsbury bolthole is a cosy spot for catching up with friends by the roaring fire. Like its Soho sister, it has a celebrated wine selection, voted Wine List of the Year at the World Restaurant Awards 2019, and at the National Restaurant Awards in 2016, 2017 and 2018.
Visit noblerot.co.uk
The café: Burr & Co
Victoria says: Burr & Co. is my coffee stop of choice for a fantastic oat milk latte designed to reset and revive. Tucked into a ground floor space at the Kimpton Fitzroy, the space offers a modern twist on the traditions of London's Victorian era coffeehouses. We often drop in for a quick takeaway coffee when on the move, or to catch up on emails between meetings (with a side of people watching around the hustle and bustle or Russell Square).
We say: A coffee joint by day and wine bar by night, Burr & Co is nestled on the corner of Bernard Street and Russell Square so is a perfect place to work from between meetings. Visitors are encouraged to bring their laptops and take advantage of the plug sockets and speedy WiFi while sampling its beverage menu. Who wouldn't enjoy a day of catching up on work at one of London's most regal hotels?
Visit kimptonfitzroylondon.com
The hidden gem: Redemption Roasters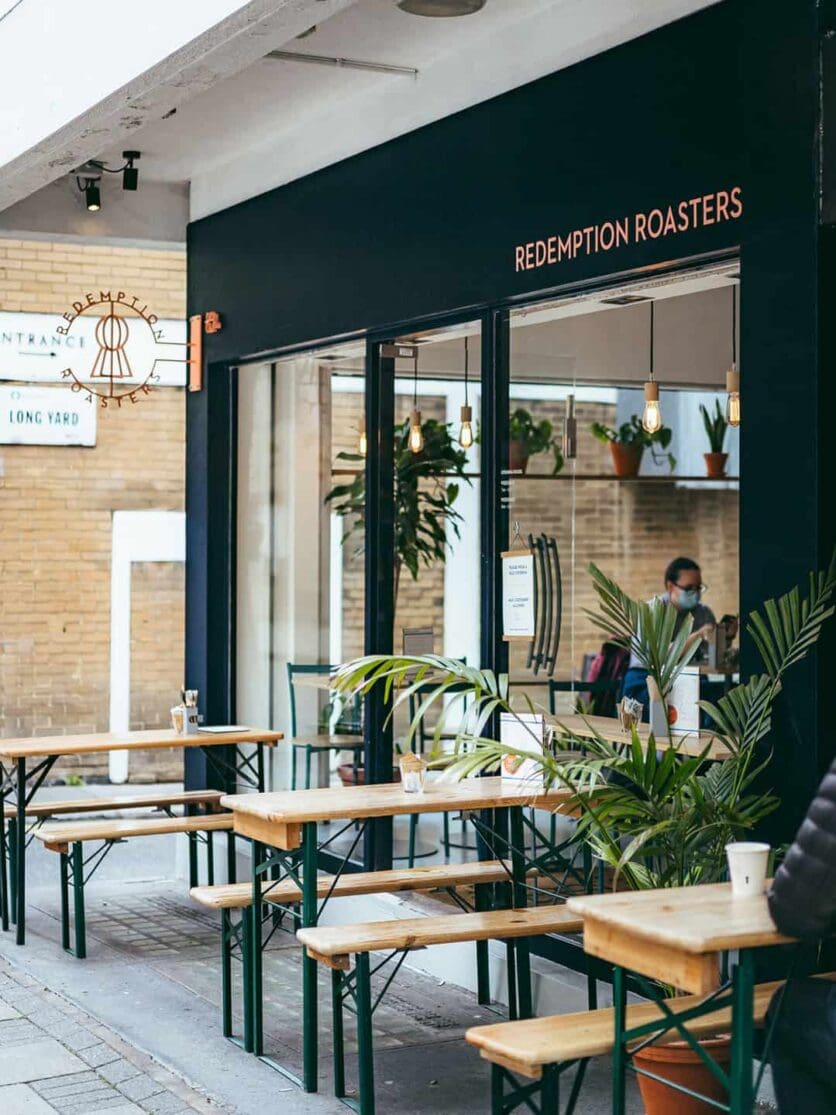 Victoria says: Redemption Roasters is an incredible café and roastery with a wonderful story, working alongside ex-offenders to reduce crime in the community through coffee. At its roastery inside HMP The Mount, it teaches practical skills in coffee roasting alongside the wider logistics around coffee production; a collective mission to change the game for ex-offenders and the criminal justice system. It also does a mean avocado toast! One for the soul and the stomach. 
We say: Impressive coffee with an impressive story, Redemption Roasters trains ex-offenders to roast beans and become baristas via its prison academies and community training programmes. The result? Great tasting lattes. Redemption Roasters has stores across London, from Moorgate to Hampstead Heath, so you can get a feel-good caffeine hit anywhere in the capital.
Visit redemptionroasters.com
The entertainment: Bloomsbury Lanes
Victoria says: Every now and again, stepping away from the bright lights of the city centre and into a classic bowling alley is a must. Bloomsbury Lanes is an ode to childhood fun, a one-of-a-kind 1950s, American-style venue that makes bowling stylish. Bowling, cocktails and fries — nothing screams 'Friday night fun' more than this.
We say: With eight bowling alleys, a diner, cocktail bar and karaoke room, Bloomsbury Lanes is more than your average bowling venue. It also hosts regular party events running until 3am so you can get your groove on after scoring a couple of strikes. 
Visit bloomsburybowling.com
The shopping: Independent boutiques
Victoria says: Bloomsbury hosts some of my husband's favourite stores, including Universal Works and YMC. Rummaging through their rails is like raiding my husband's wardrobe. After a day shooting my content, nothing says thank you more than a trip to one of his favourite stores to pick up a treat!
We say: If you're in need of some retail therapy, the capital never disappoints, particularly Bloomsbury. Take a trip to Lamb's Conduit Street for its array of quirky, independent shops. Highlights include Darkroom for handmade clothing and accessories and Persephone Books, a stand-out bookshop that celebrates forgotten female authors.
Magrath's curated Corner Suite stay at the Kimpton Fitzroy can be booked until 31 January 2023, visit thekimptonfitzroy.com
Read more: Wiggy Hindmarch's guide to Chiswick