The Most Beautiful Railway Stations In London
You'd scarcely know it from the government's lacklustre approach to an industrial dispute they've permitted to paralyse services in the southeast for more than a year, but this is a glorious new age for train travel.
Recognised as one of the most environmentally sustainable forms of transport, passenger numbers, along with fares you might wryly add, are at peak post-war levels. High-speed locos link London to the continent, and there are plans for another rail corridor from the capital whizzing up to cities in the north. Stations are being polished, refurbished and redesigned with an energy that is summoning parallels with the 19th century's Golden Age of Steam.
Simon Jenkins, former editor of The Times and former chairman of the National Trust, founded the Railway Heritage Trust in 1985 and has just published an absorbing new book, Britain's Best 100 Railway Stations. Its subject matter would surely have been celebrated by the poet and writer, Sir John Betjeman, who played a major part in opening the nation's eyes to the glories of old stations in the 1960s.
Having deplored the demolition of the old Euston station and its famous Arch in 1961, Betjeman was on the warpath again in 1966, damning as 'a criminal folly' the then nationalised British Railway's plans to knock down George Gilbert Scott's Midland Grand Hotel at St Pancras, and to amalgamate the terminus with King's Cross to create 'a single modern terminal.'
The destruction of St Pancras never happened, of course. It was Grade I listed as far back as 1967 but, writes Jenkins, who recalls staging a party on the hotel's dirt-encrusted grand staircase to draw attention to its plight in the early 1980s, 'this did not stop its dereliction.' It looked a basket case until the new century, when the developer Manhattan Lofts and the Marriott hotel chain joined forces. Aided by the relocating of Eurostar from Waterloo, an astonishing transformation was completed by 2007.
According to Jenkins, 'nothing so defines the rebirth of the British station….as the new St Pancras and the opening of its rightly called Renaissance Hotel.' How appropriate that a beautifully realised statue of Betjeman, gazing up in wonderment at William Barlow's massive, single-span 1860s trainshed roof, is prominently sited close to the platforms, with a pub in his name near the main entrance.
Jenkins hasn't written a station history book as such, though for the majority of readers it has all the information you'd need. The author's fluid style seldom disappoints. If you want to go deeper without entering spotter territory, Steven Parissien's recent The English Railway Station, published by English Heritage in 2014, can also be recommended. Over 156 pages, Parissien succinctly traces the genesis of early stations, the early entrepreneurs and engineers of the railway mania, and the building of the cathedrals of steam.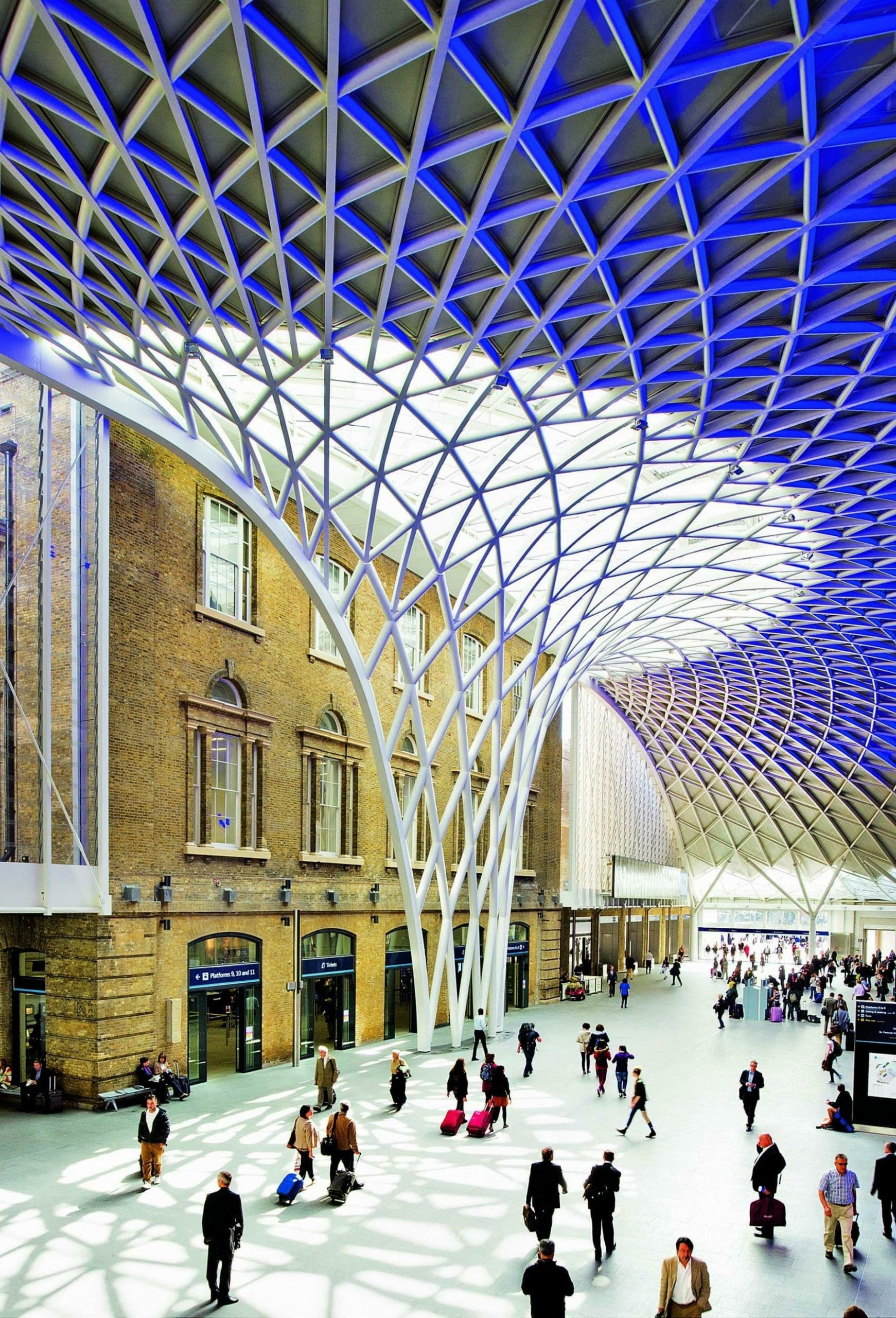 Both he and Jenkins note that, although the Victorians are usually credited with creating the railway revolution, the first regular steam passenger railway began in the Georgian period. The oldest surviving railway station building, according to Parissien, is at Mitcham in Surrey and dates back to the reign of George III.
Jenkins sketches a similar story in brilliantly economic style in two opening chapters, but the majority of the book is given over to his regional exploration of his favourite stations. These include Glasgow Central, Newcastle Central, Liverpool Lime Street, York and Bristol Temple Meads, the smaller-scale provincial stations such as Tynecastle and Eastbourne, and the eccentric charms of country stations like Battle, Boxhill and Westhumble, Ribblehead and Goatland.
Yet Jenkins admits he's unable to 'avoid the generalisation that Britain's finest stations remain the great London termini.' His list of ten 'five star' stations includes four termini in central London, King's Cross, Liverpool Street, Paddington and St Pancras. Those at Marylebone, Victoria and Waterloo make it into the top 100.
St Pancras's avenue of bistros and boutiques have made it a destination in its own right, even for those blasé about its architecture. Jenkins says it's the one which gives him the greatest thrill of all, though I'd argue that Paddington has best retained its Victorian atmosphere. As Isambard Kingdon Brunel's masterpiece, it was the terminus of his Great Western Railway (GWR). Steven Parissien calls Brunel's Paddington, designed not long after the opening of the Crystal Palace in 1851, as 'the first real cathedral of the Railway Age: it even had transepts.' Jenkins describes it as 'engineering as architecture, architecture as engineering.'
One of the best ways to experience the special ambience of Paddington station is to walk down the side of Platform 1. You pass beneath the balconied, Moorish windows of the former GWR boardroom which, as Jenkins says, could double as a stage set for Romeo and Juliet, and the enormous old station clock. At the end, steps lead up to a bridge across the tracks to the Underground. Unfortunately, the elevated position offering a view back along the platforms is harder to enjoy now a glass screen has been erected, but there is something highly atmospheric about this place. You can still imagine steam engines belching smoke, and whistles blowing. A diffused light shimmers through the glass panes of the ribbed roof, and there's an airy quality similar to the glasshouses at Kew. The slender iron columns with their decorative ornamentation sprout like vigorous plants from the platform floor up into the vaults.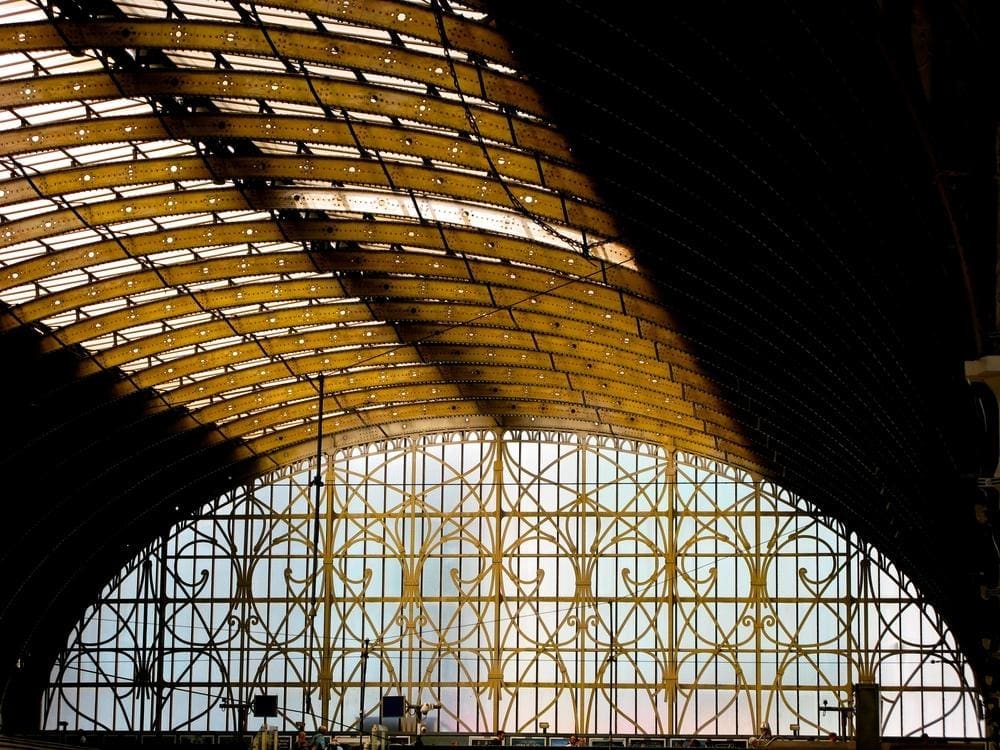 None of the other London stations can compete with the almost spiritual impact of Paddngton, not even Liverpool Street now, though the traceried ironwork of its Victorian designer Edward Wilson has long been celebrated. Liverpool Street is another survivor of a demolition threat, this one surfacing in the 1970s. The plans went to a public enquiry, and when the verdict went in the conservationists' favour, it was hailed as a triumph equal to the saving of Piccadilly and Covent Garden.
Although much remodelling was carried out to make space for the now much-enjoyed and admired Broadgate complex, the station as it looks today can be seen as an early example of retro-fitting, a remodelling for the modern era, with a major emphasis on space for retail, that shows due respect to the past. Unlike at Paddington, though, you really need to pass beyond the actual ticket barriers to appreciate the full glory of Wilson's canopy, and the station no longer fits Betjeman's old description of it as 'the most interesting and picturesque of the London termini.'
No-one's ever called King's Cross picturesque. I suspect it is the most popular among architectural purists, though John McAslan's swirling, white-tubed concourse fan vault, completed in 2009, seems to have delighted everyone, from traditionalists like Jenkins to lovers of the new. King's Cross's façade is the most European, modern-looking of all the capital's big stations, which is remarkable given it was completed in 1852, two years before Paddington, 15 years before St Pancras and 22 years before Liverpool Street.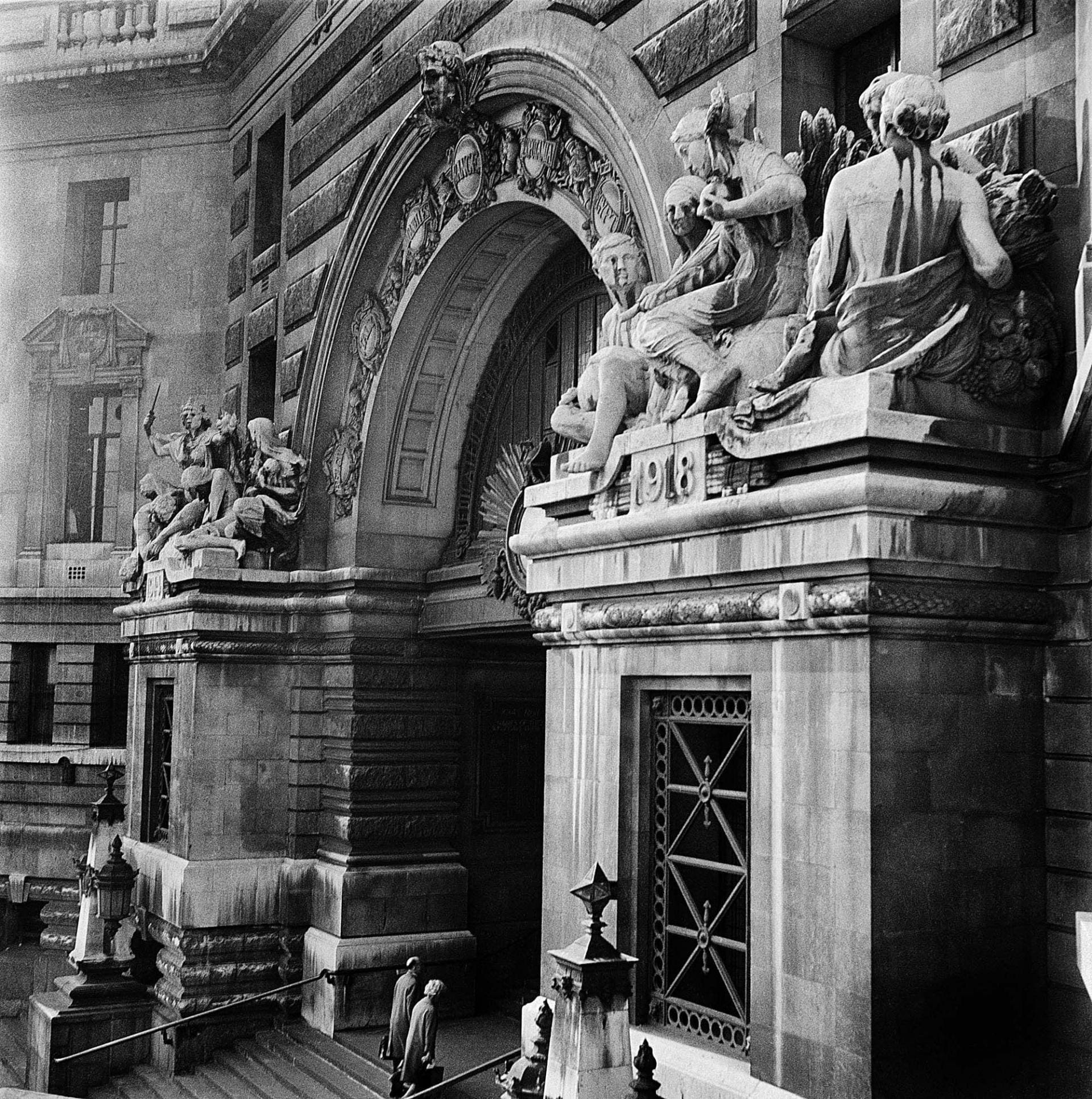 King's Cross's streamlined look, appropriate enough in the station where the Flying Scotsman took off on its record-breaking trips north, has slipped in and out of fashion. Originally, it was the plain Jane next to its showy and glamorous sister St Pancras. But 20th-century Modernists approved of its spartan honesty, when St Pancras's fussy, Disneyland Gothic towers were deemed OTT. Basically, if you wanted to design a railway station to look like a railway station, this is what it should look like.
Marylebone, by contrast, was mocked for its provincial character, its inoffensive red terracotta frontage disparagingly likened to a Manchester branch library, or council offices. In fact, its 'sleepy, suburban air' may come as a blessed relief to outsiders who have never quite adjusted to the capital's rush and bustle. There's plenty of the latter at Waterloo and Victoria, the final pair in Jenkins's London Big Five, but I wonder if they honestly merit inclusion.
Waterloo is Britain's biggest and busiest station, hosting 94 million passenger journeys a year. Its concourse seems horribly ill-designed for the number of people passing through it. As Jenkins says 'Waterloo is a conveyor belt.' Few who use it can have the space, let alone the time, to admire its architectural appeal which, in any case, seems largely confined to JR Scott's elaborately sculpted Victory Arch, which is still the main, un-user-friendly, entrance.
Victoria is not much better, and we are really into art ponce territory when Jenkins quotes railway historian Alan Jackson's description from 1969, referring to the Brighton side of the station as 'redolent of soft, leisured southern counties, with its theatre and racing type, its ageing nouveau riche, its adulterous couples and its Brighton belles.' Jackson had obviously spent too long in the bar. To be fair, Victoria does have a certain cluttered interest, but better are the entries for some of London's suburban stations, including a lovely, anecdotal one on Battersea Park, with its theatre atrium-style ticket hall, and gorgeous, modernist Surbiton, which looks like an art deco cinema or, as Jenkins says, as if it came from outer space or Los Angeles. This book will be a classic guide to its subject for decades to come.
Britain's 100 Best Railway Stations, £25, Simon Jenkins, Viking; The English Railway Station, £25, Stephen Parissien, Historic England, both www.amazon.co.uk