The 1 West Hollywood: An LA city escape offering a true taste of California
Check in at this Sunset Boulevard hotspot for a long weekend of dining, shopping, hiking and people-watching
If there's one thing the pandemic has put an end to, it is spontaneous weekends away. From ever-changing restrictions to dodging the 'rona pre-take-off like Indiana Jones sprinting from a boulder in Raiders of the Lost Ark, the undue stress has sucked a lot of the fun out of travel. So, it was with both caution and exhilaration that a friend and I decided on a whim to escape to Los Angeles for a long weekend; our first time away from our husbands and young children for more than two years. Believe me when I say we held our breath until we were safely ensconced on board the plane.
The plan was to stay with ex-pat friends – their recent new bundles of joy were our get-out-of-jail-free cards – but in true 2020s fashion, one got Covid, and we had to find somewhere else to stay until they were cleared for day release.
Cue The 1 Hotel West Hollywood, a boutique eco-paradise of reclaimed wood and earthy tones, set right on the famous Sunset Boulevard. Seemingly submerged in California's discarded lockdown houseplants, the hotel is an emblem of the contradictions of its locations: burgers cost $40 a pop while the hangers are made of cardboard (although you can ask for more substantial ones). The lobby is humming around the clock, with guests enjoying avocado toast and smoothies first thing and local hipsters hanging out for the day with their headphones and laptops, many of whom are still there for an aperitif as the buzz starts to rise with the beat.
We check in to a City room, which proves to be the perfect base from which to explore – twin double beds are supremely comfortable, while the smart but modest bathroom is decked out with Lady's Bamford's finest pouffes and creams. For a truly sensational view, opt for the Skyline Suite, or choose The Loft for a real Oppenheim Group feel, with vistas spanning those famous Hollywood Hills.
The real pull of The 1 is its rooftop pool, an elegant and classy affair teeming with the city's tanned and toned: Instagram catnip judging by the iPhone activity around us. We sneak in some early Bloody Marys while soaking up the rays, despite it technically being winter in January. The locals wrapped up in veritable ski wear while the tourists are already getting tan lines (you can take the girls out of London…). If you need a break from the preening and posing, FaceGym is the house spa of choice, but there is also an actual gym, complete with personal training and coaching services, plus a range of complimentary classes.
We buck the driving trend and get our workout walking downhill to Melrose Avenue, which is just a few blocks away. We swing by Alfred's coffee shop for a 'famous' iced vanilla latte on our way to Melrose Trading Post, a charming weekend flea market brimming with artisanal stands selling everything from home baked doggie treats to beautiful costume jewellery. Top restaurants are a dime a dozen in West Hollywood, but don't miss breakfast at The Butcher, The Baker, The Cappuccino Maker – order the buttermilk pancakes with peach bourbon compote as well as one of the signature colour burst lattes where the foam is a canvas for intricate rainbow designs. Craig's on Melrose is the place to be seen any night of the week, (burrata, steak and vodka pasta are failsafes), but if you want to get out of the city, beach views don't come more 'sceney' than at Little Beach House Malibu's Sunday feast.
Head to Griffith Observatory for stunning views (and to relive the La La Land dance scene) and, of course, there's all the normal touristy stuff that you just can't miss – even the most jaded traveller will feel the thrill of spotting those giant Hollywood letters for the first time. Runyon Canyon Park has some of the best hikes in LA (choose the West Trail loop), while Dayna Point near Long Beach is magical for whale watching, and Paradise Cove is a bit of a hidden gem when it comes to beautiful beaches (although Manhattan Beach and Redondo Beach are also worth a trip). Avoid Venice Beach (unless you actually enjoy the Saturday afternoon in Camden Market vibe), but just behind it lies Abbott Kinney Boulevard, a gorgeous road brimming with independent and artisanal boutiques as well as big-name brands.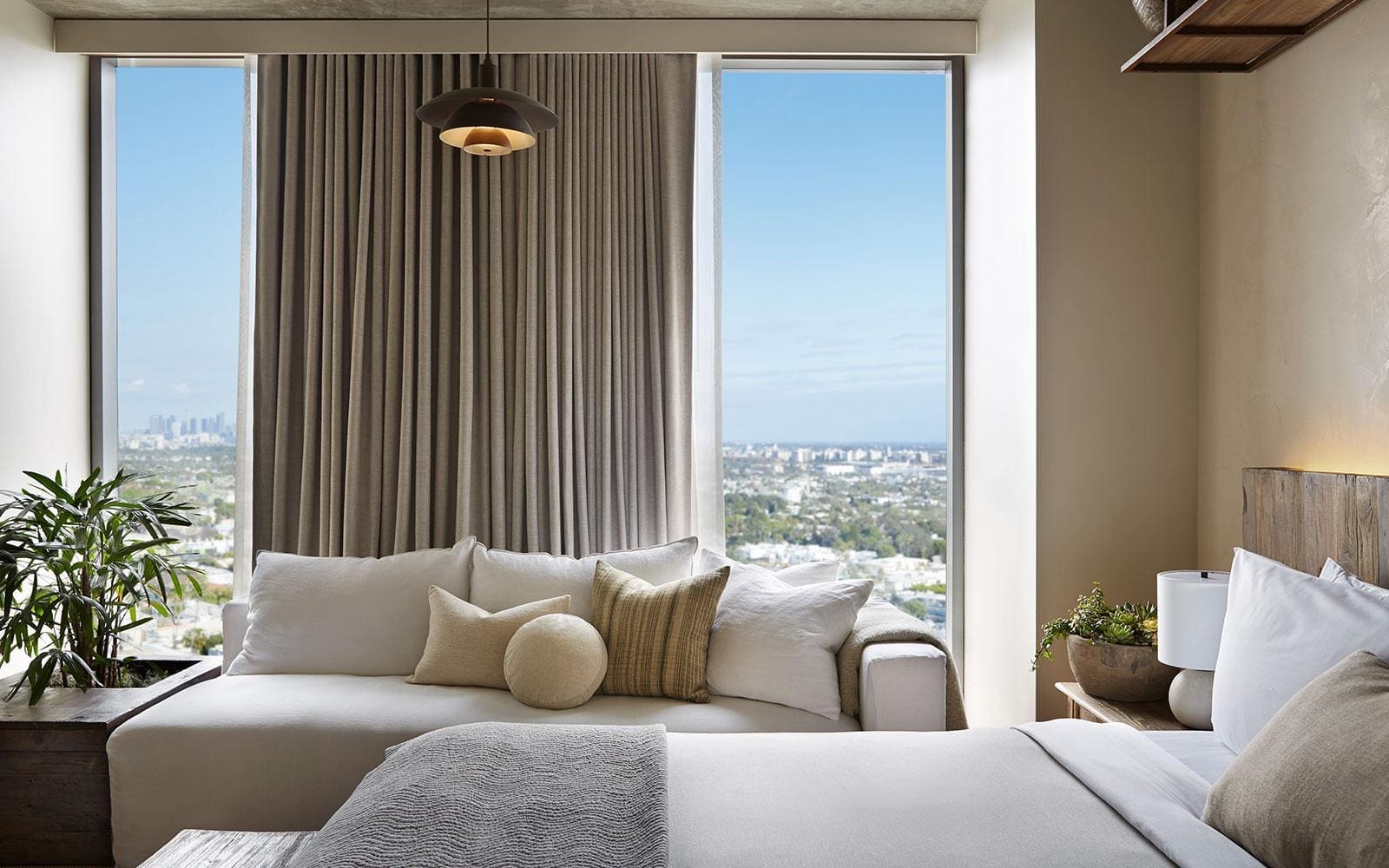 Also worth exploring is nearby Santa Monica: rent a bike on a sunny day and take a selfie on the pier by the kitsch arcades and buskers trying to get noticed by the streams of talent spotters wandering around. If you only go to one art museum, make it LACMA on Wilshire Boulevard. Just remember that – from Santa Monica to Beverley Hills, West Hollywood to Malibu and Laguna Beach – the traffic really is no joke, so always leave twice the amount of time the mileage would suggest you need. At least.
Five days isn't enough time in LA – and you could spend weeks exploring California. But our long weekend was over and home and two Covid-positive children were calling. Well, we weren't on Sunset anymore…
Visit 1hotels.com/west-hollywood