JOY at Portobello Dock with Stevie Parle and Tom Dixon, Notting Hill
Portobello Dock on Ladbroke Grove is where Stevie Parle successfully ran Dock Kitchen from 2009 until 2017, in collaboration with Tom Dixon. The chef and design studio have returned to their old stomping ground to launch JOY – a pop-up kitchen, bar, farm and bottle shop. The 70-seat restaurant, Flora, majors in fresh, seasonal dishes and boasts a beautiful outdoor dining space, filled with thousands of rescued dahlias that were due to be shown at this year's Chelsea Flower Show.
Location: Portobello Dock, 344 Ladbroke Grove, London W10 5BUOpening hours: The FLORA restaurant is open Wednesday – Saturday and for lunches on Sunday Website: joyatportobello.com
Beam opens in Notting Hill
A new all-day breakfast and brunch favourite has opened in Notting Hill: Beam on Westbourne Grove specialises in Middle Eastern dishes, including Turkish eggs with garlic yoghurt; stacks of gluten-free buttermilk pancakes with sweet and savoury toppings and a generous vegan spread of mushrooms, bean salsa, dukkah and crushed avocado. The large, light-filled space is furnished with mid-century chairs, terracotta tones and towering greenery. Judging by the queues outside nearby Granger & Co., Beam is likely to fill up faster than you can say sunny side up.
Location: 103 Westbourne Grove, Bayswater, London W2 4UWOpening hours: 8am-6pmWebsite: cafebeam.co.uk
Stanley's, Chelsea
Chelsea's latest resident, Stanley's, cuts a charming figure – all olive trees and sage green furnishings, with a reclaimed timber bar and marble tabletops. The restaurant takes its name from its owner, Hugh Stanley, the nephew of the Earl of Derby who previously ran the nearby Sydney Arms pub. Masterchef: The Professionals finalist, Olivia Burt, is in the kitchen, cooking up contemporary British dishes like sourdough crumpet with Cornish crab; Westcombe cheddar doughnuts and mushrooms with smoked mustard cream. The pretty al fresco courtyard is the main attraction, sheltered by large canopies, while the indoor brasserie seats up to 30 guests.
Location: 151 Sydney Street, Chelsea, London SW3 6NTOpening hours: 11am-11.30 pm daily Website: stanleyschelsea.co.uk
Hot Stone Omakase Japanese tasting menu, Angel
Chapel Market in Islington is often considered the cheerfully unpretentious, slightly scruffy neighbour to Upper Street. It is also the unassuming home of Hot Stone, a bijou steak and sushi restaurant. Head chef Padam Raj Rai previously worked at Tsuki within the Westbury Hotel, Nobu, Zuma and Sake no Hana, and Hot Stone easily rivals these with its selection of colourful maki rolls, sushi and sashimi, served within a laidback, pomp-free setting. Hot Stone is also one of very few restaurants in London that boasts its own fresh wasabi, which has a much softer taste than the usual nose-tingling hot paste.
This September, Hot Stone is serving a mighty 14-course Omakase tasting menu on Monday evenings. Sample dishes including black cod, grilled sticky miso aubergine, sirloin wagyu beef and scallops with truffle ponzu sauce, served with a choice of Japanese whisky, sake and wine. With only four sittings at a time in the restaurant, it's an intimate and very special experience.
Price: £95 per person (usually £150)Location: 9 Chapel Market, Angel, London N1 9EZOpening Hours: sittings at 5pm; 6.45pm and 8.30pmTo book: call the restaurant on 020 3302 8226Website: hotstonelondon.com
Louie opens in Covent Garden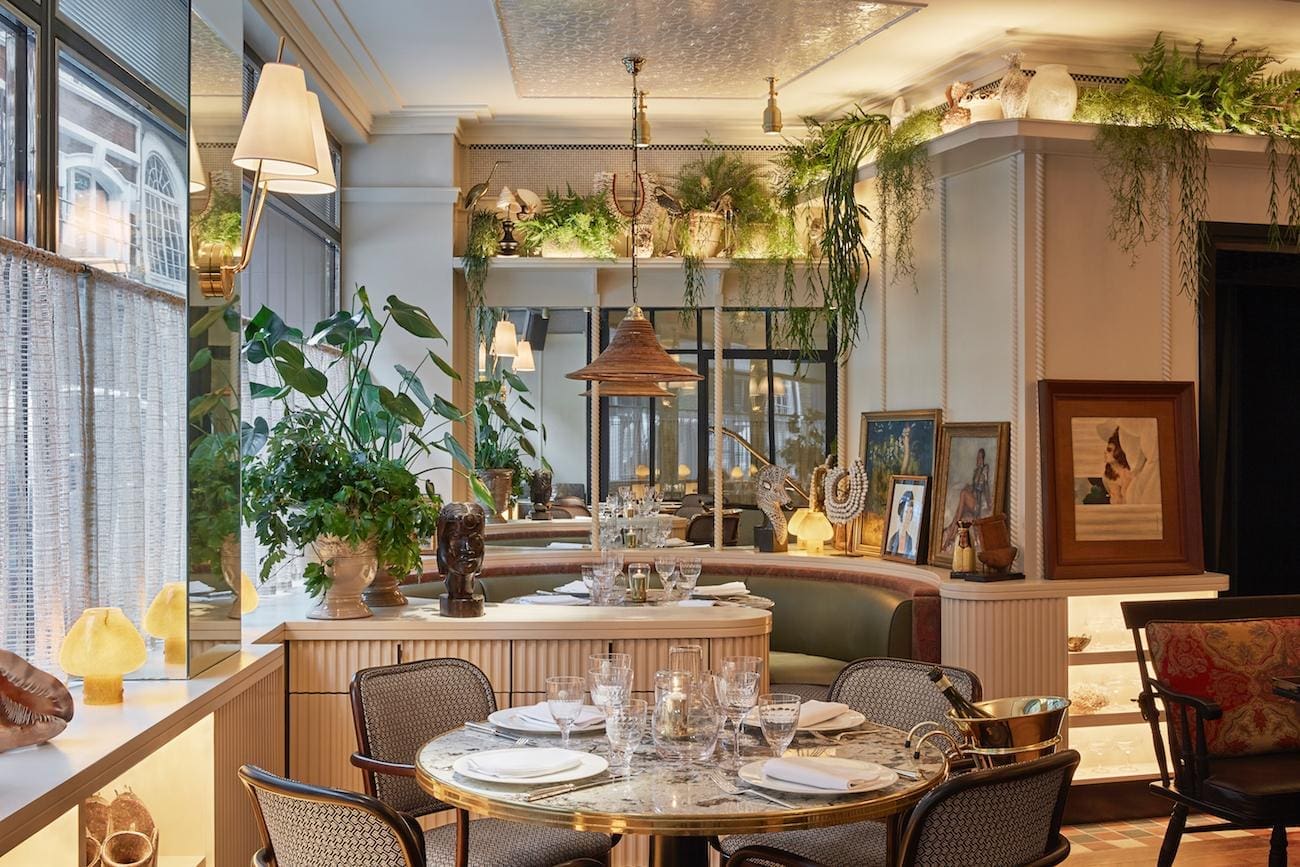 Originally slated to open mid-March in the space vacated by Joel Robuchon, Louie, a new fusion restaurant in Covent Garden, will now begin welcoming diners in September. The debut restaurant from hospitality kingpin Guillaume Glipa – who helped open celebrity hangouts Chiltern Firehouse, Coya, Umu and Zuma – Louie takes its name from France's illustrious Sun King, Louis XIV, and New Orleans' jazz idol, Louie Armstrong. The kitchen, headed up by the exceptionally-named Slade Rushing, previously of New Orleans 'It' restaurant Brennan's, will serve classic French cuisine alongside traditional Creole dishes with some signature New York plates slid-in for good measure. Given Glipa's track record, expect Louie to become this year's must-visit restaurant among London's mover and shakers.
When: Opening SeptemberLocation: 13-15 West Street, Covent Garden WC2H 9NEOpening hours: Monday – Friday 5.30pm – 12am; Saturday 11am – 11pm; Sunday 11am – 10pmWebsite: louie-london.com
Circolo Popolare, Fitzrovia
Reportedly the most queued-for restaurant in London following its opening earlier this year, Circolo Poplare occupies a vast space near Oxford Street, festooned with trailing plants and shelves lined with Italian spirits and knick-knacks. The restaurant is part of the Big Mamma portfolio, which also includes the ever-popular Gloria in Shoreditch, and follows a similar trattoria-style theme of pizza, pasta and chintzy interiors, with a playful side of theatrics. Social media's starring dish is the spaghetti carbonara, brought to the table in a wheel of Pecorino cheese. On warmer days, Circolo also boasts a sun-dappled outdoor terrace.
Location: 40-41 Rathbone Place, Rathbone Square, London, W1T 1PBOpening hours: Monday – Friday 11:45am – 2:45pm, 5:30–10:45pm; Saturday – Sunday 9am–3:30pm, 5:30–10:45pmWebsite: bigmammagroup.com
Champagne and waffles at Bob Bob Ricard, Soho
You can 'press for champagne' once more this September, as Bob Bob Ricard reopens in Soho. The glitzy restaurant has also unveiled a new weekend Waffle and Bellini hour, from 11am until noon. Tempting toppings include wild berries, crispy bacon and black truffle, drizzled in maple syrup, served with either champagne or Bellini cocktails. New head chef, Tom Peters, has also spruced up the decadent main menu, with highlights including lobster macaroni cheese, turbot Wellington and a bone-in-chicken kiev.
When: 11am – 12pm, Friday – Sunday Location: 1 Upper James Street, Soho, London W1F 9DFWebsite: bobbobricard.com
'Warrior' Brunch at Coya Angel Court, The City
Coya is The City's Peruvian party spot, where ceviche, steak, tacos and Pisco Sours are served amid dialled up South American decor. The weekend brunch returns this autumn, pairing pin-sharp Peruvian flavours with free-flowing champagne, cocktails, DJs and performances. Begin with canapés in Pisco Bar & Lounge and most likely end up dancing on tabletops to contemporary tribal beats.
When: Every Saturday 12.30 – 4.30pmPrice: from £95 per personLocation: COYA Angel Court, 31-33 Throgmorton Street, London EC2N 2ATWebsite: coyarestaurant.com
Six by Nico, Fiztrovia
Scotland-born chef Nico Simeone was poised to open his first Six by Nico restaurant on Charlotte Street just before lockdown took hold. The unveiling was understandably delayed until July, when it became possibly the first post-Covid restaurant launch in London.
Nico's creative tasting menus change every six weeks, served within a lively, laidback setting that forgoes white tablecloths and stifling service in favour of exposed filament lightbulbs, marble furnishings and a contemporary playlist. Priced at £35 for six courses, it is also tremendous value for money. The restaurant's new menu for September is themed around 'childhood', inspired by nostalgic British dishes. In Six by Nico style, expect sophisticated favours, elegant presentation and a playful touch of theatrics.
A vegetarian tasting menu is also availablePrice: £35 for six courses (£33 for pairing wines)Location: 41 Charlotte Street Fitzrovia, London W1T 1RR Nearest station: Oxford Circus/Goodge StreetWebsite: sixbynico.co.uk
Park Chinois reopens for dinner, Mayfair
Park Chinois in Mayfair is pulling back its velvet curtains once more and welcoming guests for a memorable evening of Chinese delicacies, live music, low lights and lashings of glamour, inspired by the Shanghai supper clubs of the 1930s. Classic dishes include tiers of dim sum, dumplings and Wagyu short ribs, served as the entertainment unfolds onstage. Make a point of visiting London's most Instagram-worthy bathrooms – Park Chinois was the first restaurant to debut golden goose taps when it opened (swiftly followed by Annabel's).
When: 7pm – 1amLocation: 17 Berkeley Street, Mayfair, London W1J 8EAWebsite: parkchinois.com
Bottomless kebabs at Berenjak, Soho
Soho's smoky Berenjak is a posh Persian kebab shop that aims to reinterpret the classic hole-in-the-wall eateries of Tehran. It takes its name, should you be wondering, from the handfuls of brightly-coloured, toasted rice eaten as snacks at funfairs in the Middle East. An open kitchen provides diners with a full view of chefs manning the flaming tanoor, mangal barbecue and vertical rotisserie. Should you find yourself in Soho and peckish one evening, the restaurant has recently launched its bottomless menu. For £20 from 9.30pm until close, you can enjoy limitless kababs. For an extra £15 you can add unlimited drinks. Book in advance or stagger walk in on the night.
Price: £20 per person + £15 for drinksLocation: 27 Romilly Street, Soho, W1D 5ALWebsite: berenjaklondon.com
Crazy Pizza, Marylebone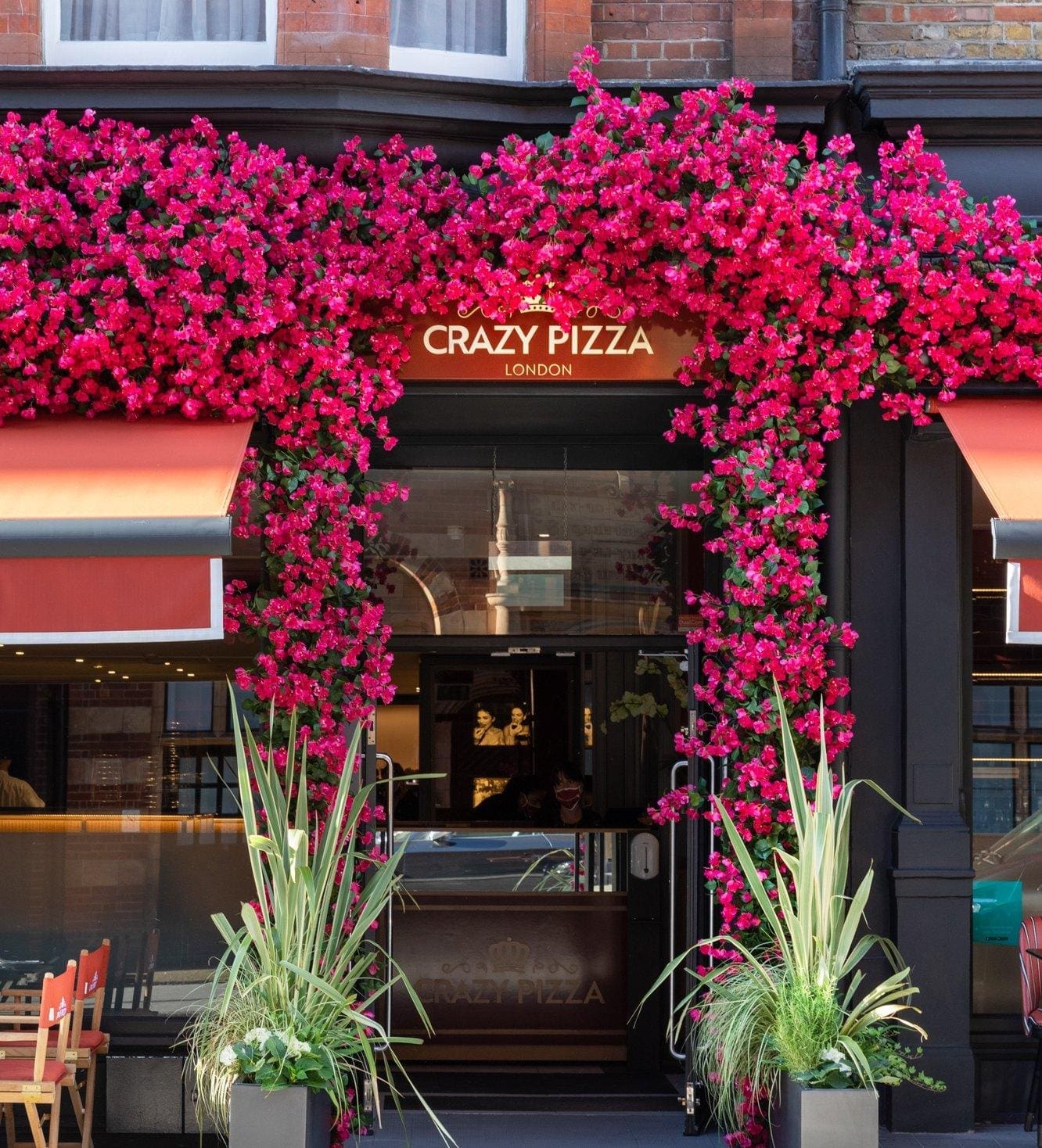 Crazy Pizza, the dough-spinning, Marylebone-based pizzeria from Flavio Briatore – who else? – has unveiled a huge installation of bougainvillea. The fuchsia-coloured flowers cover Crazy Pizza's entire exterior, hoping to channel the restaurant's sister property in Porto Cervo, Italy. Inside, there's a new cocktail menu to accompany the 17-strong pizza menu, with toppings spanning truffle, homemade buffalo mozzarella, smoked salmon and, for the decadent diner, Russian caviar. This being a Briatore venture, expect a slick interior and dishes to be served with a side of thumping beats.
Location: 7 Paddington Street, Marylebone, London W1U 5QHTime: 12-3pm, 6pm-11pm daily Website: crazypizza.co