Have you heard of The Sportsman in Kent? If you follow the UK's restaurant scene, chances are this white-washed coastal pub has been on your radar for several years. If not, a brief introduction…
A "grotty rundown pub by the sea", by admission of its own Twitter account, The Sportsman is a gnarled old boozer on a bleak, windswept stretch of coast in between Faversham and perennially-fashionable Whitstable. There's evidence to suggest that some sort of inn has stood on the spot since 1642. The surrounding area of Seasalter was entered in the Domesday Book as belonging to the kitchens of Canterbury Cathedral.
Fast forward a few centuries, and self-taught chef Stephen Harris takes over The Sportsman, having previously worked as a history teacher, a punk musician and a financier in the City. Doing little to beautify the inside of the pub – and even less to the outside – Harris, along with his brother Phillip, begins creating a menu dedicated almost exclusively to ingredients available in the surrounding area. Fish and oysters come from the Thames Estuary, meat from local farms, and vegetables, where possible, from the pub's garden.
In 2008, The Sportsman is awarded a Michelin star, which it still retains. In 2016, the pub scoops top spot at the National Restaurant awards. This year, it ranked number one on the Top 50 Gastropubs list – a position it also claimed in 2015, 2016, 2018 and 2019 (the pub was closed in 2020, due to the pandemic). You can also choose to stay at the Sportsman, but first, the food.
The pub reopened for guests earlier this summer and now serves only a five-course tasting menu, priced at £65 per person. I should warn you at this point that the restaurant is pretty much fully booked until the end of the year. However, give them a call, and you might just get lucky. We nabbed a table for two at lunch on a Wednesday.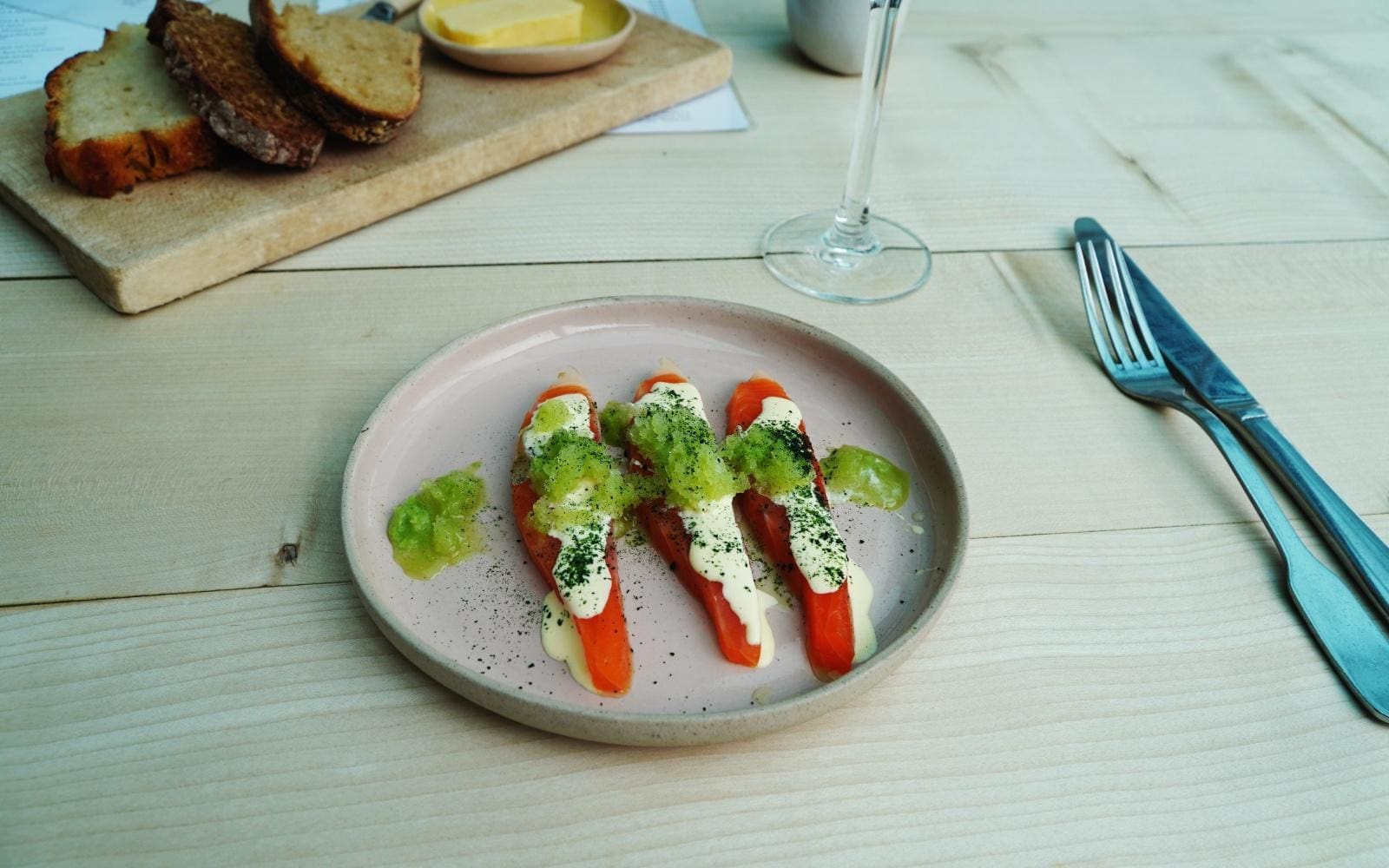 Décor-wise, The Sportsman is nothing to write home about. A traditional British pub with mismatching wooden furniture, a provincial bar, a fireplace, and chairs that could have been acquired from a boot sale. Guests, for the most part, wear casual clothes and trainers. White Transit vans dot the car park.
Of course, no one comes for the interior design. The feast begins with the waiting staff asking if you're OK with oysters. If you are, then they arrive as an amuse bouche topped with beurre blanc sauce and caviar. The oysters are followed by canapés of pork-and-apple and tomato-and-cheese. They are about as good as canapés can be.
In the bread basket is a selection of sourdough, focaccia and a spicy soda bread that you'll want to eat every crumb of. Butter is home-churned and salt comes from the nearby marshes. Although it's a tasting menu, you're given four choices for each dish. To begin, I opted for cured trout fillet with apple, sorrel granita and seaweed. The combination of sweet, sour, salt and sea was a delight.
Next, braised halibut with chorizo sauce and black olive: moist, delicate and with a pleasant, spicy kick. The roast breast of Aylesbury duck (served pink) with blackberries and pistachios was glorious in balancing crispiness and sweetness. It was accompanied by wonderful, melting ratatouille potatoes.
The gentle flavour of a panna cotta made with wild flowers from the garden cleansed the palate for a raspberry soufflé with raspberry ripple ice cream – a classic done brilliantly. I skipped the coffee, which ordinarily would have meant missing out on a homemade macaron. The staff – attentive and friendly throughout – brought me one anyway.
If you'd like to combine a visit to the restaurant with an overnight stay, then book one of The Sportsman's six charming cabins. You'll find them at the back of the garden, but not on the restaurant's website. Each cabin houses a large bedroom, en suite bathroom, fully-equipped kitchen and a comfortable living room. Thoughtful touches include a welcome letter on arrival, fluffy robes in the bathroom and a sewing kit next to the bed. Inside, each cabin has been decorated by a different artist. The Blue Cabin, they are all coded by colour, featured artwork by mosaic specialist Kimmy McHarrie. You can purchase the pieces of art that hang on the walls.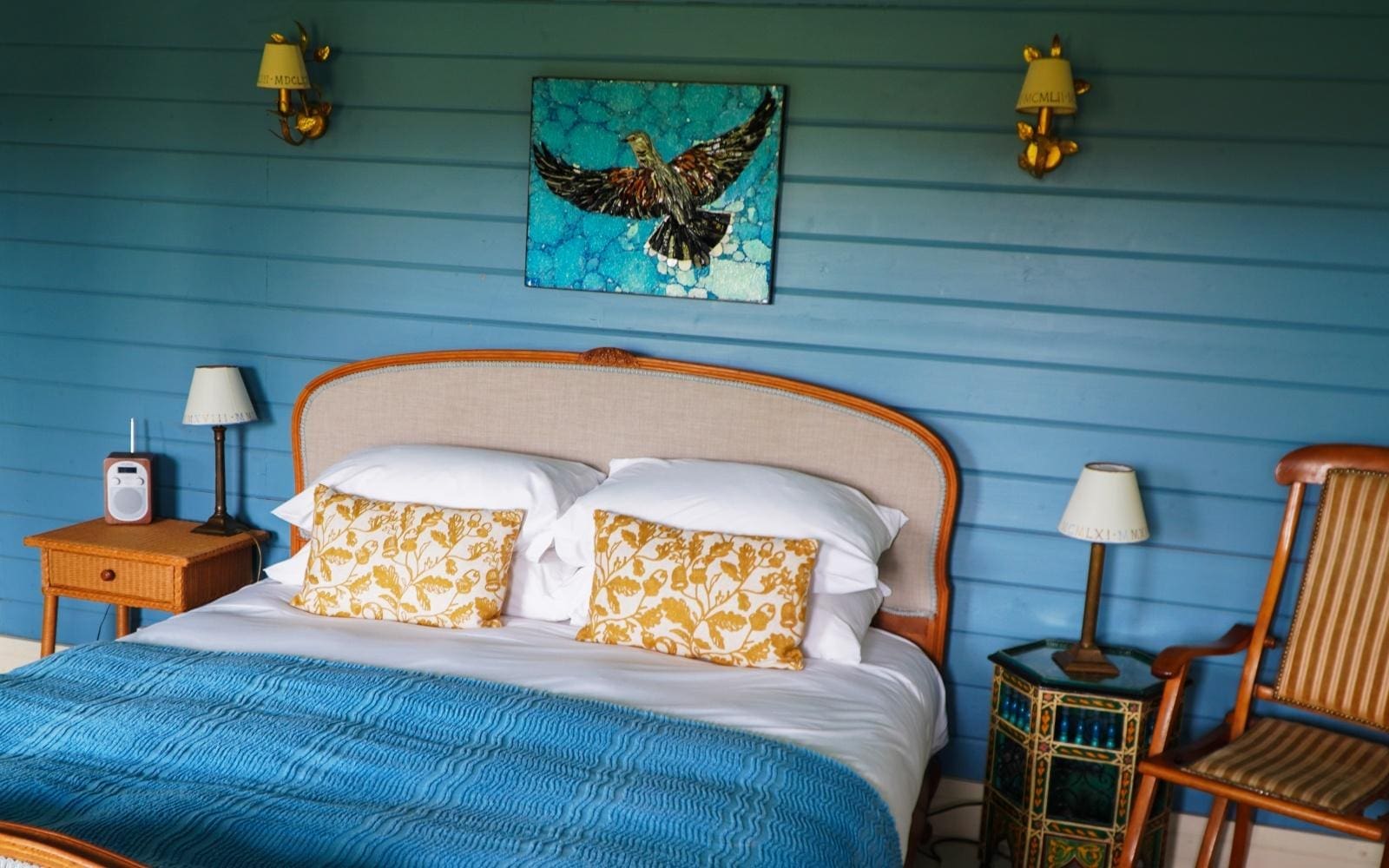 Cometh morning, cometh a breakfast basket brimming with homemade granola, cornflakes, yoghurt, honey, marmalade, orange juice, milk, butter and amazingly airy, freshly-baked bread. There is tea, coffee, sugar. Everything, essentially, to set you up for a day on Whitstable's postcard-pretty pebbled coastline, just a short stroll away.
The tasting menu at The Sportsman costs £65 per head; A stay in a cabin costs £160 for the first night and then £140 per night thereafter, thesportsmanseasalter.co.uk