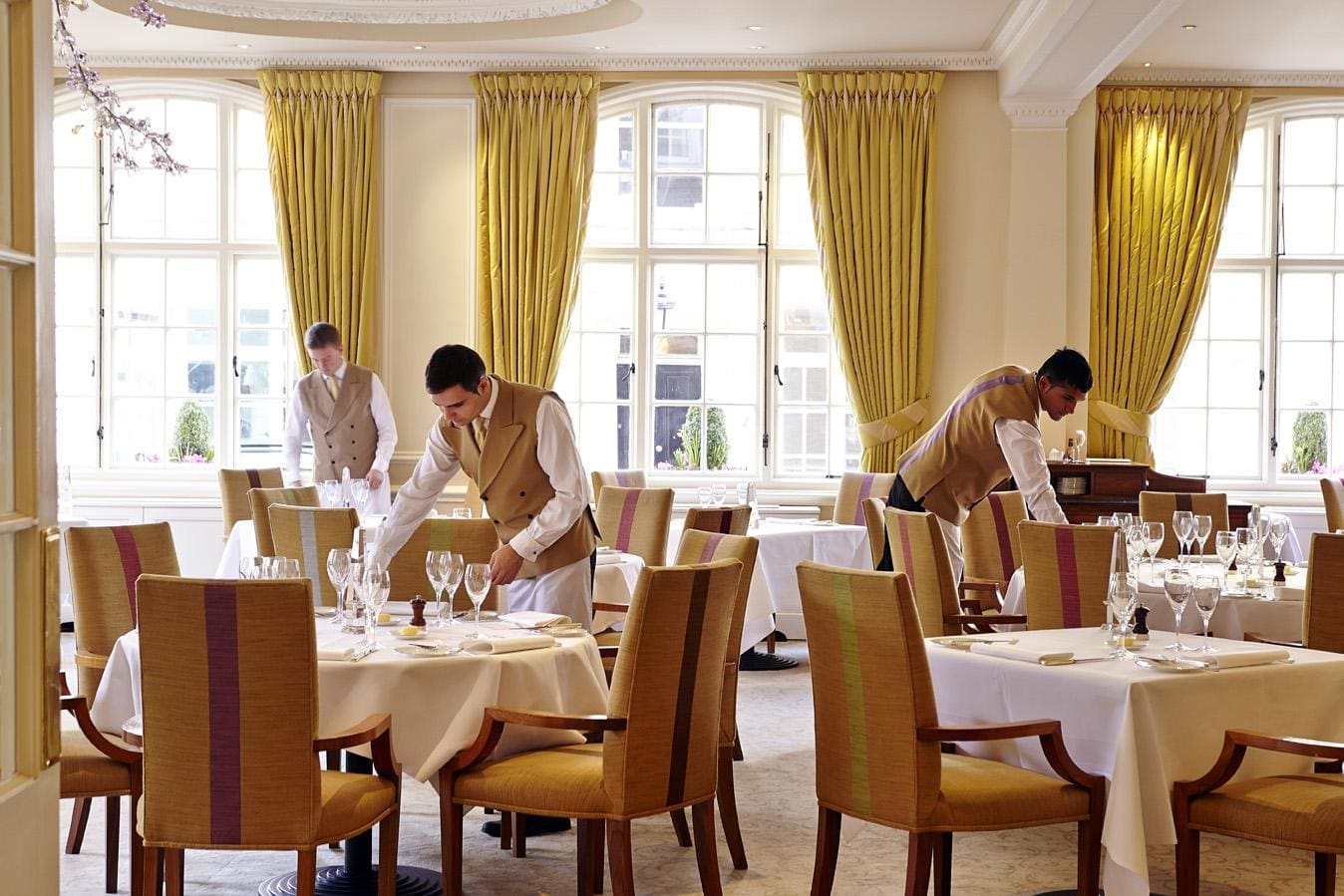 I'm ecstatic. In an age of Instagram overkill, the Goring prefers that its guests refrain from using their phones in the hotel's gorgeous Edwardian dining room. It's not a command, mind you, but a polite request, and one that the restaurant's clientele seem happy to oblige. Late into the afternoon, the restaurant is still full, the place heaving with couples and larger groups oblivious to the demands of the modern world. There's laughter, there's pleasure taken in one's immediate surroundings, but no incessant photo taking – I can hardly believe my eyes.
Of course, The Goring has never shown much interest in slavishly following contemporary trends. Its USP, and the reason regulars and tourists keep coming back, is the out-of-time Edwardian serenity that fills every nook and cranny. Yet counterbalance this ambience against the hotel's army of utterly charming staff and it becomes blindingly obvious that polished service does not necessarily equal stuffy, despite claims to the contrary.
Jean-Baptiste Lemoine, the restaurant's head sommelier, proves the point entirely. Approachable, friendly and dangerously knowledgeable, his exceptional wine pairings are the perfect foil to Shay Cooper's magnificent cooking. Cooper replaced the previous incumbent, Derek Quelch, in 2014 and has made seismic inroads into the old dowager, offering playful, intelligent versions of British classics without veering into molecular territory. Indeed, there's no fuss and faff, just modern British cooking without anything to terrify regulars.
For example: Orkney scallops (the ingredients are all sourced in the UK) sit on a bed of kedgeree, lovingly seasoned with shisho and lime. How easy it is to ruin scallops, and how glorious to taste the real article: their meltingly soft texture contrasting nicely with the crisp and crunch of the kedgeree. Give me the opportunity to order his scallops again, and I'm powerless to resist. Moreover, it typifies Cooper's approach to a tee – exciting textural contrast underpinned by top-notch ingredients and flawless culinary technique.
I couldn't love our main courses more: pan-fried fillet of halibut sits atop an incredibly rich and moreish lobster sauce which is as divine as the fish itself. Meanwhile, conversation stops dead as my companion savours his short rib of beef, aged sirloin, pickled red onions, smoked cauliflower and wild garlic. Treated to more than six hours in a sous-vide machine, the beef's flavour and butter-rich texture are apparently doing things to his brain's pleasure receptors that verge on the scandalous.
By the end of our meal, gluttony has reached overkill, although I find room for a top-notch dessert: dark chocolate mousse, raspberry, and milk hibiscus ice cream and red sorrel hits all the right notes, although I'm possibly too full to really appreciate it. A selection of English cheeses leaves my friend deliriously happy. You see, this is the kind of restaurant that gives even the most hardened of cynics a fuzzy sense of wellbeing. The Goring is stuck in a glorious time warp, and so much the better for it.