An ice bucket sits atop 1 Lombard Street's bar, condensation running down its sides thanks to the late-summer heat. It has been placed in the same spot it occupies every weekday when the clock strikes midday, awaiting the same customer who sits in the same seat from Monday through to Friday. She's just one of a number of guests who frequent the City restaurant daily; some – at least 10, I'm told – visit twice.
One Lombard Street has made a business out of creatures of habit. Located slap bang in the middle of the Square Mile, it opened in 1998 at a time when the City was a culinary wasteland, but its employees were partial to wining and dining their clients over a long lunch. The restaurant filled the gap, enticing the early evening crowd in with expensive beer and cheap champagne, and quickly becoming the go-to for breakfast, lunch and dinner.
"At least one person at the time said the City was a graveyard for people trying to open a developing business. Things have obviously changed over the past 20 years," says founder Soren Jessen, "but I had no idea how difficult opening a restaurant would be. If I'd have known, it might have put me off."
The investment banker-turned-restaurateur spent 10 years on the trading floor at Merrill Lynch, and later Goldman Sachs, where he became an executive director before he'd hit 30. On the sidelines, he harboured his passion for eateries by funding side projects with restaurateur Oliver Peyton. Piccadilly's 1994 smash Atlantic Bar & Grill was his work (it made £10m in its first year, unprecedented for two people who'd never run a restaurant before), as was the 1995 Albemarle Street-based Coast, which had interiors designed by Marc Newson and a menu devised by chef Stephen Terry.
"London was coming out of a very tired period in the early 1990s, and the restaurants just took off. We had a lot of success and, you could say, a lucky start," Jessen says. "When I then decided to leave banking in 1998, I had some experience behind me. I'd also been a director of a company and, after 10 years in banking, I knew something about numbers."
The story goes that he walked into the former banking hall that is now 1 Lombard Street, thought 'this would make a good restaurant' and bought the place. He pumped money into the project, sinking £2m into the renovation of the Grade II listed building. It was not without its complications; it took two years to build a new kitchen from scratch, and the impossible-to-shift reinforced walls in the former vault were no help. In the end, they had to work around them. Twenty years later, 1 Lombard Street is still going strong – no small feat for any restaurant, Jessen notes, let alone one that launched at such a testing time.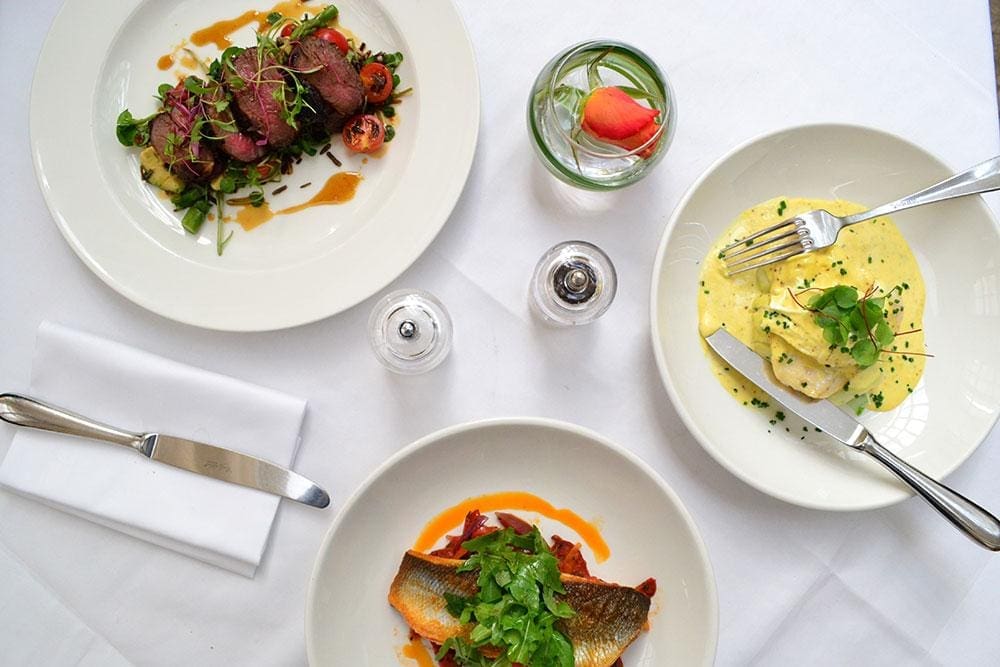 "If I had to guess, one in a 100 restaurants makes it to 10 years. It is very rare," he admits. "I'd say it takes three years to establish a good restaurant, so it's a shame that most reviews happen within a couple of weeks of opening. There's a big difference between the experience you have sitting next to people who are in a restaurant for the first time, and people who are in a restaurant for the 50th time. That's what we have at 1 Lombard Street."
The past two decades have been something of a baptism by fire for Jessen, who this year finally realised a passion project he'd been working on for some time: a Nordic-themed restaurant. While city slickers tucked into 1 Lombard Street's modern European cuisine, the Danish native sat patiently and waited for the world to wake up to the wonders of his home country. With hygge, Noma and cinnamon buns leading the charge, he started on a business plan for a Nordic-inspired eatery and, as luck would have it, two opportunities came up at once.
The first restaurant, Ekte, opened in April in Bloomberg Arcade, while the second, Borealis, recently opened its doors in Borough's Fora workspace, with a restaurant and café area on the ground floor and a private room and terrace on the fifth. Both serve variations of smørrebrød – buttered rye bread topped with meat, fish (most typically herring) or vegetables – as well as pastries aplenty: saccharine cinnamon rolls, hindbær snitters(a traditional raspberry cookie) and Danish pastries ("spandauer") topped with thick custard. It's 'traditional' Nordic cuisine – not like Noma's 'new' Nordic, Jessen hastens to point out.
Inside, Scandivanian design triumphs. Wegner chairs, Alvar Aalto lamps, PK20 Kjaerholm loungers and a large dining table handcrafted in Copenhagen's meatpacking district continue Jessen's love letter to his home turf.
"When I came to London 30 years ago, if I said I was Danish most people would think of Hans Christian Andersen and The Little Mermaid. Now, everyone asks about The Killing and whether I can help them get a table at Noma. People are interested in Danish design, how we treat each other and our track record on environmentalism."
He jokes that he wants to do for Nordic cuisine what the River Café did for Italian food in the 1980s, and is on the lookout for a location for a 'Nordic House', a multi-levelled ode to Nordic design, food and lifestyle.
"I do think this Nordic thing is really taking off," Jessen muses. "Smørrebrøds are here to stay. I can see another tapas-style offering in the West End too, but I'd never do a chain. All of my restaurants have their own individualities. There are lots of ways to skin a cat – or serve a herring."