It's clear within five minutes of speaking to Roberto Costa – restaurateur behind London meat empire Macellaio RC and the newly-opened Fish Game in Canary Wharf – that he's very proud of his Italian roots. Hailing from Genoa, Costa reflects on a childhood filled with authentic food, from pesto pasta (it did originate in his home city, he reminds me) to steak from his local butcher. It was a childhood foodies can only dream of, and it induced a burning culinary passion in Costa which has never died, resulting in a career marked by Italian-inspired restaurants spanning both his home country and London. 
Costa says it was clear to him from a very young age that he would become a restaurateur. Having spent his spare time working at his father's family-run trattoria on the outskirts of Genoa, he went on to co-found restaurant chain Maxela, which, at the height of its success, had 12 outposts across Italy. Yearning for more, the now-closed chain arrived in London in 2012 before Costa opened his signature Macellaio RC (meaning butcher in Italian, followed by Costa's initials) in 2014. 
In the past decade, the brand has evolved into six restaurants with one Italian outpost. The focus here is meat, specifically steak, sourcing only the very best cuts of the Fassona breed from the mountain valleys north of Genoa with very specific hanging times (six to eight weeks for steak, up to 10 days for tuna) to impart the best flavour, as per Costa's instructions. Menus vary, but current dishes include burrata Genovese, Fassona beef carpaccio, tomahawk steaks, and chicken Milanese. It doesn't get much meatier than that. 
It may come as a surprise, then, that Costa's latest venture doesn't focus on Italy or its steak. Fish Game, which opened in Canary Wharf in July 2023, offers a pared-back seasonal menu of the UK's best game and seafood, meticulously sourced from local lands and waters to be cooked simply over ash and charcoal by executive head chef, Matthew Colk (previously of Roast and The Gun Pub). Highlights include trout and lobster bisque, raw langoustines and Cornish monkfish, cooked in rosemary, lime and smoked salt. 
Three months into this new chapter, we catch up with Costa to discover why he wanted to try something different, and what he counts as his biggest achievement to date.
Tell me about your childhood.
I had a beautiful childhood in Italy – the streets where I lived were full of food-orientated shops such as butchers selling high-quality meat, pastry shops with delicious Italian cakes and grocery stores full of fresh, seasonal produce. There were no supermarkets, which led to my family naturally being led by the seasons when it came to cooking. My mother was a superb cook and hugely inspired me.
My earliest food memory is making pesto in the kitchen with a pestle and mortar. I grew up in Genoa, which is where pesto originated from. Genoa is the only place in the world where basil doesn't smell and taste like mint – and that's why pesto there is the best!
What do you love most about Italy's food culture?
My favourite thing about Italian food is its simplicity – for us, less is more. This is an important motto at my new opening Fish Game. Despite working with UK produce, my cooking ethos [is ensuring] balance, simplicity and authenticity [are] unwaveringly present.
Tell me about your early culinary career.
My career started at 17 years old as a waiter in our family-run trattoria bought by my father in Via Francesco Rolla, the part of Genoa I grew up in. I started cleaning the floor and dishes and occasionally serving minestrone soup with pesto prepared by my mother.
I always knew I would become a restaurateur and Maxela was where I started. The idea of combining a butcher with a restaurant was inspired by both my grandfather, who was a butcher at the time, and my mother, who was a great cook.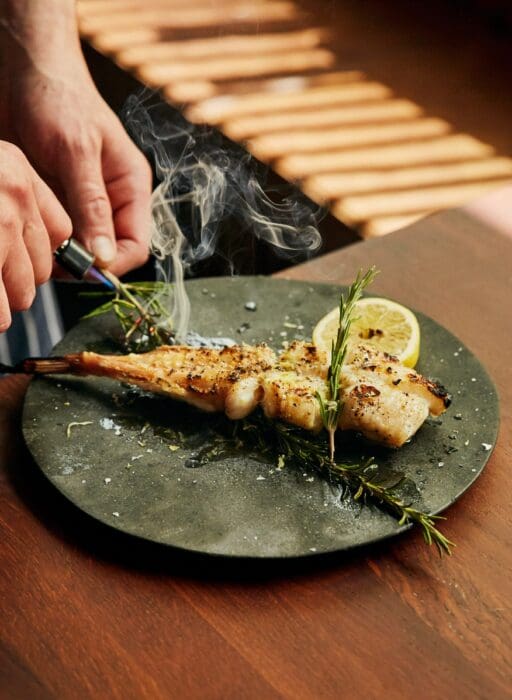 How does Italy's restaurant culture differ from the UK and London?
Italy's restaurant culture is more about the person who owns the venue rather than the food – you go to see the man behind the project. However, in London, many people visit restaurants without even thinking about the owners or people behind [them]. I love London's food scene [because] you'll find many of the best restaurants in the world. It's full of fantastic competition and has only inspired me to grow better and stronger.
Tell me about Macellaio RC and what inspired you to open it.
Macellaio RC is all about showcasing Italian biodiversity as well as the meat. Since our opening in 2012, we have represented hundreds of Italian artisans alongside using the finest Italian produce and recipes. All our steak comes from the Fassona breed from some very special mountain valleys north of Genoa – by having this in our restaurants, I felt able to compete with a few of the best steakhouses in the world.
What's your biggest achievement to date?
I was presented with one of Italy's highest honours: becoming a "Cavaliere della stella d'Italia", Knight of the Order of the Star of Italy. This honour is given to those who have supported the preservation and promotion of Italy abroad; something that has been very important to me. I have showcased and supported thousands of Italian producers since I opened Macellaio and will continue to do so.
You say your favourite ingredient is meat, so what inspired you to open Fish Game?
When I moved to the UK, I fell in love with the country and its biodiversity and wanted to showcase the best produce through my style of cooking. Having been a restaurateur for so long, I wanted to broaden my repertoire. Fish and game meat are represented so well in this country, and I wanted to be a part of it.
What drew you to Canary Wharf?
The restaurant is based in Wood Wharf which is rising in popularity in terms of both food and drink venues, but also residential flats. It's undoubtedly set to become a go-to destination. Chains such as Hawksmoor, Mallow, Mercato Metropolitano and Fallow have opened here. It reminds me very much of Manhattan – just better organised!
What influences your menu? How do you keep them fresh and exciting?
Biodiversity is important to both Fish Game and the Macellaio group – seasonality and sustainability is core to everything I do. Both sites have ever-changing menus which highlight the best produce at the time. We often come together to create new dishes or put twists on classic dishes.
What's your favourite dish you've put on the menu recently and why?
It's game season at present, which means grouse is available which is great news as it's my favourite type of game. It's on the Fish Game menu, and perfectly matched with Cabernet Franc.
Are there any more restaurant openings in the works?
I will open restaurants until I die! Being a restaurateur is my favourite thing – I thrive off watching a venue grow and making people smile.
What is your one other favourite London restaurant and why?
It has to be St John [in Barbican] and I think that Fergus Anderson is a genius. I've never met him, but I truly admire him and the principle of the restaurant so much.
Are there any other London chefs you're impressed with at the moment?
The chefs in Fallow and Brat are just different levels – both are my favourite restaurants in London right now.
Visit fishgamerestaurant.co.uk
Read more: Truffle season: The best menus and events in London