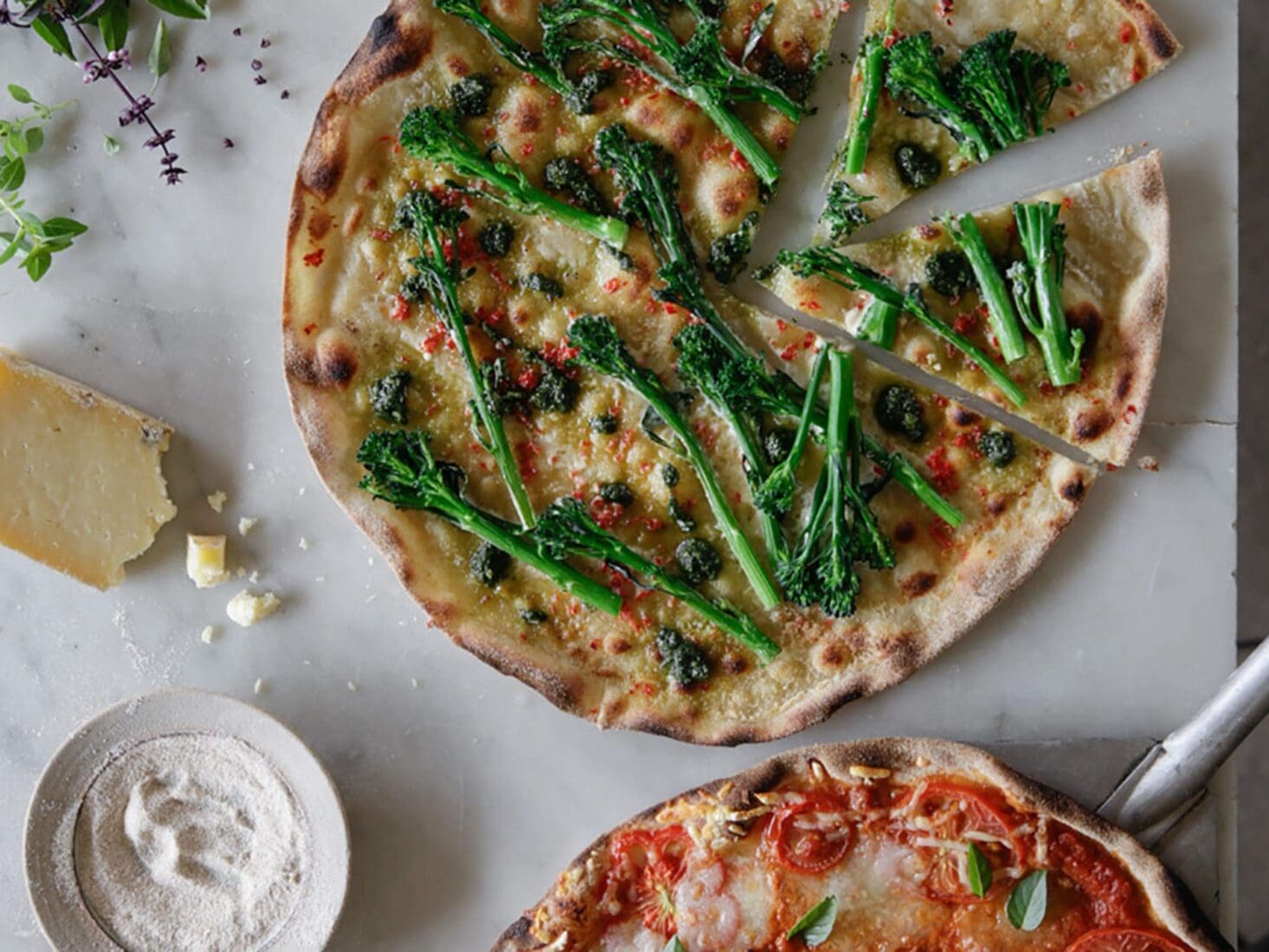 Daylesford's sprouting broccoli pizza
Using Daylesford's signature pizza dough recipe (which can be made using gluten-free flour), this crispy base is topped with tender broccoli spears with cooling crème fraîche, with a hit of hot red chilli
Ingredients(makes two pizzas)
For traditional pizza dough
250g Italian tipo '00' flour or strong bread flour3g fast-action dried yeast175ml water1½ tbsp olive oil1 level tsp saltflour and semolina, for dusting
For gluten-free spelt pizza dough
175g white spelt flour75g wholemeal spelt flour4g fast-action dried yeast150ml lukewarm water1½ tbsp olive oil1 level tsp saltspelt flour, for dusting
For the pesto
2 garlic cloves50g parsley, roughly chopped30g blanched hazelnuts, chopped150ml olive oil55g cheddar, grated
For the topping
300ml crème fraîche220g tender stem broccoli, blanched for 3 minutes and refreshed in cold water1 red chilli, deseeded and chopped4 tbsp pesto (see above)Olive oil, for drizzling
Method
Mix the flour(s) and yeast together in a large bowl or kitchen mixer fitted with a hook attachment. Gradually add the water and olive oil until it comes together. Leave for five minutes then add the salt and knead lightly for 1 minute.
Leave for another 5 minutes and then carry on kneading lightly. Shape into a ball, cover with a damp cloth and leave to prove for about an hour until it is one and a half times its original size. Divide the dough into two and shape into neat, tight balls. Cover and rest for 15 minutes.
Preheat the oven to 200°C/gas 6. Put two large baking sheets into the oven to heat. Roll each dough ball out on a surface lightly dusted with a little flour and semolina or spelt flour and shape into rough rounds.
For the pesto, put the garlic and parsley into a food processor, add the chopped nuts and pulse to combine. With the engine running, slowly pour in the oil.
Add the cheese, then season to taste. Any leftover will keep in an airtight jar in the fridge for a week and is delicious with pasta or new potatoes.
Preheat the oven and roll out the dough. Spread half the crème fraîche on each pizza, leaving a clear border around the edge.
Cut the thicker broccoli stems in half lengthways and put half on each pizza, along with half the chilli. Spoon 2 tablespoons of pesto over each pizza.
Drizzle with a little oil and slide the pizzas onto the hot baking sheets. Bake for 15–20 minutes until golden brown.
This recipe is taken from Carole Bamford's book, Nurture: Notes and Recipes from Daylesford Farm, which beautifully tells the story of how Daylesford came to be one of the most sustainable organic farms in the UK