Is it just me or is the décor inside London restaurants getting better at avoiding pastiche? The memory of this writer is long enough to recall the seemingly unquestioned tautology that if your restaurant served Italian food then it absolutely must be festooned with red-and-white chequered tablecloths, be staffed by lascivious waiters doing suggestive things with pepper grinders, and be backgrounded by a soundtrack of Nessun Dorma on repeat.
The same goes for anywhere serving French bistro food: rustic bicycle in the corner, Marc Chagall poster on the wall, and irritatingly, an accordion occupying some other spot. American joints? Wall-hung star-spangled banner, illiterate menu and staff on the brink of a nervous breakdown (in Britain, they don't even get to keep the tips!).
We've never asked for our literature to be packaged in this way. I can't remember a Mark Twain, Saul Bellow or Paul Theroux novel ever featuring a Big Mac on the front sleeve —just so we can be sure we're reading a book penned by an American author. So, it's gratifying that restaurants across the capital have gradually turned down the interior design obvious-omoter. Which brings us to Norma, a Sicilian restaurant now in its third year, owned by the Stafford Group, which also runs the eponymous St James's Hotel beloved by visiting Statesiders for its traditional, wood-panelled American Bar and old-fashioned, country-house style rooms.
Norma, by comparison, is a gratifyingly subtle and snug interpretation of a Sicily that goes beyond Dean Martin and Frank Sinatra prints. With its retro railway carriage-like booths, Norma is more Pullman meets Palermo. The wet fish counter by the front door sparkles with stone bass so fresh they look like they might make a wriggle for the Thames. Elsewhere, arches and mosaics nod to Sicily's Moorish past.
The crowd on my Monday night visit was a mixture of informed foodie couples snuggling in booths, and walk-ins who looked gratified that they'd found somewhere that wasn't going to cost as much as the Charlotte Street Hotel, or have the braying, larcenous machismo of the always-shockingly-poor Gaucho steakhouse, just down the street.
Sicily has never gone in much for prodigious quantities of meat in its dishes. Historical poverty, a plentiful piscine larder and that Moorish influence prioritises citrus, anchovies, aubergine and nuts over the buttery gluttony of Bologna or the polenta carb crawling of Lombardy.
The most carnivorous thing I ate when I was last in Sicily was a goat's spleen and ricotta sandwich in a Palermo street market. It was a peasant snack borne of simplicity and frugality that spoke of slow cooking, slow afternoons and demonstrated how economic paucity can still produce crescendos of flavour. I still have slightly guilty dreams about it.
Raucous, fresh and vigorous; it was everything a pasta dish so seldom achieves north of the Po River
There's nothing quite so uncompromising on Norma's menu. The virtues of Sicilian economy are most brilliantly manifested in the restaurant's snack-option starter of spaghetti fritters: chunky wheels of crisped-up pasta, snow globed in parmesan and served alongside a jug of parmesan and olive oil fondue. I ate and ate and am still wondering how I can convince Norma to deliver an unmarked paper bag of these to my door under cover of darkness so that I might gobble them up under my duvet.
The beech-smoked anchovies were a riposte to the grim, brine-soaked tinned variety to which us Brits have become accustomed. Served here on crostini with sun-dried tomato pesto and oregano, it's like finding that the dandruff-sprinkled Stephen King fan in your year at school is now a cover model for GQ.
The 'primi' courses can be served in small or large portions. I skipped the mammoth-looking 'secondi' options, filled with whole fish and parmigiana, in favour of a larger bowl (or, more accurately, sea shell) filled with unctuous crab linguini. The crab, chilli and lemon butter were cooked to a texture more granular than creamy and were laced and threaded with the most reliable of all pastas. Raucous, fresh and vigorous; it was everything a pasta dish so seldom achieves north of the Po River.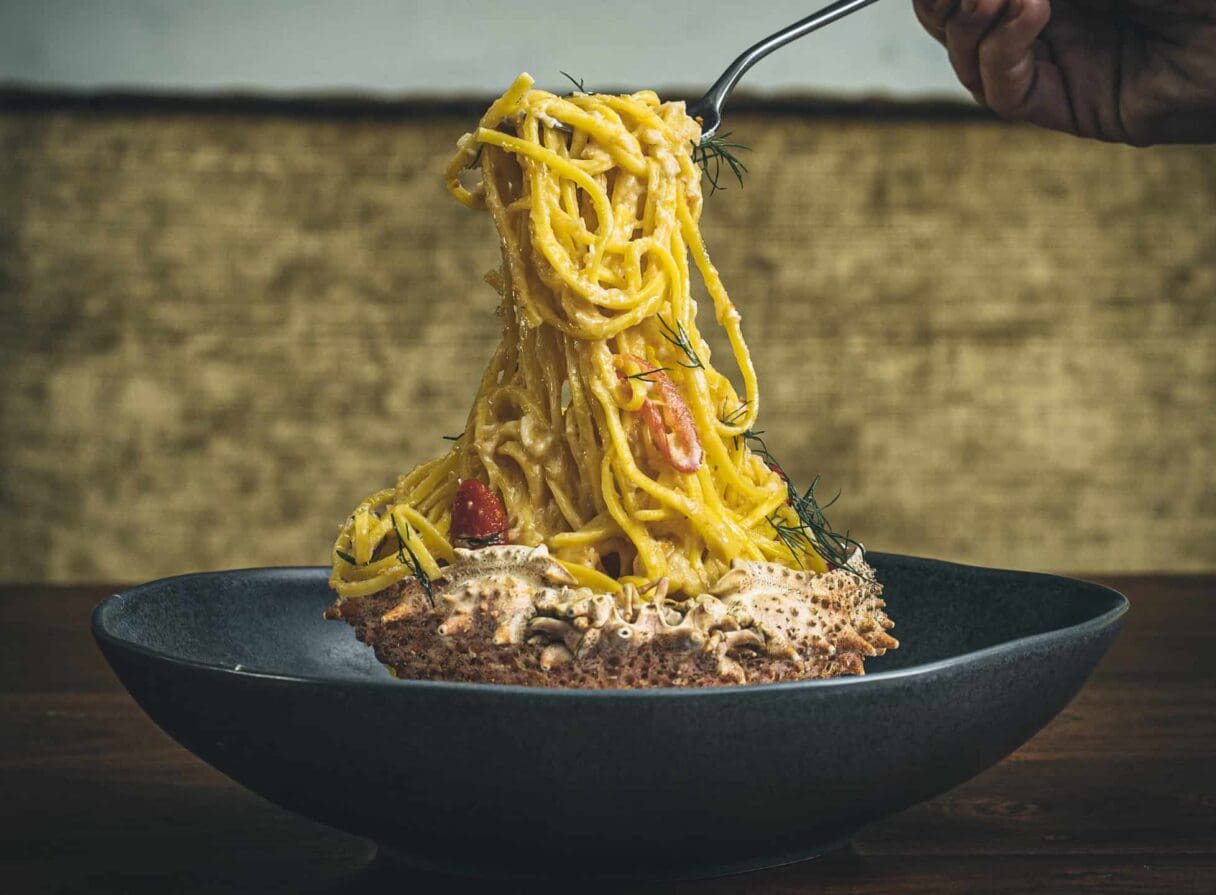 Pleasingly, it's easily possible to navigate the Norma menu without spending more than £40 a head, before wine. Our sommelier Francesca recommended a wine from her home island of Sardinia; a moderately dry Vermentino with a sea-breezy bouquet that doesn't tip over into full-blown perfumery.
Long ago, the River Café fetishised the nauseating idea of gentrifying peasant food for smug metropolitans with botoxed noses and liberal poses. At Norma, you don't need a potentate's brown envelope to sample executive head chef Giovann Attard's creations. You just need to book about two weeks in advance. And have long divorced yourself from finding a giant pepper grinder or a picture of Dean Martin in a suit remotely uplifting.
8 Charlotte Street, Fitzrovia, W1T 2LS. Visit normalondon.com.
Read more: Raymond Blanc on Royal Ascot, King Charles and training the next generation of chefs