So vast is Nathan Outlaw's cookbook collection that his Wikipedia page makes reference to it. While the rest of us may have a shelf or two dedicated to dusty paperbacks from gastronomy's finest, the Cornwall-based chef has a veritable library that spans hundreds. "My wife goes mad," he chuckles down the phone from his home in Port Isaac. "I'm getting on for a thousand now. We have to keep buying new shelves."
His most prized tome is a 1988 copy of Rick Stein's English Seafood Cookery – "back when he was still called Richard," Outlaw jokes. "To this day it's my favourite." It's hardly surprising; Outlaw owes much to Stein.
For two years, he supported the chef in his kitchen in Cornwall's Padstow, where he learned how to craft the seafood masterpieces that Stein is renowned for. Today, the only person who rivals the Cornish cook is Outlaw himself. "The best lesson Rick taught me was to be confident in simple food," he says. "His enthusiasm when he'd come back from his travels was infectious; I just loved listening to him. I still do now – I watch all of his television programmes."
Born in landlocked Maidstone in Kent, Outlaw spent his summers in Cornwall, where he found a love of the seaside. His first foray into the kitchen was as a child, when he would help his chef dad make toast for the breakfast crowd. He later trained alongside Gary Rhodes and Eric Chavot, before moving to Cornwall to learn the ropes from Stein.
At the age of 25 he opened his first restaurant, Black Pig, against his peers' better judgement. Less than a year later, he was awarded his first Michelin star. Black Pig didn't last long; it closed after three years, which was perhaps a blessing in disguise. In 2006, he took over the restaurant at Marina Villa in Fowey, Cornwall, where he opened his eponymous Restaurant Nathan Outlaw, a seafood-focused eatery with a relaxed vibe and simple, faultless, food. The restaurant – which moved to Rock in 2010 and then to Port Isaac in 2015 – was awarded its first Michelin star in 2011; it now has two, and to this day remains the only specialised seafood restaurant in the UK to hold the two-star culinary badge of honour.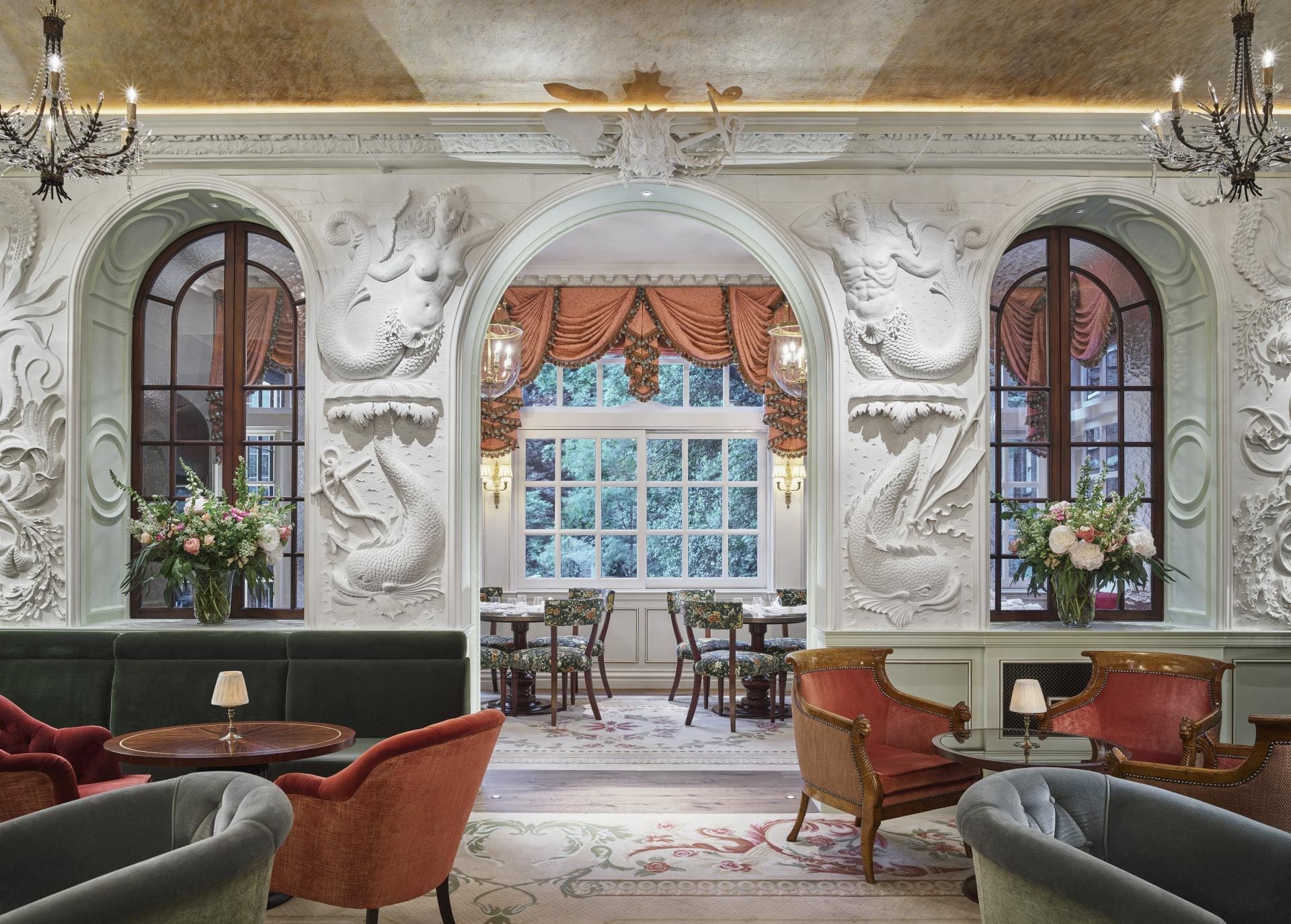 But the plaudits don't end there. Twelve years after it opened, Restaurant Nathan Outlaw scooped The Good Food Guide's top gong when it was named Britain's best restaurant in 2018, knocking Simon Rogan's L'Enclume off its throne – a throne Rogan had sat on for four years.
"Outlaw's food is characterised by absolute freshness of ingredients and by a clear sense of purpose," The Good Food Guide said. "He follows no fads, copies no recipes, joins no schools, but is driven by his supply of impeccably fine ingredients, and a chef's talent for unlocking all they have to offer."
The chef's new cookbook, named after his two-Michelin-starred Port Isaac eatery, serves as proof of all that The Good Food Guide has claimed. It follows a year in the life of the restaurant, with recipes that riff on Outlaw's simple, and seasonal, approach to cooking.
"Seasonality is everything, especially with the food that I cook," Outlaw says. "Even though our dishes are quite complex in the way they're put together, they rely on the ingredients being bang on. We can all go to the supermarket and grab some asparagus at any time of the year, but where we are there's a lady who grows it for just eight weeks and that's the only time I'll ever have asparagus on the menu."
The asparagus grower is Jax Buse and she, along with a number of the restaurant's other suppliers, is referenced in the book. Unlike the chef's previous cookbooks, the new volume focuses less on cooking and more on sharing stories about the restaurant and the farmers, winemakers and fishermen that are behind it. 'Farm to table' is hardly a new concept, but for a seafood chef in Cornwall, knowing the source of your ingredients is part and parcel of the job – and ensuring sustainability in the seas was a vital task long before David Attenborough got involved.
"We're lucky with sustainability in that we can see where our fish is coming from," says Outlaw. "When you're in a landlocked location, it's very difficult to know who to trust, but I can just talk to the fishermen. Personally, I'm a bit of an anorak about fishing so I'm always quizzing them about what gear they're using, and if there's something I don't like the sound of then I won't use them."
Among the stories in the book are recipes that have previously been on the menu at Restaurant Nathan Outlaw. The crowd-pleasing gurnard with Porthilly sauce is, the cook says, a personal triumph. "It's everything I ever aimed to do when I first started cooking under my own name," he explains. "I always wanted to get to a point where my food was so simple that when you looked at it you'd think 'Well, I could do that', but actually you couldn't. I remember telling one of my chefs about 10 years ago that that was the stage I wanted to get to, and now we have."
When he's not winning awards for his work at Restaurant Nathan Outlaw, the cook is serving his other outposts: Outlaw's Fish Kitchen, also in Port Isaac, and Nathan Outlaw at Al Mahara in Dubai. His London restaurant, Outlaw at The Capital, recently closed to make way for a new city venture, Siren, which opened at The Goring in Belgravia in June. It is the hotel's first new restaurant in more than 100 years and is, naturally, focused on seafood.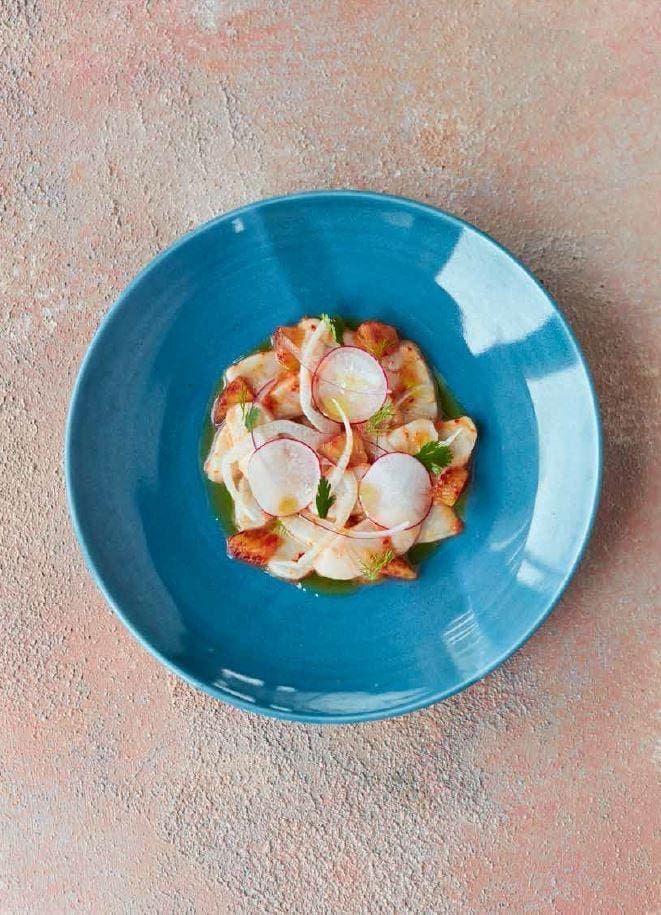 "The people who own The Goring are very passionate about Cornwall because they're from there, so we're going to be showcasing the best Cornish seafood that we can," Outlaw said ahead of the opening. "It will be more casual, busier and bigger [than my other London restaurant] – but I'm excited by that."
With the launch of his new book and a new restaurant, this year is set to be a busy one for Outlaw and the team. He plans to attend a few food festivals this summer to promote the book and, if he can find the time, he'll be doing some fishing of his own. But you'll most likely find him in his favourite spot of all: behind the stove. "I've always just loved the kitchen. If I'm at home, I'll be sitting in the kitchen, even if I'm not cooking," he says. "A lot of people think it's strange that I can do 15 hours a day and still love it, but that's the reason I do it. I've always worked, but I've never felt like I've had a job."