Clos19.com's array of personalised bottles are the perfect present this Christmas. The stylish website is the official shopping platform for the LVMH and Moët Hennessy drinks portfolio, including Veuve Clicquot, Krug, Ruinart, Dom Pérignon, Glenmorangie and Belvedere among others. Ruinart's Second Skin Blanc de Blancs is beautifully encased in packaging made entirely from paper, for a planet-friendly alternative this Christmas, while the customisable bottles are equal parts fun and majestic. Elsewhere, impress your dinner guests with Champagne PIAFF – a boutique, independent Champagne house lauded by London's oenophiles in the know.
Pale Fox premium prosecco not only comes in one of the prettiest bottles we've seen all year, it is also vegan, low in sulphites and made using 100% renewable energy. The effervescent tipple originates from Valle delle Volpi, or Valley of the Foxes in northern Italy. Harvey Nichol's has also unveiled a new Rosé Prosecco, for a stylish rosy glow this Christmas.
The Balvenie distillery in Dufftown, Scotland, has crafted something extra-special for Christmas: a rare single malt, matured in no less than 21 casks, flavoured with dried fruits, candied orange and lingering spices for the perfect fireside festive tipple. Also on our wish list: Charbonnel et Walker's Bond-worthy truffles, Ralph Lauren's smart hipflask and a thoroughly British, statement corkscrew by Deakin & Francis, the longest family-run jeweller in England dating back to 1786.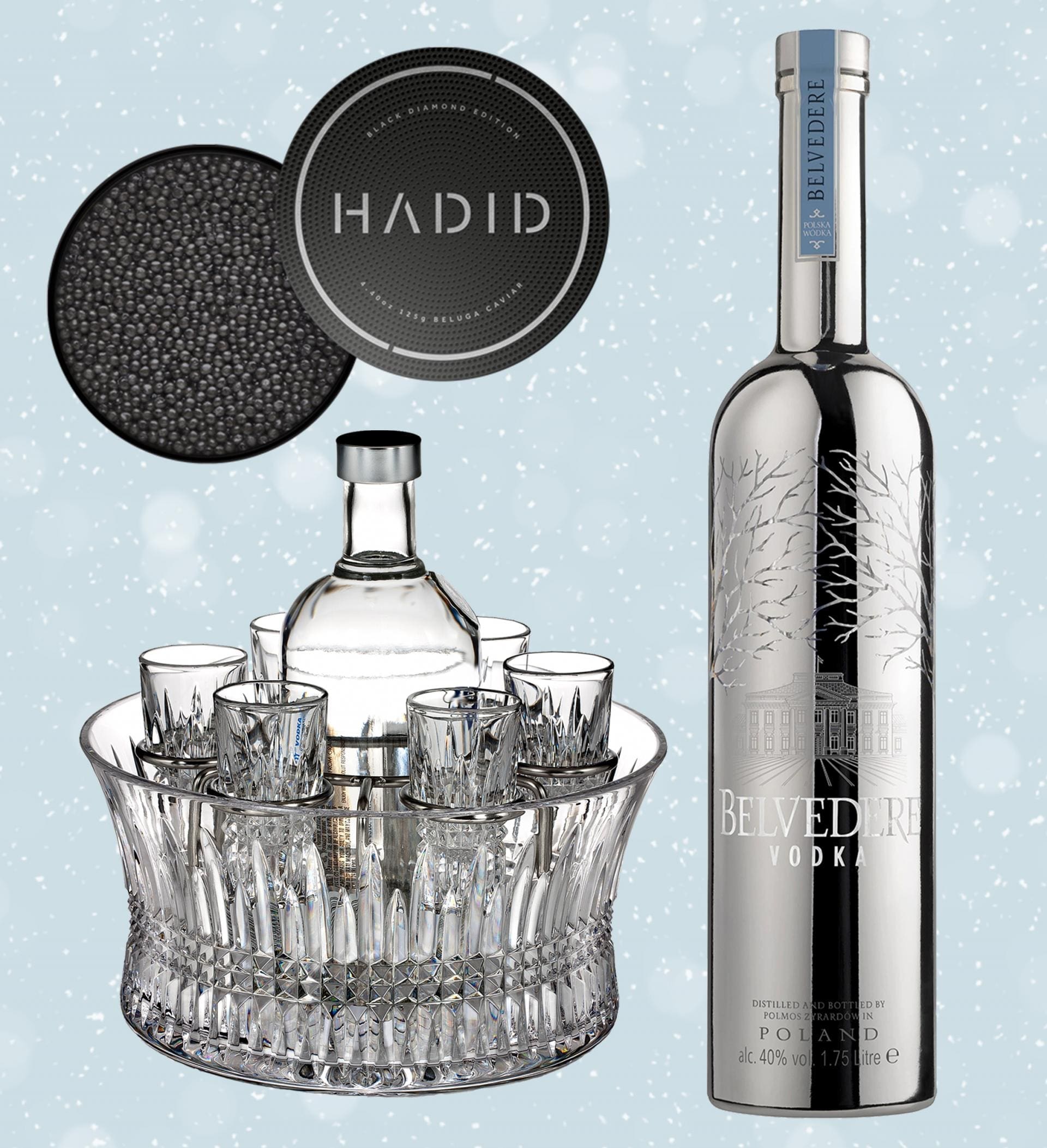 Forget floral centrepieces this Christmas – Waterford's Diamond Vodka Set features a statement bowl with six elegant shot glasses, beautifully crafted from radiant fine crystal and certain to spark conversation at the dinner table. The shot glasses are also perfect for serving other neat spirits.
5 of the finest hampers this Christmas
Harrods' Celebration of Christmas Hamper
Harrods knows food and drink are the keys to a cracking Christmas, and so its Celebration of Christmas hamper is packed with delicious treats. Presented in two elegant wicker baskets with leather strap fastenings, handles and the Harrods logo on the front, this delectable hamper comes with a drinks' cabinet's worth of wine, champagne and whisky, as well as a delicious selection of pantry items, chocolates, tea and coffee. Set the table with Harrods' special Christmas crackers, which are also included, and raise a toast to the festive season.
£750, harrods.com
Paxton & Whitfield
The cheese of choice of Winston Churchill, Paxton & Whitfield has been serving stilton, cheddar and brie from its artisan shop on Jermyn Street since 1797. Its sophisticated hampers start from £35 and climb to £500, carefully filled with crackers, condiments, fine wine and Champagne, as well as some of the most moreish cheeses you'll taste this side of Christmas.
Soho House's Deli Box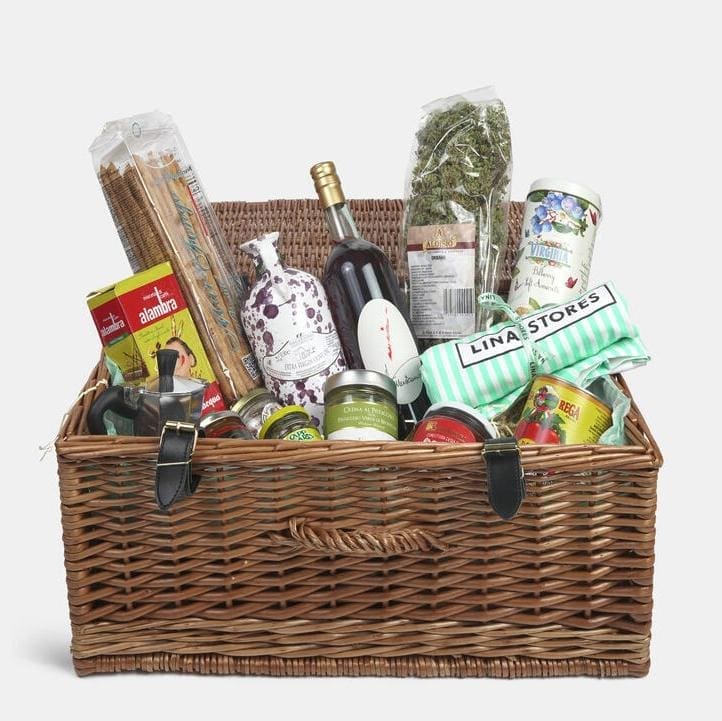 Curated by London's favourite deli Lina Stores, Soho House's Deli Box is filled with sweet and savoury artisan treats from independent Italian brands. For those who haven't been able to escape to the Riviera this year, this hamper will be a most welcome gift. Along with a Lina Stores apron and canvas shopper, the contents include salted anchovies, capers, pistachio cream, a Bialetti coffee maker and a beautiful terracotta pot of extra virgin olive oil from Antico Frantoio. Buon appetito.
£250, sohohome.com
Fortnum & Mason's Imperial Hamper
Go big or go home is the ethos behind Fortnum & Mason's Imperial Hamper, and you certainly won't need to go anywhere else once you've packed this lot away in your pantry. Made up of no less than five hampers, each stamped with the iconic F&M logo and tied shut with leather straps, the Imperial comes with 81 items that have been handpicked to provide you with a very merry Christmas indeed. From a whole ham to beluga caviar to cognac butter, there's plenty to keep your bellies full over the festive period. Along with food and an impressive array of alcohol (Nyetimber, Veuve Cliquot and Hennessy all present and correct) the hamper comes complete with Fortnum & Mason accessories such as an apron, picnic blanket and a charming Camellia-print tea set for two.
£6,000, fortnumandmason.com
Daylesford
With outposts in Notting Hill and South Kensington, Daylesford Organics gently hums with yuletide cheer throughout December, festooned with beautiful homeware, handcrafted decorations and jars of organic goodness, made at the Daylesford Farm in the Cotswolds. A range of wicker hampers come filled with goodies for gardeners, Italophiles and new mums. The Christmas Pantry Hamper is packed full of preserves, sloe gin, prosecco and an organic Christmas pudding – essentially everything you need to stay uplifted during lockdown this December.
£275, daylesford.com