Daylesford
Daylesford is perfect. It's organic-kitsch perfect. The sort of perfect which makes you want to smear the entrails of Cotswold wildlife over its pale, sanded surfaces. This would be less a lesson in butchery, than a need to ruin perfection; like smashing up your sister's dolls house because, well, she's assembled it too well. Here, the nuisances that texture life are banished. It's like home without any of the bad bits. Top dishes are the kipper (a dish that usually, flavour-wise, tends to bring a machine gun to a knife fight) which, here, comes slathered in tomatoes and lemon – there's a touch of the Mediterranean about it. And the English breakfast, which comes with crispy pancetta. Not to mention the list of juices which come out absurdly fresh because they're made on site.
Daylesford, 44B Pimlico Road, SW1W, 020 7881 8060, daylesford.com
Tomtom Coffee House
Tomtom Coffee House has become a bit of a local institution since opening in 2008. Always full, it's one of the few places where you can get both a cigar and a brandy before it's considered socially acceptable in the morning. Take a table in the sunshine and you get the chance to admire both the order of the pedestrians and the disorder of the crossroads unfold. The Welsh rarebit is good and has some rocket to offset the 'stodge-factor', but the real star of the show is the coffee – which Giles Dick-Read roasts down in Dorset – and the eggs Royale. Two orange yolks explode like lazy grenades over the glossy, glistening fish flesh, soaking the plate of muffin beneath. It's not a hard sell, especially when washed down with Meantime Pale Ale; I leave smiling (or leering?), with a lot of work to do.
Tomtom Coffee House, 114 Ebury Street, SW1W, 020 7730 1771, www.tomtom.co.uk;
Tomtom Mess Hall
The Coffee House's younger brother, Tomtom Mess Hall, is meant to add a foodie string to founder Tom Assheton's bow. Inside, things are as gritty as they get in Belgravia. We are talking bare wood, moderately exposed tiles and scandalously placed lights: almost everything is naked but the people. Bloody Marys and iced double espressos flow – and gush they do; the service, especially Alice, is excellent, frictionless, here – before reaching what should have been an anticlimax: a ham and cheese omelette. Omelettes, like people, like, well, stuff in general to be honest, are all about proportion; this one is particularly fat and gooey in the middle. But, hopefully, this approach will be carried over to what word on the street says will be a summer move into the burgeoning burger sector.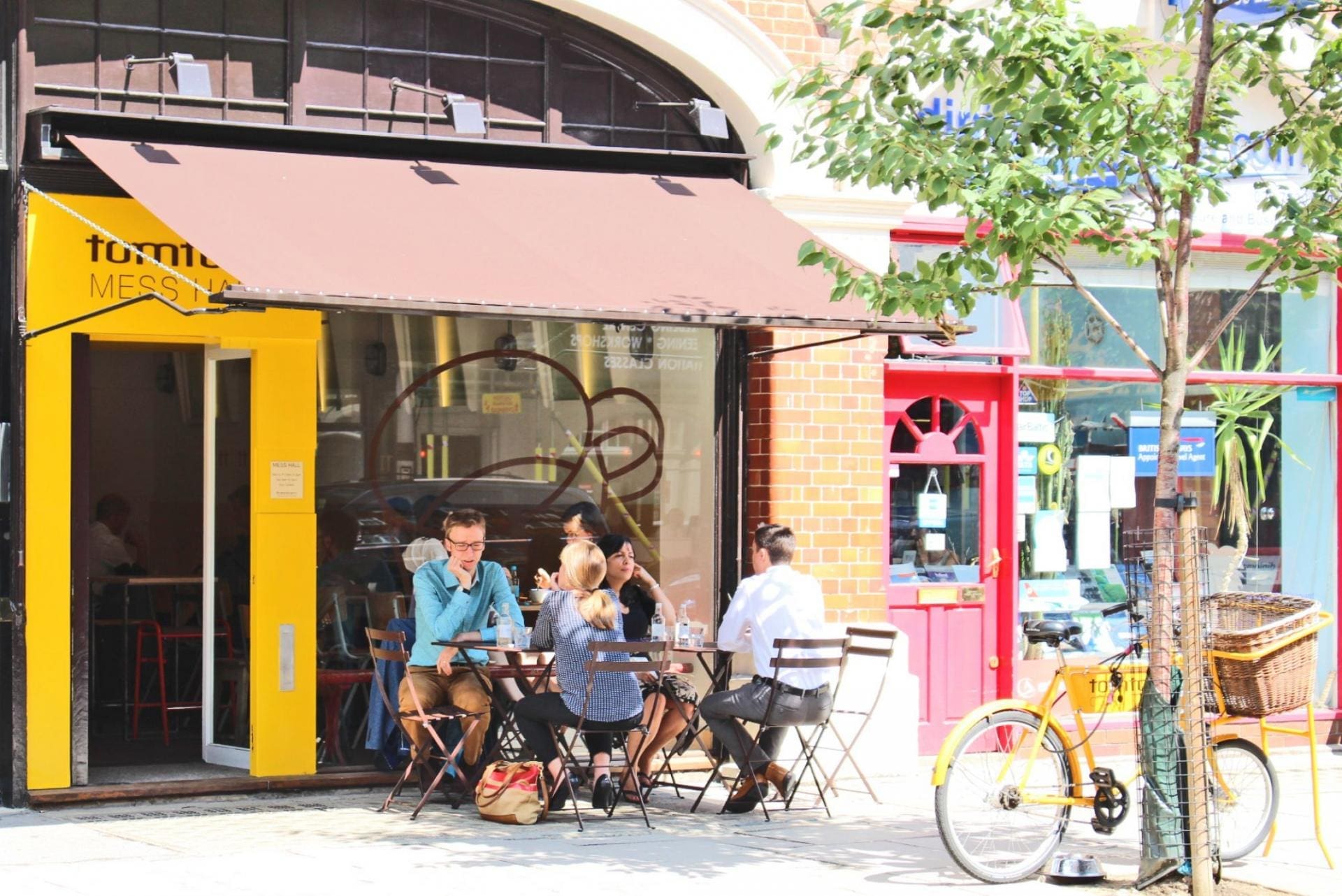 Tomtom Mess Hall, 14 Eccleston Street, SW1W, 020 7730 1845, www.tomtom.co.uk
L'Eto
L'Eto is a bit of a dark horse on West Halkin Street. Normally written off as a Dubai-esque buffet machine, if you focus on some of its upholstery (such as the white leather seats that wrestle eternally with Gaucho's bovine chairs in the stratosphere of bad taste), some of that judgment is surely justified. The cuisine, however, is a different story. I may get food in one of those silly black iron trays that scream authenticity in the same way that 'wooden' fascias in cars remind me of wood, but the fare inside, a take on eggs Florentine that involves spinach, feta, cumin and chilli flakes, is original and, at under £10, a real bargain. Sitting here in a suntrap with cigars, bubbles and grapefruit lemonade at my disposal, I really can't complain.
L'Eto, 10 West Halkin Street, SW1X, 020 7235 6415, www.letocaffe.co.uk
Pont Street
Pont Street at Belgraves Thompson is going from strength to strength. Its latest wheeze is a popular Sunday brunch, but I'm here to go off-track a bit with the 'Arabic-inspired' breakfast, which, when it arrives, seems code for Levantine. The spotlight is on the ful medames: fava beans lolling about in olive oil, cumin, parsley, garlic, lemon juice and chilli pepper – a dish typically associated with Egypt. This one has sticks of cucumber, black olives, akawi cheese with zatar and flatbreads each sunbathing around the ceramic pond like onomatopoeic cartoon characters called 'crunch', 'chomp', 'snap' and all the rest of it. Talking of which, if you want something to wash it down with, 'the popeye' juice may contain the sailor's favourite vegetable, but it's certainly not reducible to it.
Pont Street, 20 Chesham Place, SW1X, 020 3189 4850, www.pontst.com
No.11 Pimlico Road
No.11 Pimlico Road is both an address and a name. It's also a restaurant in smart-casual garb. Some locals think of it as a boozer but it's only so in the same way that when I wear my girlfriend's underwear I am a Victoria's Secret model. It's more of a bistro; a bistro that wins design awards – which, actually, it does. I go for the pumpkin and smoked bacon hash, which comes with a poached egg, tomato, borlotti beans and basil. It's a great mix of the vinegary Med and good old morning stodge – and, more importantly, it's delicious. My only complaint is that it has the consistency of baby food and is only saved from this fate by the three fat flame-grilled sausages I choose as a side order.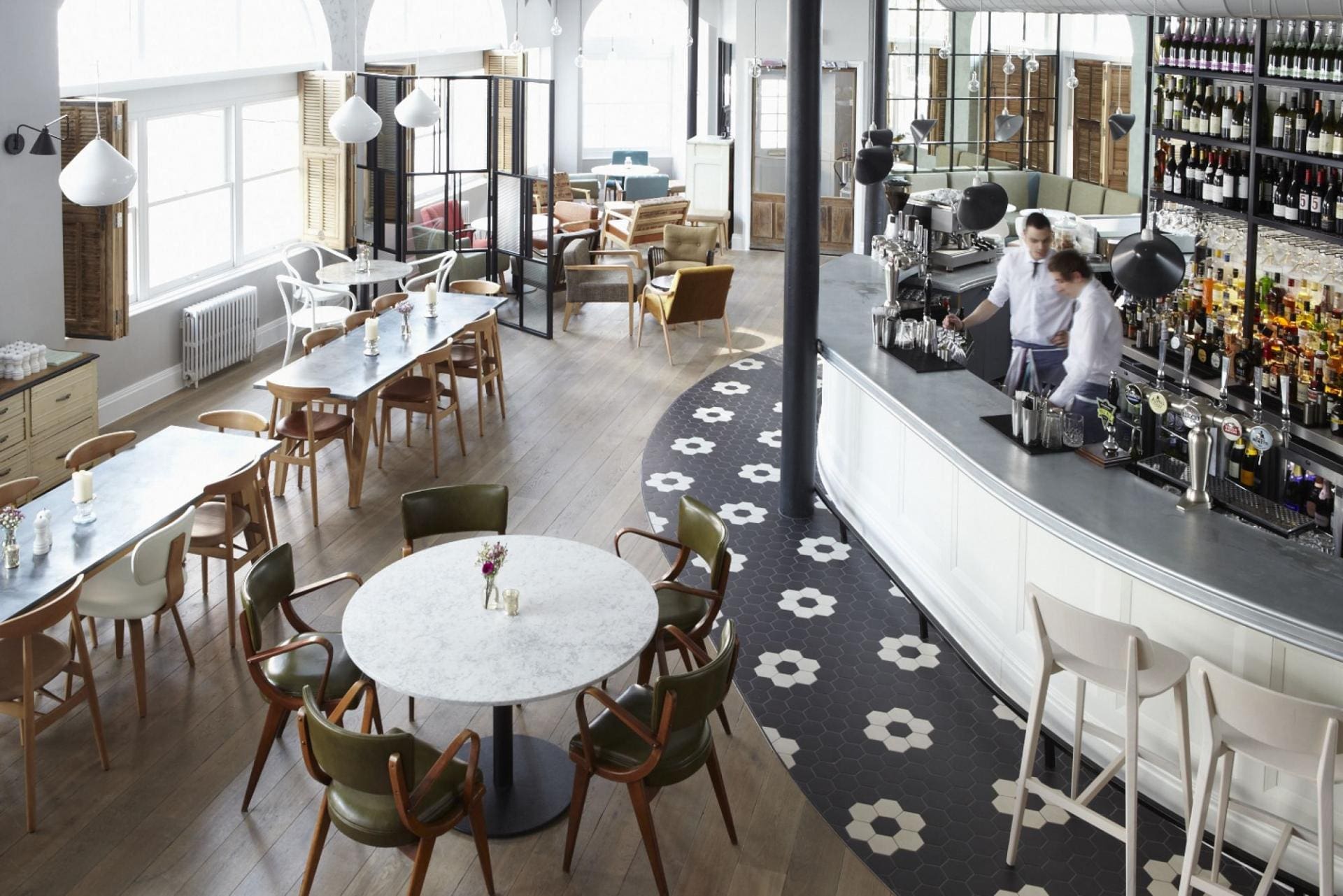 No.11 Pimlico Road, 11 Pimlico Road, SW1W, 020 7730 6784, www.no11pimlicoroad.co.uk
Jumeirah Lowndes Hotel
Hotel breakfast buffets may typically be considered the ageless nemesis of good food – ageless mainly in the sense that the eggs are made of nuclear-proof dried powder – but here at the Jumeirah Lowndes Hotel the axioms are turned all topsy turvy. I beam the image of eggs Benedict to everybody on social media and quickly the comments ('godly', 'I need that in my life now' etc.) avalanche. It tastes as good as it looks, too, with a butter-yoke cloak yielding charred bacon on a soft-crisp muffin base. Usually the calories aren't worth the achingly ordinary taste in a dish like this, but here, the formula reverses itself and only begrudgingly do I consent not to order seconds.
Jumeirah Lowndes Hotel, 21 Lowndes Street, SW1X, 020 7823 1234, www.lowndesdining.com