In Praise of Bejewelled Beasts
A magnificent menagerie of scuttling beetles, bejewelled birds and tiger timepieces celebrates the master craftsmanship of the high jewellery and horology worlds
Sous Son Aile Clip, Van Cleef & Arpels
In a dazzling tribute to Van Cleef & Arpels, this Sous Son Aile clip combines the jeweller's signature Lovebird motif with its Mystery Set ruby poppies, first introduced by the Maison in 1933. A mechanism to open the wing – integrated into the piece – reveals a charming baby bird nestled against its mother, in a delicate embrace of pink sapphires, coral and diamonds.
POA, vancleefarpels.com
Panthère De Cartier Necklace, Cartier
When Cartier's director of jewellery in the 1930s, Jeanne Toussaint, spotted a panther while on safari, she is said to have proclaimed: "Emeralds, onyx, diamonds, a brooch!" By then, the captivating creature had leapt into the house's collections and it has ruled the high jewellery jungle ever since. Here, it lounges on a string of emerald beads, resplendent with a body of baguette- and brilliant-cut diamonds, emerald eyes and onyx spots.
POA, cartier.co.uk
Mythology 18kt Rose Gold Beetle Charm, Annoushka
Designed as modern talismans to symbolise regeneration, perseverance and insight, Annoushka's bejewelled beetle charms, which clip onto the designer's Mythology necklace, are handcrafted in 18kt rose gold and blue topaz, rose quartz, amethyst and citrine stones. "There's nothing more perfect than nature," Annoushka says. "Being able to make it perfectly in gold and stones and keep forever – there's something rather magical about that."
£2,900 each, annoushka.com
Golden Ellipse Watch Ref. 5738/50, Patek Philippe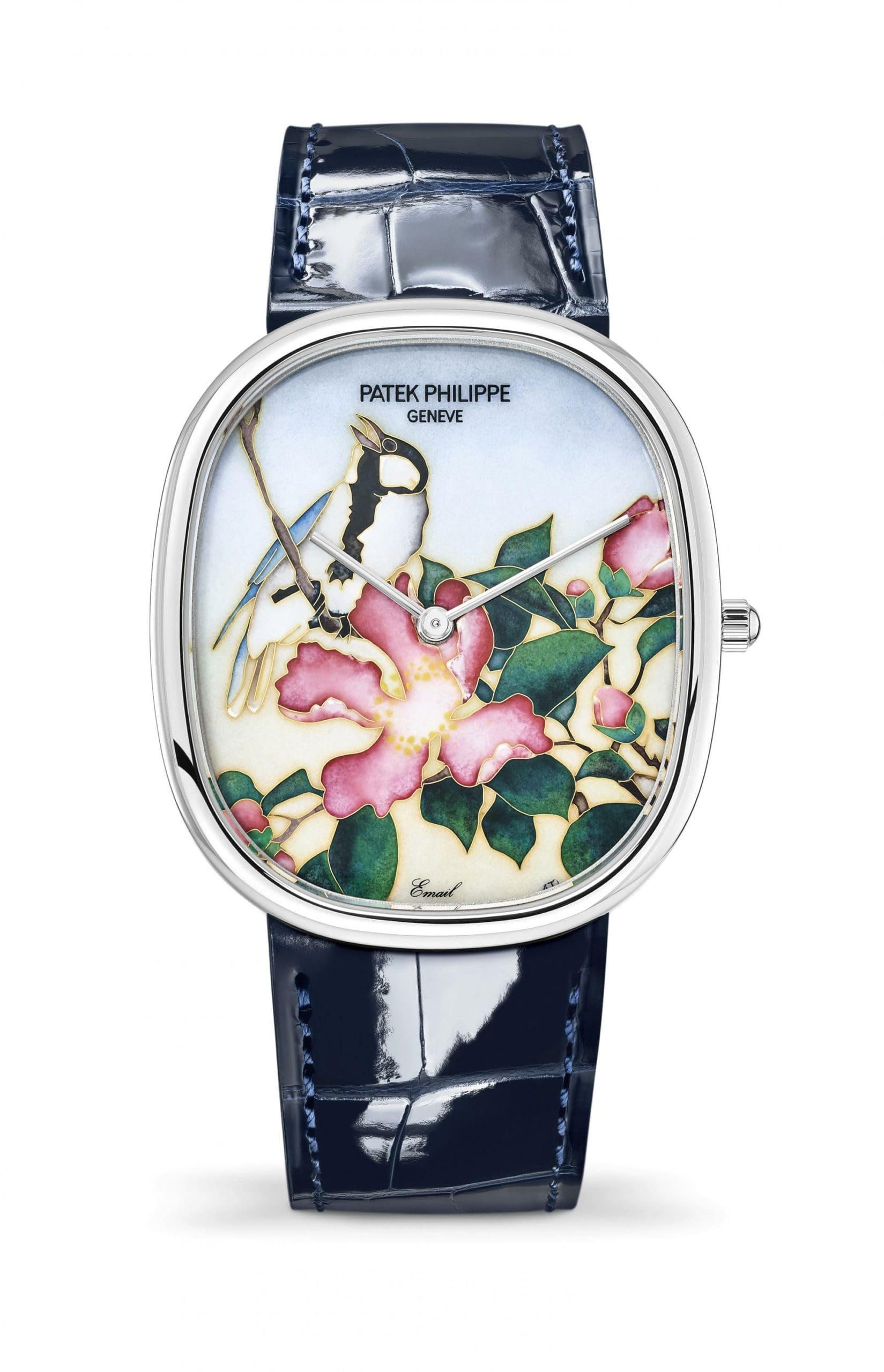 Patek Philippe's Contemporary Collection of limited edition wristwatches, pocket watches and dome table clocks honours the skills involved in the decoration of timepieces. This is one of four Japanese Print watches, each of which has an exquisite dial of cloisonné enamel.
POA, patek.com
Mascote Ring, De Grisogono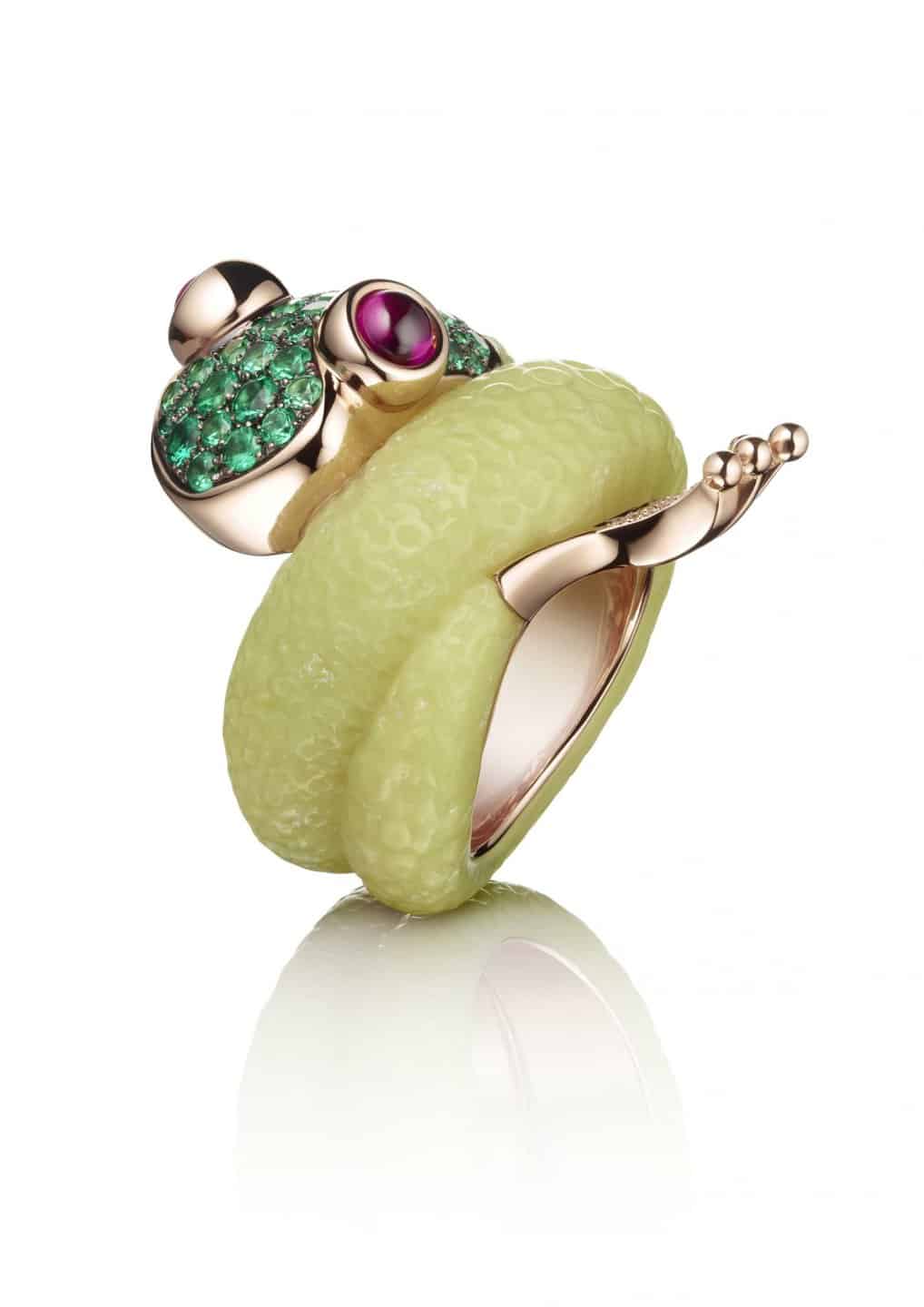 Each of De Grisogono's Mascote rings – part of the brand's Crazymals collection – is carved with consummate skill from a single block of hard stone, set with gems and fashioned into a quirky animal motif. This green alabastrite snake is finished with pink gold and peppered with gleaming rubies and emeralds.
POA, degrisogono.com
Reine des Abeilles No.10, Dior
The wings of this Queen Bee flutter to show off its resplendent gems from all angles. A body of white, yellow and rose gold, topped with tsavorite garnets and pink, yellow and orange sapphires, rules over a hive of white gold and pavé diamonds. The timepiece is fitted with a quartz movement and an adjustment corrector.
POA, dior.com
Hummingbird Necklace, Chopard
Envisioned by artistic director Caroline Scheufele, Chopard's Animal World collection captures a colourful menagerie in an extraordinary display of craftsmanship. This diamond and sapphire hummingbird necklace, which features a dainty gem-set lotus flower and emerald leaves, is just one of 150 exquisite pieces.
POA, chopard.com
Espiègleries Brooch, Chaumet
Kenyan artist Evans Mbugua designed six brooches for Chaumet's Trésors d'Afrique collection in a high jewellery ode to his continent. Playful and precious in equal measure, the most striking of all the bejewelled beasts is this white and yellow gold lion, set with pear-shaped diamonds and round yellow, blue and pink sapphires.
POA, chaumet.com
Tears of African Elephant 4047, Backes & Strauss
Created in partnership with Tears of the African Elephant, a charity committed to reducing the demand for ivory, this Backes & Strauss 18kt white gold watch is decorated with iconographic leaves and a central elephant motif. Ideal cut diamonds make this great creature sparkle, and complement its enamelled tusk and teardrop made of gold.
POA, backesandstrauss.com
Serpenti Necklace, Bulgari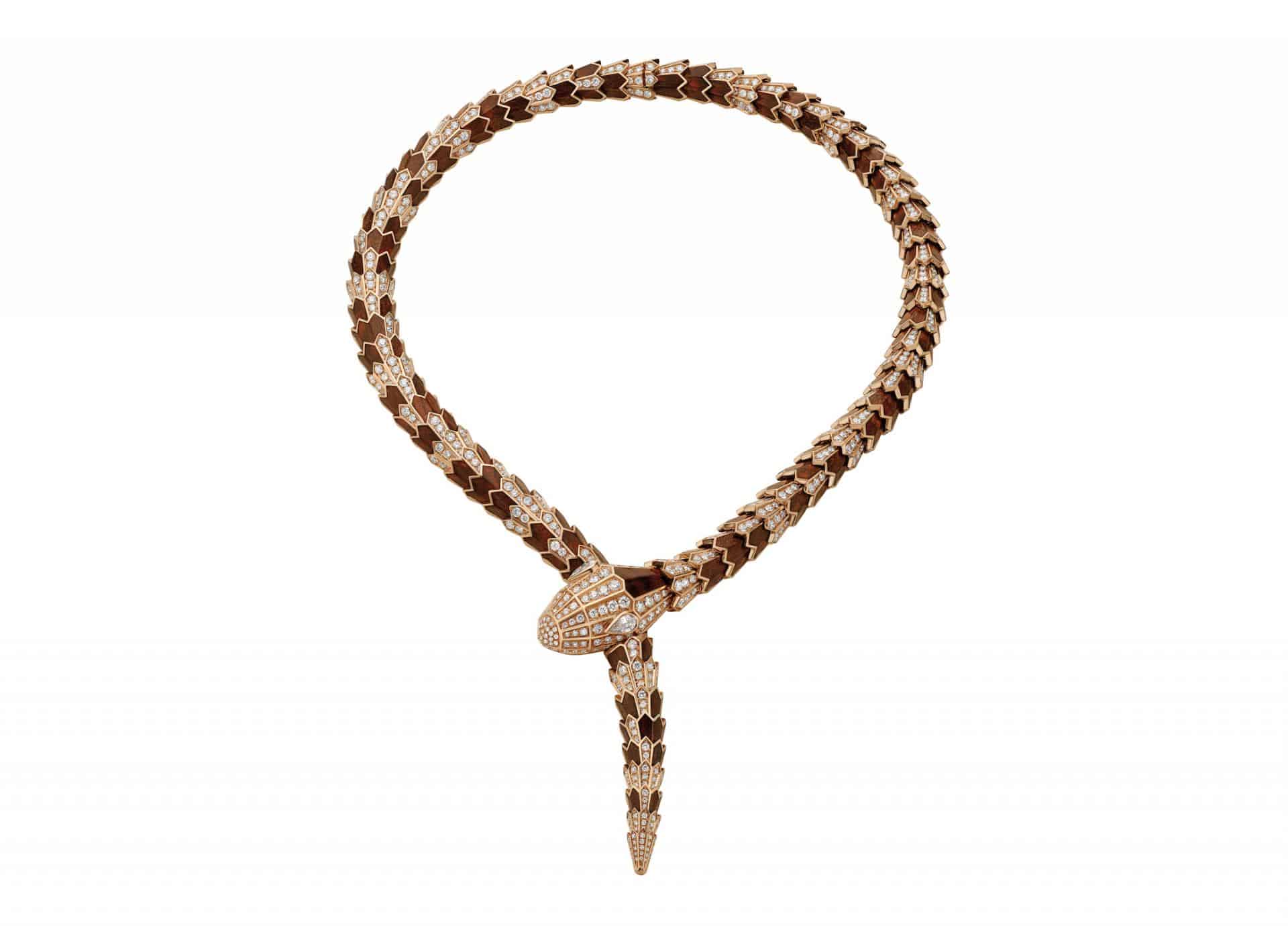 Bulgari's Serpenti strikes again.First introduced in the 1940s as a bejewelled timepiece, the slithering emblem, which represents wisdom, vitality and seduction, has been coiled around bracelets, necklaces and rings ever since. Prepare to be charmed by this reptilian necklace, which has scales of pavé diamond and dark snakewood.
POA, bulgari.com
Les Mécanique Sauvages, Vacheron Constantin
Vacheron Constantin's Les Mecanique Sauvages collection of one-of-a-kind timekeepers champions bas relief engraving and wood marquetry. Not just a pretty face, the Imperial Tiger ticker has four innovative apertures arranged around the dial circumference, which display the hours, minutes, days and dates.
POA, vacheron-constantin.com