The gentleman's guide to Jermyn Street
The traditional home of shirtmaking is also the place to find some of the capital's most exciting independent businesses
Entering Jermyn Street from Piccadilly feels like leaving one world and joining another. The volume drops. The stores look antiquated and charming. And, for reasons that become evident once you peer through the windows, people around you are suddenly much better dressed.
That's because Jermyn Street has always been associated with old-world class: a place where London's 19th-century gentlemen elite, such as Beau Brummel (whose statue stands near Piccadilly Arcade), went to shop before disappearing into their members' clubs. That spirit still remains today. While Savile Row is the home of men's tailoring, you can find almost everything else here. From badger-hair brushes to country brogues and English-made shirts – as well as a few nibbles in between – this is a gentleman's (or -woman's) handy guide to Jermyn Street.
Note: With so many businesses on Jermyn Street, we'll be highlighting the more unique or historic shops – associated with a gentleman's lifestyle – and not the bigger, commercial brands found on the high street.
Style
Cordings of Piccadilly
The original Cordings shop was indeed located on Piccadilly, but moved to Jermyn Street last year, apparently with the help of King Charles III. Great news, as it's credited with the invention of the Tattersall check, and has a serious selection of country clothing and accessories for your next trip out of town. The tweed suits are a specialty.
23 Jermyn St, SW1Y 6ST, cordings.co.uk
Crockett & Jones
Northampton-based shoemaker Crockett & Jones is one of Jermyn Street's most loyal residents – celebrating its 25th anniversary at number 69 this year. Opened on 13 September 1997, the boutique still serves as the brand's flagship store and stocks the full range of Crockett & Jones' timeless loafers, Oxfords, Derbys, boots and slippers.
69 Jermyn Street, SW1Y 6PF, crockettandjones.co.uk
Edward Green
Founded in 1890, Edward Green is considered to be among the most prestigious of all the Northampton shoemakers. A typically English, fitted shape, its Top Draw range is produced by the brand's senior craftsmen, and are made to last a lifetime. Just remember, high standards come with a high price tag.
75 Jermyn St, SW1Y 6NP, edwardgreen.com
Turnbull & Asser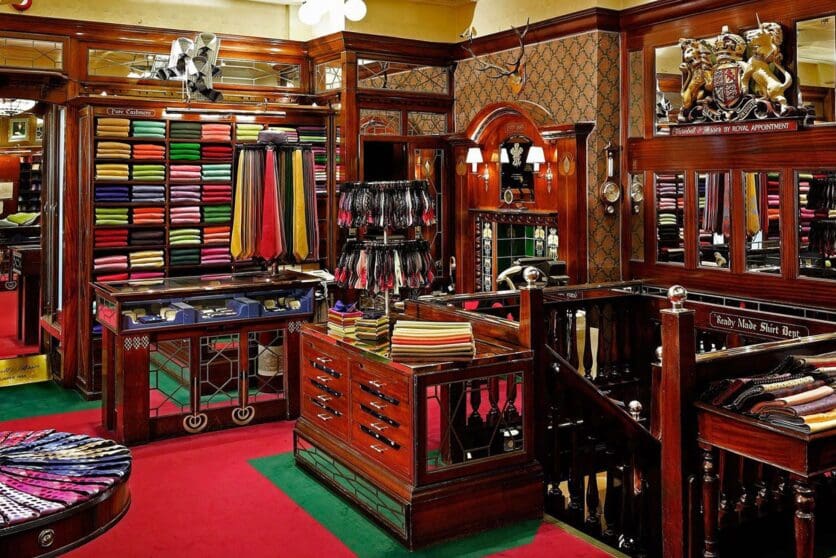 If it's good enough for James Bond and Winston Churchill, it's good enough for you. Turnbull & Asser is probably the most popular artisanal shirting choice on Jermyn Street: simple, crafted to a high standard in England, and with a reasonably priced made-to-measure service. Your relationship with a shirtmaker is very similar to your tailor, and for a lot of men, their shirtmaker is Turnbull & Asser.
71-72 Jermyn St, SW1Y 6PF, turnbullandasser.co.uk
Favourbrook
Founded on Jermyn Street in 1990, over the past three decades Favourbrook has become London's go-to brand for classic formalwear. Country house wedding? Head to Favourbrook. Black tie dinner party? Favourbrook has got you covered. Going to Royal Ascot? Favourbrook is the official men's outfitter. As well as suits, waistcoats and tuxes, today Favourbrook's collection feature top hats, ties, pocket squares and cufflinks, alongside a covetable range of womenswear. You'll now find its boutique off Jermyn Street in Piccadilly Arcade.
18 Piccadilly Arcade, SW1Y 6NH, favourbrook.com
Hilditch & Key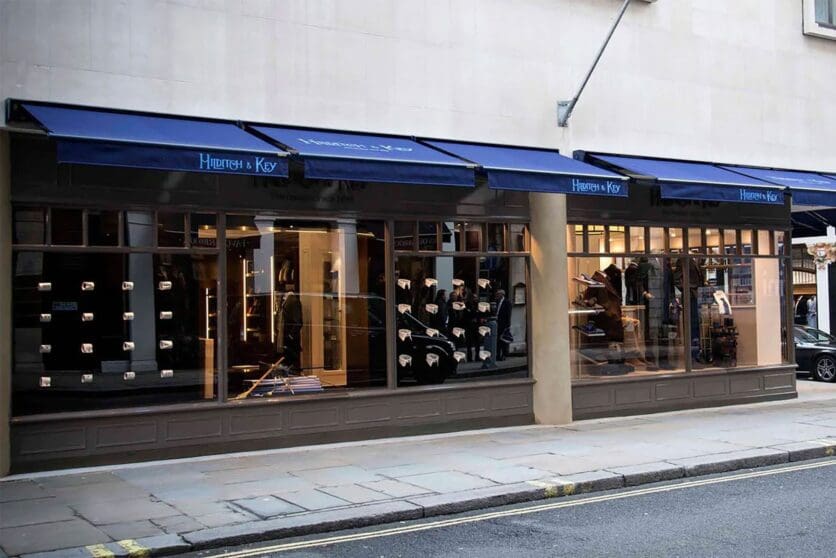 Hilditch & Key was once a worthy competitor of Turnbull's. But since stopping production in England, the quality of its shirts has sadly paid the price. The only upside is that a few of its ranges are now kinder on your wallet. So, if you are looking for a shirt that's still a step up from the likes of T.M. Lewin – but without the price tag of its more famous neighbour – Hilditch & Key is worth a try.
73 Jermyn St, SW1Y 6NP, hilditchandkey.co.uk
Emma Willis
Emma Willis is the newest of the Jermyn Street shirtmakers. At a slightly higher price point, the quality of the Sea Island cotton, and a signature contemporary cut, make her shirts popular with more fashionable (rather than traditional) dressers. Everything is made to the highest quality here in the UK. The best modern alternative to Turnbull & Asser or Budd.
66 Jermyn St, SW1Y 6NY, emmawillis.com
Foster & Son
In menswear circles, Foster & Son is considered one of the better, more authentic, shoe options on Jermyn Street, as well as being London's oldest bespoke shoemaker. It's Foster & Son that produces the famous red 'Ministerial Despatch Box' ferried between No.10 and the King. Which, incidentally, you can buy here for your study.
83 Jermyn Street, SW1Y 6JD, foster.co.uk
New & Lingwood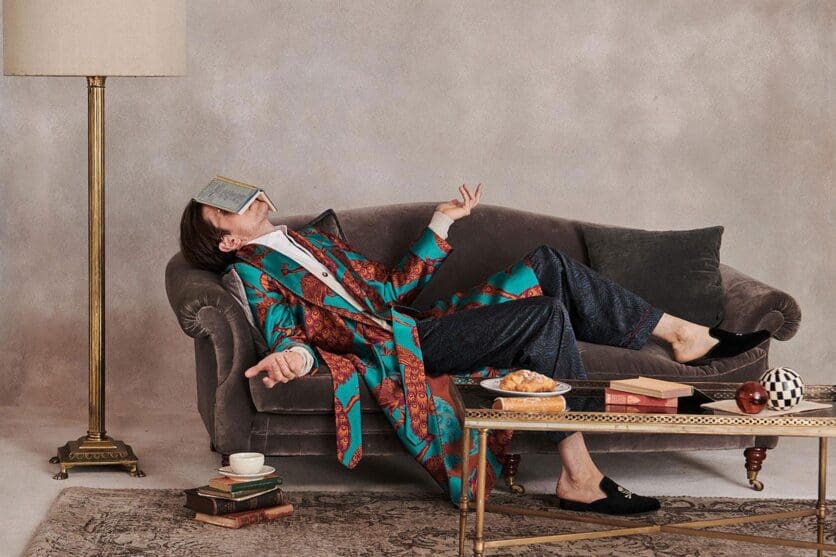 New & Lingwood is known for its eccentric take on classic menswear. A haven for dandies, the silk gowns, bathrobes, and pyjamas are essential, and its selection of sporting-inspired casual clothing is as fun and extravagant as anything you'll find on Jermyn Street. While you're in the area be sure to hop over to Savile Row to visit its new sustainability-focused Re:New boutique.
53 Jermyn St, SW1Y 6LX, newandlingwood.com
Tricker's
Tricker's is another of the street's Northampton shoemakers, up there with Church's, but considered a tier below Edward Green. Its shoes are characterised by a thicker, wider, and more rounded shape designed for country living, like the popular Bourton model.
67 Jermyn St, SW1Y 6NY, trickers.com
Grooming
Floris
Bond wore Floris No.89, and so can you. This is the fragrance brand's smartened-up flagship store where men in the know have been visiting for centuries in search of a new signature scent – most commonly the Santal edition, or the aptly named 'Jermyn Street'.
89 Jermyn St, SW1Y 6JH, florislondon.com
Taylor of Old Bond Street
Taylor is a one-stop shop for all your grooming needs. There's plenty of fun to be had perusing the endless items on offer, which include Italian toothbrushes, vintage hip-flasks, mirrors, Kent combs, and the store's own selection of creams and ointments. If you can only leave with one thing, its sandalwood shaving soap is a cult favourite.
74 Jermyn St, SW1Y 6NP, tayloroldbondst.co.uk
Geo. F. Trumper
The Victorian sign, the busy window, the smell of sandalwood once you step inside, Geo. F. Trumper will transport you to another era. And in a way, that's how it wants it. Once a favourite barbershop for the city's gentleman elite, many of the remedies you find here are largely unchanged – especially its selection of strong, masculine colognes.
9 Curzon St, W1J 5HQ, trumpers.com
Dining
Rowley's
An old-school, no-nonsense steak restaurant that has become a Jermyn Street institution. Opened in 1976, Rowley's is situated at the home of the original Wall's butcher shop (yes, the sausages) and has retained its Victorian decor. It's an expensive place, but as its customers will tell you, the food and service are well worth it.
113 Jermyn St, SW1Y 6HJ, rowleys.co.uk
Paxton & Whitfield
It may seem unusual to find such a great fromagerie among perfumeries and shirtmakers but, for more than 200 years, Paxton & Whitfield has been selling the finest cheeses from Britain and beyond. Ask the friendly staff what's in season, and then admire its selection of homeware. The cheese boards, with Paxton's branding, make a nice conversation starter at dinner parties.
93 Jermyn St, SW1Y 6JE, paxtonandwhitfield.co.uk
45 Jermyn Street
A chic brasserie located halfway into Jermyn Street. More hip than the other eating and drinking establishments here, it's a fine place for people watching while enjoying a cocktail, its highly recommended omelette Arnold Bennett with crab, or – if it's a day worth celebrating – caviar.
45 Jermyn St, SW1Y 6DN, 45jermynst.com
Franco's
One of the first Italian restaurants in London, Franco's retains its old-world sophistication, with an upscale interior and haute cuisine. An institution that matches the refined tastes of the nearby menswear stores, the customers tend to be well-heeled regulars. Not a lot of time? Sample its first-rate cappuccino between shopping.
61 Jermyn St, SW1Y 6LX, francoslondon.com
Best of the rest
Piccadilly Arcade
This quaint indoor cut-through to Piccadilly houses some renowned artisans. Be sure to look out for: Budd Shirtmaker (a smart alternative to Turnbull & Asser), Swaine Adeney-Brigg (arguably Britain's premier umbrella maker), Benson & Clegg (Royal-approved, regimental menswear), Deakin & Francis (divine accessories, especially the cufflinks) and more.
Piccadilly Arcade, SW1Y 6NH, piccadilly-arcade.com
Davidoff of London
One of the most interesting shops in the city; somehow fitting in British-made umbrellas by Fox, luxury canes, lighters, and all sorts of smoking gear from around the world. The draw here is the selection of cigars, sourced by the legendary Edward Sahakian. Once you're done perusing his stock, take a short walk to Sahakian's lounge at the Bulgari Hotel to enjoy your spoils.
35 St James's St, SW1A 1HD, davidoffoflondon.com
Beretta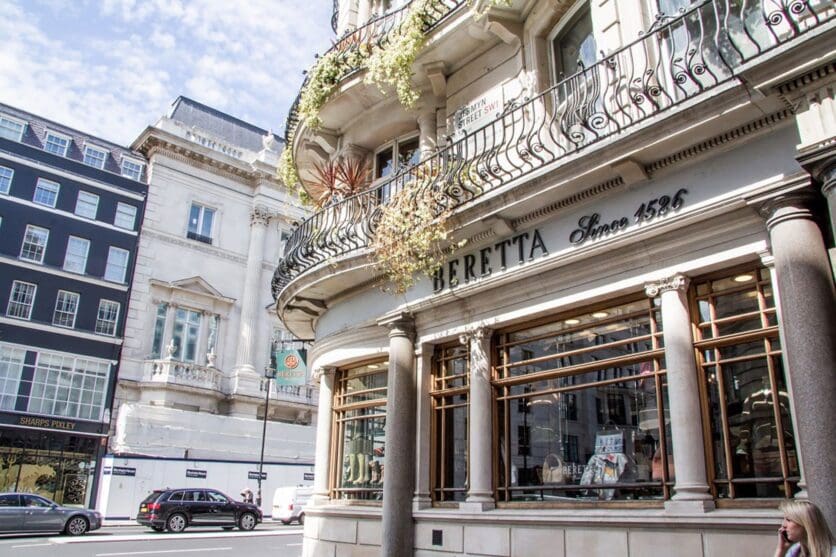 FYI: Bond started out with a Beretta before switching to a Walther PPK. Chances are he got it at this store, which includes a well-stacked gun room should you find yourself invited to a weekend of shooting (or spying). Not your thing? Its selection of country clothing and glassware are sought out by visitors from around the world.
36 St James's St, SW1A 1JD, beretta.com
Worth a mention
Although they have numerous locations in the city, John Lobb, Church's, Cheaney, Barker, and Loake offer some of Northampton's finest shoes at varied prices on Jermyn Street. JM Weston also sells the classic 180 moccasin, worn by French presidents, while British fashion brands Alfred Dunhill, John Smedley, Aquascutum and Sunspel are on-hand for smart-casual essentials.
Read more: The ultimate guide to summer suiting