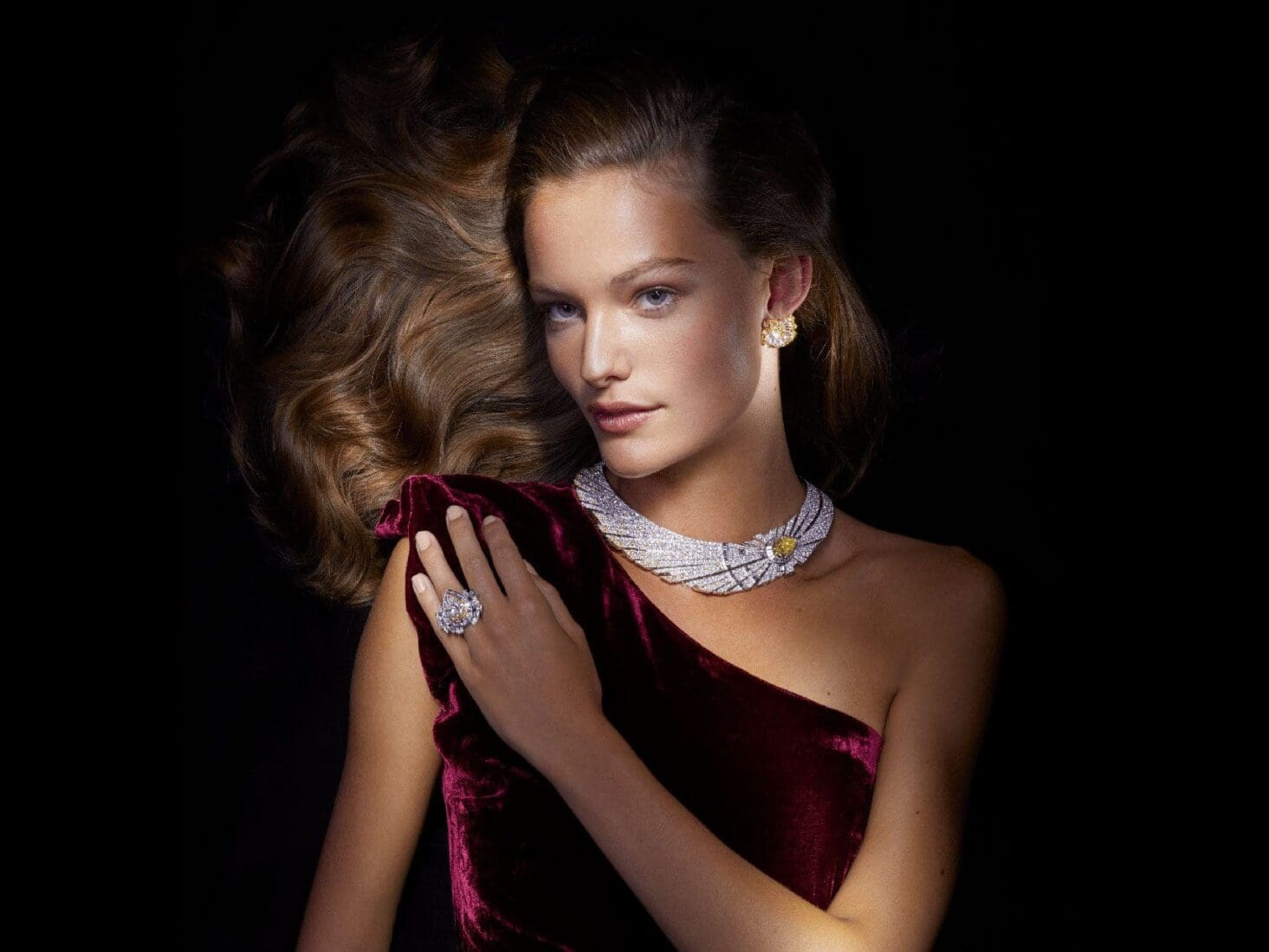 The most beautiful high jewellery collections from Couture Week SS21
Allow yourself to be dazzled by this season's cacophony of fine jewels and gems
While fantasy ballgowns may be taking centre stage on the catwalks during Paris Haute Couture Fashion Week, over in the boutiques and showrooms of the Place Vendôme, show-stopping collections of an entirely different nature are making their debut. Here, exquisite jewels destined for only the most elite (and deep pocketed) customers are unveiled at the traditional home of high jewellery.
And, while the pandemic may have kept press and VIP buyers from making their usual bi-annual pilgrimage to Paris, SS21 has still brought with it some truly spectacular pieces. From Chanel's ode to the beauty of Venice to Pomellato's celebration of traditional Japanese craftsmanship, discover this season's most remarkable creations.
Chanel Escale à Venise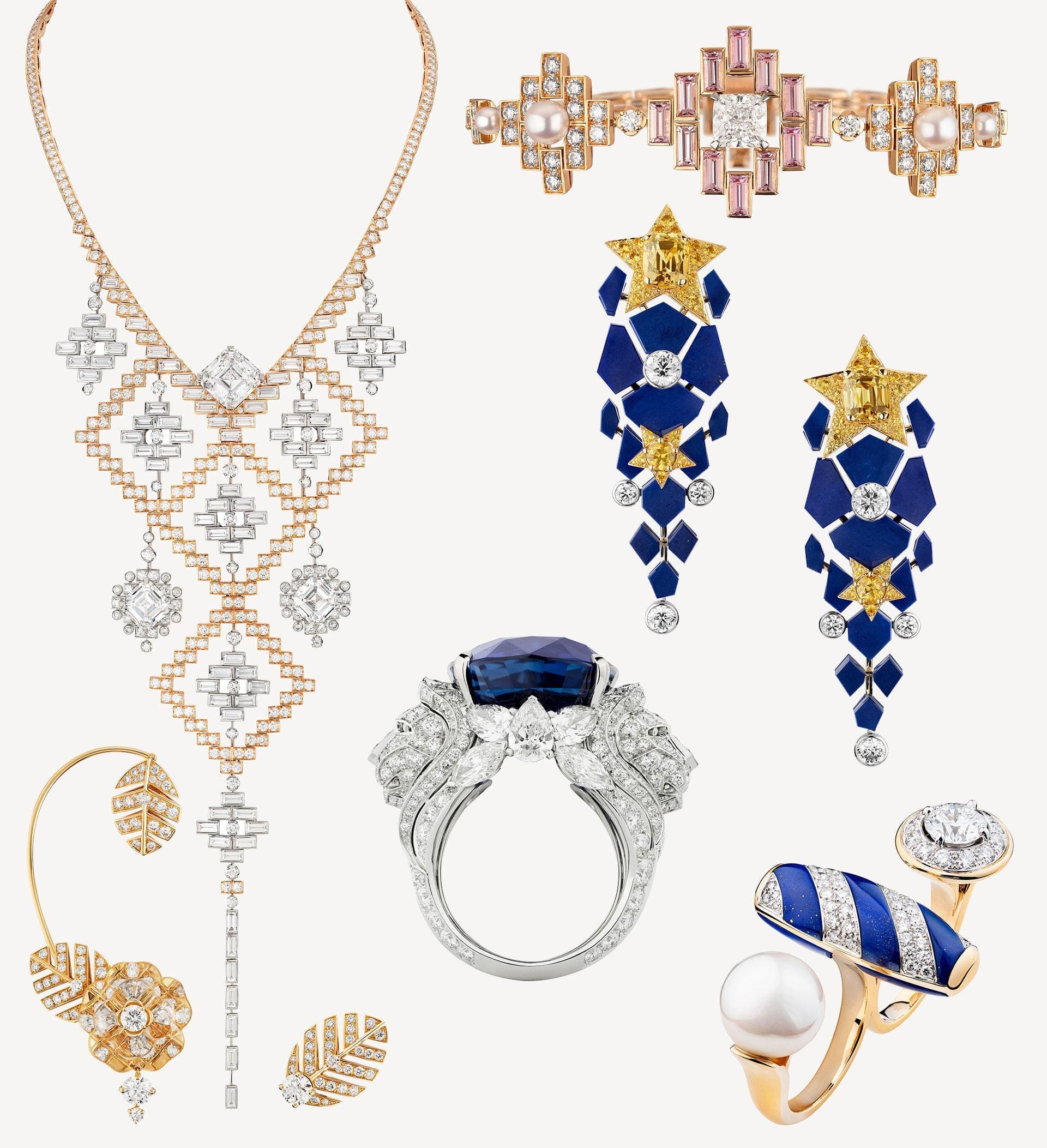 Chanel always has one of the most buzzed about high jewellery collections, and as ever the brand's jewellery head Patrice Leguéreau looked to the life of the house's eponymous founder for inspiration this season. Honing in on Venice, where Coco Chanel retreated after the death of her lover, Arthur 'Boy' Capel, in the 1920s, research began way back in 2018 when the city was still a bustling pre-pandemic tourist hotspot.
The collection is an accordingly colourful and opulent homage to the Floating City. Totalling 70 pieces, the collection is divided into four 'chapters': La Sérénissime (dedicated to the architecture of Venice), Gran Canale (inspired by the city's famous waterway), Isole Della Laguna (an ode to the lagoon islands surrounding Venice) and Spirito di Venezia (introducing the lion synonymous with both Venice and Coco Chanel).
Highlights include Eblouissant – a series of geometric pieces rendered in pink gold, diamonds and pearls evoking the pastel hues of Venetian palaces – and, at the other end of the colour spectrum, the Constellation Astrale set featuring the winged lion of St Mark's Square in gold, yellow sapphire and lapis lazuli. The delicate Camelia Venitien and Bague Lion sets, meanwhile, are perhaps the most classically Chanel, with their intricate metalwork and references to the house's famous motifs.
De Beers Reflections of Nature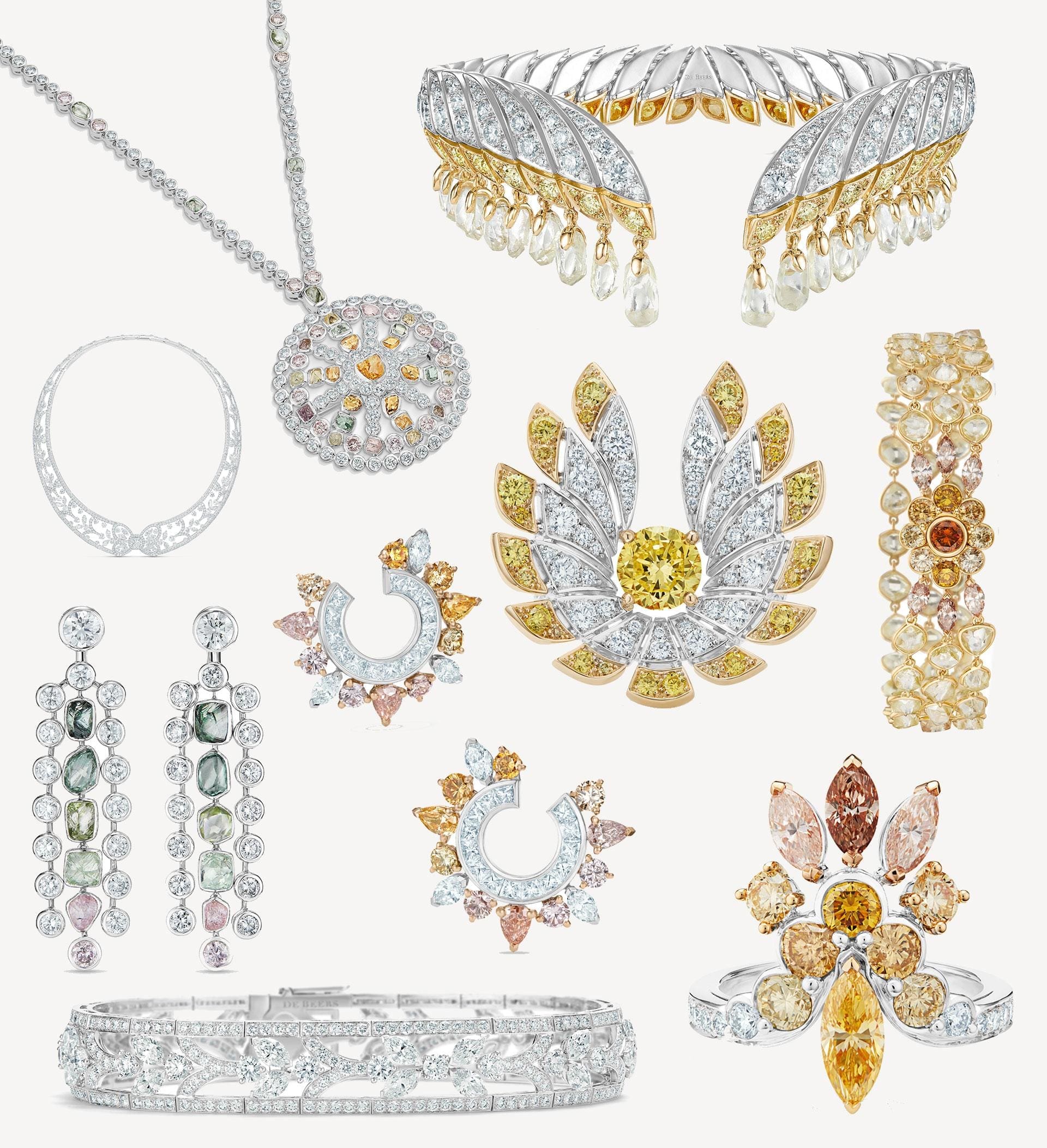 This season De Beers has embarked on a journey across the countries and continents that have made it a global diamond powerhouse. The 39 pieces in its new collection have been created as five distinct sets which riff on the colours of Botswana's Okavango Delta, the majesty of South Africa's Motlatse Canyon and the wilderness of Canada's Ellesmere Island, picking up references to Namibia and the Landers coral reef on the way.
The range is accordingly varied with designs ranging from statement to subtle and innovative to traditional. Each, however, is a clear showcase of De Beers' technical diamond mastery. Classically cut white diamonds nestle alongside vivid and fancy hues, in more unusual pear, cushion and marquise shapes, demonstrating the house's ability to source the very best of the best across the diamond spectrum – and treat them with the respect they deserve.
Van Cleef & Arpels Sous Les Étoiles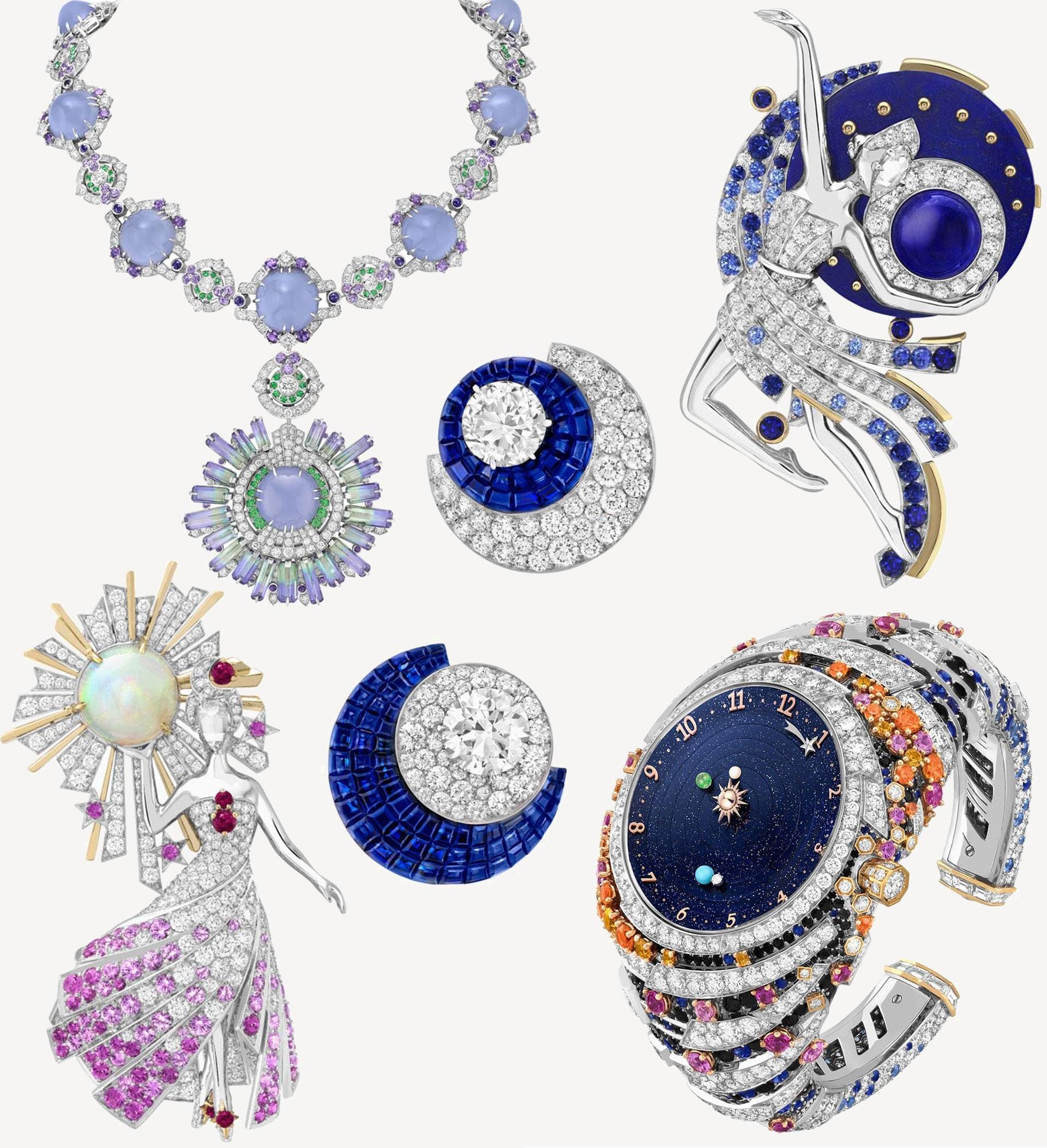 The night sky might seem like an obvious source of inspiration for a jewellery collection but, when put in the hands of French house Van Cleef & Arpels, it becomes something truly original. Envisioned across a vast range totalling 150 pieces, the brand's designers looked not only to the skies, but also to interpretations of the cosmos wrought by astronomers, artists, writers and its own archival pieces to inform the collection.
Stars, if you'll excuse the pun, include the Helios pendant. A classic Van Cleef & Arpels transformable design that can also be worn as a diadem, at the heart of this necklace is a 50.38 carat oval-cut Sri Lankan yellow sapphire. Equally as astonishing is the Flammes de Neptune ring, which features a 40.52 carat cushion-cut sapphire at its centre, and the Halley necklace, a figurative depiction of the passing of the famed comet in yellow and white diamonds. Finally, no Van Cleef collection would be complete without the dancers and fairies that have been a cornerstone of the house since the 1940s. For SS21 they take the form of ethereal celestial beings in a series of one-of-a-kind three dimensional clips adorned with opals, rubies, diamonds, lapis lazuli and sapphires.
Boucheron A History of Style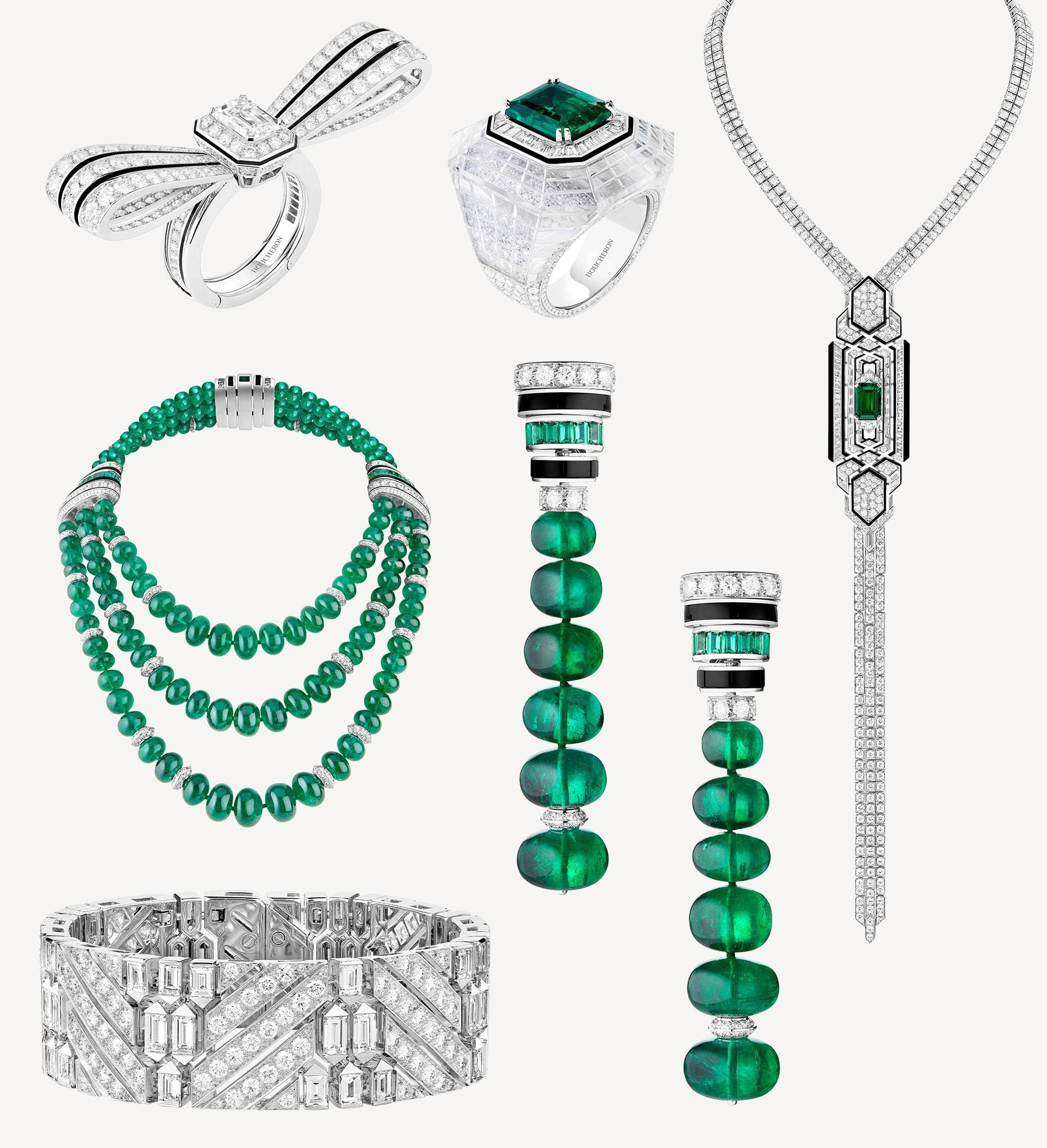 For its new high jeellery collection, Boucheron creative director Claire Choisne dug deep into the house's Art Déco archives to create a collection of timeless, elegant pieces that radiate energy and spirit. Inspired by a time when women were emboldened to express themselves through masculine clothing, short hairstyle and scandalous plunging necklines framed by long necklaces, A History of Style is a love letter to these flappers wrought in the finest of stones.
Key pieces include Cravate Émeraude, a long-line necklace designed to be worn like a tie and featuring a spectacular 8.02 carat emerald surrounded by diamonds that can be detached and worn as a brooch. The Ruban Diamants set, too, is an innovatei style unique among the high jewellery collections for its unisex natures. Comprised of a series of white gold ribbons with baguette and round diamonds in a herringbone pattern, it can be worn as a headband or choker for women, as a tuxedo belt for men or as a set of genderless bracelets.
Pomellato Kintsugi
The tightest edit of the new jewellery collections, Pomellato's Kintsugi capsule range comprises just three styles in two colour ways and pays homage to the ancient Japanese tradition of mending. Crafted using jet and kogolong framed by pavé diamonds and set in yellow gold, the capsule collection was created by repurposing damaged precious stones that would normally be discarded, repairing them with gold to create unusual and beautiful pieces that revel in their imperfection.
Created in collaboration with a Tokyo-based kintsugi master and finished at Pomellato's workshops in Milan, this is a thoroughly modern collection, inspired by themes of upcycling and multiculturalism, with its roots firmly in a long-standing artistic technique.
Cartier [Sur]naturel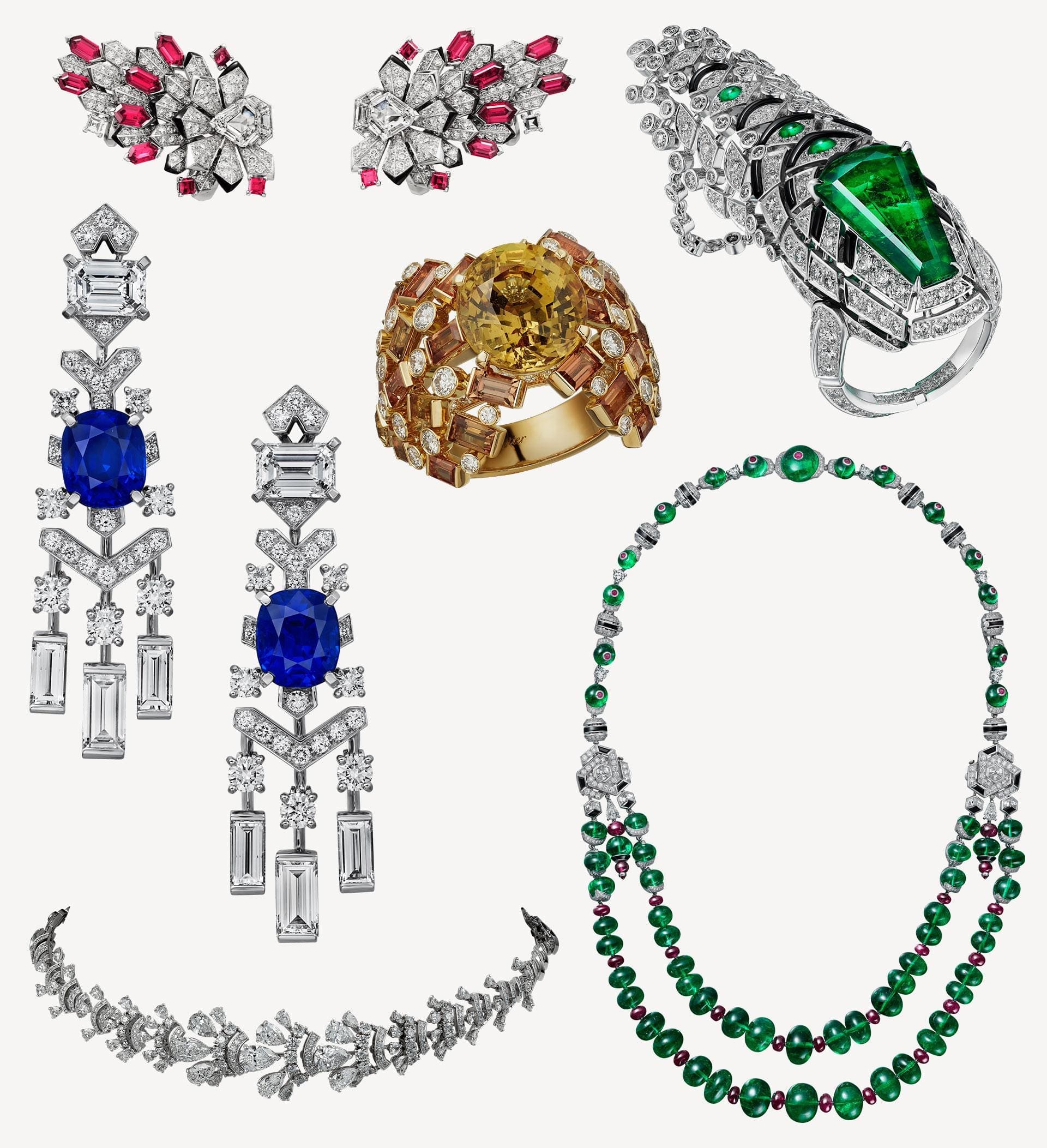 While not technically a new high jewellery collection, Cartier has unveiled a range of elegant new additions to the [Sur]naturel line it debuted in July 2020. Inspired, as the name suggests, by the wonders of the natural world, the new pieces build on the earthy and aquatic tones of their predecessors, with emeralds, rubies and diamonds fashioned in organic formations and floral bursts, and crafted to allow for natural, fluid movement.
Among the standout pieces is an eye-catching necklace crafted with a double string of cabochons recalling glass softened by the ocean (an Art Deco diamond rose on each side gives the game away when it comes to the true nature of these precious stones). Those with an eye for the literal, meanwhile, will be enthralled by an extended ring adorned with onyx and emeralds in the form of an insect.