7 Jewellery Trends For 2018: From Waterfall Earrings To Avant-Garde Pearls
Modern pearls, swinging pendants and punk-infused precious jewels. Here are the trends to take up in 2018
Shoulder-Skimming Earrings
When speaking to designers and industry insiders, one opinion was unanimous: 2018 is going to be an ear party. Take lobe dressing up a notch with shoulder-skimming, dramatic drop designs by Chanel, David Morris and Diane Kordas. While this trend undoubtedly completes a cocktail dress, we like it best when elevating low-key, daytime looks.
Three Row Illusion Earrings, POA, davidmorris.com; Signature de Saphir, POA, chanel.com; Star Chain Earrings, £3,215, dianekordasjewellery.com
Going Green
It is all about going green for 2018, symbolically and literally, as the secondary colour undergoes a luxurious transformation. 'Avocado green' has been cited as the next 'millennial pink', while electric lime shades populate the spring collections. Embrace verdant fine jewellery including bright olive peridots from Delfina Delettrez, rich emeralds at James Ganh and Pomellato's juicy tourmalines.
Pastorale Anglaise ring, POA, chaumet.com; Les Bles Earrings, chanel.com; Emerald earrings, £30,650, Amrapali, net-a-porter.com; Seal bracelet, £2,090 and earrings, £3,045, Delfina Delletrez, doverstreetmarket.com
Extra-Long Necklaces
As the roaring twenties continues a style revival, embrace elegant, navel-grazing pendants in 2018. Reach for spectacular swingers from Cartier and Chopard, while Van Cleef & Arpels, the original purveyor of pendants, continues to spearhead the trend with gleaming clusters strung on lustrous chains. For a demi-fine option, try Missoma's multifarious medallions. "The glamorous long drop pendant is popular again," comments Burlington Arcade jeweller Susannah Lovis. "We love the versatility of a piece that can be worn over a jumper during the day but can dangle seductively between the seams of a low cut dress in the evening."
Bouton d'Or Pendant, £30,300 and Magic Alhambra Pendant, £5,350, vancleefarpels.com; Amulette de Cartier necklace, £58,000, cartier.com
Pick 'n' Mix Earrings
Join the singles club by dressing your ears with an abundance of characterful designs. This offbeat trend is nothing new, but with a slew of designers specialising in mismatched earrings, the humble lobe is transforming into a diamond-studded work of art. Loquet London's Talisman collection, launching in February, is made up of 14-carat diminutive gold hoop earrings with detachable charms, bespoke to the wearer and designed to be worn mismatched.
Moon charm, £260, loquetlondon.com; Diorama Précieuse earrings, £12,600, dior.com; croissant amelia, £2,320, Sophie Bille Brahe, doverstreetmarket.com; Button Back Hoops, £2,600, jessicamccormack.com
Modern Pearls
Forget dowdy pearl twin sets and button earrings – the world's oldest treasure continues its contemporary transformation. We like sophisticated, cool iterations by Yoko London and Mizuki, both of which seamlessly fashion the freshwater fancy with diamonds and gold. Another pearly queen is Polish designer Magda Butrym, who crafts pearl drop earrings, bracelets and chokers, finished with a chic silk ribbon tie.
Finally, Maison Michel's wonderfully theatrical faux pearl-embellished felt hat will undoubtedly cheer you up until spring.
Bracelet, £2,500, yokolondon.com; pearl choker, £509, magdabutrym.com; Ring, £1,250, MIZUKI, doverstreetmarket.com; earrings, £827, magdabutrym.com; Star Pearl Earrings, £3,100, venyxworld.com; Micro Saturn Hoops, £3,045, Alinaabegg.com ; Pierre, black fedora with pearl beads, £1,060, michel-paris.com and net-a-porter.com
Punk Accents
Rock'n'roll diamonds might sound like a juxtaposition, but nothing exudes insouciant elegance like styling denim with contemporary precious stones. Case in point, Pia Hallstrom's twinkling spiked Pyramid bracelets, worn individually or stacked up the arm. Messika's modern collections are equal parts rock and romanticism, restyling safety pins and biker chains in glittering diamonds and 18-carat gold. Look out for a second collaboration between the French jeweller and Gigi Hadid in 2018.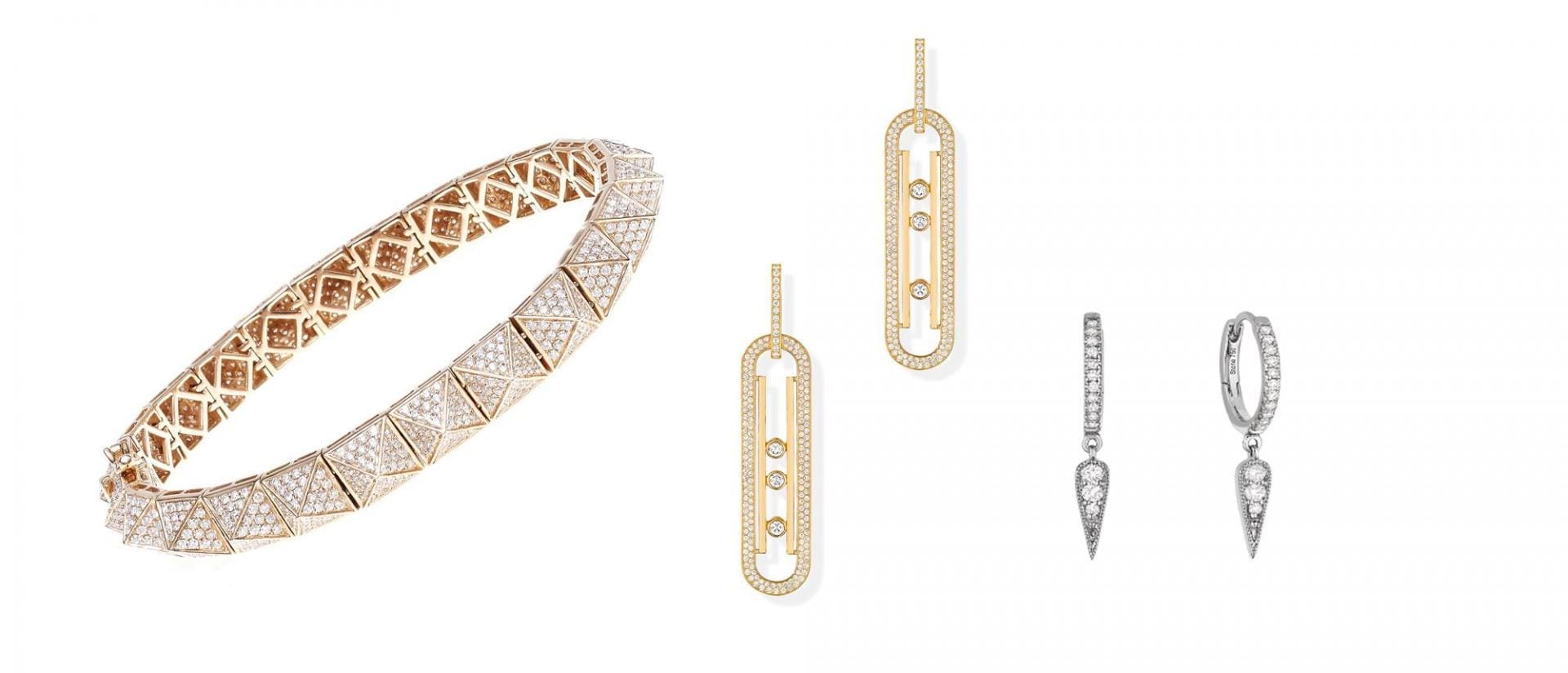 Pyramid bracelet, £4,900, piahallstrom.com; Earrings, stoneparis.com; Move 10th Anniversary Earrings, £19,600, messika.com
Statement Cuffs
Whether sleek and minimal by Carolina Bucci or dramatic and diamond-adored by William & Son, the statement cuff adds a bold, glamourous edge to any look. "Cuffs will be hot for 2018, offering our clients an extremely wearable way to be creative, from day to night," comments Helen David, chief merchant at Harrods. "The desire for exclusive and one-of-a-kind, bespoke creations also continues to be high." Just keep the rest of your ensemble simple – one cuff is splendid enough.
Yellow gold Macri cuff with diamonds by Buccellati, POA, buccellati.com; diamond bracelet by William & Son, £36,850.00, williamandson.com