Cool Britannia: how Thom Sweeney became the celebrity tailor of choice
Within the stylish confines of the brand's Bruton Place emporium, Luxury London discovers how Thom Sweeney made dressing up cool again with one half of the company's sharp-suited founders
Where were you at 9pm on 27 July 2012? Don't remember? Yes, you do. We were both sitting in front of the television – different televisions in different living rooms, probably – waiting to see how Danny Boyle was going to capture our collective national identity, package it up and project it to the rest of the world in a three-hour broadcast from the Stratford stadium.
The answer? Stick a besuited David Beckham in a speedboat with the Olympic torch and have him power up the Thames, James Bond-style. As the camera panned in, the ex-England football captain locked his jaw and aimed for steely 007. But in one of the most endearing moments of the evening, even the king of cool, completely overwhelmed by the enormity of the occasion, couldn't suppress a thousand-mile smile as he passed under the open arms of Tower Bridge. Made ya proud, didn't it? Not as proud as Thom Whiddett.
On the Friday of the week before, Whiddett (far right) had received a call from the ceremony's organisers, explaining that they were looking for a home-grown tailor to dress ol' Golden Balls. Having accepted the challenge, Whiddett consulted his close friend and business partner, Luke Sweeney, and between them they decided on an open-weave, peak-lapel navy suit paired with a white shirt and navy tie. Simple, but suave.
Given that the ceremony's stylists had the whole of Savile Row to choose from, that they turned to Thom Sweeney, Whiddett and Sweeney's eponymous label, when looking for a sartorial expression of contemporary Britain, said a lot about the standing of the then-nascent suit-maker. Founded in 2007, it had taken just five short years for Thom Sweeney to ascend to the top of English tailoring. Then again, even by that point, the company was enjoying something of a reputation among our country's most stylish sons.
David Gandy has acted as a Thom Sweeney ambassador. Dermot O'Leary got married in a Thom Sweenwy suit. Michael Fassbender is a fan, so too are Harry and Jamie Redknapp (the younger Redknapp approached Whiddett during a dinner at Zuma to ask where he got his suit from – he has since commissioned more than 60 pieces). Last year, Daniel Craig, the real 007, for the moment at least, attended the launch of 'Bond 25' in a Thom Sweeney two-piece. Across the pond, both Bradley Cooper and Ryan Gosling have proved themselves admirers.
"It's all been very natural," says Whiddett, speaking from a brown-leather sofa in his Bruton Place style emporium, a members'-club-meets-man-cave situated off one corner of Berkeley Square, when I ask how he's achieved such a strong following among the rich and well-dressed. "We haven't gone out aggressively and said we want to dress celebrities, it's just that we might know a certain stylist, or that a celebrity or sports-person has found us by themselves. Harry and Jamie are very good customers; Jamie, especially, always looks great in our stuff, so many people pick up on what he's wearing."
Whiddett (from Kent) and Sweeney (from Essex) met when they were 19 and 22 respectively. The pair were working at east London tailor Timothy Everest. Whiddett was an apprentice cutter; Sweeney – whose father had been a trimmings merchant and mother a seamstress – on the made-to-measure side of the business. "We got on really well," explains Whiddett, now 39, in cockney-esque Estuary English. "We both wanted to do our own thing. We had similar ideas and it kind of made sense what we brought to the table, me on the bespoke side, Luke on made-to-measure, so we thought 'Let's do something together.'"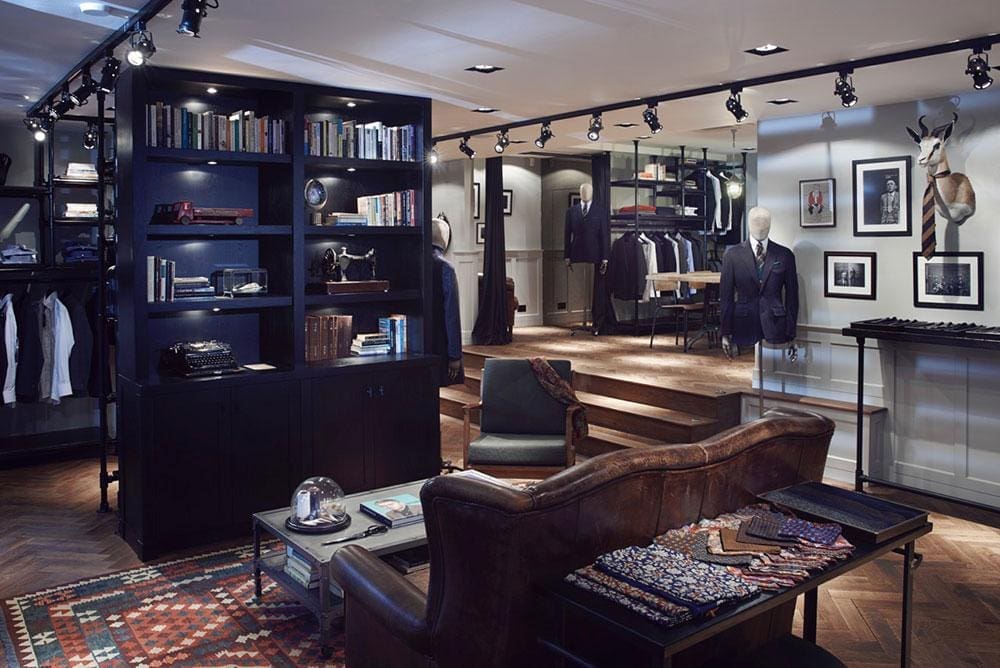 The pair quit Timothy Everest in 2006 and took a couple of months off "to research and study some Italian tailors to mix with our Savile Row training", before setting up their brand in a six-by-six room in Stratford Place, directly opposite the main entrance to Bond Street station. "We had one tailor there, myself and Luke, and a guy called Rich who came with us at the start. It was kind of risk-free in a business sense, because you took an order, you got a deposit and then the balance got paid at the end. We didn't need to be a brand. We just needed a good product and hoped our business would grow through word of mouth."
Thom Sweeney's first clients were a "combination of friends we'd grown up with who had done pretty well for themselves, a couple of guys we'd taken care of at Tim's, and then you sort of meet people when you're out and about." People like Jamie Redknapp, if you go to the right restaurants.
The first Thom Sweeney atelier, a three-storey space on Weighhouse Street, opposite the south entrance of Bond Street station, opened in 2009. The tailors launched their first ready-to-wear collection via menswear website Mr Porter in 2013. The Bruton Place store opened a year later. That Timothy Everest has a shop next door is purely happenstance.
"Addresses have never been that important to us," says Whiddett, "although we needed to be in Mayfair, because that's where is convenient for our customers. Mayfair is an international hub of the right sort of guys, but the actual street name didn't really matter to us. Sometimes an address means that you can get pigeon-holed, especially if you're on Savile Row or Bond Street. Our thing is to be a bit off-destination. It's about being understated."
If one word summarises the Thom Sweeney aesthetic, 'understated' is it – which, of course, is to say something completely different from 'simple'. Colours are kept neutral, mostly. Fabrics are sourced from time-honoured mills in Scotland and Italy. The company's house cut is a softer, modern interpretation of a classic British shape, with marginally wider lapels, slightly less padding and narrower sleeves – less military, less stuffy.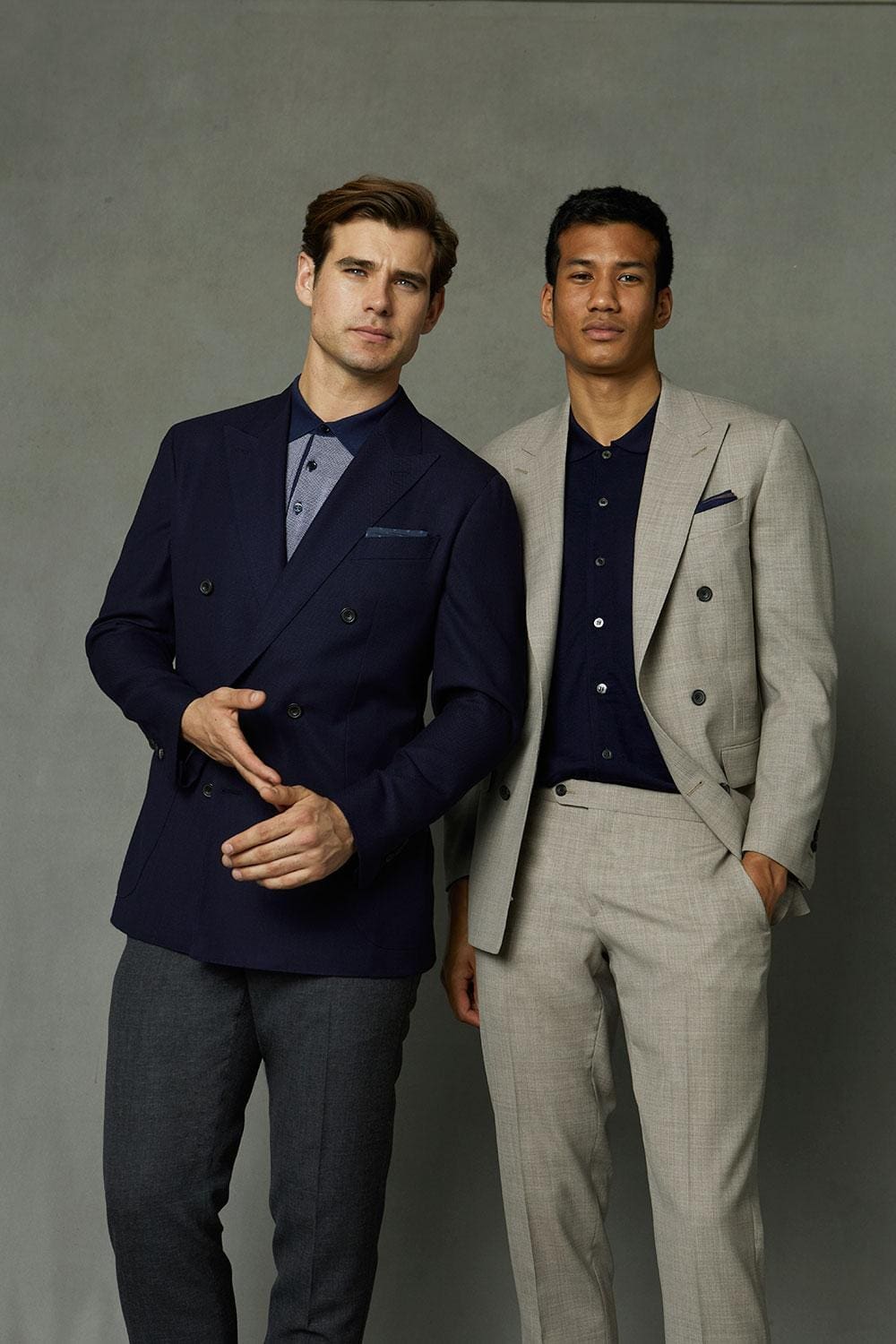 "We didn't just want to do a classic Savile Row-cut suit," explains Whiddett. "Tim [Everest]did that, but that wasn't really what we were into wearing. It felt a bit too stiff, the shoulder pads were a bit too built up, we didn't feel that sort of cut appealed to younger, international clients – it felt too rigid, too British. We liked a lot of Italian stuff so we mixed our favourite elements – a slightly softer shoulder, a higher arm hole – and kept the British shape, but added the fluidity of an Italian suit, softer through the body. It's not a suit of armour."
In 2017, Thom Sweeney took its inimitable brand of contemporary Britishness to New York City, establishing an uber-trendy store in SoHo that placed the company's ready-to-wear range alongside its bespoke and made-to-measure services. "New York was always going to be our first step abroad," explains Whiddett, who moved to the city with his wife and two children for six months prior to opening. "It was all about getting the timing right, making sure we had a wide enough product range, that we had enough clients out there. We built up our presence through trunk shows for six years, built up our name, built up a following, so we knew that when we opened the doors we had enough people to do a decent turnover in the first year."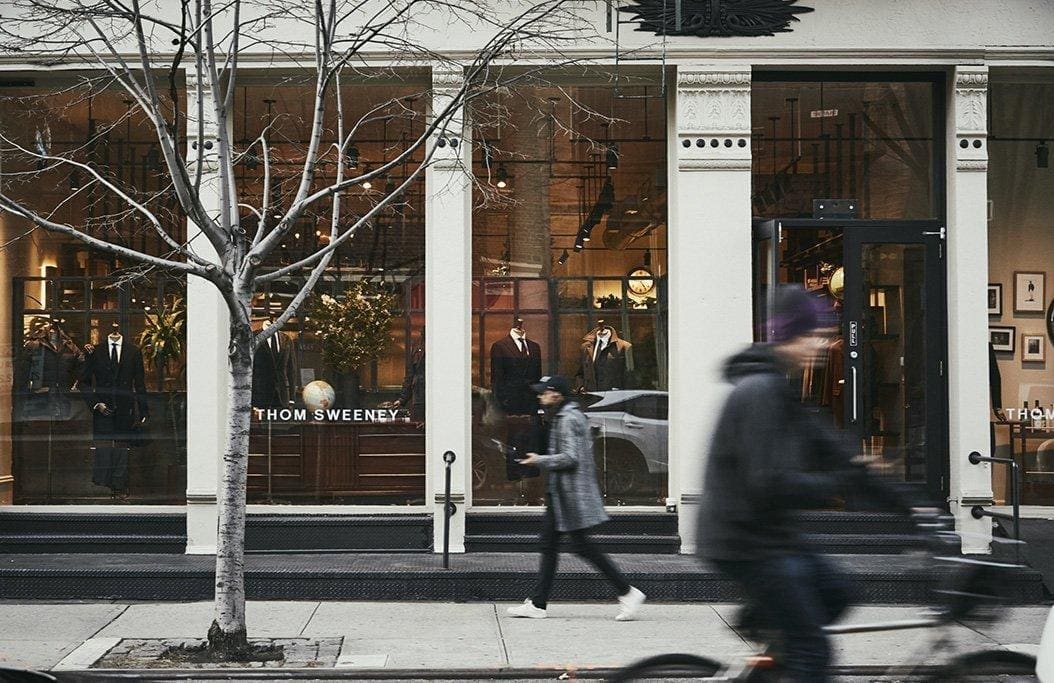 So successful has the store been, that it's forced Whiddett and Sweeney to reconsider their set-up in London. "It's gone so well over there because we can offer everything under one roof – we can elevate the whole experience. Having the ready-to-wear alongside the bespoke business works really well. We are currently in the process of moving our operations to one space in London, which will combine Bruton Place and Weighhouse Street into one store."
This summer, Thom Sweeney launched a collection of made-to-measure, fully customisable denim jeans. Clients can choose anything from a modern-tapered fit to a classic bootcut jean, low-rise or high rise, with contrast- or plain-stitched seams. You can even have your initials embroidered on the ticket pocket.
Says Whiddett: "It's always about the stuff that Luke and I struggle to get ourselves, whether it be the right knitwear or the right pair of jeans, which has always been something that we and our clients have struggled with. We found a manufacturer in Italy and picked out the right denims. We're not complicating it. You choose from a certain amount of washes, which we think are the best ones, you choose a stitch colour, although, to be honest, there's only one or two that work really well, and then it's about getting the right fit. That's what a lot of guys struggle with when it comes to jeans – getting the right fit."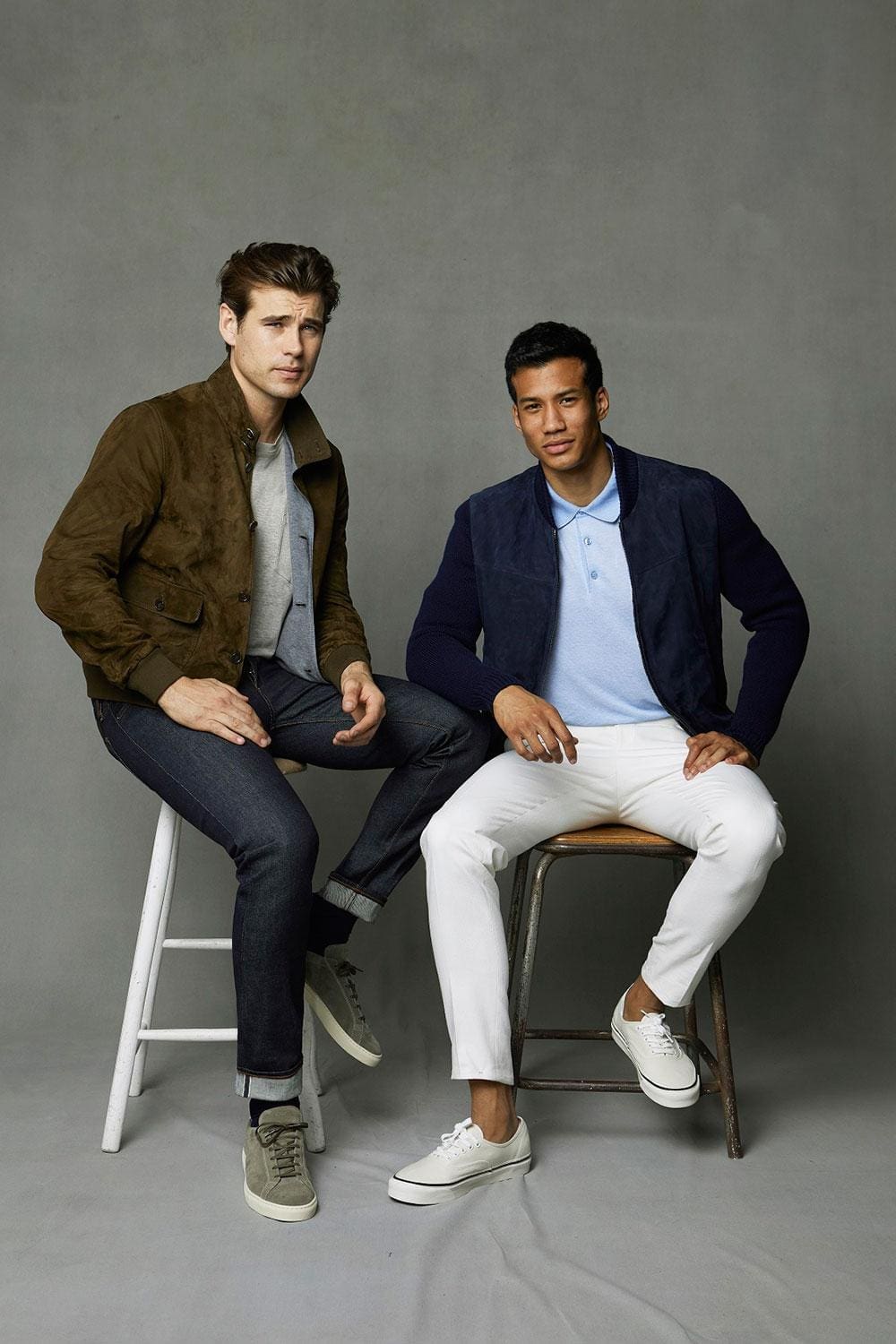 My personal introduction to Thom Sweeney came by way of the Selfridges Christmas sale a few years back. It was a twill-weave wool, alpaca and silk-blend overcoat constructed from a vintage fabric found in the archives of renowned Neapolitan clothier Caccioppoli. Not that I knew any of that at the time. I just tried it on and knew I had to have it. Double-breasted, unbelted, with the brand's signature soft shoulders and exaggerated lapels, it was as if the coat had been made just for me. I bought it and when the missus asked, I lied about the price. It was worth it. That coat gives me superpowers. Whiddett and Sweeney don't make suits of armour, they make 21st-century chainmail – just ask Becks, Redknapp and Cooper et al.