The best short-sleeve shirts for spring
Because, after a winter in hibernation, everyone wants to be the centre of attention
All products are chosen independently by our editors. Luxury London may earn commission on items purchased.
Here's a prediction. After the washout that was summer 2021, summer 2022 is going to be all about statement prints, bold patterns and attention-grabbing colourways. Why? Because if there's one thing Londoners know how to do, it's make the most of the 10 days each year the sun deigns to show its face. With the pub garden beckoning, weaponise your wardrobe with one of these short-sleeve shirts, all of which make a statement ('LOOK AT ME!', mostly). It's time to go big or go home – and literally no one's going to want to do that.
AMI Paris Polka-Dot Shirt
It was an itsy-bitsy teenie-weenie green polka-dot statement shirt from AMI Paris. For summer 2022, the French brand's signature slouchy sportswear translates into this cotton-poplin, spotlight-stealing short-sleeve number. Voulez-vous coucher avec moi ce soir?
£186, farfetch.com
Folk Camp-Collar Linen Shirt
If you spent the winter lockdown bingeing past episodes of Queer Eye and admiring Bobby Berk's way with a matching shirt-and-short-set (and, if you didn't, there are some great style tips to be found there), the good news is the trend isn't going anywhere for summer 2022. Folk's abstract patterned camp-collar shirt comes with matching linen shorts for the full summer-in-the-city look. Or, you know, you could just wear it with jeans. Your call.
£145, mrporter.com
Marni Print Shirt
Marni, Marni, give me your answer do, I'm half crazy, all for the love of your brand-new, rust-hued, wavy-floral-print bowling shirt. A characteristically whimsical rig from the witty Italian label.
£430, farfetch.com
Etro Paisley-print Shirt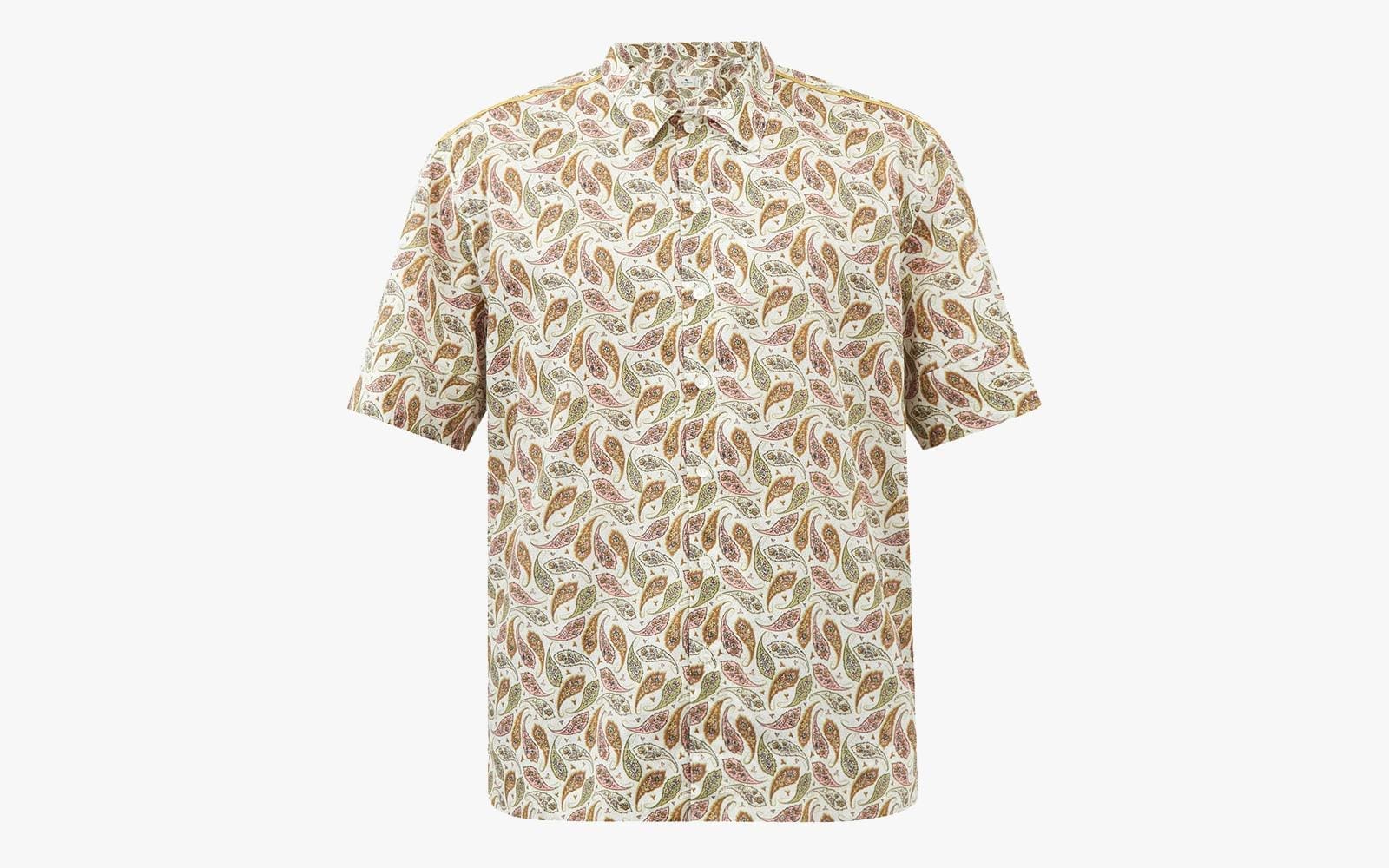 Oversized short sleeves and subtly dropped shoulders lend a relaxed fit to this full-on paisley print shirt from Etro. Made in Italy from breathable cotton-poplin, the shirt's intricate pattern will be the talk of the barbecue – and is surprisingly wearable thanks to its neutral palette. Now, careful with that tommy sauce.
£435, matchesfashion.com
Celine Homme Camp-Collar Voile Shirt
Tapping into everything from TikTok to skateboarding to '50s bowling culture, designer Hedi Slimane's latest collection for Celine Homme is called 'The Dancing Kid'. Amid leopard-print hoodies, loopback sweatpants, and acid-wash jeans, this monochrome camp-collar shirt is somehow both Teddy-boy retro and the right side of e-boy now.
£610, mrporter.com
Kenzo Patchwork Shirt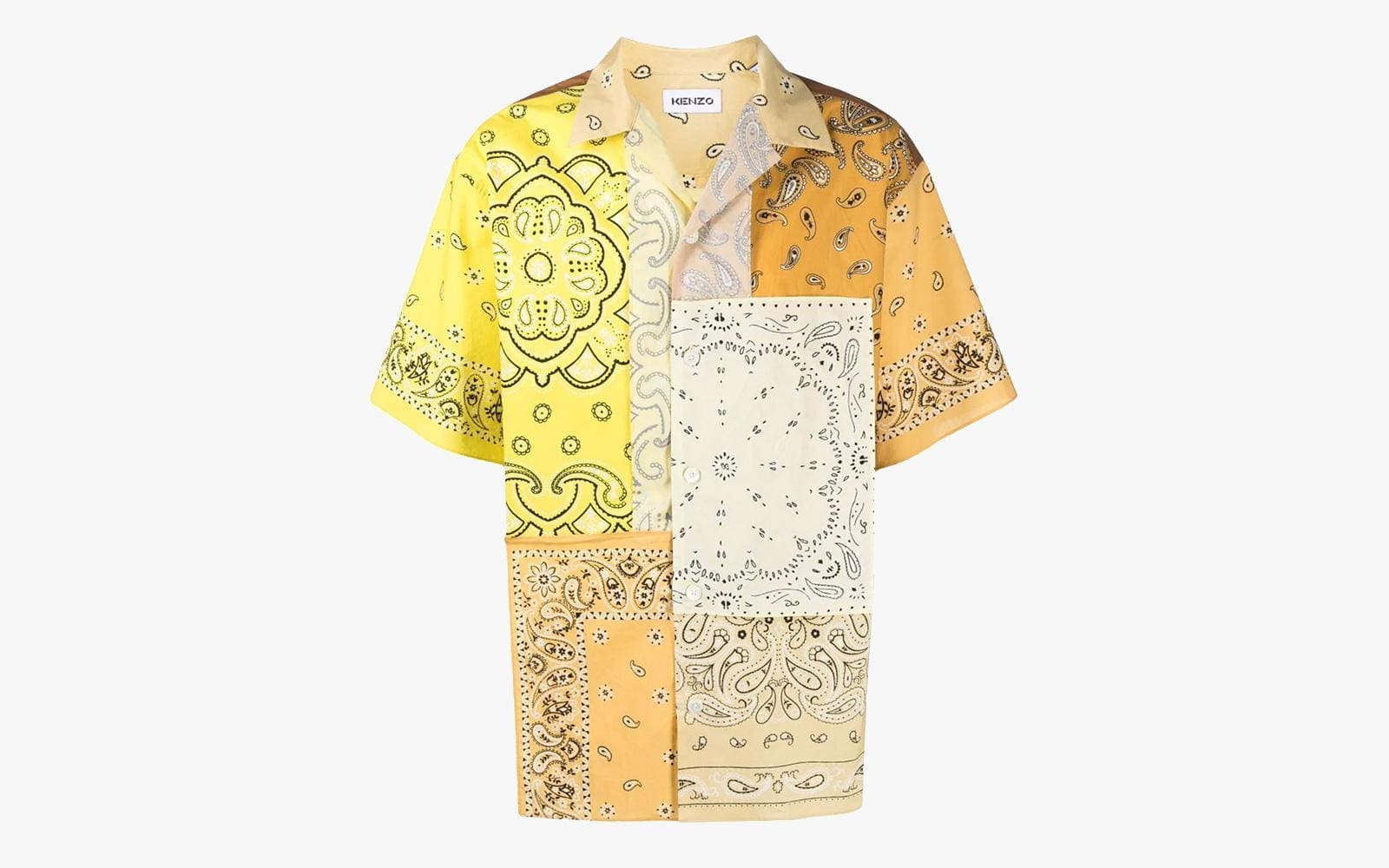 Black and yellow, black and yellow, black and yellow, yeah uh huh, you know what it is… it's this bandana-print shirt from Kenzo, that's what it is. Tap into your inner bad boy with this piece of wearable art from the playful Parisian power label.
£385, farfetch.com
Mr P. Spray-Dyed Shirt
Elevated staples in what Mr P – the in-house label from Mr Porter is all about – and, when worn open with a white tee and your favourite jeans, this spray-dyed shirt is more statement basic than OTT piece. Made in Portugal using organic cotton, expect to be fending off envious looks and shopping inquiries all day long.
£175, mrporter.com
Casablanca Soleil Levant Silk Shirt
Charaf Tajer, the designer behind contemporary French brand Casablanca, enjoys cult status off the back of his boldly coloured, fantastically printed streetwear collections. This Soleil Levant silk shirt, with its candy-hued colour palette, clouds, waves and mountains screams South of France sleaze in all the right ways.
£645, farfetch.com
Pierre-Louis Mascia Aloe Patchwork Print Shirt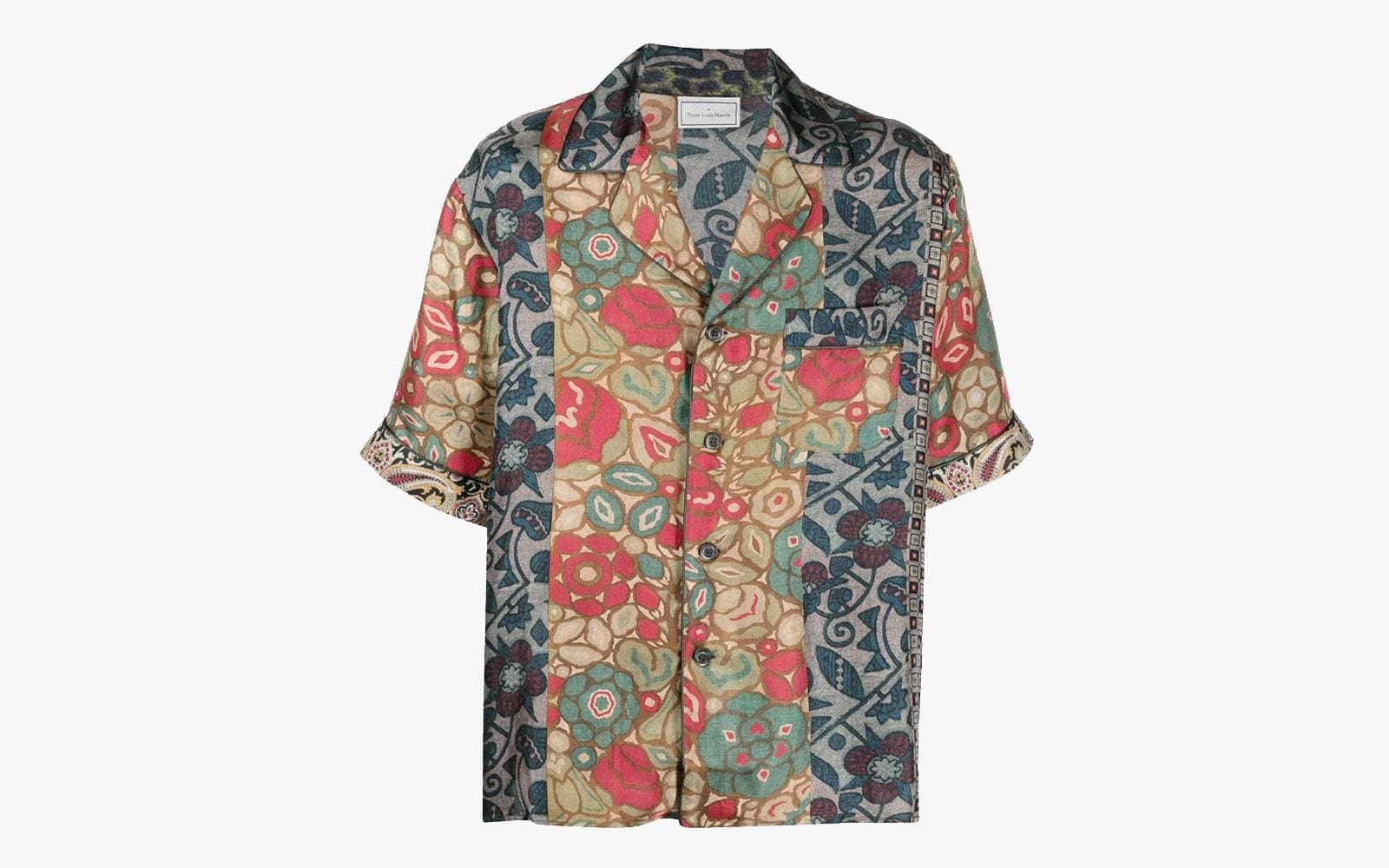 As you may be able to tell, fashion designer 'Pierre-Louis Mascia' hails from France. As you may also be able to tell, he's big into his patterns. Mascia uses collage to create intricate designs that he prints onto clothes and scarves made in Italy – such as this 100 per cent silk, unisex patchwork shirt with notch lapels and contrast panels. For evidence of the level of craftsmanship that goes into Mascia's work, just check the juxtaposing sleeve trims.
£270, farfetch.com