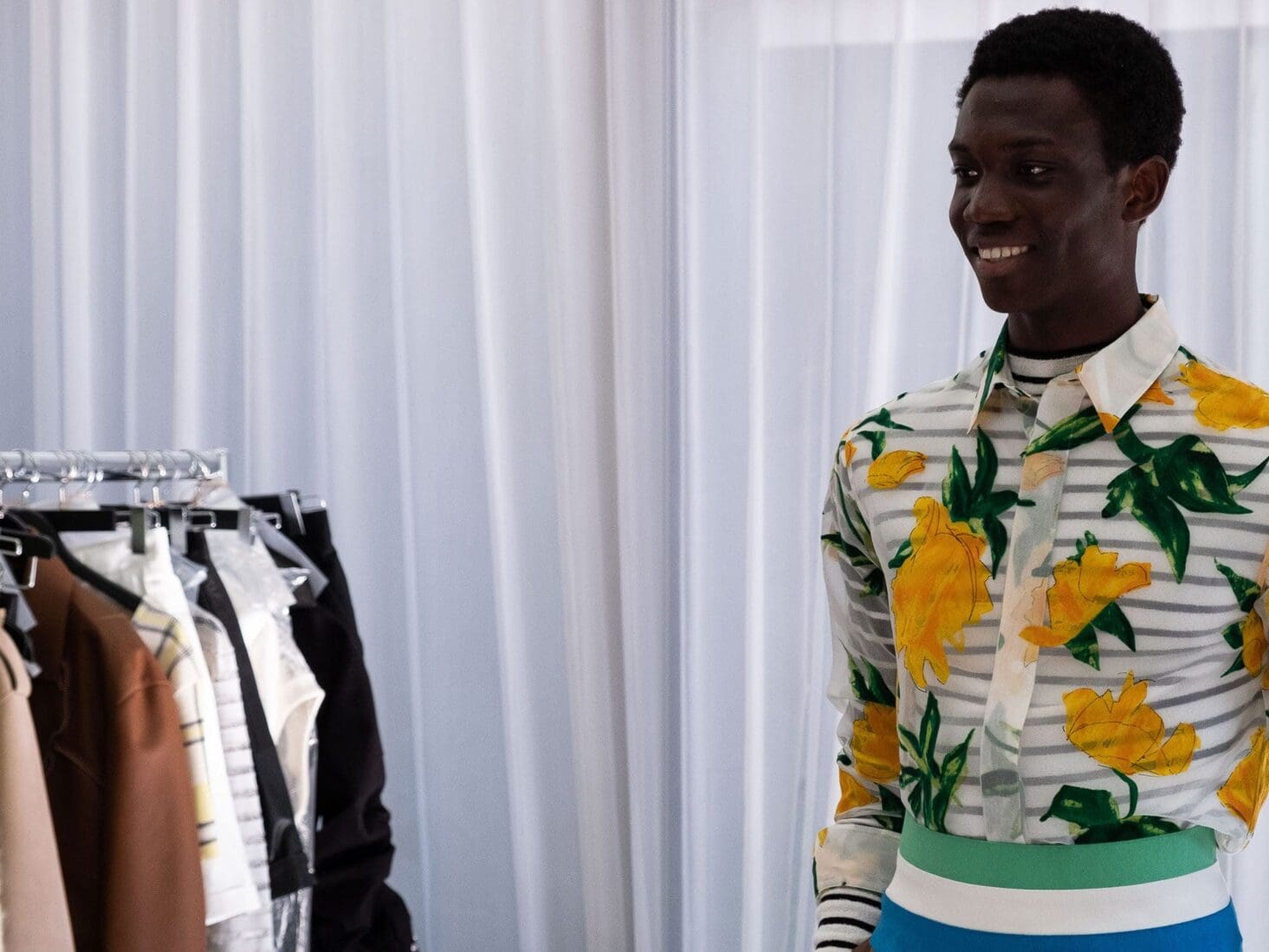 When Kim Jones met Amoako Boafo: The making of the Dior SS21 collection
For his art-inspired SS21 collection, Dior Men's artistic director Kim Jones enlists the help of Ghanian-born figurative painter Amoako Boafo
If you follow the world of men's fashion, the name Kim Jones will be familiar to you. The British designer has held senior positions at both Dunhill and Louis Vuitton, and has been the artistic director of menswear at Dior since March 2018. He is known for his love of blending streetwear with high fashion (his latest Air Dior high-top sneakers, a partnership with Nike, are a case in point), and his focus on immaculate tailoring.
In September 2020, Jones was asked by Dior's parent company, LVMH, to simultaneously cast an eye over another of its brands, Fendi, acting as the artistic director of womenswear – a role previously held by the late Karl Lagerfeld. His first Fendi collection was revealed to critical acclaim in February 2021. Since joining Dior, Jones' impact has been spectacular – his decision to switch the name of the line from Dior Homme to Dior Men demonstrating that this wasn't going to be business as usual.
The shapes, techniques and materials for which the house is known are still evident, but Jones has made them relevant, adding his own signature touch. Often, the designer's love of art, and his willingness to collaborate with others, has dictated his collections. For Dior Fall/Winter 2020, for example, Jones found inspiration in the work of the late London designer, and punk iconoclast, Judy Blame. There are many similarities that could be drawn between Jones and Blame, not least their work with premium brands and celebrities: Blame art-directed Boy George, Massive Attack and Neneh Cherry; Jones has styled David Beckham and worked closely with Kanye West. For Summer 21, Jones has another muse: up-and-coming Ghanaian painter Amoako Boafo, who serves as both influence and chief collaborator.
For Jones, the collection feels personal, evoking memories of a childhood spent in Africa, where his father worked as a hydrogeologist. He recalls the people he met, from Afar tribesmen to Maasai warriors, and the vibrant clothes they wore. "Growing up in Africa, living with little lizards, snakes and elephants or being chased by baboons – it never really goes away," Jones recently told The New York Times.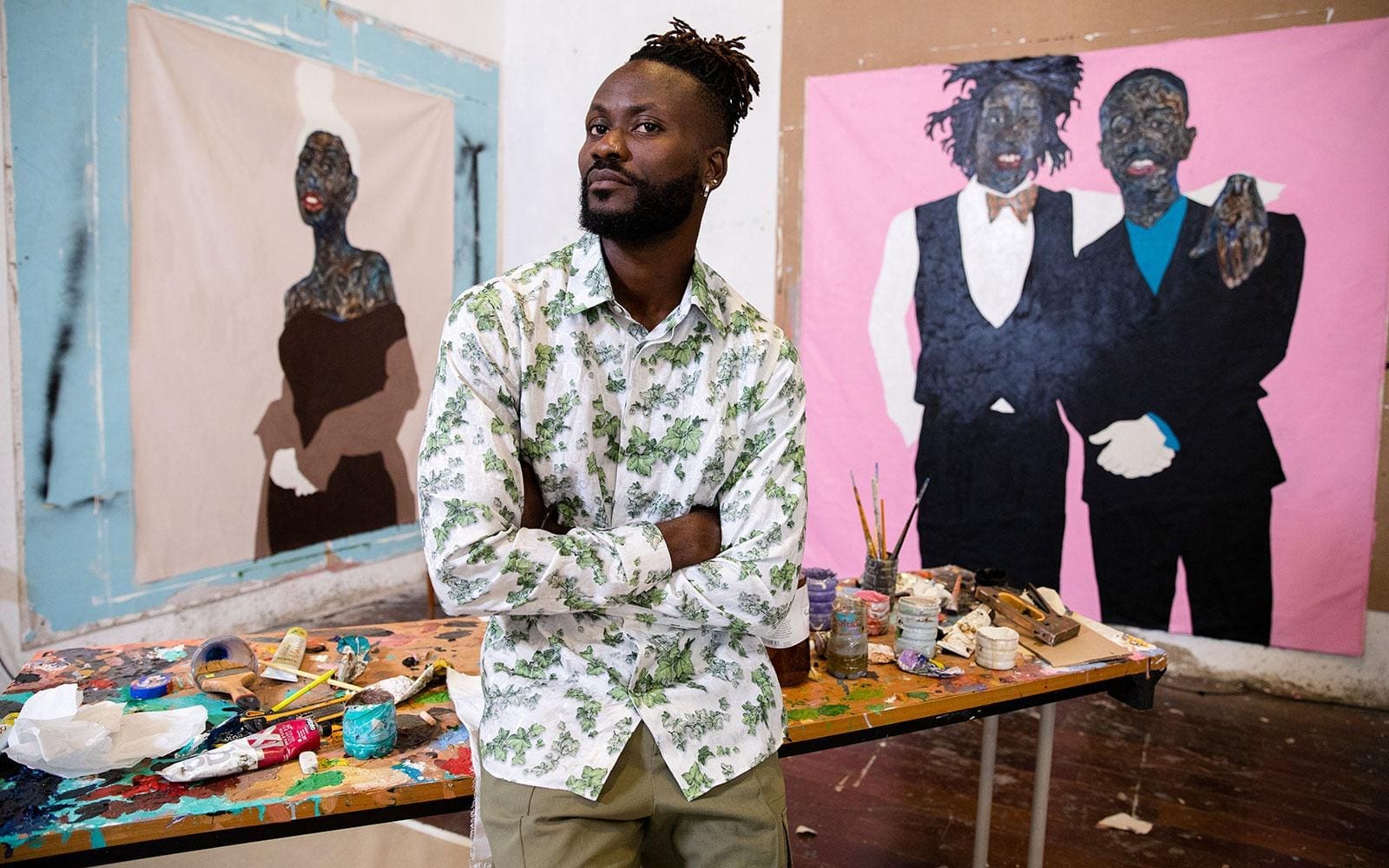 Jones met Boafo in 2019, when the artist had a residency at the Rubell Museum in Miami. Jones was in town with a show to unveil the Dior Men's Fall collection, and the two were introduced by museum owner Mera Rubell. For Jones, who had long been fascinated by African culture and art, it was the ideal partnership. "It's really a celebration of Amoako Boafo's work," says Jones of the collection, which is accompanied by beautiful campaign imagery shot by Rafael Pavarotti. With the bold freshness of Boafo's emblematic paintings, transposed onto Jones' silhouettes – punctuated by flowers that reprise motifs from the Ghanaian artist's wallpapers – a captivating dialogue between art, fashion and photography is created.
For Boafo, the collaboration was just the latest project in a meteoric rise to fame. Only a few years ago, he was selling artworks in Accra, Ghana, for £70 apiece, trying to support his mother and grandmother. Now, he headlines art festivals, with one of his works achieving almost £700,000 at auction. A 2008 graduate of Accra's Ghanatta College of Art and Design, where he was named Best Portrait Painter of the Year, Boafo moved to Vienna with Austrian artist Sunanda Mesquita, whom he later married. It was here that Boafo became influenced by the twisted figures of Vienna Secession, a movement closely related to Art Nouveau. He subsequently traded his brushes for paint-dipped fingers.
Then, in 2018, Boafo suddenly found himself on the world stage. New York-based artist Kehinde Wiley, known for his highly naturalistic paintings of African Americans – he'd just created a portrait of Barack Obama for the Smithsonian's National Portrait Gallery – discovered Boafo by chance on Instagram. Tipping off several prominent art galleries, Wiley helped Boafo secure a number of exhibition offers across the US. Boafo became the art world's hot new thing. He met Jones in Miami the following year.
| | |
| --- | --- |
| | |
Owing to the pandemic, there could be no catwalk show last summer, so to exhibit the fruits of the collaboration a more creative solution was sought. The result was a short film, Portrait of an Artist, presented in two halves and available to watch on Dior's website. British surrealist video artist (and famous Aphex Twin collaborator) Chris Cunningham and visual artist Jackie Nickerson each directed a segment. Cunningham's half presented a documentary-style studio visit, and images of London, where Jones draws up all of the Dior collections (from an office on Harley Street), and Boafo's studio in Ghana; Nickerson's offered a soft-focus fashion clip that highlighted the nuances of the creative collaboration.
"I really love his work, and I've wanted to work with an African artist for a long time, because I grew up in Africa, and African art is always something that has been important to me," says Jones, in Cunningham's video. The clothes themselves are extraordinary. In some cases, Boafo's portraits have been transported onto the pieces themselves, with powerful hues of yellow, blue, coral and green, and Jones even echoing the textures of canvas and paint. There are also instances where Jones has captured a motif, such as an ivy print worn by a figure in a specific Boafo piece, and reproduced it in exquisite embroidered detail. Jones has similarly replicated details onto suit linings, leather jackets and turtlenecks.
Florals, marinière stripes and Dior Oblique embroidery have also made their way into the collection. And there are material innovations, such as leather Bermuda shorts, a black crocodile-leather-and-wool safari jacket, and a white silk marching band coat. There are high-waisted shorts, vibrant jumpsuits, berets and thick, striped elastic belts.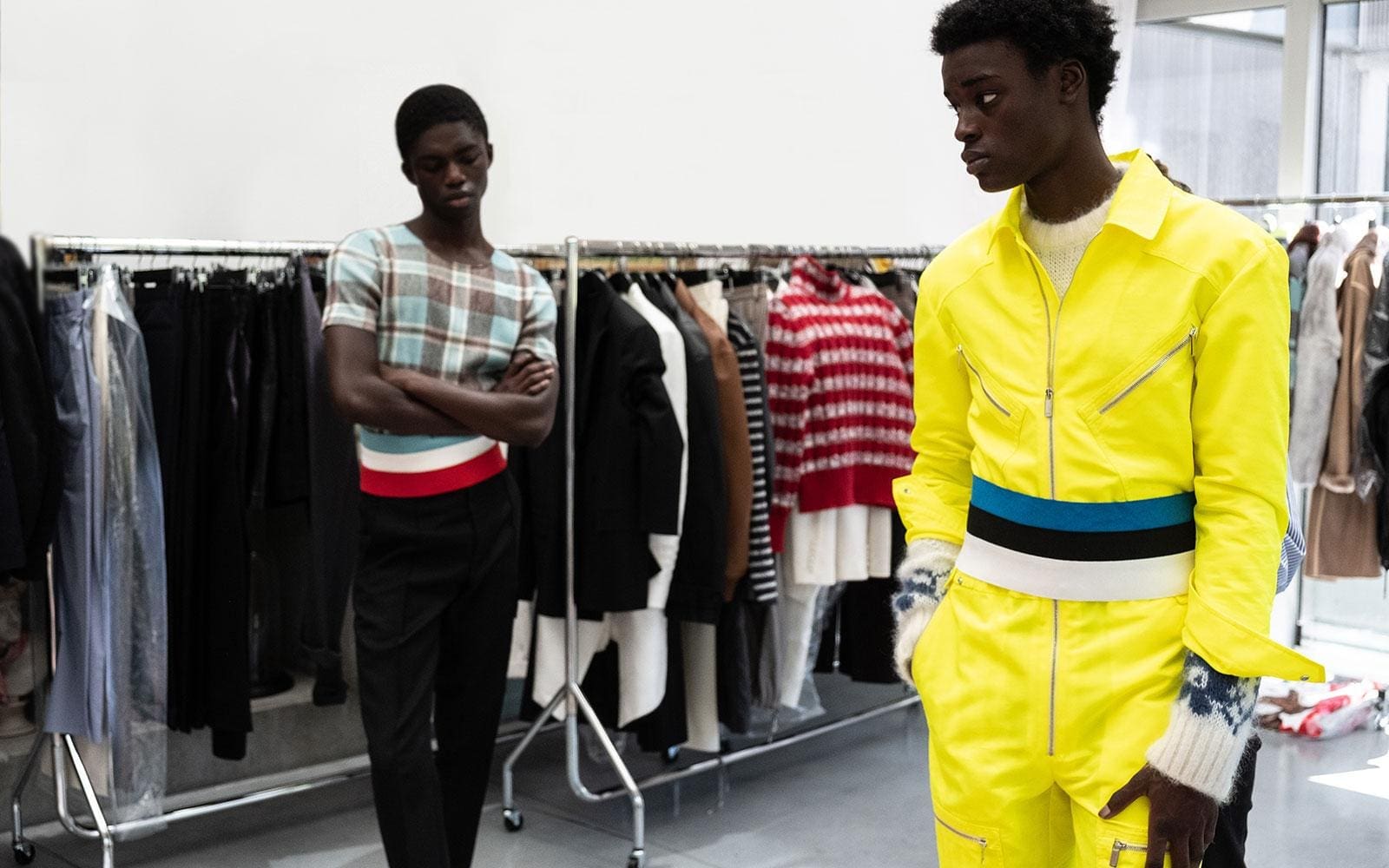 It would be amiss to discuss the collection without mentioning the new Dior Atlas sandals and the Maxi Saddle bag. The sandals, which Jones recommends wearing with Dior Oblique socks, are available in three versions – featuring Dior Oblique canvas with black or beige suede, or black neoprene with khaki suede, and a sole of woven rope with mesh sides. The Maxi Saddle bag, meanwhile, is a Dior icon newly reinterpreted by Jones, and worn as a cross-body, over the shoulder, or as a messenger bag. Available in black or khaki grained leather, or in your choice of Dior Oblique canvas, it includes a removable case for your smartphone.
Given Boafo's current standing, and the interest surrounding his work, you wonder whether pieces from his partnership with Dior might have the potential to be as collectable as his paintings. It would certainly be a more affordable, less conventional way, of obtaining his work.
| | |
| --- | --- |
| Image: Oscar Chang Anderson | Image: Oscar Chang Anderson |
Jones, meanwhile, has alread unveiled his next partnerships, this time with more established painters – from the US, Kenny Scharf for Fall 21, and Scottish artist Peter Doig, for the follow-up Winter 21 collection. Scharf has designed a series of prints and embroideries, showcasing a vibrant neon palette, inspired by pop-culture and sci-fi influences. Doig – who saw his 1990 canvas, Swamped, sell at a Sotheby's auction in 2017 for £20 million – saw his work transposed directly onto Jones' silhouettes, coupled with animal-print motifs and enthused with a militaristic feel.
Elaborating on the Scharf collection, Jones explains via the LVMH website: "When we started the collection, we were coming out of the first lockdown [in the UK], and I wanted to spread some joy, happiness and hope." If the aim of art is to represent not the outward appearance of things, but their inward significance, then, with the help of Boafo, Scharf and Doig, Jones' collections are achieving just that, in vibrant, technicolour detail.
Read more: Dobrik & Lawton – the tailors shaking up Savile Row