Anthony Joshua on Rolling With the Punches
"There's failing, and then there's failing in front of 30,000 people – and that's the last thing I want to do"
Anthony Joshua must be feeling the pressure. He's the heavyweight champion of the world, and the rightful owner of four out of five coveted belts – those belonging to the WBO (World Boxing Organisation), WBA (World Boxing Association), IBF (International Boxing Federation) and IBO (International Boxing Association). Only the WBC (World Boxing Council) title remains, which should mean he's only one knockout away from becoming the undisputed heavyweight champion of the world, a feat not achieved since Lennox Lewis in 1999.
But he has another fight before that. Deontay Wilder (the current WBC title holder) and Tyson Fury, his two competitors of choice, are too busy fighting each other. Their last punch-up ended in a controversial draw, and they've since agreed to a rematch. Joshua is poised to take on the winner, but before that he'll be stepping into the ring with America's Jarrell "Big Baby" Miller on 1 June. Both boxers are undefeated. If Joshua loses, his hope of uniting all five of the world titles will be over. No pressure there, then.
"Just before I get into the ring, the thing that's going through my mind is that I definitely don't want to lose," Joshua laughs. "There's failing, and then there's failing in front of 10,000, 20,000, 30,000 plus people – and that's the last thing I want to do."
Born in Watford in 1989, Joshua grew up a wiry teenager on a fast track to trouble. His youth was peppered with brushes with the law; grievances with school opponents led to a charge for actual bodily harm (he received a warning) and street fights were frequent. On one occasion, he ended up on remand in Reading, with the threat of a 10-year prison sentence (he was given an electronic tag).
Joshua was athletic from the off – he could sprint 100m in just over 11 seconds by the age of 16 – and his cousin suggested he channel his energy into boxing. He joined Finchley & District Amateur Boxing Club aged 18 and two years later became a fully-fledged member of Team GB. Shortly after, he was crowned Olympic champion at the 2012 games.
Boxing, Joshua says, changed his life. He immersed himself in the discipline required for the sport, quitting smoking, avoiding late nights and taking up chess to improve his logic.
"As soon as I walked into that gym for the first time I knew I wanted to give myself to boxing," he told GQ. "Boxing is the sport that rewards hard work, the sport that if you apply yourself, dedicate yourself, train hard, you can become one of the best in the world… I cut out everything that didn't help boxing. Does taking out lots of women help boxing? No? Then cut it out. Does going on to this party help boxing? No? Then cut it out. And when I cut out all the negatives, it began to happen."
Last April, Joshua scooped his fourth boxing title in a fight against Joseph Parker and, in September, the Brit reaffirmed his status as the nation's best boxing hope in a seven-round smash with Alexander Povetkin. Povetkin had been beaten just once before in his career by Wladimir Klitschko – the same man Joshua beat in 2017.
"Some people have talent, and you can get complacent, but I feel that a lot of my success has come from hard work," the Brit says of his achievements. "I'm willing and ready to go the extra mile, and I'm not shy to ask questions. I want to learn as it's to my benefit to know the why and the way – it puts me in the position to do my best."
He credits his boxing forebears with keeping him motivated: "To mentally prepare for a boxing match, you need focus. I believe that if you study what you do, you'll know the greats that have walked the line before you and it's reassuring to know that you're not the only one walking this path."
To date, Joshua's won all 22 of his professional fights – 21 of them by knockout. Naturally, the boxing world loves him, but he is revered well beyond the realm of sport. His charming disposition has awarded him David Beckham-esque status – no mean feat considering boxing isn't shown on terrestrial TV.
His niceties make him stand out against boxing's dominating personalities – Tyson Fury, Deontay Wilder and Dillian Whyte – and he's famously eschewed the toxic trash talk that envelops the sport ("Before each fight, I pray that my opponent leaves in good health"). Instead, Joshua's found smarter ways to boost his profile, racking up partnerships with some of the world's biggest brands.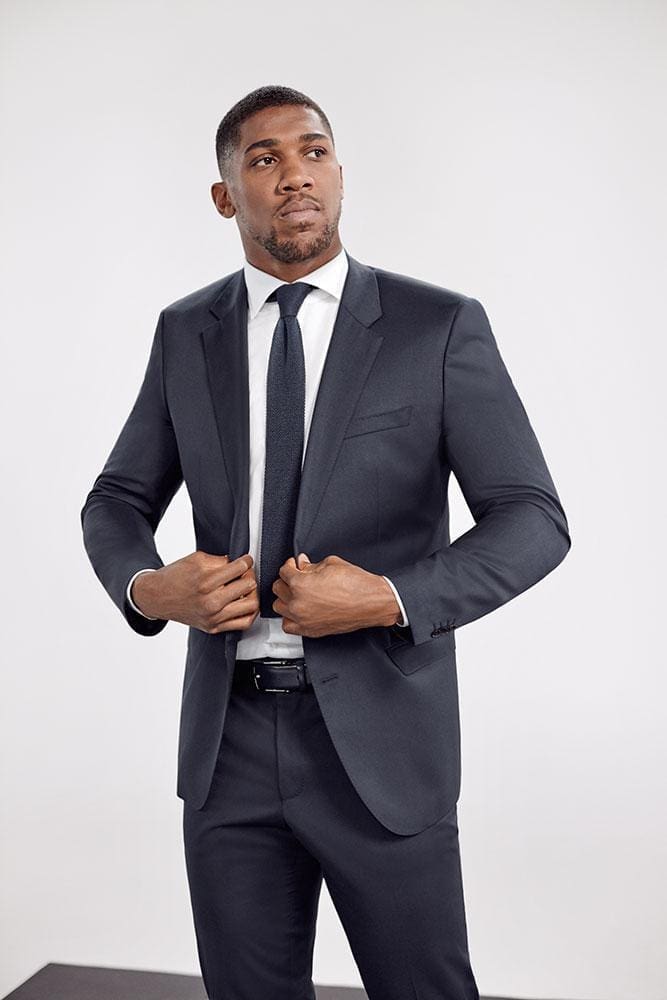 His latest collaboration with BOSS as the face of the label's Stretch Tailoring collection is a testament to his boxing credentials. The brand has a long history with the sport, having featured in Rocky IV and worked with the now-retired Klitschko. Joshua notes that the partnership felt like a "natural journey", having been dressed by the brand for a number of years.
If the boxer's commercial coups don't hint at his popularity, his sell-out fights certainly do, with each one amassing crowds normally afforded to rock stars. His fight on 1 June is hotly anticipated, and the furore surrounding his first meeting with Miller in February has only sparked further interest. At the press conference held in Madison Square Garden, before either had exchanged a word, Miller shoved Joshua and set the tone for what would be an insult-heavy exchange. The conference ended when Miller walked out, but not before he threatened to topple Joshua off his throne.
Still, in typical AJ fashion, he's not letting it faze him: "I think to myself that if I didn't want to be here, I would have found a way out of this situation," he says. "I've come this far, so I'm going to give it my best and roll with the punches. I'm not the most talented fighter, but I'll go to war. I'm a warrior!"
Anthony Joshua is the face of the BOSS Stretch Tailoring Collection, www.hugoboss.com