Andrew M. Ramroop OBE on racism, discrimination and working to improve diversity on Savile Row
"I do not believe in positive discrimination or ethnic diversity as a way forward. I believe one's ethnicity does not determine one's ability. All I ask is for minorities to be given equal opportunities"
By 1970, after three years of 14-hour shifts, an aspiring 17-year-old Trinbagonian has saved enough money to secure a place on-board a ship bound for Southampton.
Madan Ramroop, whose ancestors hailed from India, says goodbye to his parents – his mother a cook, his father a gardener, barman, cleaner, car park attendant and charcoal maker – and boards the Northern Star intent on fulfilling his ambition of securing a job on the most famous street in men's tailoring.
Presenting himself on Savile Row in a double-breasted suit one Monday morning not long after, Ramroop lands a position at Ian Fleming's tailor-of-choice (and fictional James Bond's, too) Anthony Sinclair, of nearby Conduit Street, only to be let go 20 minutes later in favour of a white-skinned candidate. Undeterred, Ramroop looks elsewhere and obtains a sewing job at Huntsman that same morning.
Four years later, having completed a three-year course at the London College of Fashion in the space of just two years (a diploma of distinction was created just for him), Ramroop returns to the Row looking for work as a cutter, only to be offered an out-of-sight job in a back-office workroom. Instead, he accepts a one-month trial at Maurice Sedwell, where he is told to drop the name Madan in favour of something more anglicised. He begins introducing himself as Andrew.
When the eponymous Maurice Sedwell retires in 1988, Ramroop purchases the company and, in 1994, relocates the business from No 9 to No 19 Savile Row – where it remains today.
In 2008, Ramroop is awarded an OBE 'for services to Bespoke Tailoring and Training' and in 2017 is named the Black British Business Award's Business Person of the Year.
Here, against the backdrop of George Floyd's murder in the United States, and as anti-racism demonstrations continue across the world, Ramroop talks about his own experiences with racism and discusses how he hopes to inspire a younger and more diverse workforce through the Savile Row Academy, which he set up in 2008.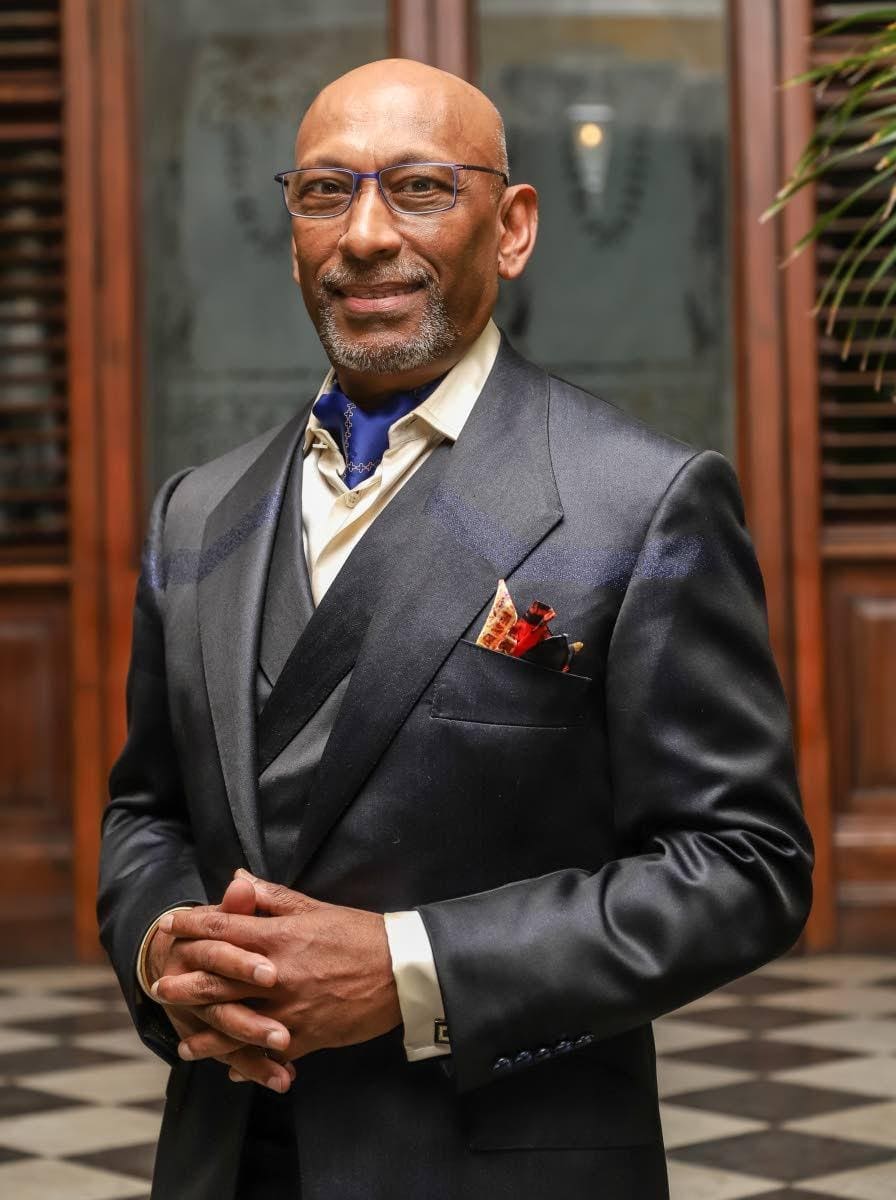 The United States is Maurice Sedwell's biggest market. How has the murder of George Floyd, and the global anti-racism protests that have followed, left you feeling personally?
I am exasperated by the latest murder in the hands of the police! It is very sad to know that in the 21-first century this can happen in the 'divided' and not so 'united', United States – a country that promotes itself as the leader of the free world. Divide and conquer appears to be the battle cry of those in powerful positions. It has been proven time and time again that institutional racism is endemic in the white American police force. Policing ought to be a service to all and not a 'force' of oppression. Protesting is the only response of the frustrated unheard voices, bringing about a global movement for change.
You've spoken about your own experience as a person of colour when you first arrived on Savile Row. How much of a barrier was race to finding initial success?
In the early days, I did not recognise racism because that was not a human characteristic with which I was familiar. However, after graduating from London College of Fashion, finding a front of shop position was frustratingly impossible. I was turned down for every job that was advertised. Eight graduates were applying for the 20 or so positions available. One Clifford Street tailor shop owner, now on Savile Row, was bold enough to tell me 'our customers would not take kindly to a foreigner but if you want a job in the backroom, we will have you'. At that time Savile Row shop owners were hostile to employing any cutter who was not white. They welcomed black customers with open arms.
How much more inclusive is the tailoring and fashion industry today than it was back then?
The pendulum has swung in the past few years with Gieves & Hawkes, Huntsman and Kilgore employing Afro British front of shop personnel. In addition, we now have the respected Edward Enninful as editor of British Vogue.
What more needs to be done?
I do not believe in positive discrimination or ethnic diversity as a way forward. I believe one's ethnicity does not determine one's ability. All I ask is for minorities to be given equal opportunities. After all, God created black people and black people created sartorial style, hip-hop music and vibrant, colourful carnival festivals that have been exported the world over.
How are you hoping to inspire a more diverse workforce through Maurice Sedwell?
By offering career opportunities to aspiring tailors. Annually, [Maurice Sedwell's] Savile Row Academy takes part in the school's career program that inspires ethnic minorities to consider tailoring as a meaningful career. Also, as my company is the only exclusive Ultra Bespoke tailor on Savile Row, we offer focused training through the SRA; we have the license to design and deliver Level 5 accredited courses. My hope is that every tailoring establishment in the UK and around the world will have employed SRA graduates.
What is your aim with expanding the Savile Row Academy to Trinidad and Tobago? Do you hope to expand the academy elsewhere?
Our aim is to develop my home country as the epicentre of luxury bespoke tailoring in the Caribbean and North America. We have been encouraged to take the SRA training to the USA, China and Canada. It is our plan to take those opportunities in the coming years.
As well as people from minority backgrounds, you've always championed young people as the future of British tailoring. How do you get youngsters excited about a profession that can look stuffy and antiquated?
Yes, I was president of the Association of Master Tailors for seven years but resigned out of frustration. I tried to get the constitution changed so that our focus was on training for the future. I had commissioned a feasibility study to prove the points I was making – that there was no new blood coming through, that the average age of tailors was 61. However, I was met with resistance. People said that if you train students they leave you. I think you have to be realistic. If you employ ambitious people, your staff are going to leave sooner or later. It's better that you train them to the highest standard before they leave you, than you don't train them enough and they stay with you. I resigned as president of the Master Tailors out of frustration and in January 2008 started the Savile Row Academy.
This interview was originally scheduled to take place before the killing of George Floyd. While it seems obtuse and trivial to talk business given Floyd's murder and the anti-racism demonstrations that have followed, I had planned to ask you about the impact of Covid-19 and how the retail environment was looking from Maurice Sedwell's perspective.
Prior to Coronavirus, from our perspective at least, the retail landscape was looking very positive. There's a great opportunity at the moment to revamp, to rethink our thought process, and how we reach our clientele. We are doing a lot of webinars, a lot of Skype calls. One of our biggest customers who I very seldom get an opportunity to communicate to – he'd usually send his chauffeur to collect his clothes – I had five WhatsApp messages from him the other day. This is a man I have not spoken to more than twice in the past 10 years.
You've achieved extraordinary success given the glass ceiling with which you were originally faced. Since taking control of the company in 1988, how have you ensued Maurice Sedwell stands out from other tailors?
Well, I was the first person to use the word 'bespoke' on Savile Row. I put the word outside my window – 'Maurice Sedwell Bespoke Tailors'. I hung that sign outside my shop when we moved from number 9 to number 19 in 1994. In those days, people used to ask me what bespoke meant. I would tell them the history of the word 'bespoke' – that when you went to a tailor and chose your cloth, that cloth was 'bespoken' for you. But then every other tailor, or made-to-order or ready-to-wear business, started calling themselves 'bespoke' tailors as well. The word became bastardised. So I thought how do we distinguish ourselves. I asked myself what was is it that defines the service we offer to our customers, what was it that made it better – and it's our ultra-bespoke service – it's cutting and fitting in harmony with our customers' figure, their tastes, their needs, their lifestyle, their personalities – it's about taking all these things together – so I trademarked 'Maurice Sedwell Ultra Bespoke Tailors.'
When it comes to the future of bricks-and-mortar retail, similar businesses on Savile Row don't share your positive outlook. Many have, sadly, recently disappeared. How does a bespoke tailor survive in an increasingly one-size-fits-all world?
On Savile Row you get found out very quickly. People will discover if you are up to scratch or not. One of the reasons I think some companies have folded is because they have struggled to stay relevant. They have not changed with the times. If you don't pay attention to the things that are important to the market place, then I'm afraid you won't last. If you satisfy your customer, then they become an ambassador for your business – which is very important for longevity.
19 Savile Row, Mayfair, London W1S 3PP