Get set: The best gym and athleisure brands for women
Vowed to find a new love for fitness? Take your workout game to the next level with these brilliant athleisure brands
All products are chosen independently by our editors. Luxury London may earn commission on items purchased.
New Year, New You? No, thanks. Whether you're a dedicated yogi or prefer to hit the road in your favourite running shoes, working out should be a pleasure. It is, however, hard to get the most of out an exercise class when you're worried about saggy shorts and subpar sports bras. Even if you're still tuning into at-home workouts, isn't it time your treated yourself to exercise gear that's up to scratch? Kit yourself out with our pick of the best gym, athleisure and activewear brands for women…
Lululemon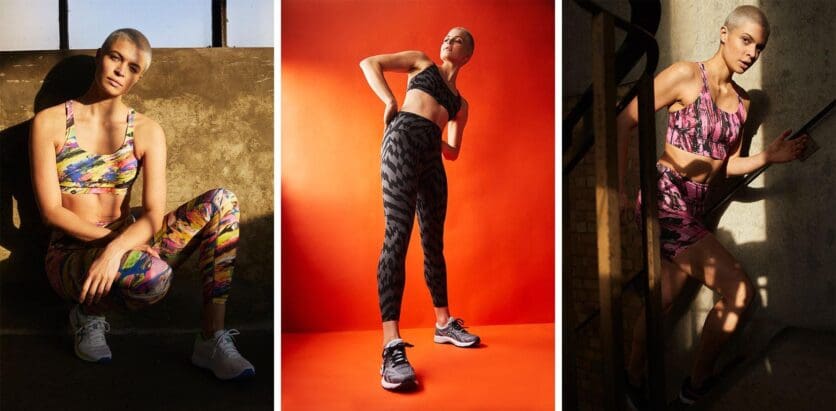 Let's start with a heavy hitter – because in the activewear world they don't come much bigger than Lululemon. Founded by Chip Wilson in Vancouver in 1998, many credit the brand's early stylish yet functional yoga-focused apparel with creating the entire athleisure category. Fast forward two decades and the brand remains at the top of its game, with 491 stores around the world and a range that features clothing and accessories for men and women as well as events, festivals and an online community of ardent fans.
The key to Lululemon's success is its nine patented materials, each designed to enhance a specific sport or activity, from light yoga and walking to long runs and hardcore gym workouts. Keep an eye out for the brand's frequent collaborations with artists and designers for something statement to add to your gym wardrobe.
Key piece: Wunder Train HR tight leggings, £88
Tala
Relatively new on the fitness scene given it was only founded in 2019, Tala has definitely been making a name for itself as a go-to brand for sustainable but high-performance athleisure and activewear. Founded by entrepreneur Grace Beverley, Tala stocks a bit of everything, from underwear to tracksuits and swimsuits to sports bras. The best bit? All are made from eco-conscious materials, including wood pulp-based fibre sourced from sustainably-managed forests, recycled nylon and lycra.
Alongside limited-edition lines, Tala is home to a number of core collections namely SkinLuxe, the buttery-soft, made-for-movement activewear; 365, comprising athleisure staples which can easily transfer from Pilates classes to coffee dates; Court for tennis fans and FormTech for runners, as well as DayFlex. The latter is where you'll find a variety of your favourite fitness pieces, such as sport bras, in a variety of flattering designs – think square neck line, deep V, bandeau and open back. Elsewhere, discover the classic yoga pants, tennis dresses, cycling shorts, polos and leggings. You name it, Tala has it.
Key piece: High waisted flared yoga pant, £62
Sefi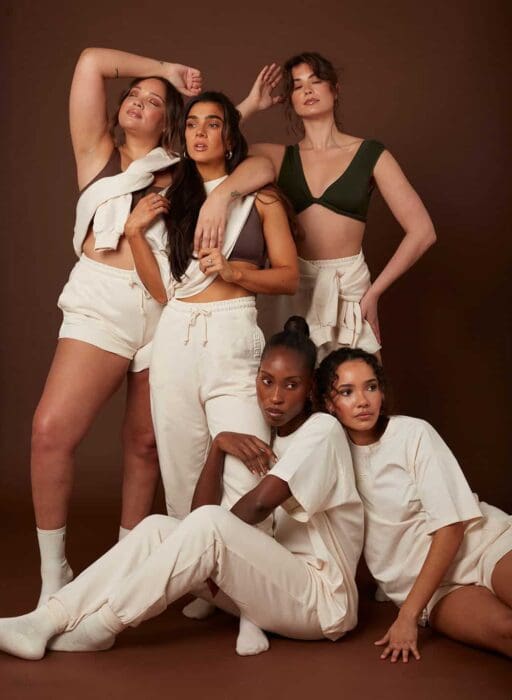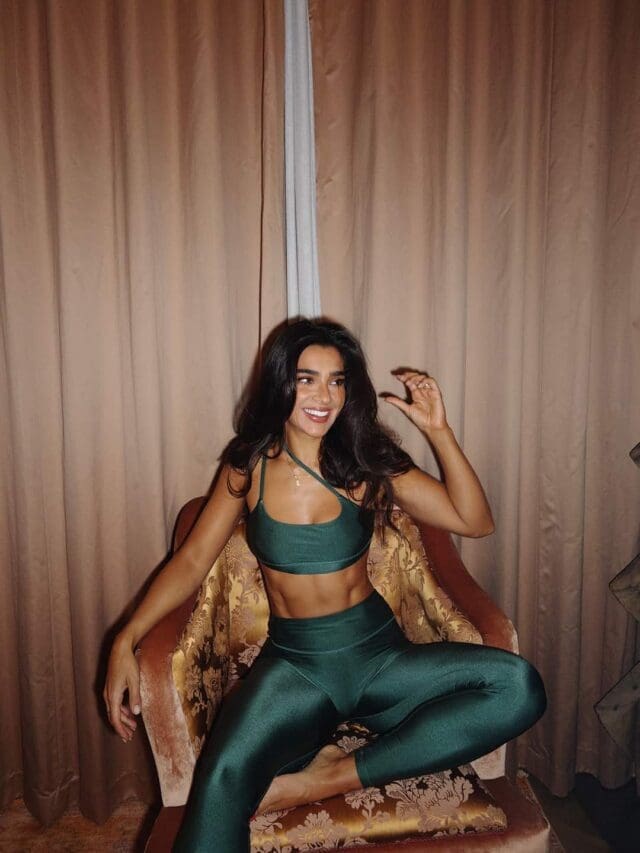 Aiming to fill the gap between activewear and streetwear, Sefi was founded to offer performance-enhancing gym gear that also looks (and feels) good enough to wear every day. Accordingly, the range is vast with everything from traditional leggings and sports bras to co-ord sweats and lingerie on offer. And, while we're pretty sure you're going to want every piece, it is undoubtedly the shorts that are the standout. Available in both five- and nine-inch lengths, as well as in a range of patterns and shades, they're some of the most flattering and comfortable on the market.
Key piece: Silhouette five-inch shorts, £46
Wolford
Long a go-to for tights you could really depend on, in recent years Wolford has expanded its remit to include lingerie, bodywear and some seriously good gym gear. Created under sub-label The W, this is athleisure with the glamour taken up a notch. Think shimmering leggings and bodysuits, vegan leather jumpsuits and crop tops with lace inserts. And if you're thinking all that doesn't exactly sound practical for a hardcore HIIT session perhaps the endorsement of Wolford ambassador – and personal trainer to the stars – Tracy Anderson will persuade you otherwise.
Key piece: The Workout Top, £100
Fabletics
Founded in 2013, Fabletics has been outfitting fitness fans across the pond with high-tech gym gear and sport-specific styles for nearly a decade – and, as of late 2021, it's landed in the UK. Alongside an expansive store on Regent Street, Fabletics' products are available online, meaning you can finally get your hands on its huge range of leggings with variable compression, three grades of sports bra and a vast array of loungewear.
While everything can be bought one-off, the true genius of Fabletics is its membership programme, which currently boasts more than 2 million members. Membership costs £54.99 per month and unlocks discounts of up to 80 per cent, monthly member credits to spend on any item worth up to £80 and full access to all the workouts, guided meditation sessions and expert advice on the Fabletics Fit app.
Key piece: No-Bounce high impact sports bra, £69
Live The Process
Uber-chic American activewear brand Live The Process has become quite the new normal saviour thanks to an offering that runs the gamut from sweat-wicking workout gear to cashmere loungewear that's smart enough for any Zoom meeting. The emphasis here is on slow, mindful but effective forms of exercise, such as yoga, Pilates and barre, and the activewear offering reflects this with a series of flattering leggings, bodysuits, crop tops and co-ords that will have you feeling great before you even step on the mat.
Key piece: Corset jumpsuit, £165
Sweaty Betty
The UK's answer to Lululemon, Sweaty Betty was founded in Notting Hill in 1998 by husband and wife team Simon and Tamara Hill-Norton with the goal of changing the way women think about exercise. Each of its collections is inspired by the couple's travels, often resulting in brightly patterned pieces, and tested extensively to make sure they keep up with whatever your workout routine throws at them.
Now with 62 stores internationally, the Sweaty Betty brand is about more than just exercise gear. The company offers a full complement of workout videos, recipes and tips on healthy living via its website and also encourages girls and young women to become empowered through physical activity via the Sweaty Betty Foundation.
Key piece: After Class sweatshirt, £65
Holland Cooper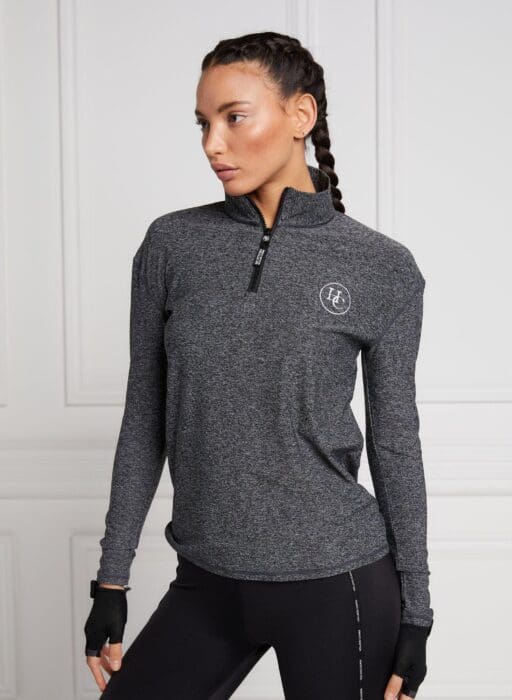 Founded in 2008 to celebrate the best in British elegance, style and fabric production, you probably know Holland Cooper best for its tailored tweeds and equestrian gear. In 2021 the brand launched its first activewear collection, Holland Cooper Studio, offering a range of leggings, sweats and training gear suitable for both the gym and lounging. High-tech fabrics have been used for supreme comfort, ventilation and sweat-wicking, while post-workout pieces have been crafted in a cosy soft cotton blend, and each features thoughtful design touches, such as crossover waistbands and adjustable hems, for versatility and confidence when working out.
Key piece: Lounge leggings, £69