The best boutiques in Notting Hill
From cult Californian fashion labels to handcrafted Japanese homeware, explore the local shops that help make up the stylish neighbourhood of Notting Hill
Notting Hill has been a fashion force to be reckoned with since its Bohemian era in the 1980s, when Portobello Road became the place to find one-off pieces in both the small boutiques and famous market. Fast-forward a decade or so and the market, which takes place on Fridays and Saturdays, remains a must-visit for antiques, jewellery and vintage fashion. Away from the stalls, the neighbourhood's Italianate houses are bookended by internationally acclaimed designers and independent retailers, ranging from eco-conscious fashion to handcrafted homeware.
L'Appartement Sézane, Westbourne Grove
Founded by Morgane Sézalory in 2013, luxury French e-tailer Sézane is known for its laidback, feminine French-girl style, which includes slouchy knitwear, pretty printed blouses, trenchcoats and metallic heels. At one point, its bestselling Barry cardigan amassed a 10,000-strong waitlist. Westbourne Grove in Notting Hill lays claim to the brand's only brick-and-mortar boutique outside of Paris, showcasing a complete edit of clothing, accessories, homeware and fragrance.
Address: L'Appartement Sézane, 233 Westbourne Grove, London W11 2SE, sezane.comOpening hours: Tuesday-Saturday 10.30am-6.30pm, Sunday 11am-6pm, closed on Sunday
Reformation, Westbourne Grove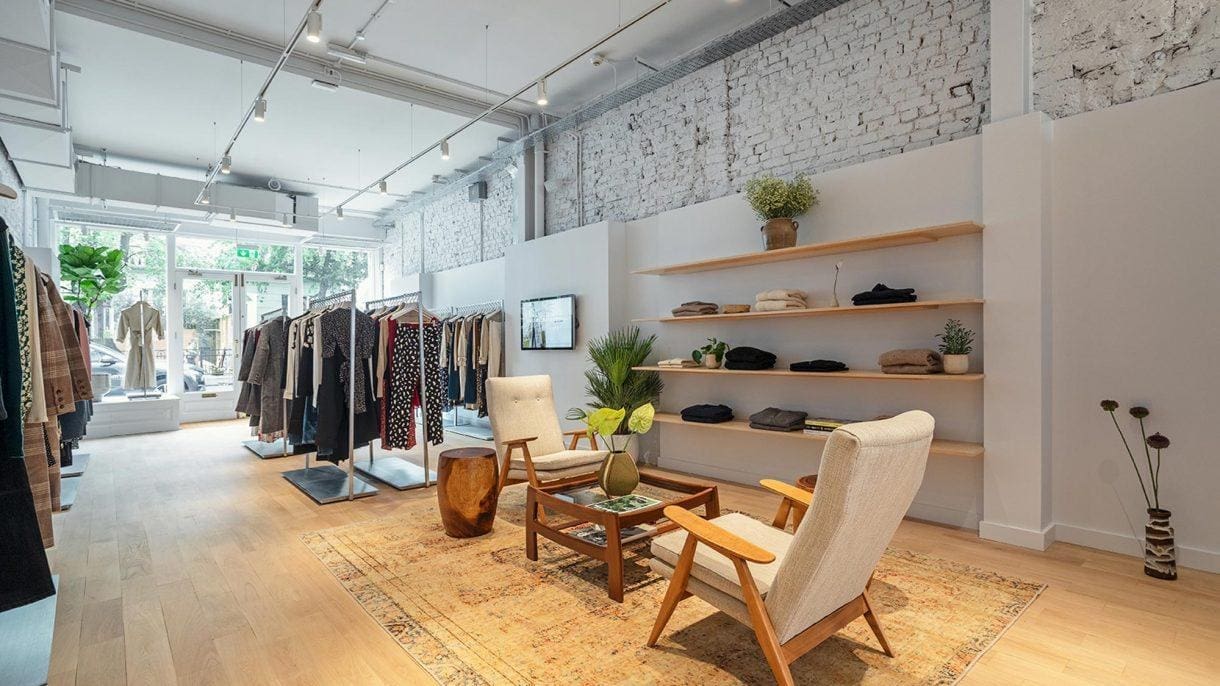 Another Westbourne Grove exclusive is eco-friendly, cult Californian label Reformation, favoured by Emily Ratajkowski and Kendall Jenner. Shop the label's wedding guest-perfect drop shoulder dresses, thigh-skimming mini skirts, sustainable cashmere and denim, alongside swimwear and lingerie. The tech-savvy store allows you to order styles and sizes via an iPad, which then appear as if by magic in your changing room, akin to a scene from Clueless.
Address: 186 Westbourne Grove, Notting Hill, London W11 2RH, thereformation.comOpening hours: Monday-Saturday 10am-7pm, Sunday 12pm-6pm
Caramel, Ledbury Road
One of the many gorgeous, independent boutiques on Ledbury Road, Caramel specialises in luxurious lifestyle wares with a vintage-inspired sensibility. It has two outposts: one sporting homeware and women's fashion, including woven baskets, knitted blankets, crockery, candles and pyjamas. The other specialises in beautiful baby and childrenswear and is a mecca for gifting. Shop adorable rompers, cashmere sets and bloomers in linen and cotton with distinctive, whimsical prints, as well as toys, books and nursery decor.
Address: Caramel childrenswear, 77 Ledbury Road, Notting Hill, London W11 2AG; Caramel home and womenswear; 38B Ledbury Road, Notting Hill, London W11 2ABOpening hours: Caramel childrenswear, 10am-5pm daily; Caramel home and womenswear Tuesday-Saturday 10am-6pm (closed Sunday and Monday)
Jessie Western, Portobello Road
Look for the hanging cowboy boot on Portobello Road to locate Jessie Western – a trove of Native American and Western wares spanning clothing, footwear and jewellery. The boutique is owned by two sisters, Jess and Vicky, who share a commitment to ethical luxury and a passion for authentic handcraftsmanship. Delve through rails stuffed with fringed jackets, ponchos, blanket coats and denim, hung alongside cabinets of sterling silver and rare turquoise jewellery. You can also find handpainted cowboy boots, moccasins and beaded bags. Collections are made by Native American artists, while fine diamond and gemstone jewellery is made onsite by Jess, who previously studied at Central Saint Martins.
Address: 82B Portobello Road, London W11 2QD, jessiewestern.comOpening hours: 10am-6pm
WtR, Hanway Street
Opening its London flagship in 2014 in the heart of Notting Hill, WtR offers womenswear and homeware pieces – a lifestyle store that is elegantly classic and has timeless appeal. The womenswear collection strikes the perfect balance between fashion and function, and is ideal for both more formal occasions and workwear. But why was Westbourne Grove picked as the brand's first location? "We like the village atmosphere," Vanessa Toms, managing director of the store, explains. "It sits in with our lifestyle and customers. As it was our first store and flagship, we wanted it to capture the essence of our brand. We did a lot of work on the store itself to ensure all elements we wanted were there."
Address: WtR, 28-30 Hanway Street, London W1T 1ULOpening hours: 9am-5.30pm
Couverture & The Garbstore
Run as two separate stores within the same building, Couverture & The Garbstore was founded by couple Emily Dyson and Ian Paley, who met while working together at Paul Smith. Set in a three-storey period townhouse, the boutique champions emerging designers and cult labels, many of which are exclusive to the store. Head here for unique gifts, adorable childrenswear and independent fashion with a focus on craftsmanship, plus the boutique's in-house 'No Chemicals' fragrance line.
Address: Couverture & The Garbstore, 188 Kensington Park Road, Notting Hill, W11 2ES, couvertureandthegarbstore.comOpening hours: Monday-Saturday 10am-6pm, Sunday 12pm-5pm
Native & Co
On Kensington Park Road is an independent homeware store that offers an array of tableware, kitchenware, textiles and accessories sourced from the far east. Traditional craft with contemporary and high-quality design is at the heart of Native & Co products. Founders of the brand, Sharon Jo-Yun Hung and Chris Yoshiro Green, work closely with specialists and craftsmen to acquire pieces that are simple in design with subtle detailing, whilst remaining connected to their Japanese and Taiwanese origins. Alongside curating pieces from Japan and Taiwan, the founders design and make some of the items themselves, adding to Native & Co's unique collection of homeware treasures.
Address: Native & Co, 116 Kensington Park Road, Notting Hill, W11 2PW, nativeandco.comOpening hours: Monday-Saturday 11am-6pm, Sunday 12pm-5pm
Aimé
After studying in London in 1999, French-Cambodian sisters Val and Vanda Heng Vong wanted to address the absence of Parisian labels and products in London. Their idea of a multi-brand lifestyle boutique, that could showcase the best of French design, soon evolved into a curated Parisian boutique, Aimé, in Notting Hill. The boutique stocks home and lifestyle pieces with luxury womenswear to create a Parisian lifestyle within the store. Alongside French designers like Herbarium Paris, Etoile, Isabel Marant and Repetto, the stores now stocks global luxury labels including Ulla Johnson and BSBEE. In 2013 the brand expanded from its West London home across to Shoreditch on Redchurch Street, opening their second London-based Parisian boutique.
Address: Aimé, 32 Ledbury Road, Notting Hill, W11 2AB, aimelondon.comOpening hours: Monday-Saturday 10am-6.30pm, closed Sunday
Matches Fashion
One of three bricks-and-mortar shops from luxury e-tailer matchesfashion.com, this capacious boutique showcases a curated edit of menswear and womenswear from the site's most popular labels including Gucci, Saint Laurent, Valentino, Vetements and Dolce & Gabbana. The boutique is also home to the in-house fashion brand – Raey – designed by Rachael Proud, former creative director at Christopher Kane.
Address: Matches Fashion, 60-64 Ledbury Road, Notting Hill, W11 2AJ, matchesfashion.comOpening hours: Monday-Saturday 10am-6pm, Sunday 12pm-6pm
Lisou London, Westbourne Grove
Head designer Rene MacDonald draws on her African heritage and global travels when designing silk blouses and shirts for London-based label Lisou. Exuberant ruffles and vivacious prints flourish her colourful Westbourne Grove boutique, designed with her mother in mind. "She loved fashion and was a woman of elegance and high spirit," says MacDonald. "Her aesthetic has informed the décor of the shop, while her love of bold African colour inspires my work."
The entrance of the shop is recognisable by a faux blossom tree, crowned with ivory silk leaves, which is complemented by a hand-painted mural inside the shop. "In amongst the branches is Sheba, the powerful and resilient flying lady who also features on several of our in-house prints." The charming shop also has secluded café space, where customers are encouraged to relax and engage.
Address: Lisou, 302 Westbourne Grove, London W11 2PS, lisou.co.ukOpening hours: Monday-Saturday 9am-6pm, closed on Sunday
Sophie Gass, Ladbroke Grove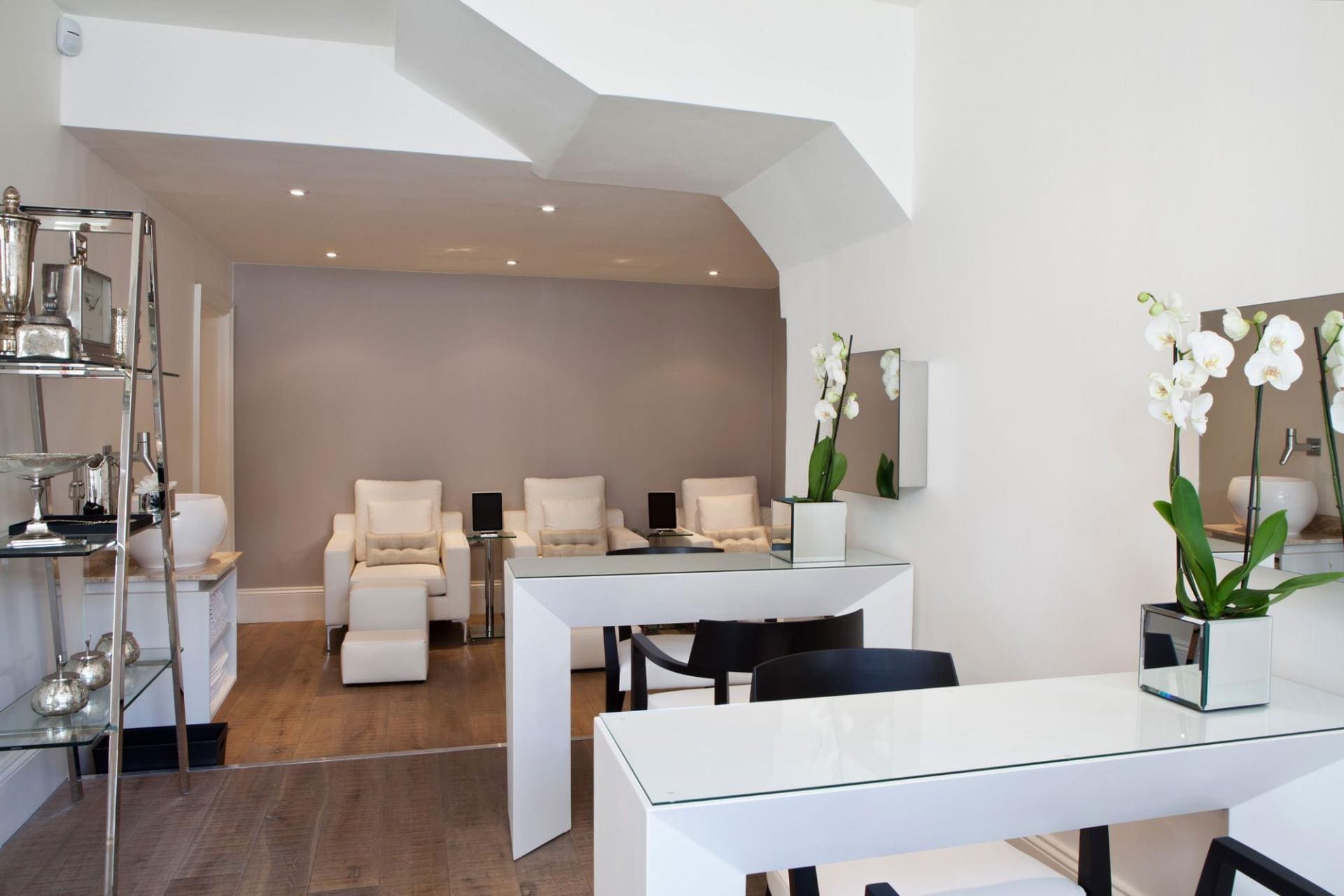 Located on the tree-lined street of Ladbroke Grove, Sophie Gass is a one-stop shop for those who want a different experience from a traditional spa, but might also be interested in buying a hand-tied flower arrangement or a one-off piece of clothing from the designer's own brand. After realising that such a unique concept store was missing in the local area, the former banker opened her eponymous boutique in October 2012, welcoming shoppers (both male and female) to its luxe nail bar, home and fashion accessories trove.
"I've always thought of myself as the target market, and asked myself, 'What would I like?' Excellent treatments, but with an atmosphere that is more than just 'getting your nails done'," explains Gass. But why did she choose this area for its base? "Having lived here for 11 years, I knew there was a gap in the market. Holland Park is an amazing place; we have so many interesting clients from all over the world," she says. "Opening the shop was so great – I finally got to meet all the locals and now I really feel part of the community."
Address: 4 Ladbroke Grove, London W11 3BG, sophiegass.comOpening hours: Monday-Wednesday 9am-7pm; Thursday-Saturday 9am-8pm; Sunday 11am-5pm
Read more: the best vintage shops in London for designer fashion