In memory of Dame Vivienne Westwood
The 'godmother of punk' passed away peacefully at her home in London
Dame Vivienne Westwood died on 29 December 2022 at the age of 81. A statement made by her eponymous fashion house, which described Westwood as a designer and activist, said she had passed away peacefully and surrounded by her family at her home in Clapham.
Westwood had remained active until the end of her life, with the statement explaining she continued to work on her fashion collections, book and activism work until 'the last moment'. She is survived by two children, Ben Westwood and Joseph Corré, and her husband, Andreas Kronthaler, who added, "I will continue with Vivienne in my heart. We have been working until the end and she has given me plenty of things to get on with. Thank you darling."
Westwood rose to fame as a self-taught fashion designer who helped shape the aesthetics of the punk movement in the 1970s. After meeting her second husband, band manager Malcolm McLaren, Westwood gave up her job as a primary school teacher to join McLaren at his shop on the Kings Road in Chelsea in 1971.
Then known as Let It Rock, over the next decade the boutique would undergo a number of reimaginings and renamings, becoming Sex, Seditionaries and Worlds End, while also forming a focal point for the burgeoning punk scene. Were you to have popped down on a Saturday in the mid-70s you may well have found Glen Matlock, Sid Vicious or Chrissie Hynde working behind the till. With her designs forming the bulk of the boutique's offering, it was only a matter of time before Westwood's provocative clothes became the look of choice for punks across the capital.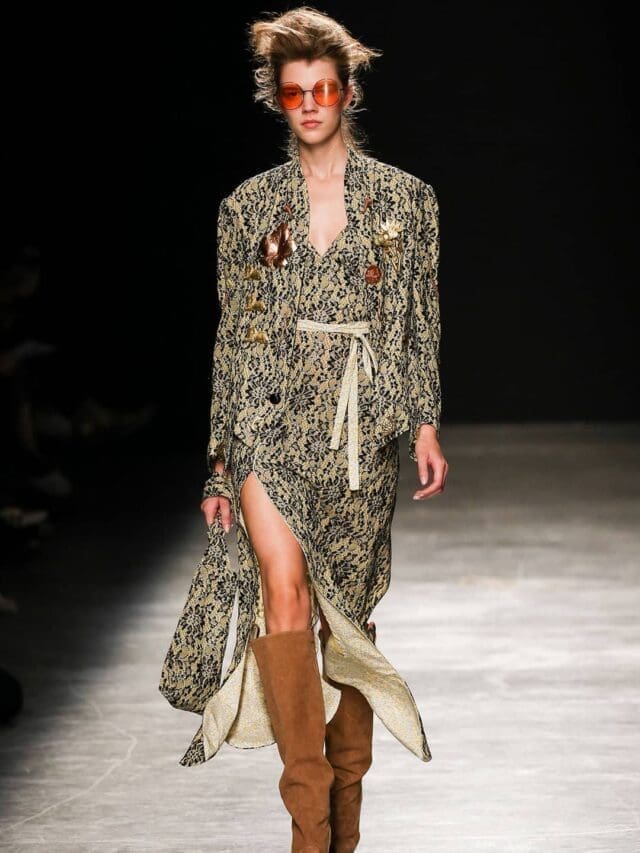 However, as the subculture began to lose momentum later in the decade, Westwood changed tack, hosting her first runway show in 1981. While far from devoid of her signature edginess, the debut of the Pirates collection became a pivotal moment in transforming Westwood from a fashion outsider into one of its most celebrated names. And, while the clothes were always at the forefront (one needs only look at modern corset dress to see her enduring influence), Westwood herself often made headlines with her rebellious attitude.
In 1989 Westwood appeared on the cover of Tatler magazine dressed as Margaret Thatcher under the caption 'This woman was once a punk' and, in 1992, gave photographers a twirl after collecting her OBE from Queen Elizabeth II to reveal she had, in fact, not been wearing underwear for the ceremony. Perhaps surprisingly, this fact did not stop the institution from naming her Dame Commander of the British Empire in 2006.
This ability to simultaneously be controversial and progressive while being accepted by the mainstream fashion system saw Westwood gain fans among a number of high-profile figures. Princess Eugenie wore three Westwood designs across the celebrations of the marriage of Prince William and Kate Middleton; Princess Maria Laura of Belgium wed in a Westwood gown earlier this year, and, of course, Carrie Bradshaw famously wore a voluminous dress by the designer for her doomed wedding to Big in the first Sex and the City film.
In the later decades of her life, Westwood also used her celebrity as a platform for activism, with particular focus on the climate crisis. Her 2007 manifesto Active Resistance to Propaganda, published in The Guardian, set out a vision for the world in which humans choose to become more cultured and cultivated rather than allowing ourselves to be 'the victim of our own cleverness' and, until her death, Westwood continued to write frequently on the topic on her website No Man's Land. For many, however, her most memorable act of protest will be the time she drove a tank to then-prime minister David Cameron's home in Oxfordshire to draw attention to the effects of fracking.
Following her death, tributes have poured in from across the fashion world. Writing on Instagram former Gucci creative director Alessandro Michele said simply, "please, teach the sky how to rock", while Marc Jacobs added "you did it first. always. incredible style with brilliant and meaningful substance [sic]."
Riccardo Tisci, former Chief Creative Office at Burberry, paid tribute to Westwood, saying, "Dame Vivienne, you touched us all with your imagination, humility and rebellion and you made us believe in creativity in its purest form." Stella McCartney, who joined forces with Westwood to lobby the government to ban the sale of fur in the UK, added, "Vivienne Westwood inspired my career as a designer with bravery and bollocks… She led the way forward, never apologising for exposing unjust wrongs in the world and asking uncomfortable questions."