The demi-fine jewellery brands to know now
The contemporary demi-fine jewellery brands to elevate your everyday jewellery wardrobe
All products are chosen independently by our editors. Luxury London may earn commission on items purchased.
Shells, huggie hoop earrings, coin pendants and layered necklaces – just a few of the styling trends sparked by demi-fine jewellery brands in recent years. The booming mid-point genre that hits the sweet spot between fine and fashion jewellery, demi-fine jewellery is made with lower carat or plated precious metals – instead of their solid counterparts – and semi-precious gemstones.
Farfetch has a whole category dedicated to it, showing how these affordable, high-quality pieces can be mixed and matched. It also shows just how subjective the label 'demi-fine' can be: price points for the 110+ brands featured in Farfetch's edit range from under £100 into the thousands; and while some brands balk at the descriptor, others with similar products and price tags embrace it.
Many brands are known for both their fine and demi-fine jewellery, ensuring customers can access pieces they love at various entry levels, and these same customers are also pleased to see these jewellers taking sustainability seriously, with the majority advocating eco-friendly materials wherever possible and considered packaging. Scroll on for our favourite demi-fine jewellery brands to add to your collection.
Mejuri
Founded in 2015 with a mission to democratise the world of fine jewellery, while also having a positive impact on people and the planet, Mejuri has since grown to become one of the most influential names in the demi-fine jewellery world. Recently admired a friend's layered necklaces or ring stack? There's a good chance they were sporting at least one Mejuri piece.
With options ranging from plain 18k gold vermeil chains and huggies all the way up to 14k solid recycled gold pieces featuring AAA-grade responsibly-sourced diamonds and precious stones, there's something for everyone in the collection. The even better news? Every piece is handbuilt to last, using sustainably-sourced materials in a supply chain that prioritises exceptional craftsmanship and independently certified suppliers with a solid ethical track record. Look good, feel good? We're sold. mejuri.com
Alighieri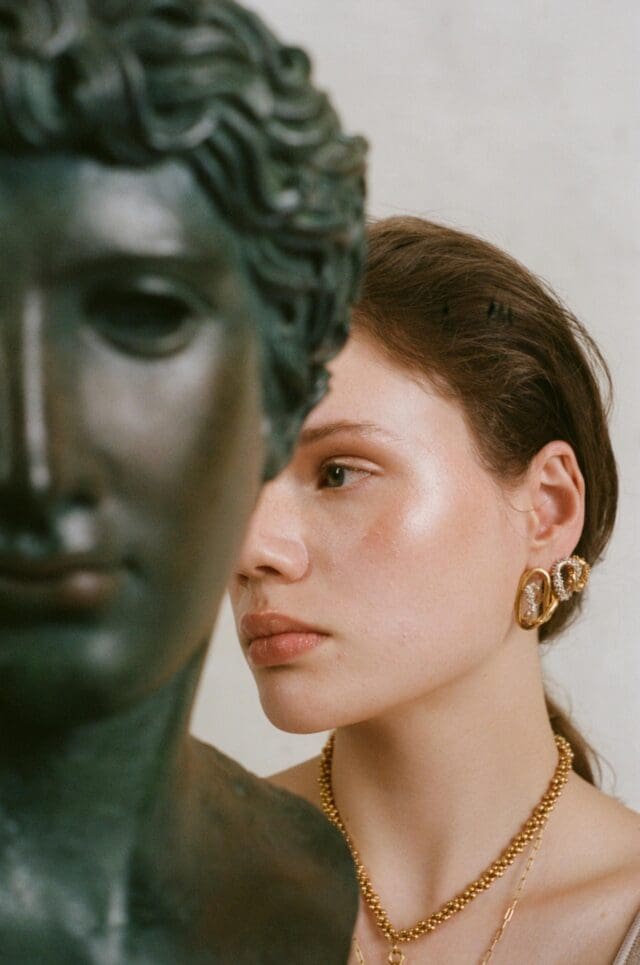 Rosh Mahtani turned her hand to jewellery design after studying French and Italian at Oxford University, where she developed a particular affinity for Alighieri Dante's epic 14th-century poem, Divine Comedy. The otherworldly odyssey became the catalyst for Mahtani's unique collection of modern, medieval-style jewellery, which also draws influence from antique trinkets and tender memories from her childhood.
"Just like Dante's subjects, each piece of jewellery is battered, imperfect, and a little bit melancholy," says Mahtani. Her bold designs strike the balance of delicacy and drama, whether it's a medallion embossed with a lion's head, designed to be worn as a reminder to "be courageous" or lightly hammered, chunky bangle, set with a freshwater pearl and perfect for stacking. alighieri.co.uk
Otiumberg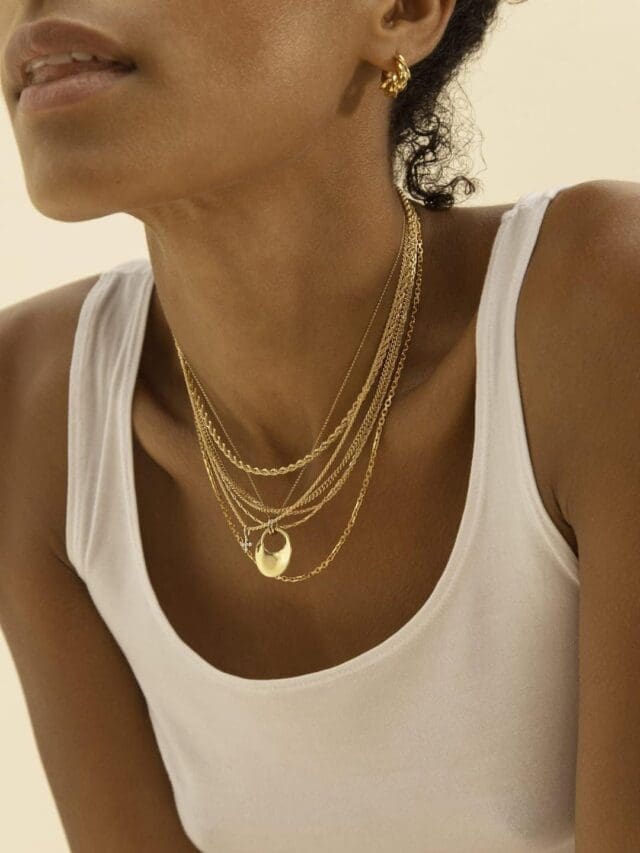 Like others, this brand offers both fine and demi-fine jewellery. In the latter category, it's Otiumberg's personalised name – and date – bracelets and pendants in 9-carat solid gold, gold vermeil or sterling silver that customers love most. It's also known for its distinctive alphabet studs and charms, and birthstone collections, all the output of stylish sisters Rosanna and Christie Wollenberg.
Their commitment to responsible manufacturing is clear, and we love the waste-conscious sentiment of the Archive section of the site; sometimes they make a few too many pieces or it's time for a design to retire "so we give our customers the chance to shop at a reduced price". We'd like to draw your attention to two heart-shaped necklaces that mark a partnership with Choose Love, an organisation that provides humanitarian aid to, and advocacy for, displaced people around the world. 100 per cent of the proceeds from these necklaces will help fund Choose Love programmes that support displaced women and children. otiumberg.com
Maria Black
Maria Black has long been the cool girl's go-to for minimalist metal rings and signature hoops, which range from diminutive huggie styles to saucer-sized swingers. The Danish designer trained at Goldsmiths in London before relocating to Copenhagen, and her sleek, clean-lined creations are the perfect balance of Dalston and Denmark. At its Selfridges concession you can get piercings done too. maria-black.com
Tada & Toy
Jewellery to love, layer and last – the essence of Tada & Toy also neatly sums up why its demi-fine jewellery has won over so many of us. Celestial-inspired earrings are its best-sellers and there's a whole category dedicated to the ever-popular huggie hoops, plus a cool collection co-created with Lizzy Hadfield. Designers Tansy (Tada) and Victoria (Toy) focus on designing pieces that will "bring a little bit of sparkle and luxury to your life – simple enough to be worn all the time and stackable for more of a statement look". Despite accessible prices, the jewellery is intended to last, with everyday wear in mind: pieces are made using certified recycled sterling silver, brass and gold. tadaandtoy.com
Matilde Jewellery
This young brand, just two years old, reflects the mindset – we hope – of the next generation of designers. For founder Matilde Mourinho, conscious creation that doesn't damage the planet is at the forefront of her brand. Appalled by the jewellery industry's historical impact on some of the planet's most fragile ecosystems and communities, Matilde jewellery is crafted from 14-carat 100 per cent recycled gold and lab-grown diamonds. Its suppliers are SCS-certified, which covers the responsible sourcing of precious metals and a range of business practices related to sustainability and ethical working conditions. We love the delicate, Portugal-inspired Heritage pieces and the small, smart collection for men too. matildejewellery.com
Astley Clarke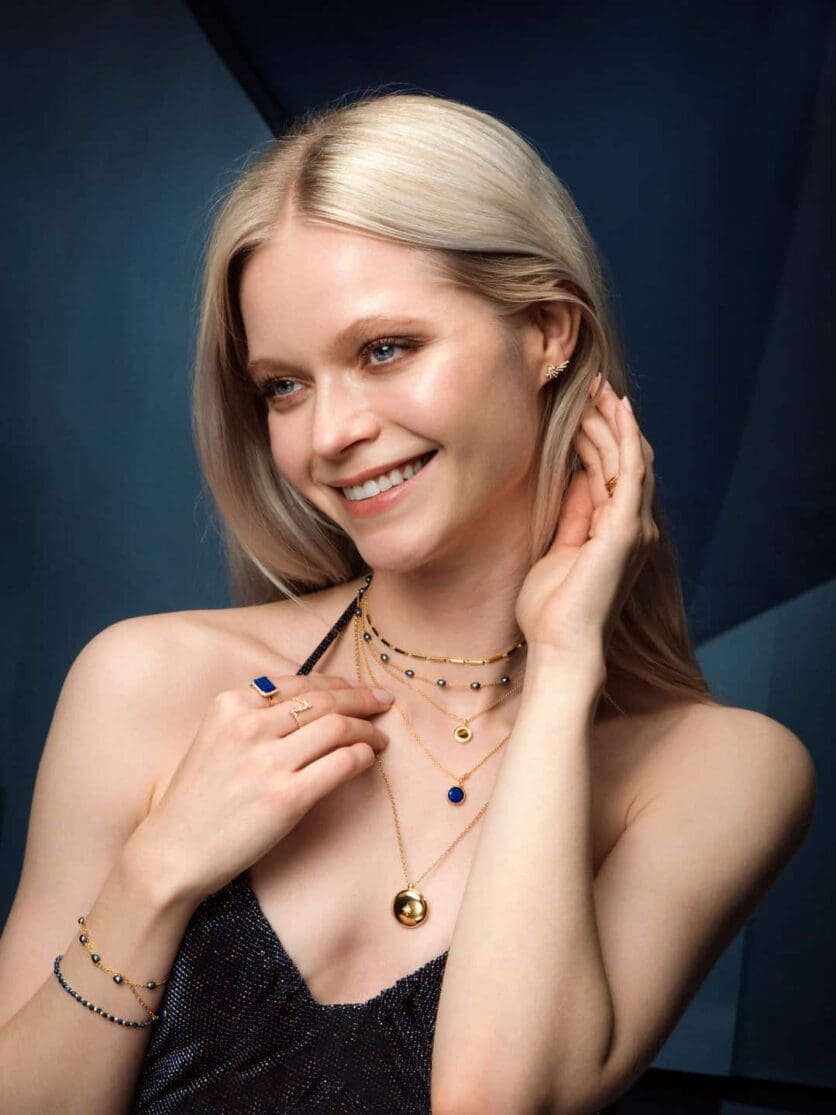 The brand helpfully clarifies that when it says 'demi-fine' it refers to Astley Clarke jewellery made with 18-carat gold vermeil – sterling silver plated with gold – and with gemstones that aren't diamonds, emeralds or rubies (for those, look to AC's fine jewellery category). "'Demi-fine' has nothing to do with the way the pieces are made but the style might lean more toward contemporary rather than classic," the design team explains. "We might experiment with shapes, and play more with colour in our demi-fine collections, adding Pantone-of-the-moment pastels or bold brights." Thus Astley Clarke's demi-fine jewellery is creative, stackable and expressive; perfect for those seeking a middle ground between, as they put it, "ostentatious and trend-focused". astleyclarke.com
Monica Vinader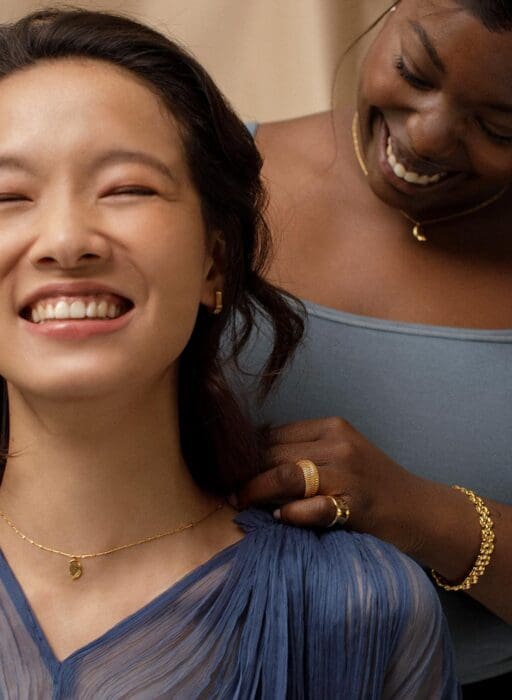 Monica Vinader is arguably one of the most popular demi-fine jewellers out there, and with good reason. 100 per cent recycled gold and sterling silver? Check. Conflict-free diamonds and natural gemstones? Check. Award-winning sustainability practices, and beautiful jewellery that can often be personalised, and always mixed, matched, layered and stacked? Check, check, check. Jewellery 'designed to empower and endure', and just as perfect for giving to someone else as to yourself. monicavinader.com
Alex Monroe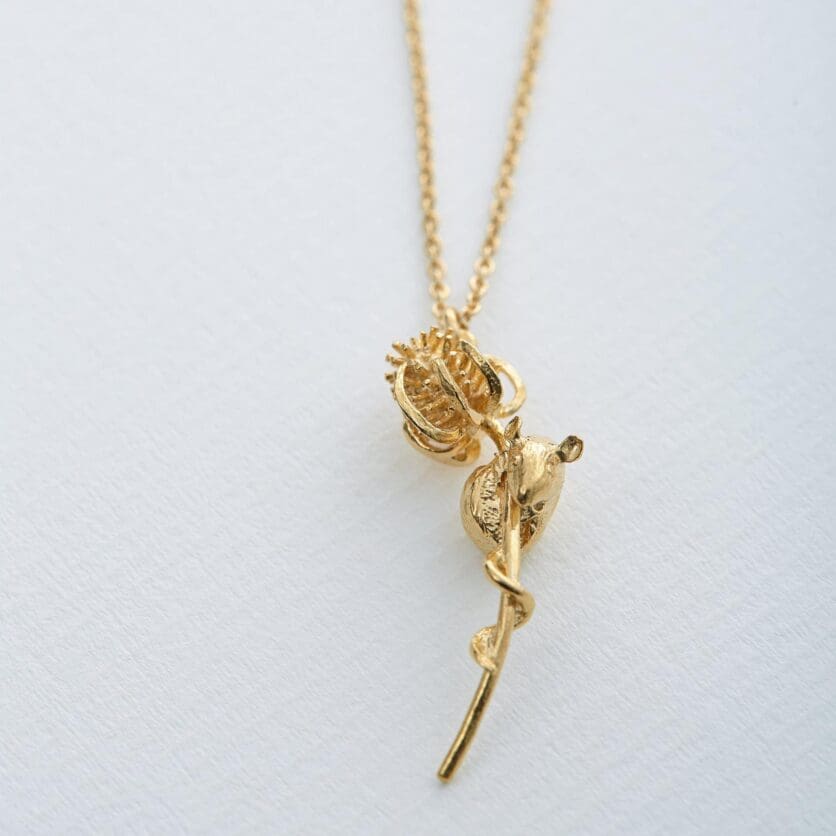 Alex Monroe founded his eponymous brand in 1987 and has become known over the decades for handcrafted, delicate jewellery inspired by the Suffolk countryside where he grew up. His imaginative world of wildflowers, feathers and prowling wildlife are the perfect foil to city life, and his signature Bumblebee motif has been worn by Sienna Miller, Emma Watson and many a fashion editor. Alex Monroe also offers a smaller, fine jewellery edit and specialises in bespoke engagement rings, created with a dash of signature whimsy.
Alex himself admits that "jewellery making has a notoriously complicated history when it comes to ethical practice and sustainability... it can be hard to trace everything back to source, and the task can often seem daunting. However, we are committed to continually reflecting on our practises and taking steps to do what we can to make positive change". Collections are created in Monroe's south London workshop, which also houses a jewellery school. alexmonroe.com