Smythson celebrates heritage and craftsmanship with its Envelope collection
The British brand heralds its history as a Royal stationer with a chic accessories family
Ever since Frank Smythson opened the doors to his first New Bond Street store in 1887, there are few who have been able to come close to Smythson's reputation as the stationery and leather goods brand of choice for the world's most discerning customers.
Accordingly, it has picked up quite the who's who of clientele over the past 135 years. Katharine Hepburn was known to be a fan of Smythson's address books while Prince Rainier III gifted his wife Grace Kelly a custom-made Smythson diary on the occasion of their wedding in 1956. Today the brand holds Royal Warrants for the Queen (for stationery) and the Prince of Wales (for stationery and office equipment), while it remained the preferred leathergoods label for the Duke of Edinburgh until his death in 2021.
In the 1920s and 1930s, the brand was also famed for the incredibly intricate and exquisite stationery it created for the Maharajas of India. Each piece of delicately hand-bordered paper was engraved with personal monograms in gold, silver and other vibrant shades before being decorated with elegant mother-of-pearl inlays. The result, needless to say, is some of the most luxurious and sophisticated stationery ever made.
A century on, Smythson still puts the same care and attention to detail into its modern stationery, all of which is handcrafted in England using traditional printing presses and engraving techniques. Looking for something really special? Smythson's bespoke stationery service is on hand to create custom writing paper, correspondence cards, invitations and business cards for those with even the most exacting tastes.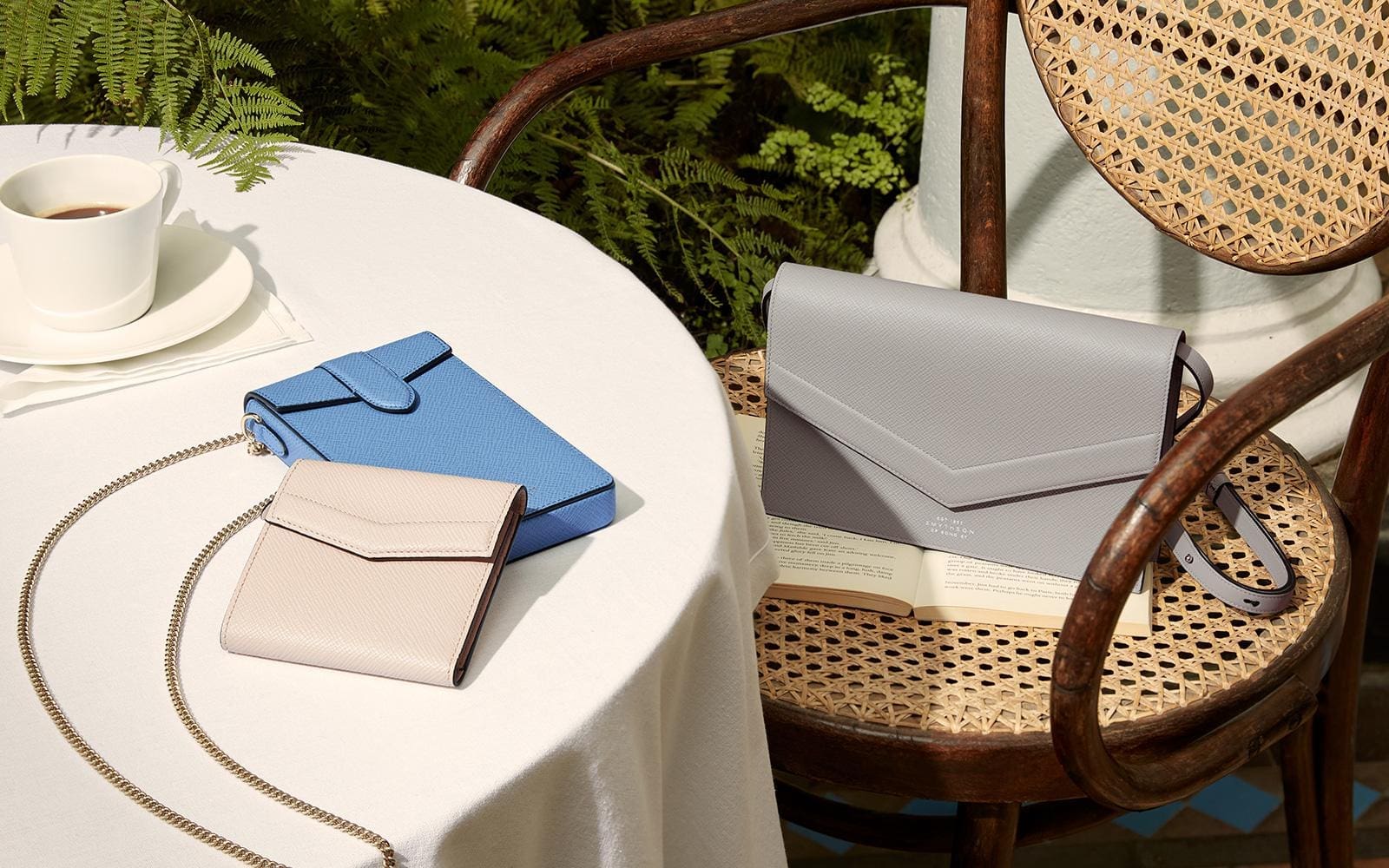 With such a passionate history of stationery craftsmanship behind it, Smythson is known for blending the worlds of paper and leather in its designs – which is where its Envelope collection steps in. This gorgeous family of bags and accessories takes its inspiration from the brand's stationery craftsmanship, pressing the instantly recognisable V-flap silhouette into the service of crossbody bags, wallets, card cases and even AirPod holders.
All rendered in the same Panama crossgrain leather seen on the brand's diaries and notebooks, each piece in the Envelope collection is available in Smythson's iconic Nile Blue hue, while champagne, black, grey and brown colourways also make for versatile options that will blend seamlessly with your wardrobe.
Paying homage to Frank Smythson's original mission to create 'stationery and fancy articles of a high-class character', practical touches such as adjustable straps and removable wallets combine with contemporary, elegant design and quality construction to make Smythson's Envelope collection a modern icon of this much-loved brand.