How the Chester Collection is redefining luxury renting in London
With house prices at an all-time high and interest rates hanging in the balance, buying in Central London is a big commitment right now. A new development on Chester Street is offering an alternative
'B elgravia' and 'renting' aren't necessarily two words that go together. Leaky taps, dodgy heating and sleazy landlords versus the stucco terraces, garden squares and upmarket boutiques of Belgravia? Nope, don't see it. Well, get ready to have your preconceptions turned on their head. Renting is the new buying, didn't you know? Well, not quite, but it is an increasingly serious and attractive proposition for HNWs.
While homeownership is still the ultimate goal for many, the number of build-to-rent homes coming to market grew by 26 per cent between Q3 2020 and Q3 2021. A number of factors are contributing to would-be buyers opting to lease a home instead, and we're not talking about 'generation rent' – millennials unable to afford increasingly eye-watering prices. There's a burgeoning slice of the HNW community now choosing renting as a lifestyle choice.
Some are after a city pied-à-terre. Others, a hassle-free, commitment-free arrangement. Renting is also a great way to occupy a gorgeous home without worrying about stamp duty, plus, build-to-rent developments provide amenities such as pools, gyms, and communal areas without the burden of maintenance. There are also, of course, those unsure about committing to debt in the current climate.
As less focus is placed on owning bricks and mortar and more people opt for high-quality rentals instead, demand is growing. And where there is demand, the property market is quick to follow up with supply. Last month, for instance, Cheevers Poole launched the Chester Collection, a terrace of brand new homes to let in Central London.
The four mansions are situated on Little Chester Street, a tranquil corner of Belgravia. Designed by architect Squire & Partners, each features handset brickwork and stone detailing on the facades, plus full-height windows and French doors.
The composition differs slightly from townhouse to townhouse, but all offer either three or four bedrooms, up to 300 square metres of interior space, and four floors of flexible living and entertainment areas comprising lower ground, ground and two upper levels.
Stepping inside one of the Chester Collection homes reveals generous ceiling heights, open living spaces and enormous windows ushering in an abundance of natural light. On the ground floor, the entrance hall is decked out with Bianco Carrara and Nero Marquina marble flooring. The dining room, also on the ground floor, features a marble fireplace, a Swarovski crystal pendant light and chevron oak parquet flooring. The fully fitted kitchen, meanwhile, is finished in dark oak and Caesarstone worktops.
Ascending to the first floor, you will find an entertaining area arranged as a living room, library area and separate reception/media room. Included is an Arabescato fireplace, a crystal chandelier by Saint Louis, and floor-to-ceiling glazing opening out onto either balconies with bespoke balustrades or spacious terraces.
The master suite is located on the top floor, and consists of a bespoke master bed, headboard and dressing table, a walk-in dressing room, and a marble ensuite bathroom with a freestanding bathtub and rain shower. Further bedrooms are located either on the second floor or lower ground floor.
Each home has been interior designed and dressed, but tenants are also welcome to put their own stamp on the property – eliminating the biggest reservations many high-net-worth individuals have about renting. In this case, there is a 'furniture depository' available so that furniture, artwork and accessories can be swapped out to suit personal tastes.
Amenities at the Chester Collection, meanwhile, are akin to a boutique hotel. Expect a concierge/porter to help with anything from handling deliveries to maintenance and organising transportation. There is also secure underground parking, as well as the possibility of a private cinema, home gymnasium/pilates room, home office and den/club lounge.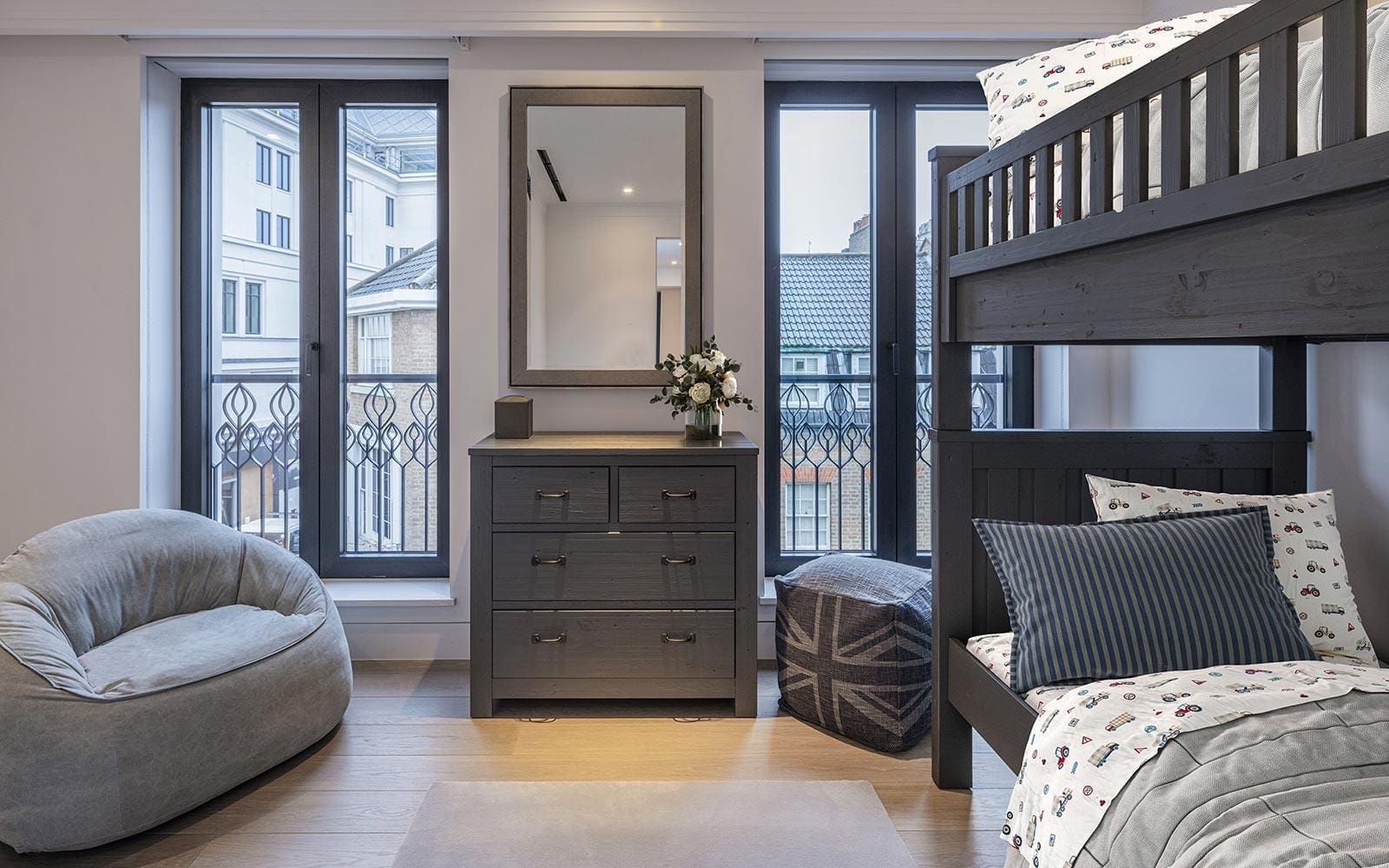 Mortgages, deposits and furnishing becoming less appealing by the second? You can call a Chester Collection townhouse home from £7,250 per week or £377,000 per year.