The great migration: Gorgeous homes for sale an hour from London
Londoners have been heading en masse to the countryside during the pandemic, with growth in prime regional areas outstripping the capital. Thinking about joining them? Here are the best commuting-distance properties for sale in the home
When we went into lockdown back in 2020, many urbanites found themselves facing a 'grass is greener' situation, stuck in smaller homes with limited outdoor space. Turns out there's nothing like not being allowed outside to make you realise that, actually, you really like being outside.
During that glorious spring and summer, luckier Londoners took refuge in various 'shires'. For those left in the sweltering city, gardens became a prized commodity, and those without gardens spent the season marooned on balconies. As soon as the property market reopened, emboldened by newly-flexible working from home arrangements, many Londoners upped and left (or invested in pieds-a-terre) in search of green space.
Regional markets outpaced London in 2021 at +9.3 per cent year-on-year, versus the average +3.2 per cent. The South East saw the greatest increase in housing value, with the market rising by £155 billion, or 10.9 per cent. London didn't even clock in second, but third – increasing by £130 billion compared to £131 billion in the North.
All that having been said, murmurs about the 'death of the city' that circulated early-pandemic have largely been put to bed. There has certainly been a factory reset when it comes to where and how people want to live, and remote working was always going to cause a bit of an exodus, but most still want access to London. Which means it's the home counties' time to shine.
Places like Buckinghamshire, Surrey, Berkshire and Kent strike that magical post-pandemic balance of green space, getting more for your money, and being within an hour from London. Which is why we've compiled a list of some of the most glorious homes currently for sale just beyond the capital's borders.
Castle Street, Farnham GU9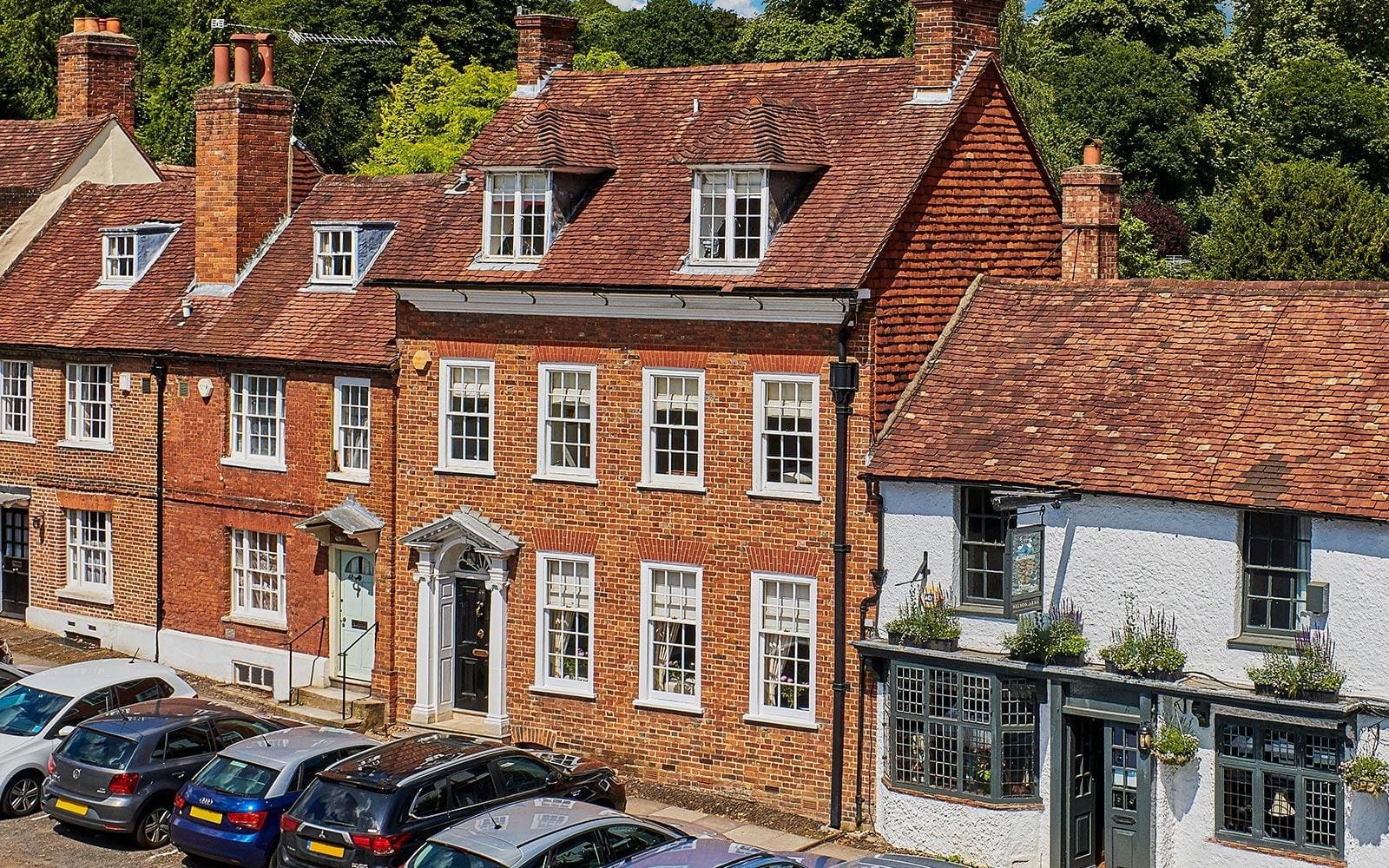 This Grade II-listed four-bed home is located on a gorgeous 18th century street in Surrey. A mainline station provides regular train services to London Waterloo, and Farnham Park, which comprises some 300 acres of public parkland, is just up the road (this is the 'best of both worlds' we're talking about). This is a classic Georgian-style home: the impressive frontage welcomes you into an entrance hall, while period features including a turned staircase meet updated aspects like the fitted kitchen with centre island. This area is open plan to a second reception/living room, which gives access to the pretty walled garden through bi-fold doors. The first and second floors host four bedrooms, while the lower ground offers generous cellarage suitable for wine, storage, or recreation.
Guide price: £1,350,000, struttandparker.com
Cambridge Building, Aldershot GU11
As renovations go, this one is pretty exciting. The Cambridge Military Hospital at Gun Hill Park has been converted into luxury residences, including a penthouse which is literally in the 109-foot clocktower. The Grade II-listed building was constructed in 1875-79 in a neoclassical style, based on design principles championed by Florence Nightingale. It now comprises 74 homes, including the three-bedroom penthouse: a fusion of contemporary spaces and heritage features starts with a long, gallery-esque entrance hall and ascends to five further levels, each with a unique hexagonal floorplate and high vaulted ceilings. The fifth floor (which originally housed a bell), features a cupola, arched windows, and forms a viewing platform for breathtaking panoramas. The top-level comprises the clock turret itself, the face of the clock being eight feet in diameter.
£850,000, weston-homes.com
Harefield Place, Ickenham UB10
Harefield Place is a Georgian manor originally built in 1786 for Sir Roger Newdigate, whose family were, for almost 440 years, the Lords of Harefield Manor, the baronetcy created by King Henry VI. When Sir Roger inherited the baronetcy he demolished the Elizabethan house and replaced it with the current building. After changing hands, and functions, numerous times, Harefield Place has been returned to its residential origins: the estate has been transformed into a gated development of 25 two- and three-bedroom apartments. You approach via a sweeping driveway that opens onto a forecourt and parterre garden; the original entrance hall has been retained, and apartments include original or reinstated cornicing, ceiling detailing, architraves and skirtings. There is also a new-build wing with floor-to-ceiling glazing, open-plan layouts, and private balconies and terraces. Amenities include a spa, gymnasium, swimming pool, and tennis court, plus 8.5 acres of landscaped grounds.
Prices from £850,000, harefieldplace.com
Hascombe Road, Godalming GU8
People move out of London for all manner of reasons – one of them is to occupy a gorgeous gable property sitting amidst towering mature trees. Woodmead House fulfills every 'country house' brief there is: it sits on 4.83 acres of land and boasts an ornamental pond; there is an adjoining wooded area and the Winkworth Arboretum beyond. The house itself extends over 4,000 sq ft and is arranged over two floors, incorporating a feature staircase, a wealth of oak-work and panelling, impressive fireplaces, window seats, and decorative cornicing. Oh, and don't forget the all-important boot room, complete with dog washing area (we're not in London anymore, Toto). The Hascombe Road property is believed to date back to the 1930s (with later extensions) and was subject to a thoroughly modernising refurbishment project by the previous owners.
£3,300,000, knightfrank.co.uk
Moles Hill, Oxshott KT22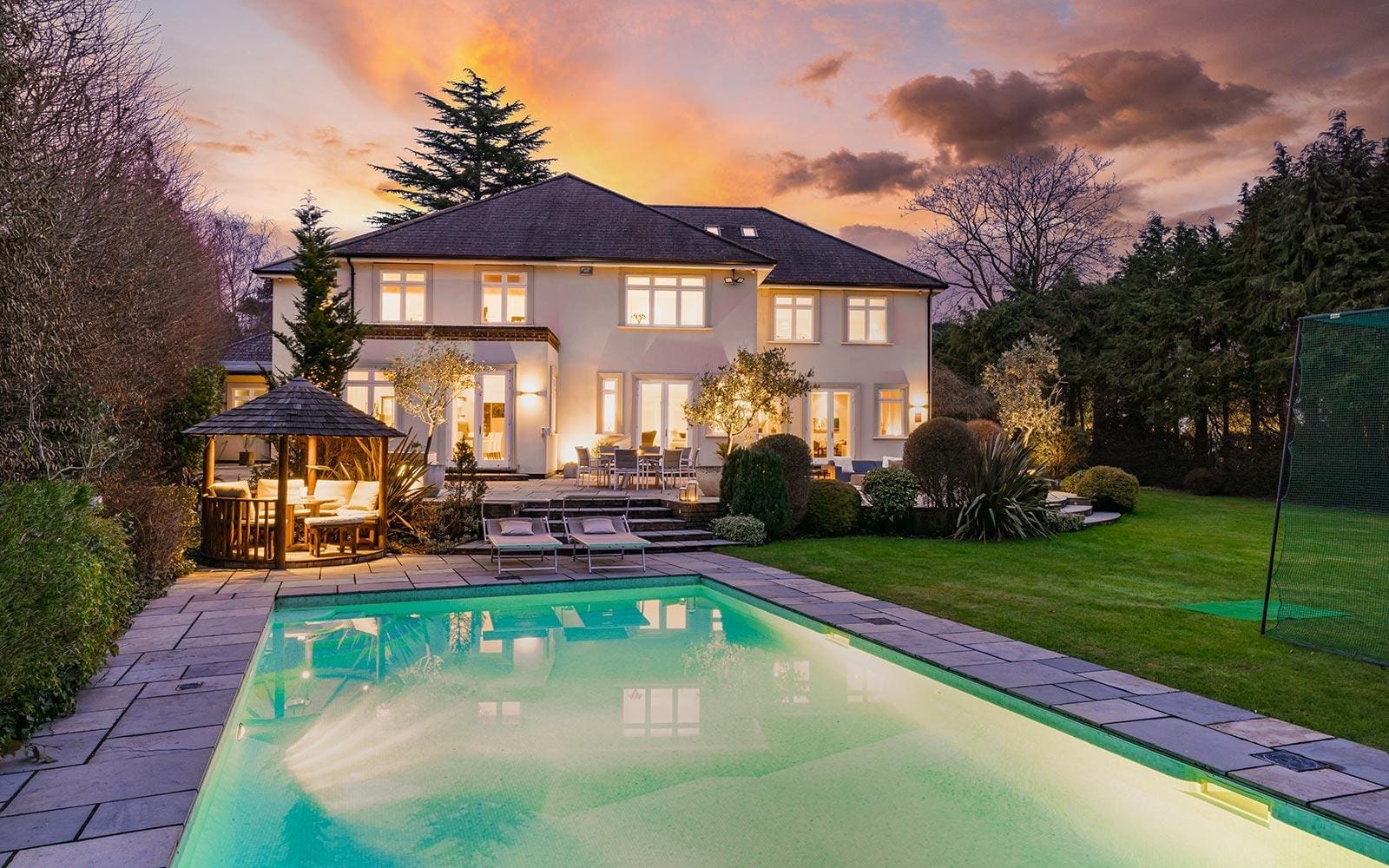 Move out of London and the first thing you're struck by is the abundance of space. Suddenly, there's room for a pool and a carriageway driveway. You don't have to compromise on something else for a wine cellar (with capacity for 1,500 bottles). We are, in case you were wondering, talking specifically about this Surrey family home – a six-bed, four-bath with an enviable outdoor pool. This 7,000 sq ft property is located within the exclusive Crown Estate in Oxshott, on a secluded south-west facing plot of 0.45 acres. That vast block-paved drive leads to a double front door which enters in to a double-height reception hall with an impressive floating staircase. The generous rear garden includes a large terrace, breeze house, and pool/summer house.
£4,000,000, knightfrank.co.uk
Old School House, Chobham GU24
The Old School House is a new development built by boutique developer Aitch Group with dog-owning residents in mind. This is evident in the vast amounts of outdoor communal space – three acres, to be precise – comprising a tennis court, petanque piste for boules, and an al-fresco dining area underneath a pergola. It's also indicative of the abundance of picturesque local walks: there's an ancient woodland nearby, as well as Chobham Common (the largest National Nature Reserve in the southeast of England) and Horsell Common, which was the basis for H.G Wells' War of the Worlds (all of this a mere 28 minutes from London Waterloo). Homes, which are built on the former site of Flexlands School, have open-plan layouts and private gardens. The two-bedroom show home features a soothing palette of natural tones highlighted by moss greens and burnt oranges.
Prices from £850,000, oldschoolhouse.co.uk
Rowley Ridge, Arkley EN5
The village of Arkley is technically in outer London, but it has such a fascinating history that we think it's worth mentioning. This country house was once a top-secret listening base used by MI6 to intercept German signals during WW2, chosen by Churchill for its 440-foot altitude. After the war, the villa was demolished and its role in the effort largely forgotten, other than by military history buffs. Now, it has been given a modern makeover – the double-fronted façade of the 11,000 sq ft mansion offers architecture inspired by the original Edwardian building, observable in bays to the front and rear, dormer windows, and feature chimneys. The interior is even more spectacular, a three-story atrium surmounted by a glass cupola taking pride of place. Galleried landings lead to rooms bedecked with marble, stone, and oak, and state-of-the-art leisure facilities include a cinema, games room, gymnasium, swimming pool, and spa steam room.
£8,500,000, beauchamp.com
Warren Road, Kingston-upon-Thames KT2
This property enjoys proximity to London without compromising on perks like a swimming pool, orangery and an enormous forecourt. It resides in Kingston-upon-Thames, close to Coombe Golf Club and Richmond Park (although, who needs Richmond Park when the Surrey Hills Area of Outstanding Natural Beauty is on your doorstep?). The house itself is a neo-Georgian property set within a gated development that was the former residence of General Eisenhower during World War II – the 4.72-acre plot shares with only five neighbours, ensuring a huge degree of privacy and exclusivity. The property also boasts seven generous bedrooms, and the devil is in the details with Italian marble surfaces and aqua televisions installed in the bathrooms.
Guide price: £10,500,000, harrodsestates.com
Read more: Beautiful homes with guest houses for sale in London